This post is sponsored by The Spirit of Tasmania
I have heard from friends and family how beautiful Tasmania is, however I never actually realised  how beautiful and picturesque it really is.  I think Tasmania is one of those destinations that you really need to experience to believe it.  I have seen many beautiful pictures, but I don't think they do it complete justice.  Thanks to The Spirit of Tasmania we were able to enjoy a wonderfully relaxing holiday, driving around the simply stunning Tasmania.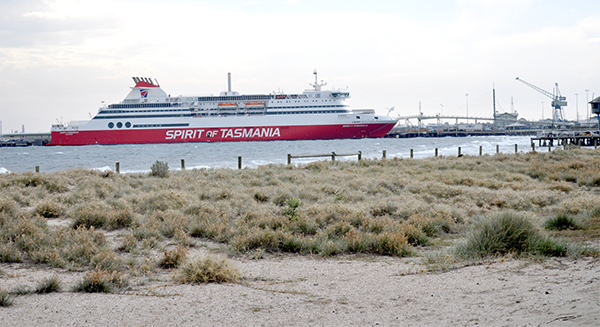 We knew we wanted to take our time and drive around at our leisure so we took a car.  We drove the car onto Spirit of Tasmania in Melbourne in the late afternoon, an experience the kids throughly enjoyed.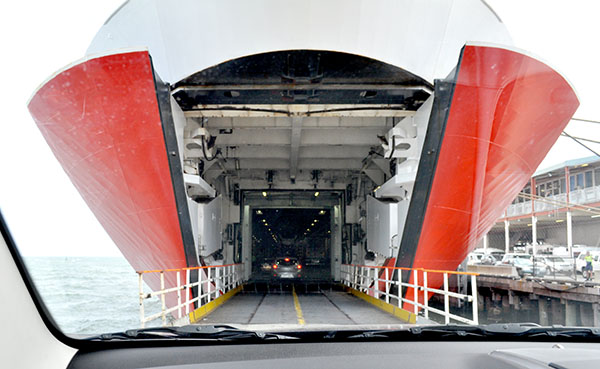 I must tell you, this is such a coordinated effort by staff, they do a remarkable job of directing all the cars onto the ship and parking them in such an orderly manner. They were also really helpful the next day, helping to direct us how to back the car out so we can easily disembark.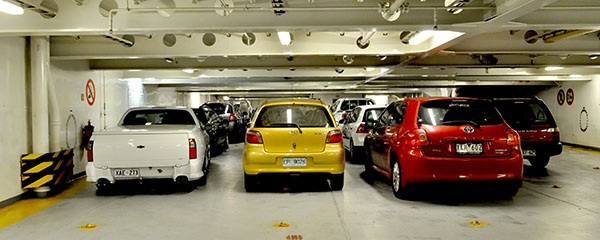 We were able to leave all our luggage for our trip to Tassie in the back of the car and only took up an overnight bag to the cabin.  This saved us a whole lot of backache!!  Plus it means you can bring all the fun things like fishing gear, golf clubs, board games, camping equipment etc. all in the back of your car.  Which you can't do when flying down as you will be stuck with excess baggage fees.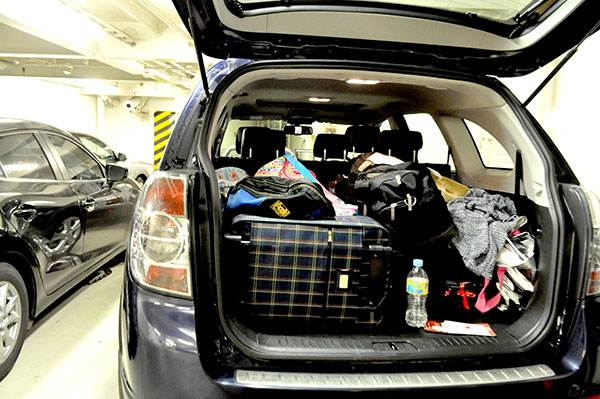 So Spirit of Tasmania isn't just about ferrying you from one point to another, it has a full experience to go with it, with many different choices.  There is a games room for toddlers and another for the older kids, which is great to allow them to burn off some energy.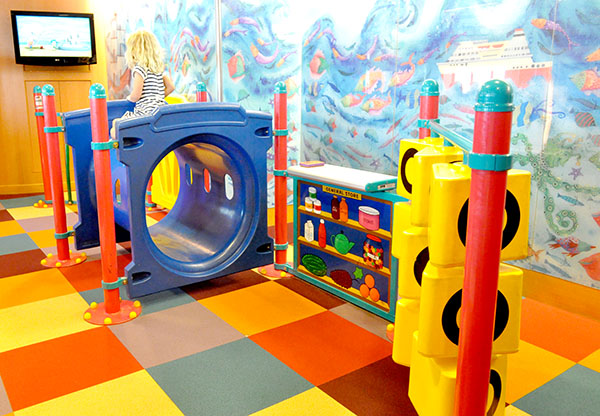 Before dinner we spent some time outside taking in the beautiful ocean, watching Melbourne horizon in the distance and breathe in the fresh ocean air.
They have a few different dining options, snack meals at several of the bars, a hot and cold buffet style eatery at The Captains Table, a 3 course meal at The Leatherwood Restaurant, which is an experience in itself.  The food was a really great way to introduce us to Tasmania, with tasting plates, salmon entrees, steaks and more!  Each course was served promptly, plated so cleverly, fresh and absolutely delicious.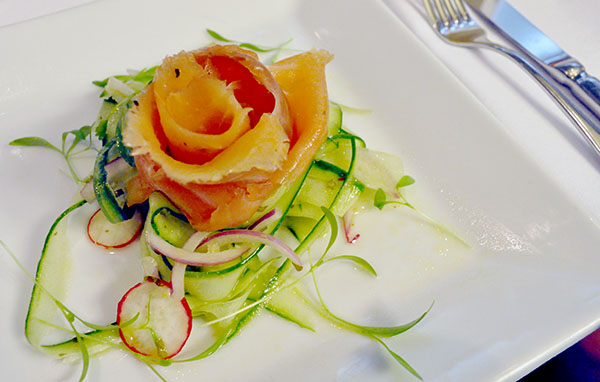 We had an extremely long day so after dinner we were quite happy to head to bed, although they do have a cinema with 2 different screening times, earlier in the evening they show a movie for the kids and later on a movie for the adults (which speaking to another couple, they really enjoyed, saying it was a great way to pass them time). To my surprise we all slept so well, waking to our morning call that we have reached Tasmania, this then gives everybody half an hour to freshen up, pack bags and wait for our carpark level to be called.  Ooh I must add, we took TravelCalm tablets 30 minutes before the ship set off to help with any sea sickness, I think they helped as we all slept very soundly.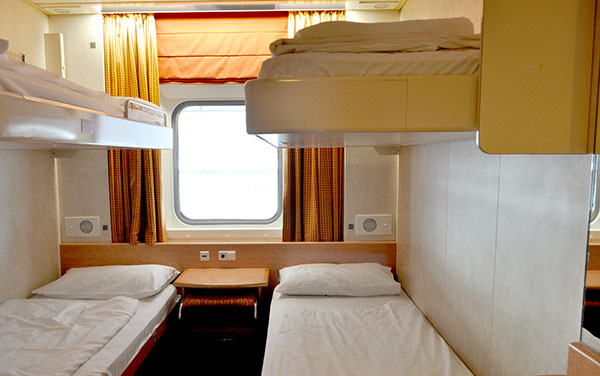 We drove the car off Spirit of Tasmania and started our travels around the glorious country side.  I have to share with you, this is my first memorable moment, a field filled with Poppy's, they use these to make perfumes. Fields similar to this were spotted all through our travels.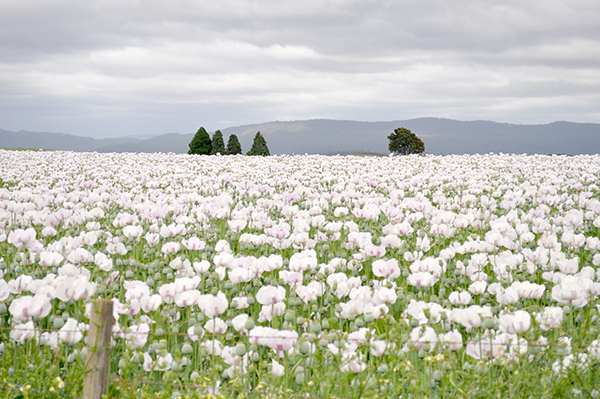 Our first stop was Christmas Hills Raspberry Farm Cafe, this would have been the most recommended stop in our when visiting Tassie.  I am so pleased we stopped here the food was out of this world delicious.   Most of the breakfast and dessert menu has something raspberry in it, I was going to have simple jam on toast, but then I saw pancakes with caramelised banana, bacon, cheese, fresh raspberries and raspberry jam.  I was really intrigued and had to try it, ooh my belly danced it was amazingly delicious.  The others had waffles and/or pancakes with fresh raspberries.  The meal was so delicious we stopped back here for lunch before boarding back onto the ship to return home.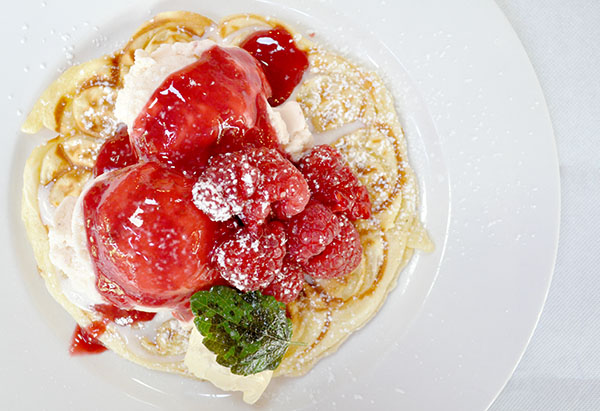 Next stop was the award winning Ashgrove cheese, taking a tour around their factory to learn how they make all their cheese, milk, butter and cream in house, peaking through their viewing windows at the process and their storage area (which I must say is perfectly organised!!).  Surprisingly with today's technology they still choose to use traditional methods, cutting the curd by hand and then delicately hand turn them regularly for over an hour. This is why their products are top quality!!
I'm not really a lover of fancy cheese, but the fetta and cheddar varieties I tasted were so tasty and creamy. They have many tasting plates so you can try before you buy!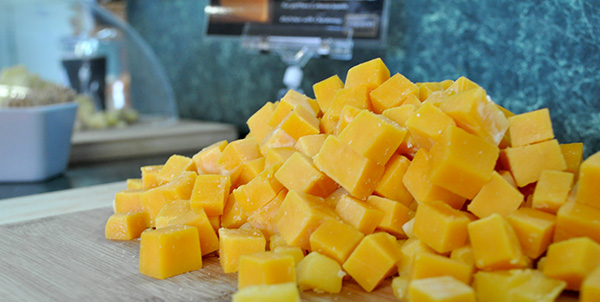 Our next tasting destination was The House of Anvers, where they make all their chocolate inhouse and packing it all by hand, I'm starting to see a theme here, everything is so fresh in Tasmania.  I loved hearing the story about how Igor Van Gerwen started this business.  Igor trained and become patisserie at a very young age in Belgium. Moving to Australia in his early 20s and working alongside some a world-renowned confectioner he found his passion for handling chocolate and a few years later open The House of Anvers who are very well-known for their world's finest chocolate, using locally made cream, butter, delicious liquors and natural flavours.  The House of Anvers allow you to taste their chocolate before you buy, which I love as you won't go home disappointed.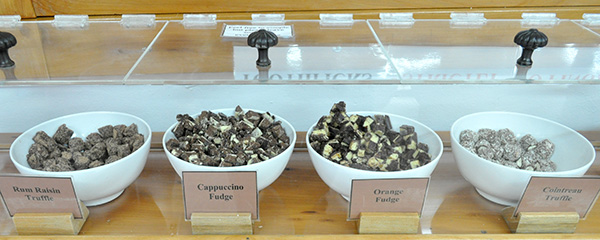 They have been in the current location for 10 years with some great plans on enhancing the property.  The gardens that surround the store and cafe are beautifully kept and boasting beautiful flowers.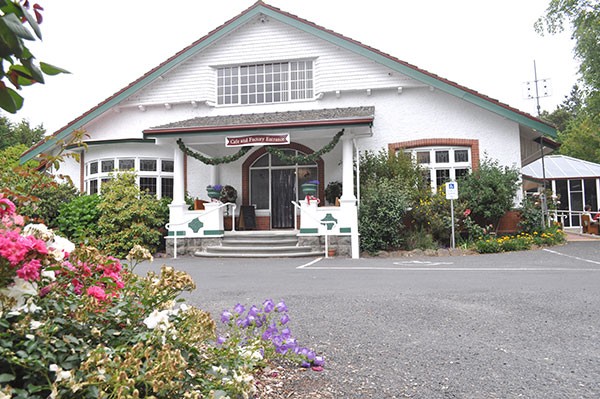 Stop in here for some chocolate to take home for yourself or give as a gift, but you can also stay for a coffee, breakfast or lunch.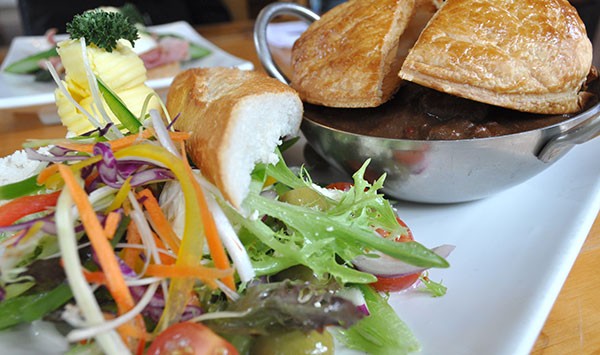 We left the House of Anvers to drive to Freycinet, it's quite a drive away, but every single moment was worth it.  I have never been one to want to drive countryside for the scenery, but there was something different about this drive through Tasmania, I felt like everywhere you looked there was something different to see. Fields of flowers, mountains in the distance, water, forest, then cattle, horses, sheep and more.  It certainly kept us entertained.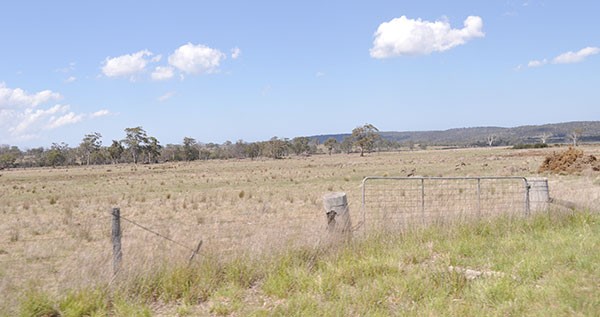 We stayed at Freycinet Lodge for the first two nights, and again this outlook didn't disappoint.  After such a long day we just wanted to have a nice dinner and relax for the evening.  The Freycinet Lodge overlooks the glorious Oyster Bay which I could sit at for hours, which we did.  We ate our dinner in the bistro outside, then sat in their lounge to watch the sun set.  I never get time to do this at home, so I really enjoyed sitting and watching time pass by.  This is our first night, the water was really choppy.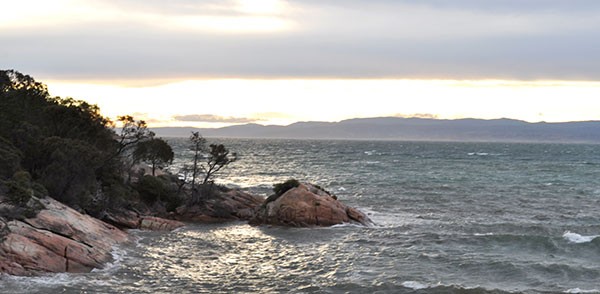 The second night was so calm, it's it beautiful, I would have happily stayed at this hotel for more than just our planned 2 nights, just glorious.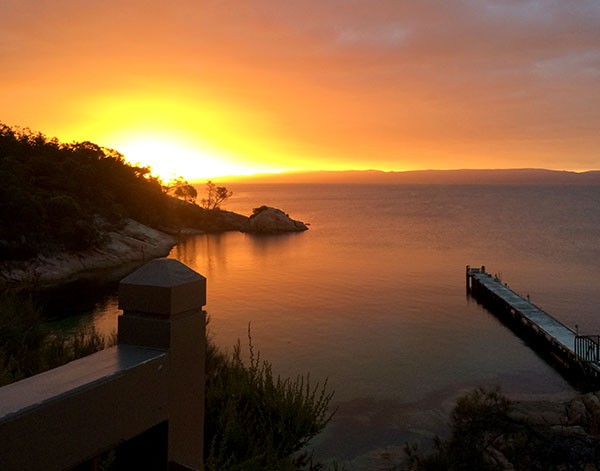 Freycinet Lodge is the hotel overlooking the bay and views of the mountains… such a beautiful place.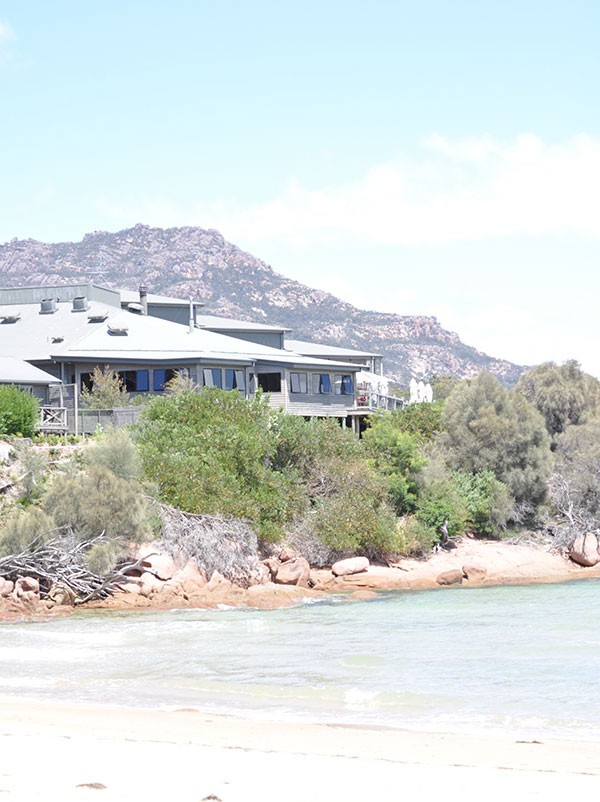 We stayed in a two bedroom cabin, which suited our family of five. The cabins are self-contained with a little kitchenette and ample sized bathrooms and bedroom.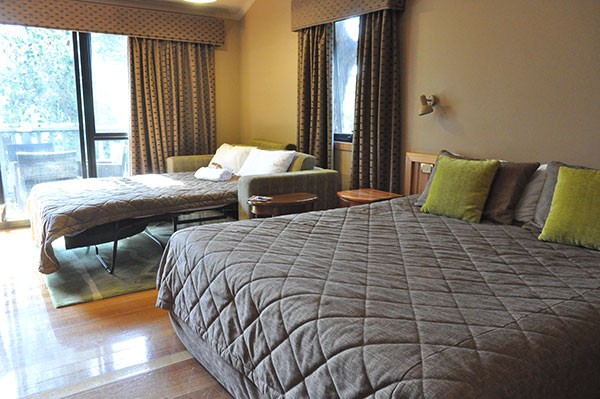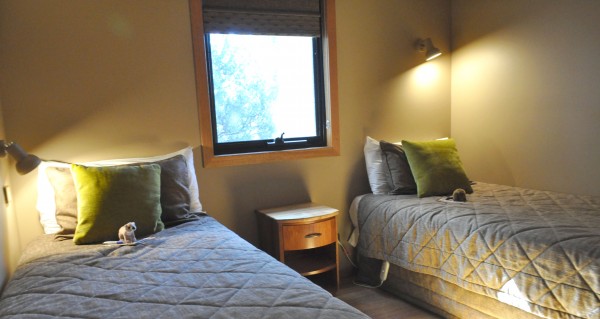 Hiding behind Freycinet Lodge is Honeymoon Bay and I can understand why they named it this.  A secluded little inlet where you can splash in the water, or sit upon the rocks.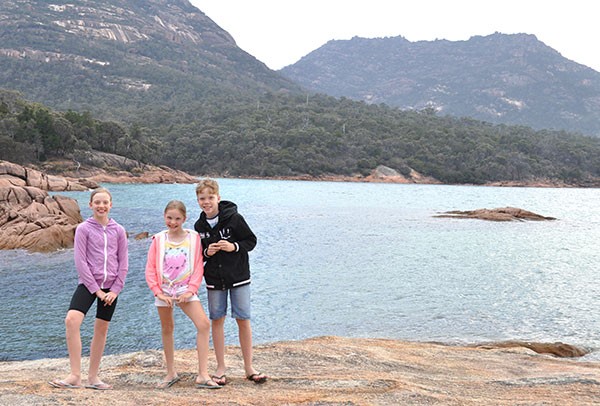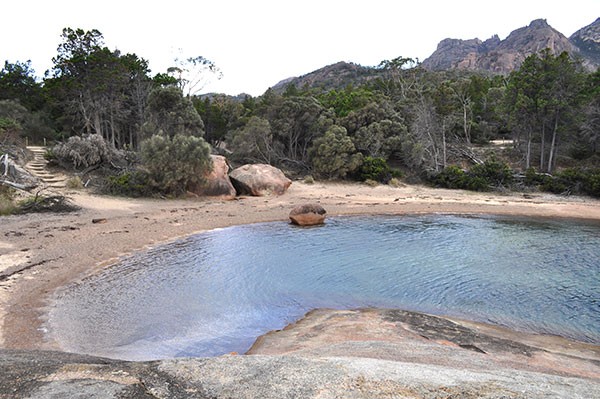 It got a wee bit chilly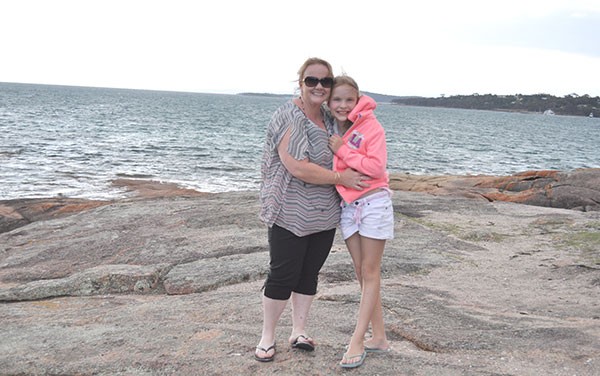 The second day on our trip was action packed apart from the stunning outlook from our hotel, I must say the 3 hour drive to Freycinet absolutely worth it for this experience.  We started our morning with kayaking in the Moulting Lagoon, on the Freycinet Adventures 3 hour Oyster Paddle tour.  It was a truly unforgettable experience.  Sharing the kayak with my youngest daughter we leisurely paddled for an hour and a half before stopping along the side of the river for a morning tea.  It was so peaceful and serene out on the river watching the birds flutter above the water.  This paddle tour is a great adventure for all ages, there was a couple with a 7 year old and an elderly couple of 60 years enjoying the moment with their loved ones.  They give you a demonstration at the beginning of the tour on how to use the paddles correctly, so it's open for all experience levels.  We learnt how oysters are harvested and got the opportunity to taste them, ooh so fresh and one would say delicious if they take your fancy.  Mr Organised Housewife didn't mind them at all!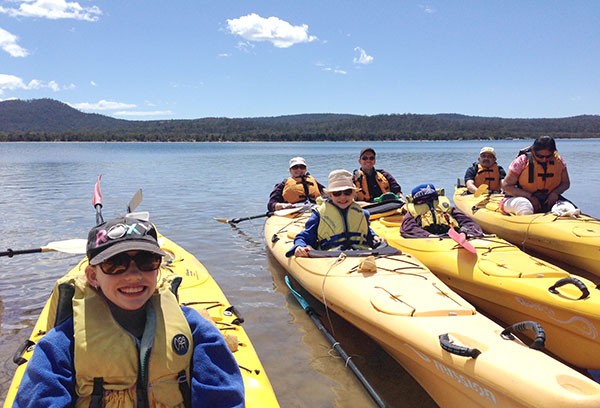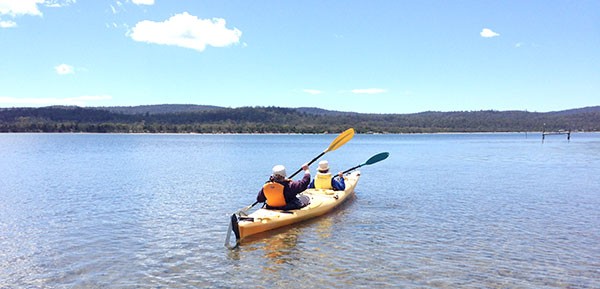 So call us crazy but after our 3 hours kayakking we didn't want to miss the opportunity to visit Wineglass Bay, so we packed a picnic and headed on an hour and a half hike up the mountain.  Truth be told we did have about an hour rest between kayakking and hiking, but I feel this balanced our bodies out now working the lower half! I did huff and puff a little on my way up bit wow, it was absolutely worth it.  I had so many recommendations to visit wineglass Bay and I can see why, I would have been so disappointed to have missed this experience.  We can now say this is the most fanciest place we have ever eaten a sandwich… simply stunning!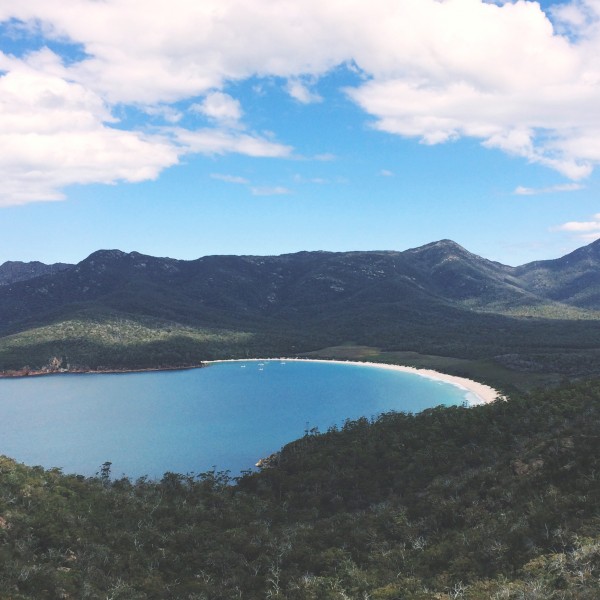 The next day we drove from Freycinet to Cradle Mountain, it was such a beautiful drive, the scenery around Tasmania is just gorgeous, just like a painted picture.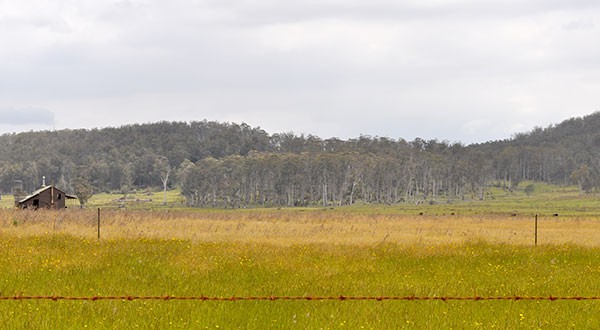 It took us 5 hours of driving, stopping off for lunch.  However from Launceston it would usually be a 2 hour drive.  I had heard many great things about Cradle Mountain, in particular how peaceful and secluded it is, which is absolutely right. We stayed at Cradle Mountain Hotel which have over 60 rooms, each have heating and electric blankets (which were needed) as it was very cold.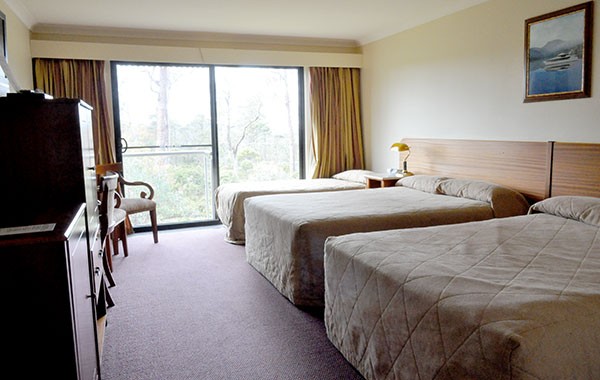 Kids kept warm in the middle of December with beanies, jackets, scarves and gloves.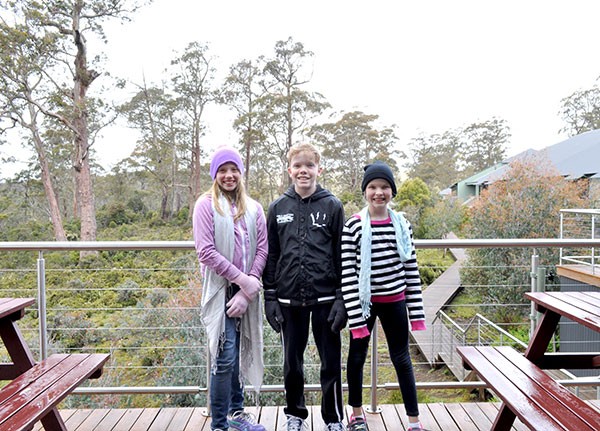 There are some lovely walks around the hotel, through the forests where we even came across a wombat, it scurried away before I could get a photo.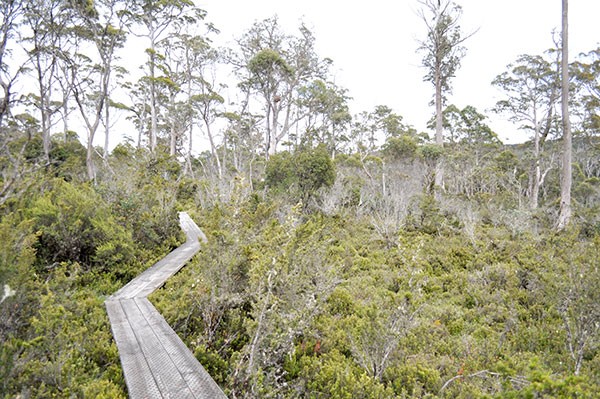 It is easy to recognise why Cradle Mountain Hotel is so peaceful, surrounded by beautiful trees and wildlife, it really is secluded and the perfect destination if you are wanting to switch off from work and just relax.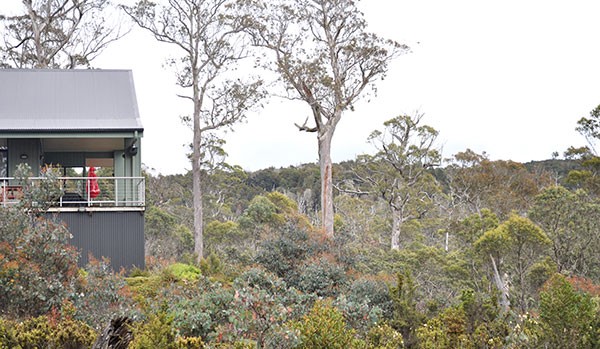 The hotel has many fireplaces throughout the hotel so you could stay warm.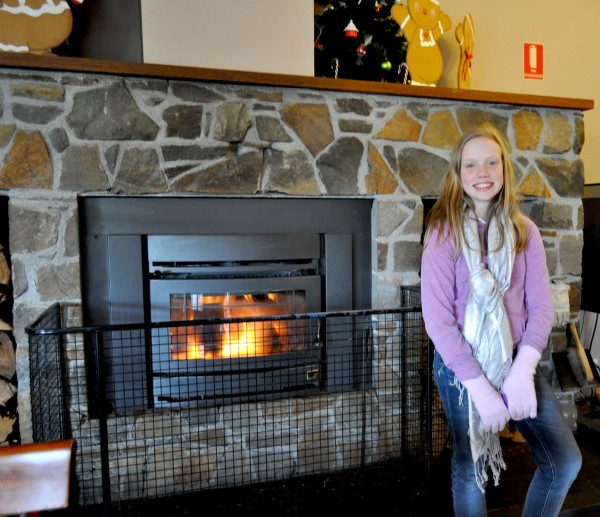 The hotel is only 5 minutes drive to the World Heritage National Park.  We drove down to Dove Lake – it was raining when we arrived so we weren't able to walk around it, but still found the view magnificent.  We have been told the 6km track (which is boardwalked most of the way) around the lake is one of Tasmania's best walks.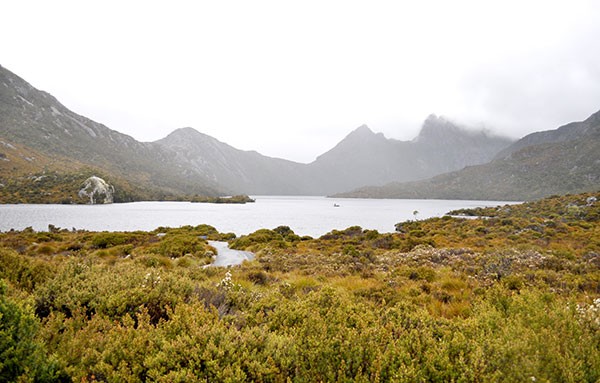 The next day we headed back towards Devonport to drive back onboard Spirit of Tasmania, and I won't lie I was really looking forward to dinner as it was so good on our first trip down.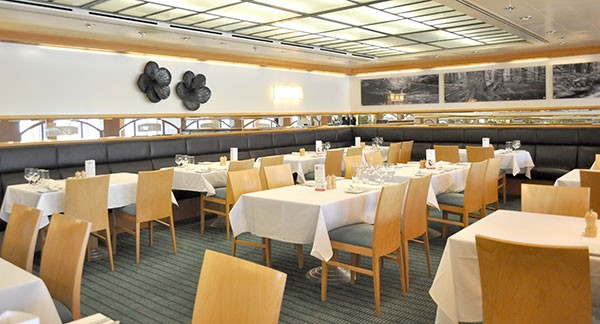 Coming home we stayed in a Deluxe Cabin, which has a queen size bed, TV and plenty of space to move around in.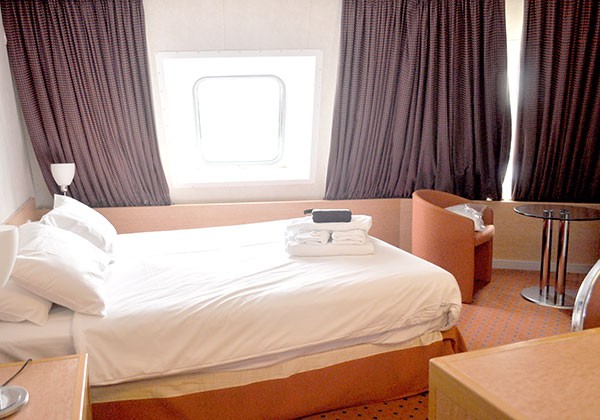 These two were tickled pink that the cabin the three kids were sharing was at the front of the ship, they happily sat and looked out the window as we sailed back to Melbourne.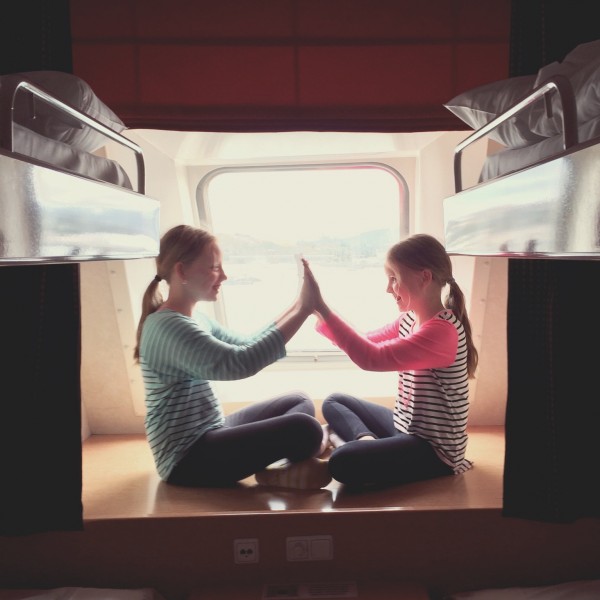 We had a truly magnificent trip.  Our days were packed with family fun activities, time to relax and just unwind from the busy-ness of every day life.  What I loved most was that we were able to drive around Tasmania and stop when and where we wanted.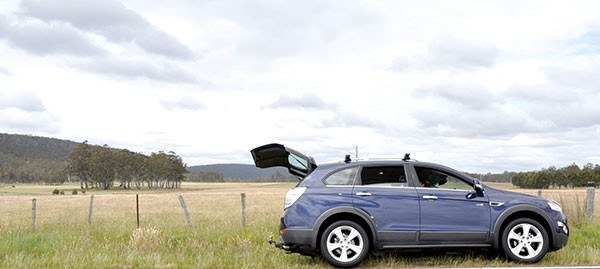 For more details about The Spirit of Tasmania, visit their website and facebook page, or follow them on instagram.  Their current special offer is:
Travel by Sea and KIDS GO FREE
Sail on Spirit of Tasmania and your kids can travel with you for free between 6 March and 13 September 2015. Hurry, offer ends 28 February unless sold out prior.
Visit here – kids go free to book.

*Offer available to new bookings only from 25/1/15. Limited availability on selected PM sailings. Up to 3 children per paying adult. Red Hot Deal fare conditions apply. Not applicable to school/group bookings. $5 fee per person each way applies to non-internet bookings. See website for full conditions and to book.

This giveaway is now closed.
CONGRATULATIONS to our lucky winner: Brenda B
Thanks to the Spirit of Tasmania I have one $200 Spirit of Tasmania gift voucher to giveaway.  Simply tell me in the comments below:
Did you realise that Tasmania was so beautiful? Tell me from my story above where would you like to visit the most?
Giveaway ends 18th February 2015*
Please note this giveaway was originally set to end on 11th February 2015, however as the website has been down over the period of this giveaway I have extended it.

GIVEAWAY TERMS AND CONDITIONS
This giveaway run in accordance with my disclosure policy, please read the terms and conditions below

1. Entries must be made on The Organised Housewife blog, entries in facebook comments are invalid.  2. Entries close 11.59pm AEST Wednesday 18th February 2015.   3. One entry per household, open to Australian residents only.  4. This giveaway is a game of skill. The judge's decision is final and no correspondence will be entered into.  5. Total prize pool is valued at $200.00  6. One winner will receive a Spirit of Tasmania voucher valued at $200.00.  7. Winner will be contacted by email, please ensure you leave your email address.  8. If I have not received a reply from the winner within 7 days the prize will be forfeited and awarded to the entry judged to be the next best.  9.  The Organised Housewife will take no responsibility for any delay, loss or damage to prizes sent to winners. 
This post was coordinated by The Remarkables Group