My family and I experienced this weekend with thanks to www.visitsunshinecoast.com
As I am writing this post I am sitting on the balcony of a beautiful apartment in Caloundra.  I have been reflecting the past few weeks I have had and appreciated that I don't have a pile of dirty clothes or dishes to clean, floors to vacuum or grocery shopping to do, but instead a weekend escape to help take all my worries away.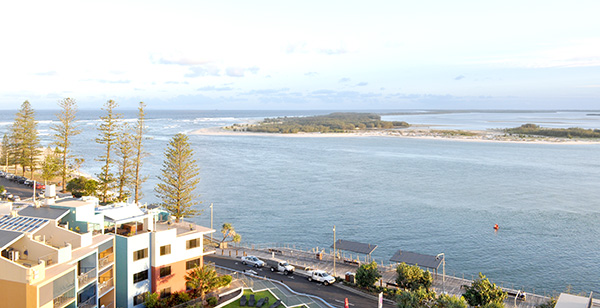 I've been really busy the past few weeks and a weekend away was needed.  I've been writing my book proposal (so cool!!), preparing a speech for an upcoming blogging conferences (which sets sail today, conference is on a cruise!) and thinking about the future for my kids.  My twins start high school next year, they are both very different academically.  I've been a bit of a stress pot recently wondering what the best solution was in regards to high school. Considering if we send them to the local one or a great school a little further away from home which as a result they will be leaving their friends. However, we have decided to send them to our preferred high school (not the local one) which they are excited about and I am too as this school has a great program.  However, I have felt so ill knowing that I am pulling them away from their friends and feel awful, but academically this is the right thing to do, I feel like I am having a fight in my own mind with myself, if that makes sense.  However, this weekend away has been great, reflecting that their friendships won't be lost and we will make sure of it.  My best friend and I went to different high schools and we are still besties to this day, if friendship is strong enough it will last. 
So this weekend away was my way to escape from the stresses of the past few weeks, let go of my worry and looking forward to the future, the kids schooling, I've finished my presentations, now I am looking forward to sharing all I know with my fellow blogging friends and then next week I am need to finish my book proposal.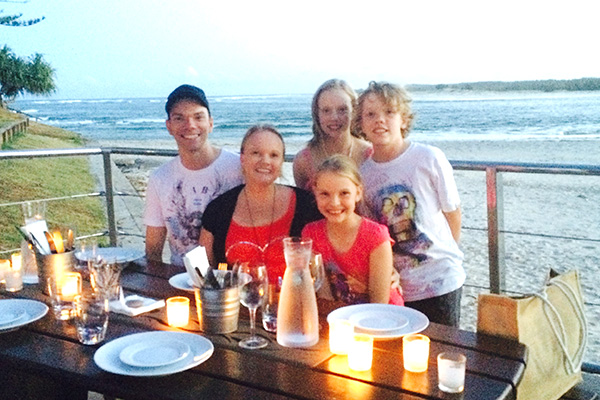 Please note this giveaway is now closed:  Click here for your chance to win a similar Family Fun experience like ours on the Sunshine Coast
Accommodation on the Sunshine Coast
Breakfree Grand Pacific – Sitting on the balcony of this resort it's so calming listening the boats passing by and looking out into the distance to see the beautiful mountains.  Our 3 bedroom apartment had ample space for our family of 5 with a beautiful kitchenette looking over the water.  We didn't get the chance to lounge around their pool, but it's a beautiful size and has a wonderful outlook onto the Esplanade.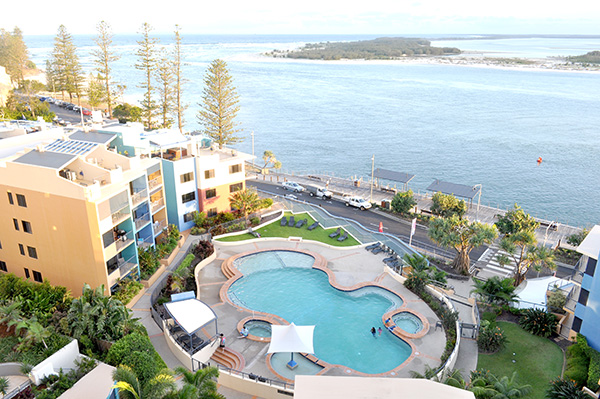 Aqua Vista Resort – Located between the Maroochy River and the Pacific Ocean, this resort is within walking distance to restaurants, cafes, shops and the beautiful beach.  The resort has 2 and 3 bedroom apartments available with fully self-contained kitchens, ready for you to entertain or cook up a beautiful breakfast.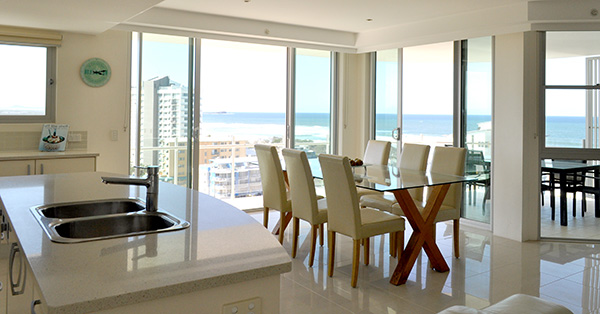 Restaurants and Cafes on the Sunshine Coast
Dinner was absolutely suburb at the Sandbar Café and Kiosk, we were treated to the most beautiful candlelight picnic by the water.  We started with prawns and oysters which if you visit the café on Friday nights are $1 each, bargain, they were so fresh and just delicious.  A reader later told me I should have tried their Tomato, Basil and Feta Toast, mmm, sounds so good!  The calamari was cooked to perfection, not too oily and not too rubbery, not sure if I have actually had calamari cooked so good.  I highly recommend you stop by here when visiting Caloundra.  

We felt like we were eating our lunch on the water itself, The Surf Club Mooloolaba boasts beautiful views of the ocean from Noosa to Point Cartwright, was bliss listening to the beach. Visit for  lunch, dinner, coffee and a cold drink, it's certainly a wonderful place to sit with family and friends.

The Prickly Pinata is a great place to meet up with friends and family for a nice evening out.  If you love Mexican you will enjoy the modern and fresh twist of this menu, with the choice of ordering what you would like to eat or sharing a plate with a group so you can have a taste of everything.  My kids loved the spicy hot corn cobs and I really enjoyed the pork taco's the meat was beautifully tender and the portions sizes were perfect for me!  Located along The Esplanade at Cotton Tree.

Harvest Cafe at Cotton Tree is a sweet little cafe that produce all natural breads and condiments.  You can purchase their beautiful products such as relishes, jams and dressings from their shop or at the Eumundi Markets. Mr Organised labelled their blueberry pancakes the best he has ever had, I had a delicious chorizo and spinach omelette, but the boy had an amazing bowl of poached fruit and coconut rice, I had a few spoonfuls of the rice, it was sooo good.

Family Friendly Attractions on the Sunshine Coast
Aussie World is located on the Bruce Highway next to the Ettamogah Pub, we have passed it for many years not realising they had so many fun rides inside.   They have rides for kids of all ages, some will make you dizzy or you may get soaked.  Slides, coasters, mary-go-rounds there is something here for everybody, my kids had so much fun running from one ride to the other.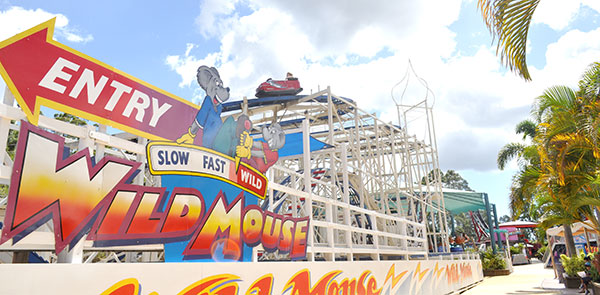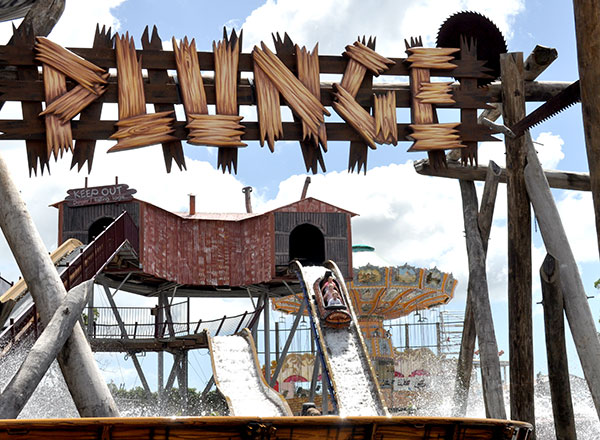 I remember visiting Underwater World Sea life Aquarium when I was a child and I love that I can share a similar experience with my kids, in particular I have always enjoyed the Walk Through were you can casually stroll along looking up and into the ocean tank, watching the sharks, turtles, fish and more go about their day.  They have recently refurbished many of their attractions and created five new zones to showcase new species of jellyfish, seahorse, fluorescent corals and more.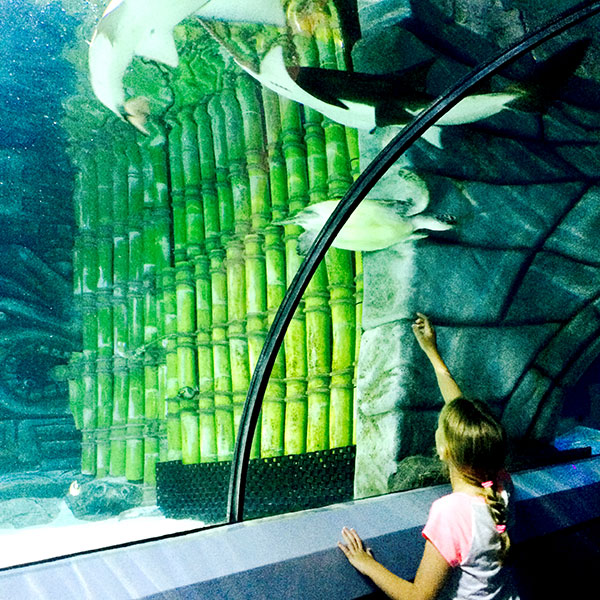 We had an absolutely blast at the Bli Bli Water Park.  Hubby and the little man went cableskiing and the girls played on the inflatables, which is a great structure that kids and adults can slip and slide through the course.  Mr 11 hasn't been cableskiing before, he managed to pick it up really well.  They mentioned that they slow the cabels down for the kids on a Sunday morning to give them a better chance of making it all around the course.  Afterwards the kids jumped onto a tube and were pulled around by a jetski for the next half hour, there were screams of excitement.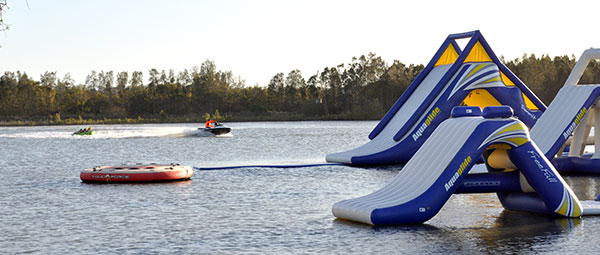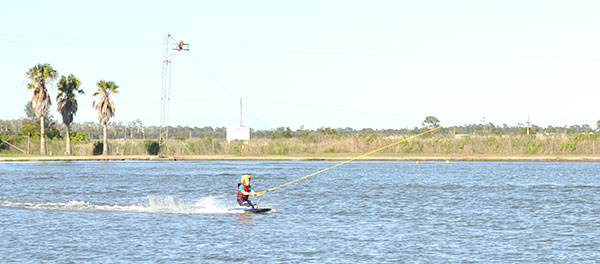 The highlight of my weekend was going paddle boarding on the Mooloolaba River.  We went paddle boarding last year, but I sat on the edge of the water watching as I felt I was too uncoordinated to do it, however I wanted to give it a go this time and I am so glad I did.  Very proud of myself too, I didn't fall in!!  The kids didn't fall in either, clever chooks, our youngest was happy just cruising along on the front of dad's board.  Paddle boarding is an awesome workout and a great way to spend time together with your family and/or friends.  Visit Ocean Jetski for a paddle boarding lesson then a leisurely time paddling along the river and bay.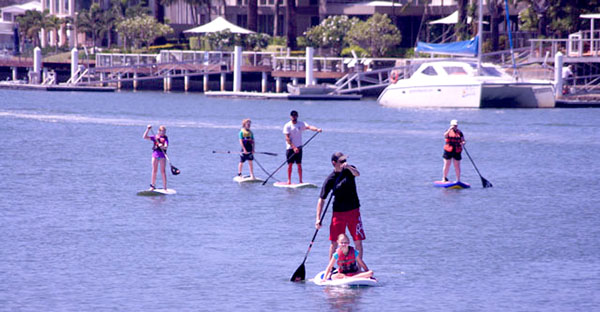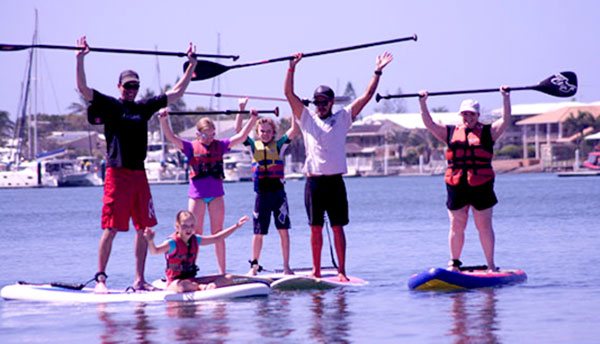 Before heading home we stopped into The Ginger Factory, I was given strict instructions from my Dad that I needed to bring some home for him, as they make the worlds finest ginger!  We toured around the factory learning how ginger is grown, harvested and turned into products, which was really interesting and just amazing how the machinery works.  We then viewed their gardens via the Ginger Train and had fun spotting Gingy the Gingerbread man on the Overboard Boat Ride.