This post is sponsored by Paradise Resort
I have lived on the Gold Coast all my life. For as long as I can remember I have heard rave reviews of a fabulous resort for kids at Surfers Paradise and have often wanted to check it out. However, as I live on the Gold Coast I've never really thought about holidaying here. Paradise Resort recently asked if I would like to come and spend the weekend at their resort so I can share with my readers about the experience and their new 5 night Stay, Play and Save package they have available which includes unlimited access for 7 days to Dreamworld, WhiteWater World and SkyPoint. My hubby's birthday was close so we organised to go there as a weekend of celebrations. It was just wonderful to get out of the house, away from technology and enjoy some family time together.
You know those times where you kick yourself and wish you have found out about particular things sooner, I wish we had experienced Paradise Resort before now, it is such an amazing destination for a weekend away or a holiday, my kids had so much fun.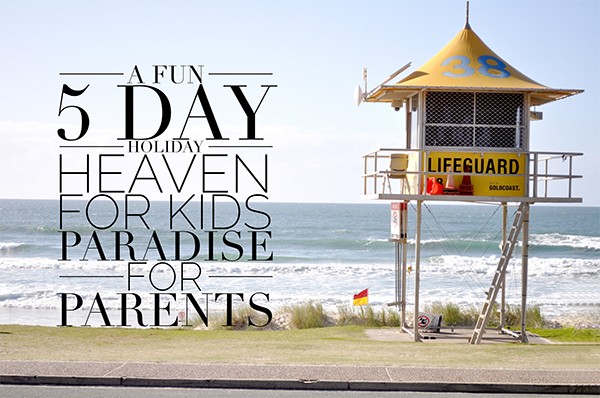 At first sight of walking into the reception I thought this is just like a mini theme park, they have this great jungle gym at reception, which is a fun start to the holiday.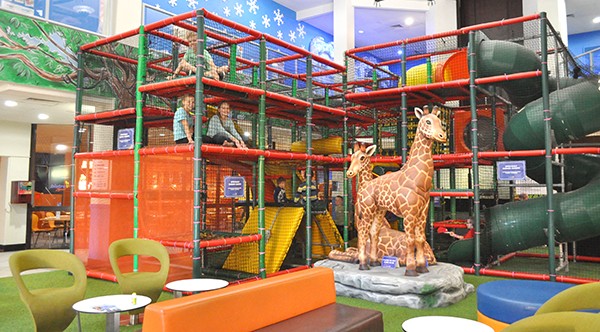 It's also right next door to the bistro so kids can eat then play while Mum and Dad sit and relax.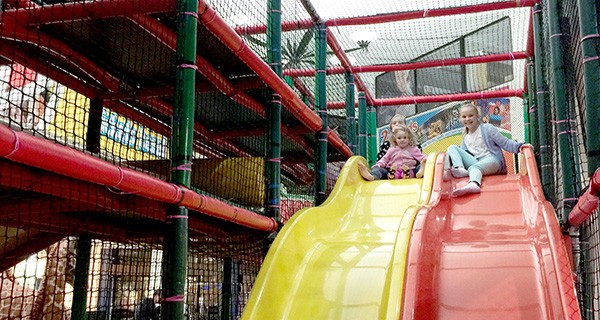 Then I looked around the gym and saw the really cool kids water park, this is just one, there is another bigger one.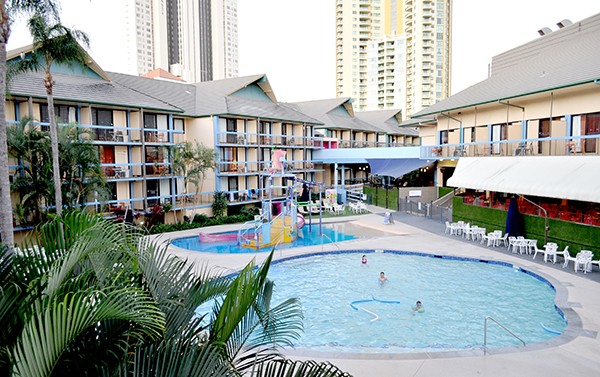 A fabulous resort for kids on the Gold Coast
Paradise Resort General Manager, David Brook, said "We recognise that a family holiday is much more than just a hotel room; it's about the experiences and memories encountered as a family." Paradise Resort have partnered with Dreamworld, WhiteWater World and SkyPoint and are offering families the complete holiday experience – all for one low price.
"Our Stay and Play package allows families the flexibility to spend their days enjoying all that the Resort has to offer and or the opportunity to visit Dreamworld; Australia's biggest Theme Park, WhiteWater World and SkyPoint Observation deck. With the opening of their new ABC KIDS WORLD in June and more major developments coming in 2015, families travelling at anytime on this package will experience something new".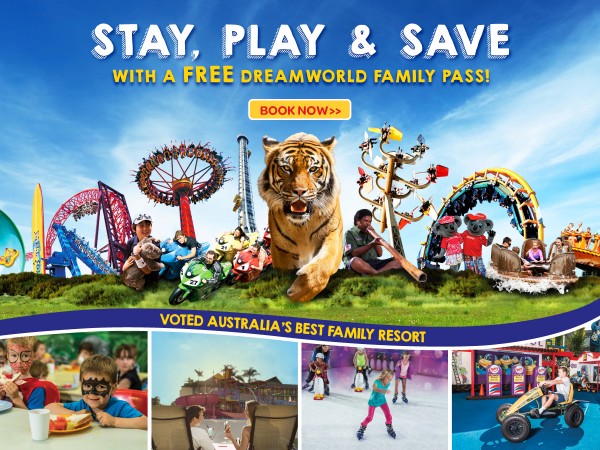 see more details of package below
There is so much to do at Paradise Resort:
Paradise Resort has been voted Australia's Best Family Resort, and I can see why. We had a blast during our stay here, there is so much to keep the kids occupied and for me, I was happy to sit, watch the kids and just relax.
A secured playground for the kids to play, with some table and chairs close by for mum and dad to sit at.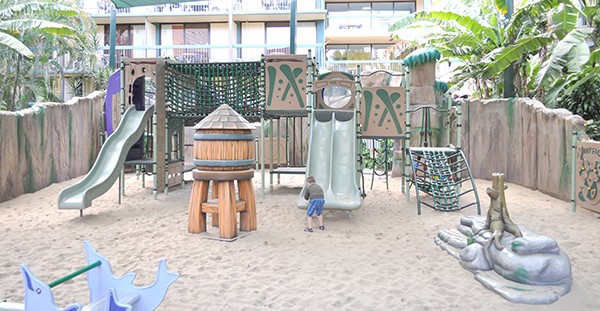 A really cool rock climbing wall which my kids would have happily spent hours on if it wasn't for their legs giving out after an hour. Mr 12 challenge himself to not step on particular coloured rocks and on his last go he went up with his eyes closed with the guidance of Dad telling him where to step, great for coordination.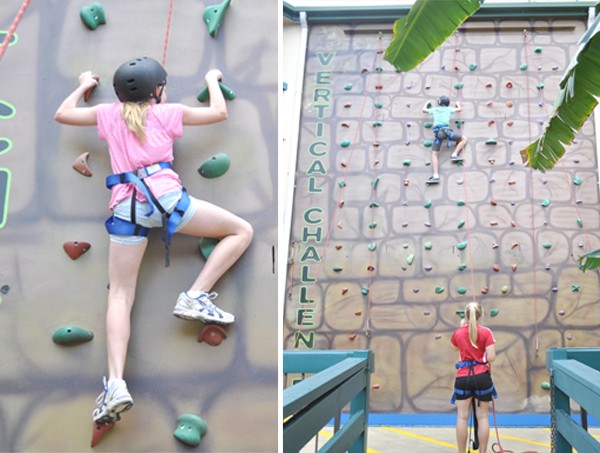 An Ice skating rink at the resort, it was a hoot! I watched the kids go round and round, these penguins helped the not so confident skater. Planet Chill is the only permanent ice skating rink inside a resort in the southern hemisphere.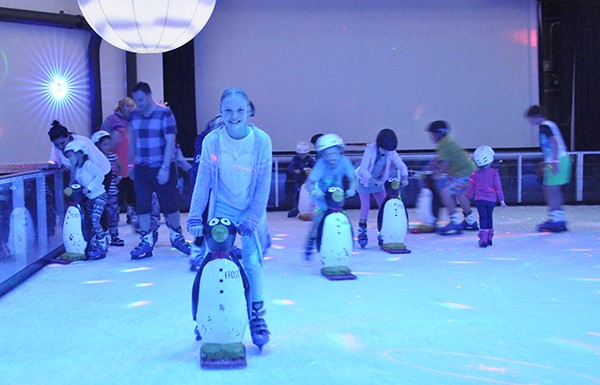 And what many would call the ultimate family holiday necessity is the resort's Zone 4 Kids Club. It is a fully supervised kids club that has separate play spaces for particular aged children from 0-12. Every accommodation package includes up to 4 hours of supervised care within the kids club every day of your stay.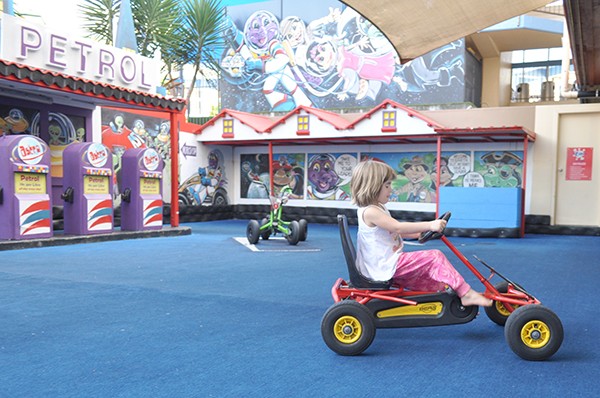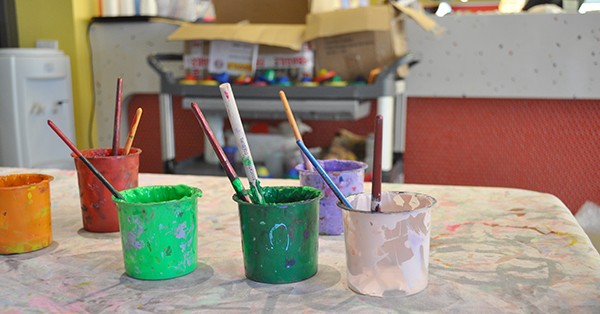 Activities are a plenty at the Resort, there just so much fun to be had here, including Laser Tag!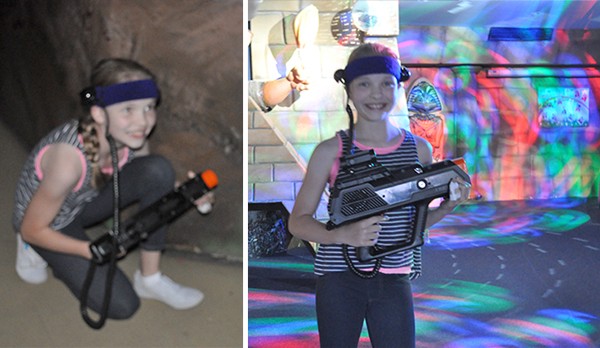 Here is the other kids waterpark I mentioned above, so much variety for the kids (both big and small) to choose from, a heated spa, the main lagoon pool and 2 giant waterparks with plenty of slides to keep them entertained for hours.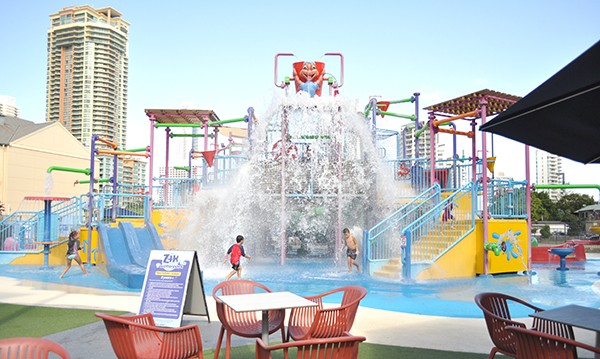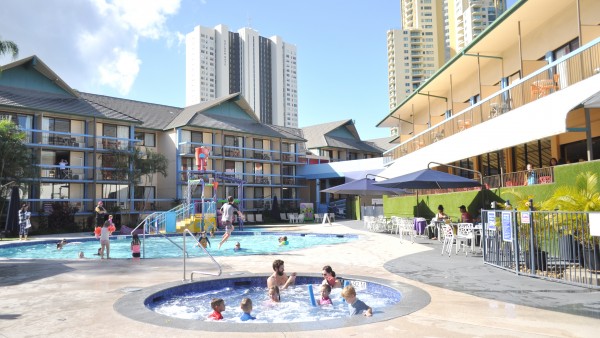 Paradise Resort is in walking distance to central Surfers Paradise, so you can enjoy the beach, shops and restaurants. However at their resort you have a bistro, the poolside cafe and a great little minimart filled with all the essentials there really is not reason to leave.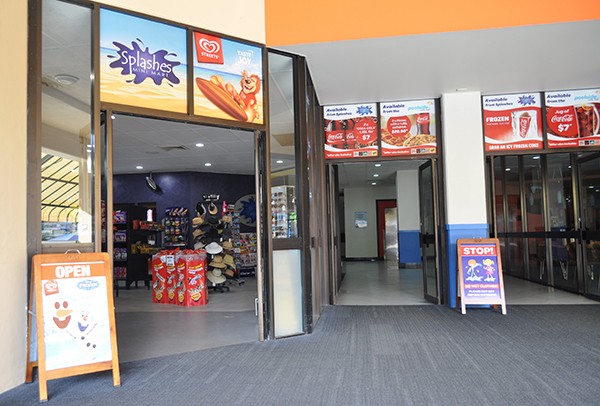 This Crispy Atlantic Salmon with a summer salad of orange, fennel, avocado, mango and rocket was so good!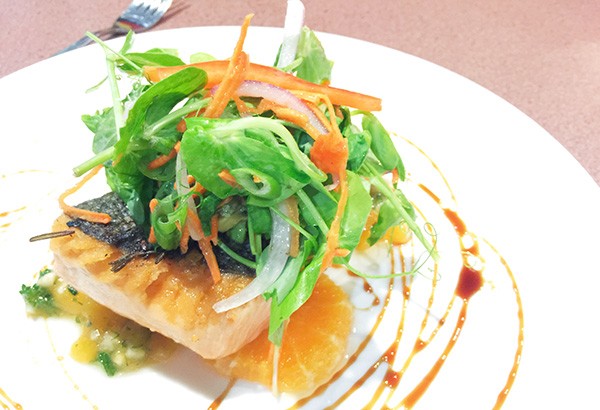 Resort Accommodation:
So I have shared with you how great the activities and food are but some of the rooms are so much fun for kids. We had connecting superior resort rooms, which included a little kitchenette with the basics of a kettle and microwave which would be helpful if you needed to heat bottles up for bub.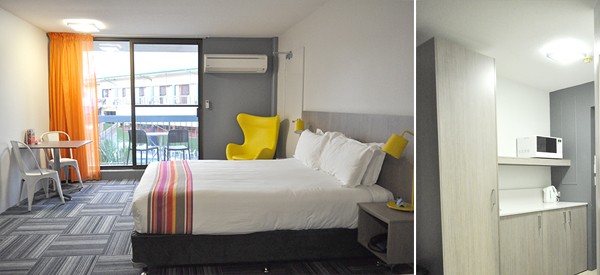 They have a great range of different rooms available, how cool are these bunks.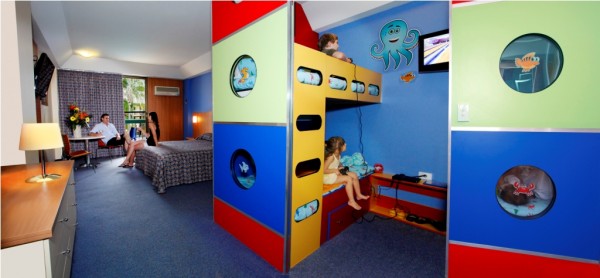 Dreamworld
As mentioned above as well as all the fun at the resort with this great 5 Day package you get unlimited access over 7 days to Dreamworld, White Water World and SkyPoint Observation Deck.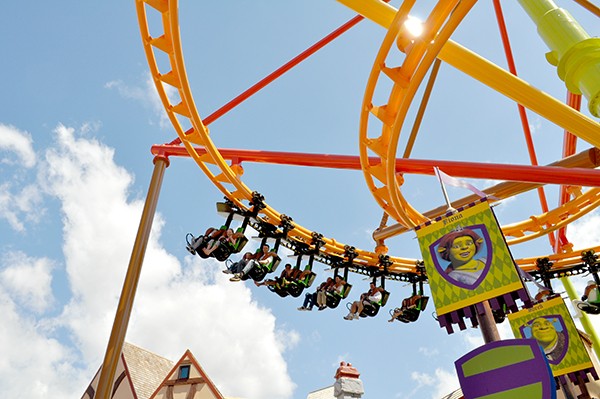 We love Dreamworld, I have taken the kids here ever since they were toddlers. I find it's a theme park that is suitable for mixed ages.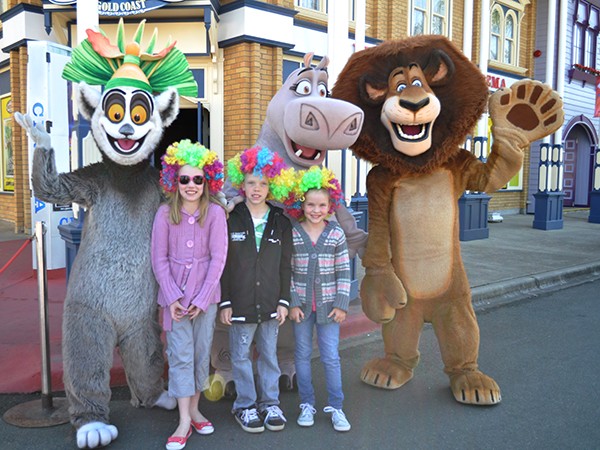 The all new ABC Kids World featuring Giggle and Hoot, The Wiggles, Play School and Bananas in Pyjamas, will open June 27 2015. image credit, dreamworld instagram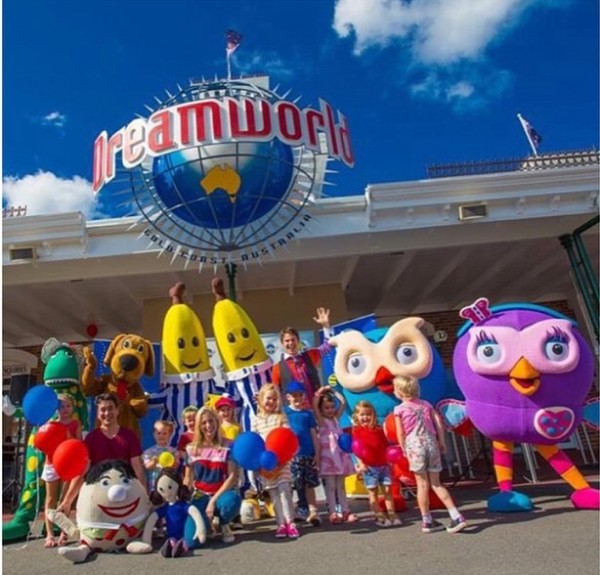 Enjoy a really fun day at White Water World which is right next door to Dreamworld. It's open all year round, with all rides, slides and pools heated during winter. Wind structures have been included on all ride queues providing extra comfort for guests.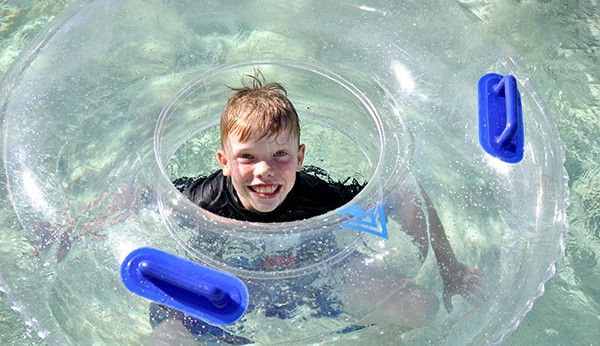 You also get FREE passes to visit SkyPoint which boasts spectacular 360 degree views of the glorious Gold Coast. Located on Levels 77 and 78 of the Q1 Building in the centre of Surfers Paradise. My favourite time to visit is at night, I love the watching all the night lights, but during the day you get a fantastic view of the beach, mountains and beyond. SkyPoint is open for breakfast, lunch and dinner.
The Stay, Play & SAVE package
The Stay, Play & SAVE package offers families more than $589 in savings. The package includes:
5 nights at Paradise Resort Gold Coast
FREE – Kids Club session per child per day (0-12years)
FREE – Unlimited use of the Zone 4 Kids Waterpark
FREE – Daily activities and entertainment
FREE – Continental Breakfast daily for the whole family
FREE – 7 Day Holiday World Pass for the whole Family to visit Dreamworld, WhiteWater World and SkyPoint during your stay*
Get in quick, this offer is only on sale for a limited time, travel on selected dates from 1 June 2015 – 11 December 2016. Additional fees apply for stays on Saturday nights and for travel 19 Sep – 5 Oct 2015, 24 Dec 2015 – 27 Jan 2016, 25 Mar – 10 April 2016, 17 Sep – 7 Oct 2016.
*Terms and conditions apply
Click here to read further about the Stay, Play & SAVE package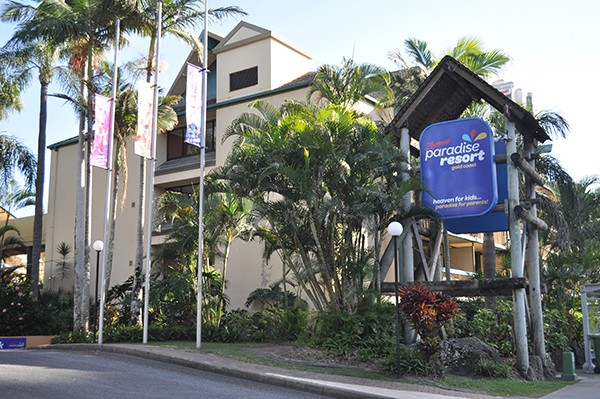 This post was coordinated by The Remarkables Group and run in accordance with my disclosure policy