When I started the "Organising You" month I read via the comments that many of you don't regularly visit the hairdresser.  One courageous reader admitting she hasn't been to a hairdresser for over year and was well and truly in need, which I am sure so many of you are feeling the same.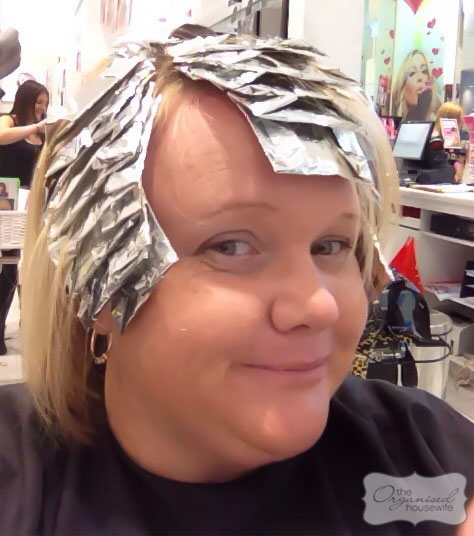 Whenever I walk out of the hairdresser I feel like one of the girls in the Sunsilk commercials, hair so soft and beautiful I can't help but swing it from side to side.  I visited the hairdresser on Monday, 3 1/2 hours later (let's not talk about that), but it boosted my mood, I have been rushing around the last week or so, it's something I definitely needed, to stay still for 3 hours (hmm, 2 would of been perfectly fine, but the head massage made up for it all).   
Understandably having kids and the expense are perfect reasons why not to visit the hairdresser, but you still can work around these and treat yourself to some pampering.  I know you will feel great afterwards!
Too expensive
call or visit the hairdresser before you book an appointment ask for a quote, do not feel obliged.  Ring around if you need.
see if they have a customer loyalty program, bonus if the whole family is on the one card
tell them at the beginning of the appointment you don't want a blow wave this will reduce a lot off the end total, in my case saved me $40. 
have a hairstyle that will look good any length so you don't have to return as often (eg. every 6 weeks)
if you like the one colour all over consider colouring your hair at home (purchased from supermarket), then just getting a cut from the hairdresser
if you colour your hair try to choose a colour close to your natural colour so your roots don't show as much.
mobile hairdressers are cheaper
I have a baby
If you have family that can look after bub, you're in luck, great bonus you can book them in to babysit and visit alone
When my youngest was a bub the hairdressers used to cuddle and look after her while I was getting my hair cut, which was helpful
when booking in let them know you will be bringing bub so they can set aside a seat that will allow your pram to sit next to you (hopefully, if all goes to plan)
book your appointment around baby's nap time, so she/he can be sleeping next to you 
make the appointment when hubby is home to look after the kids, Thursday night or weekends
I have a toddler
As above, leave the kids with family or hubby
Take a coTouring in book with pencils
iPod/iPad/Nintendo DS to keep them occupied
Portable DVD Player with movie
Pack food for them to nibble
Read a book while they sit on your lap
tip
 – always take a picture of the hairstyle you would like before visiting.  
Pinterest
is wonderful for inspiration, I have started a board of hairstyles I like 
here
.
When was the last time you visited the hairdresser, what is stopping you?