This post is sponsored by Olay.
I'm a huge believer in natural beauty and embracing what you've got. In the midst of prepping school lunches and getting the kids to school on time, I don't have enough time to spend hours (ok maybe not hours) in front of the mirror doing my make up and hair. However, some days I want to add a little something to my beauty routine so I can feel a touch more confident when going out. I've found that there are many simple beauty and lifestyle hacks every busy mum should know and add into their daily routine.  I've put together some Effortless Beauty Tips for Busy Mums, to help you during the chaotic morning rush.
1. Invest in a good pair of sunglasses
Investing in a pair of good sunglasses is a must! Nothing screams "mum" more than sleep-deprived eyes and bags. Whether it's for the morning or afternoon school run, a good pair of oversized sunglasses always disguises a restless night.
2. Pop on some lipgloss
I like to put a bright shade of lippy or lipgloss on to do the afternoon school pick up and groceries. Even if I'm not wearing any other makeup, it adds a pop of colour to my outfit and instantly brightens my mood. I usually keep mine in the car and apply it while stopped at the lights.  Also, being that I am blonde I add some mascara and eyebrow pencil (otherwise you can't see my natural lashes and brows), it only takes a few seconds and it helps to frame my face.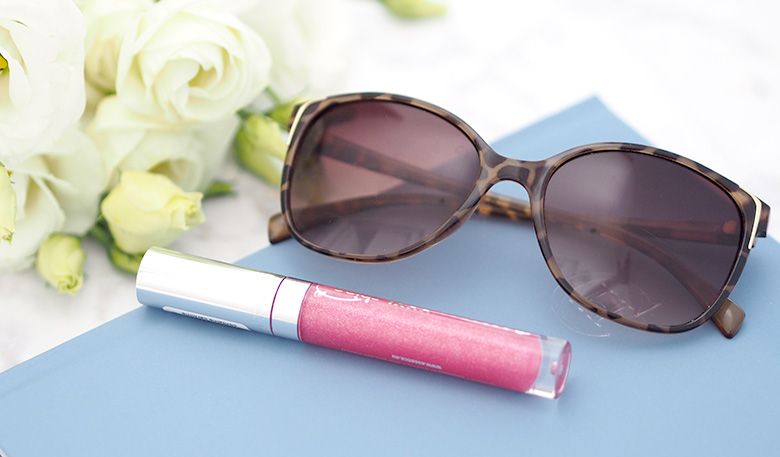 3. Have a good skin care routine
One of my New Year's resolutions this year was to keep on top of a good skin care regime, I turn 40 this year so I need to look after these fine lines appearing on my face. It's so important to look after your skin and keep it hydrated. I find if I cleanse and take good care of my skin, I notice a massive difference and feel more confident to leave the house without makeup.
I use the Olay Regenerist range as it feels lovely on the skin and helps you achieve skin that looks up to 10 years younger. The range, which includes a Micro-Sculpting Day Cream, Micro-Sculpting Night Cream and Miracle Boost Youth Pre-Essence, works with your skin's natural repair rhythm to deliver visibly reduced wrinkles and skin that looks firmer and plumper (in just five days!). I incorporate the Micro-Sculpting Day Cream and Miracle Boost Youth Pre-Essence in to my everyday beauty routine and I find that my skin is tighter and more radiant. If you're worried about the repercussions of ageing on your skin, these are the perfect products to help reduce pores and wrinkles! The key ingredients are Vitamin B3, Olive extract and Amino peptides. They work together to reduce fine lines by moisturising, exfoliating and smoothing the skin.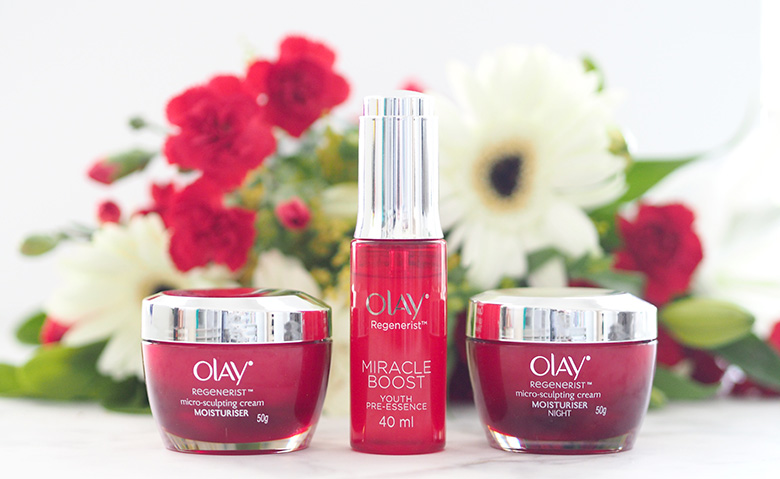 The Regenerist Micro-Sculpting Cream is Olay's most advanced and award winning cream, with over 200 awards worldwide! Studies have even shown that this Olay cream outperforms $400 luxury creams in regards to moisturisation. 
4. Dry shampoo is your best friend
Hair can be unpredictable and attempting the wash and style routine on a school morning takes up way too much precious time. Investing in a bottle of dry shampoo does wonders for those mornings where your hair just isn't cooperating. You can usually pick it up from your local grocery store and hide the fact that you haven't got around to washing your hair for a few days.
5. Tinted moisturiser or BB cream
I like to save my foundation for special occasions. Find a good tinted moisturiser or BB cream and use that for days when you feel like giving your skin an extra glow. Look for one that that includes SPF to protect your face from the sun!
6. Bring a concealer with you
Whether it be on a new pimple, wrinkle or dark eyes, concealer can save the day. Dark circles under your eyes scream "tired mummy". Invest in a good concealer to cover those bags and fake your way to a rested look. No one but you and your little ones will know you were up all night long. Leave one in your car or handbag, to have on hand if you need to fix a spot immediately.
7. Drink plenty of water
The best things in life really are free. I know we hear this tip all the time, but it really is super important. Bring a water bottle everywhere you go and it will encourage you to stay hydrated. Keeping on top of your fluids helps increase energy and improves your mood. In terms of beauty, it moisturises your skin and helps you maintain a fresh and flowing complexion.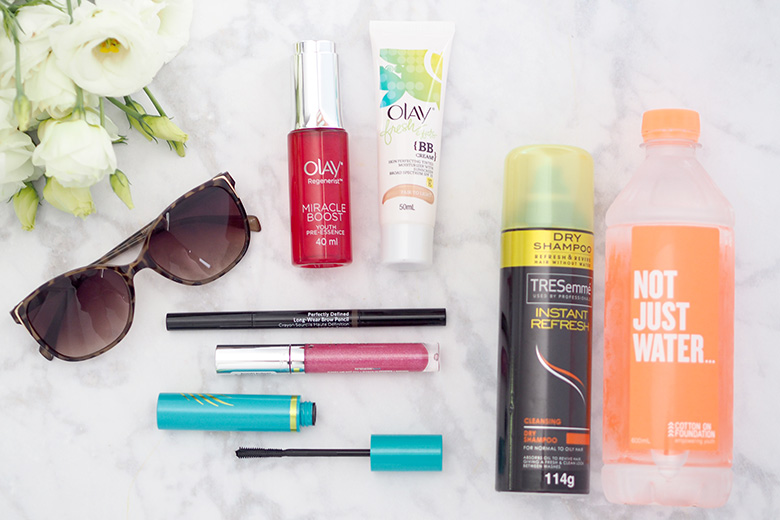 8. Lay out clothes the night before
When I have appointments, I can spend hours (exaggerating again lol) in my wardrobe trying to find the perfect outfit. That's why it's a good idea to choose an outfit, jewellery and shoes the night before and have it ready to go for the next day. This saves sooo much time in the morning and you can leave the house knowing you didn't throw something together last minute.  
9. Schedule evening showers
A lot of you are probably thinking this is an obvious one. I always shower each morning, but if I know I have to be out the door early the next day and I want my hair looking nice I wash it the night before and wear my showercap over it when showering in the morning. Besides saving ample time the next morning, your hair will also be a lot more manageable for styling if it's washed the night before.
Did you know: regarding your anti-ageing skincare routine, products work better in the night time, when skin is more relaxed and not exposed to environmental elements such as wind and sun. Try the Olay Regenerist Overnight Miracle regimen, just after your nightly shower and before you hop into bed, for maximum results.
Readers Tips
I recently asked the community on facebook What is your best beauty tip to help you get out of the house quickly each morning? Here are some highlights:
Keep my lashes tinted, hair in a neat high pony, lots of moisturiser and a smear of lipstick. Always helps me feel youthful and fresh. – Gayle
I always apply mascara & make sure I fill in my eyebrows (takes 2 mins). Wear your hair in a braid over night then take it out in the morning & go with the natural wavy look. – Laura 
BB cream, a touch of bronzer on the cheeks, and a coat of mascara. Enough to make you look fresh and presentable without spending hours in front of the mirror. – Sarah
A good cream, so I moisturize and foundation in one. Tinted eyelashes or mascara, and a lip gloss in my bag. A braid or ponytail. I have thick curly hair that only needs washing one a week in winter or I look like a dandelion clock, so that saves a lot of time. – Samantha
I'm planning to keep a small makeup bag/hair spray at work – so mornings that turn into chaos I can abort mission with trying to look nice, and just do it once at work! – Claire
What is your best
beauty

tip to help you get out of the house quickly each morning?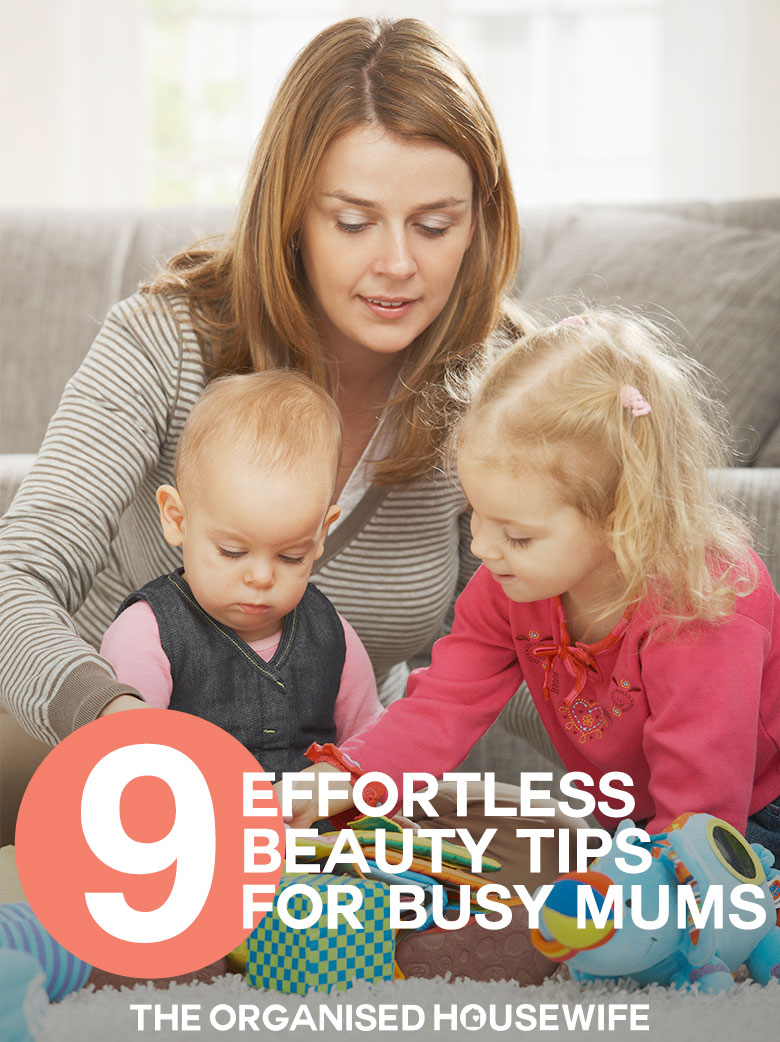 This post is run in accordance with my disclosure policy.