Start 2020 off on a positive, healthy, and well-organised foot, with my inspiring and incredibly practical 2020 Weekly Planner and Wall Calendar – both of which are available for pre-order NOW!
Literally overflowing with fancy features, these products will make creating a calmer, more coordinated and less stressful life – that's also filled with precious spare time and self love – super simple.
These beautiful, inspiring, playful, unique, and classy little masterpieces are sure to run off the shelves (last year's calendar sold out one week after arriving from the printers!), but if you order now during the pre-order phase, I can guarantee you won't miss out.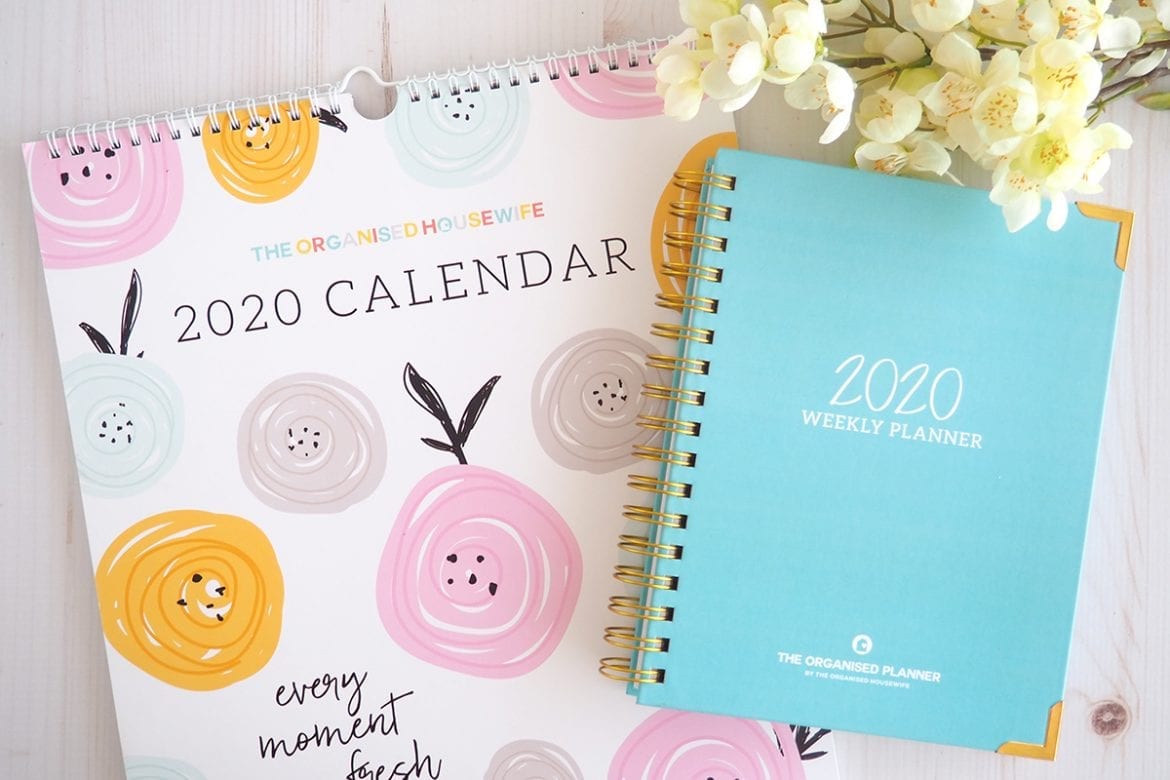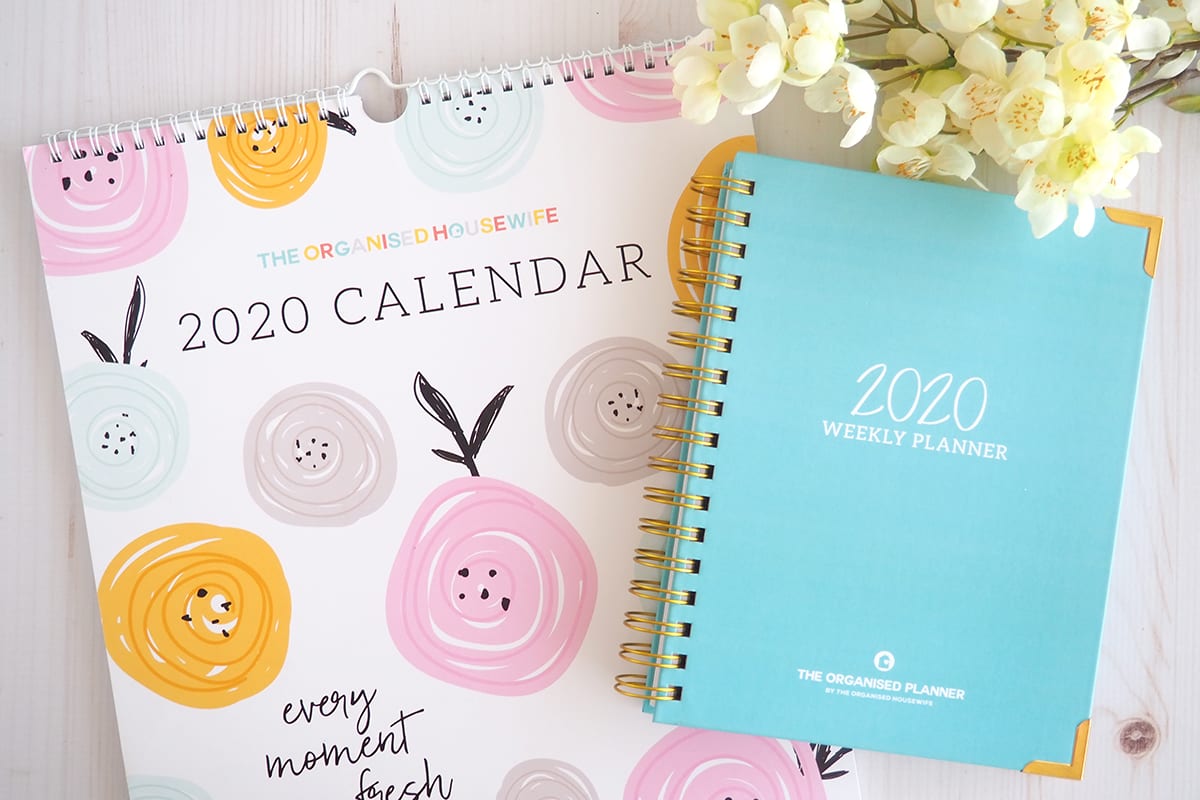 Both these products will gift you back precious time with your kids, because not only do they make keeping on top of your busy schedules incredibly easy, they also include helpful pre-written prompts by me, for other really important areas of your life.
If these products weren't injecting enough convenience and order into your life, I am also providing Gold Coast locals with the chance to save on postage, and share in a celebratory evening with me by choosing to pick up the their order from The Organised Housewife HQ, Biggera Waters on the Gold Coast. I will be opening my doors one Thursday evening in November, and would absolutely love to give you all your goodies in person! Specific details will be confirmed closer to the date.
Now let me break down some of the features of The Organised Housewife 2020 Weekly Planner and Wall Calendar for you.
2020 WEEKLY PLANNER
Turn over a new page, and discover a happier, healthier and more organised you with the 2020 Weekly Planner by The Organised Housewife.
It's my first ever Weekly Planner, and my goodness this pretty little planner packs a punch! A handy, helpful, and happy planner that brings everything (literally everything!) together in one convenient spot.
No more setting weekly and yearly goals here, writing appointments there, planning savings goals in one spot, and following a daily routine in another. My 2020 Weekly Planner wraps it all up together in one of two designs, both of which are beautiful, inspiring, playful, unique and classy.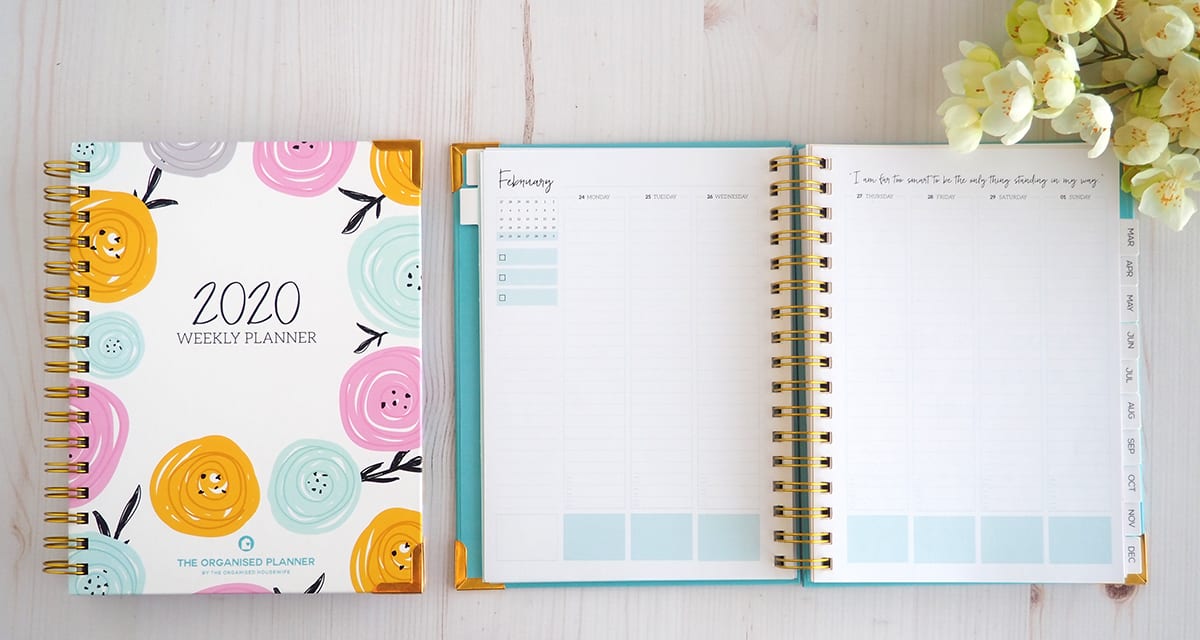 With my planner you can even identify and break bad habits, start new ones, and regularly undertake crucial self care tasks which I've pre-filled for you. Your monthly cleaning checklist is also included in the pretty pages of this perfect planner, broken down further into weekly tasks, and then categorised per room. And if your motivation and enthusiasm starts to waver (which let's be honest, we all have those moments), the positive and uplifting affirmations spread throughout the planner will help support your sparkle once again.
I have genuinely thought of everything! It will arrive to you beautifully boxed, and it's a great size to fit into your handbag.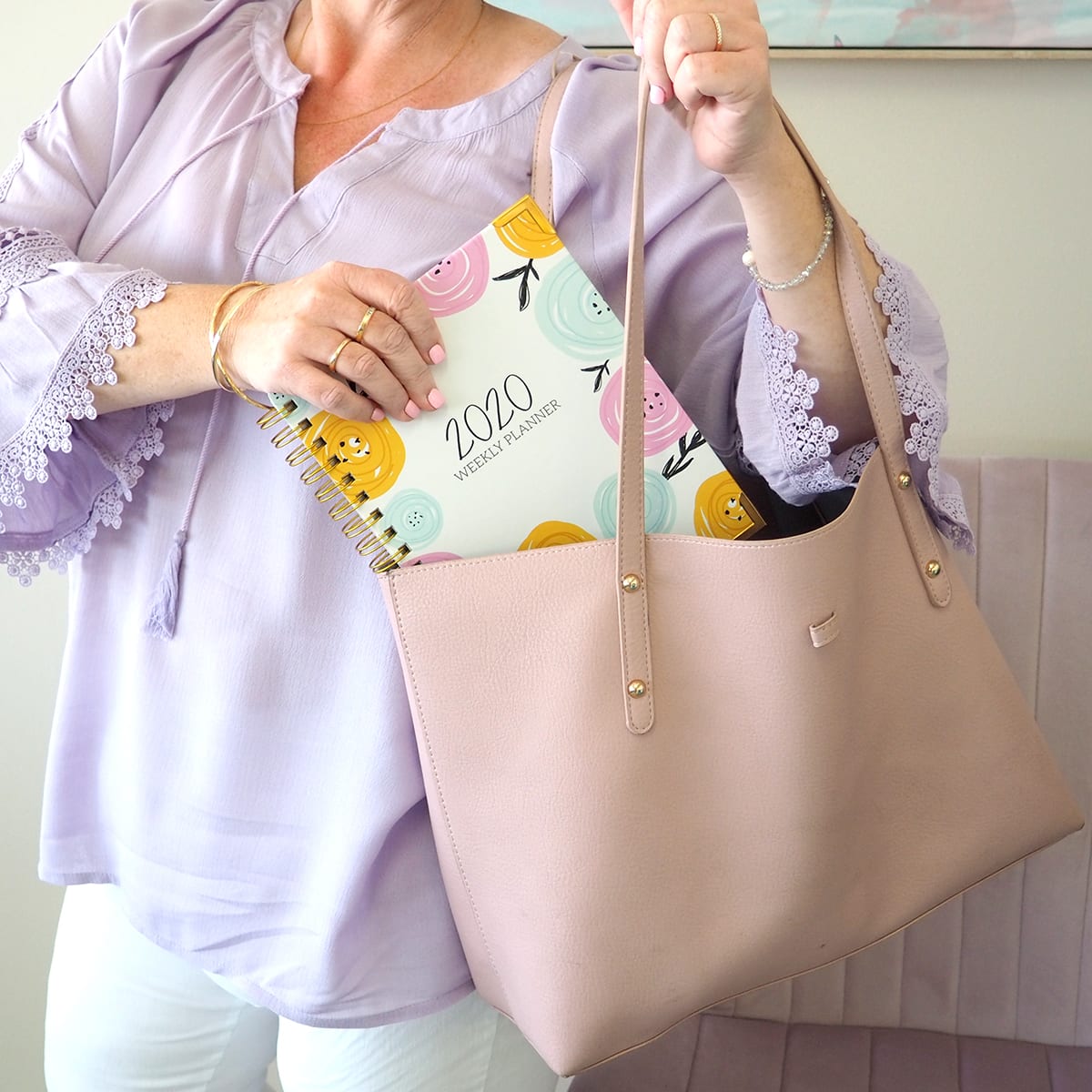 The Finer Details:
Yearly Goals – plant seeds for wonderful dreams in many areas of your life,

with my pre-filled category headings to prompt you (and space for you to add your own too).

Yearly Plan – make sure those seeds are watered and fostered to grow by devising a plan.
Goal Planner – ensure your goals grow into all that you dreamt they could be, with

a step by step guide and checklist.

Savings Goal Tracker – take that holiday, buy that dress, and throw your child that birthday party! Just plan it first, with my week-by-week savings tracker.
Daily Cleaning Routine – keep your home calm, clean, and stress-free with my quick and easy pre-filled morning and evening tasks (with extra room for you to write your own).
Birthdays to Remember – impress family and friends by never forgetting a birthday again, with this convenient page that allows you a quick view of all birthdays from January to December.
2020 Bucket List – hold yourself accountable for all your 2020 dreams, with a bucket list and accompanying checklist.
Monthly Goals – every month you can creep closer to your yearly goal, or set yourself new ones that can be knocked over in a month. Either way, this section keeps you moving forward and dreaming big!
Weekly + Monthly Cleaning Checklist – don't bother yourself with the worry of what needs to be cleaned when. My pre-filled tasks are categorised into frequency and room, so that your cleaning tasks can be tackled quickly and without fuss, affording you time for more exciting things.
Habit Tracker – enjoy the satisfaction of crossing off the days, as you welcome in new healthy habits, and cast aside all those ones that aren't serving you anymore.
Self Care Tasks – keep your mind, body, and mood on point, with my pre-written self care tasks to prompt a little self love each and every month. Let's face it, we can't look after others unless we look after ourselves first.
Monthly Calendar View – plan your month at a glance, with the double page monthly view.
Weekly Calendar View – accomplish something every week, with the option of setting 3 tasks for each day and each week in this easy to view double page weekly spread.
Blank boxes –

at the bottom of each day provide you with space to write your meal plan, exercise routine, record your work hours, or whatever you like!

Positive Affirmations – live a longer and happier life, with a sprinkling of affirmations that'll keep you motivated, inspired and grateful (they do say that grateful people live longer happier lives!).
Stickers –

easily and quickly record important dates with a huge range of fun,

bright eye-catching stickers that can be used for birthdays, medical appointments, sporting commitments and so much more!

Divider Tabs – save yourself time by easily flicking to the monthly section you need.
Convenient Size – have your Weekly Planner always on-hand so that you never miss an important date. Slightly bigger than A5 means this pretty planner is perfect for popping in the car or handbag.
Important Holidays – all

Australian public holidays and school terms are included for every state, (not intrusive for those that live internationally).

2 Gorgeous Designs – express your individual style by choosing the design that best speaks to you! Whether you opt for the pretty and fun Blossom design or the classy sophisticated Signature design, rest assured you will look delightful and dashing regardless.

2020 WALL CALENDAR
Brighten up your walls and streamline your chores, with the beautiful 2020 Wall Calendar by The Organised Housewife.
In the spirit of helping you make each year bigger and better than the last, I too have taken this onboard in the creation of my 2020 Wall Calendar.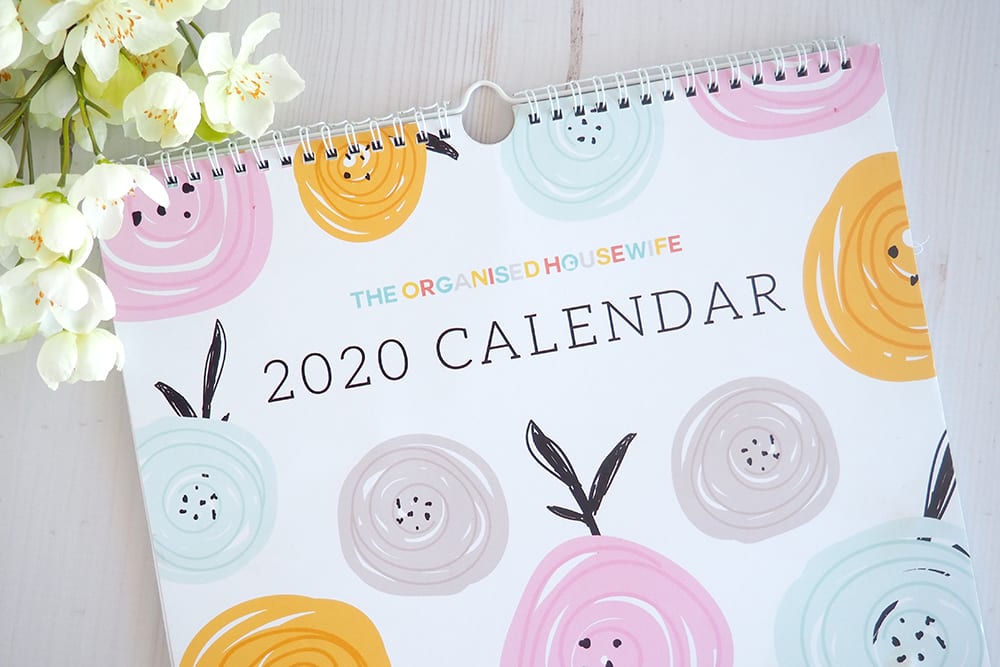 The Organised Housewife 2020 Calendar has all the brilliant bells and whistles of last year's but with a couple of fun additional quirks. I have still included 4 monthly tasks to help you organise your life, but this time one of those tasks will be devoted entirely to you! A gentle prompt to encourage you to have more fun or look after yourself better. Think of it as a pretty little reminder to not only look after your home but your self-care too, because my dear you are worth it!
The calendar has the same large date boxes you all loved, with ample room to jot down important events, and with HEAPS of stickers to make doing this even more timely. The stickers are brighter, more playful, and there's more of them.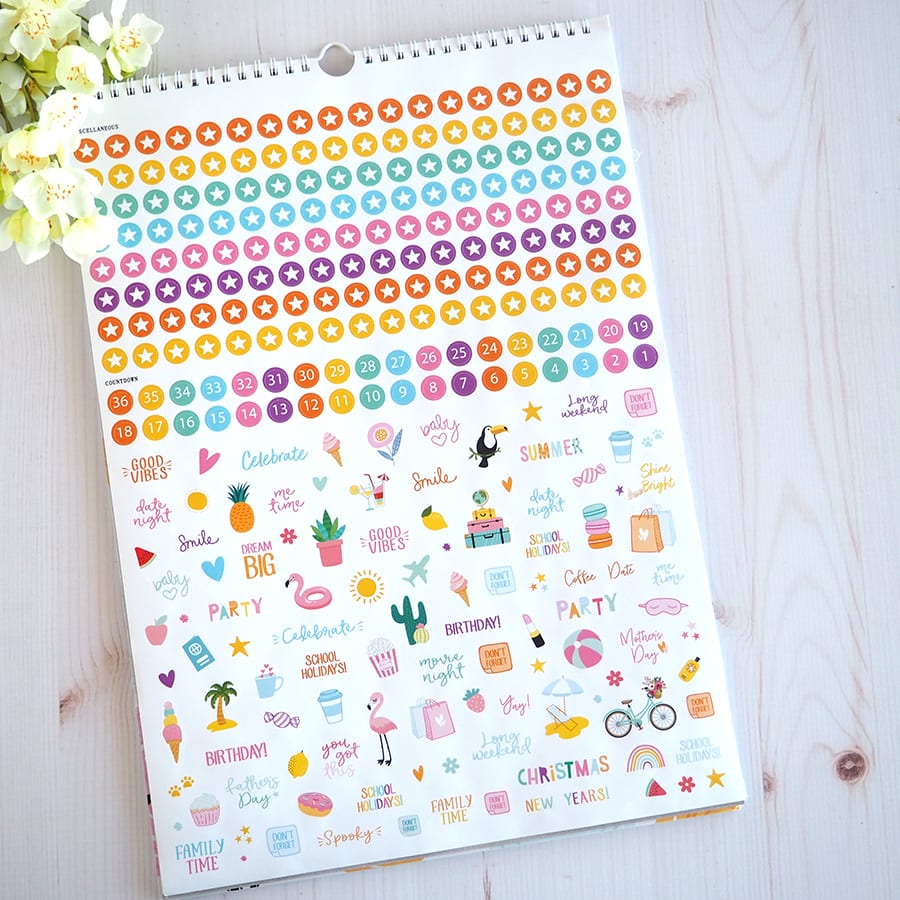 Get organised in style with this calendar filled with playful, fun and vibrant designs, a monthly to-do list, and inspiring quotes to keep you motivated every day. Just think of all the things you can achieve with your own personal cheerleader hanging on your wall!
The Finer Details:
Big Calendar – pretty up your palace with a calendar design that's going to be seen! The big monthly page sizes (297mm x 420mm) show off the beautiful graphics perfectly, and make keeping on top of your schedule even easier.
New Graphics – get excited with the arrival of each new month, as the classy, trendy, and on-point designs breathe new life and a little fun into your house and home.
Large Date Boxes – make sure you don't miss an event or appointment! The large date boxes provide ample room for writing or adding stickers, and make seeing all your commitments at a quick glance easy peasy.
Monday to Sunday Calendar – don't waste time trying to work out which day it is! The separate colour bar for weekend days makes them easier to spot, and differentiate from the working or school week.
Pre-Filled Monthly To-Do Tasks – keep on top of your house with 3 quick and easy cleaning tasks plus 1 happiness or health task to keep you smiling each and every month.
Blank Monthly To-Do Tasks – personalise this calendar to you and your home, with 8 spots (including checklist boxes) to add your own tasks.
Blank Monthly Box – record all your important information in the one spot, with this empty box perfect for scribbling down any extra info.
Monthly Quotes – keep that swing in your step and that smile on your dial, with a new positive and uplifting quote each month.
Stickers – save yourself time by

quickly recording dates with the complimentary

bright and eye-catching range of stickers. These can be used for birthdays, medical appointments, sporting commitments and so much more!

High Quality Paper – ensure your wall calendar stays pretty, with easy to write on uncoated paper.
Important Holidays – all

Australian public holidays and school terms are included for every state (not intrusive for those that live internationally).

Buy the Calendar + Planner and SAVE$$$!!!
Check out each of the pages and you'll see I've put together a special bundle discount!!
---
Don't Just Take My Word For It…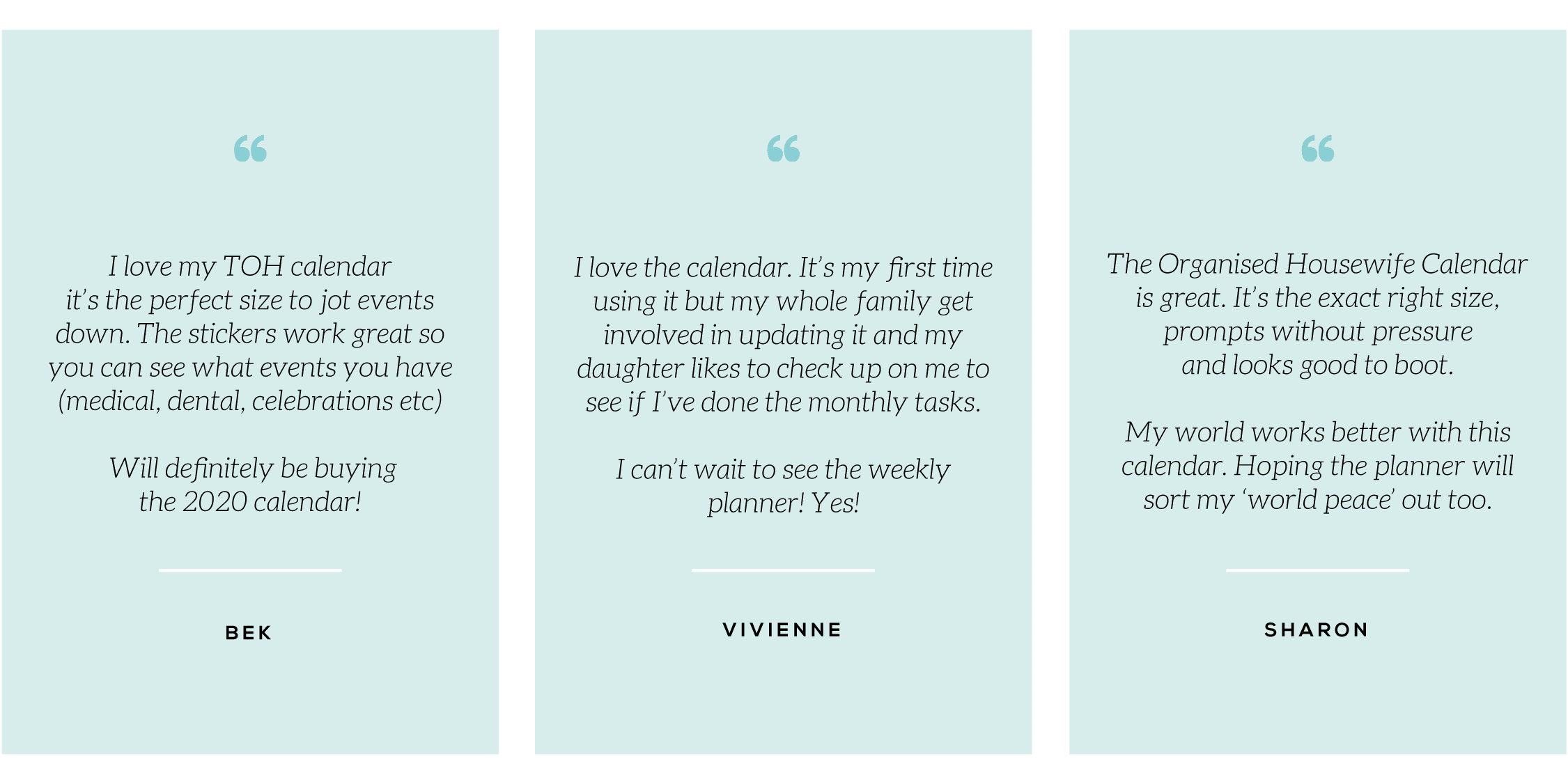 WHAT DO YOU THINK, DO YOU LOVE THE PLANNER?!