6 fun pieces that will get you through the festive season in style, and keep you incredibly comfortable along the way! Plus receive a $20 discount off your first purchase when you join and a 10% site wide discount for life!
It's no secret that instant wardrobes are all the rage, particularly during the festive season when a single day can see you go from breakfast with friends, to school drop off with the kids, then to the office, followed by dinner with the in-laws. As a busy mum, I understand the convenience (and comfort!) that a few key quality wardrobe pieces can bring, which is why I've shared with you how easy it is to create multiple outfits from minimal investment. I've styled some of my favourite outfits below which were pieced together from only six essential wardrobe items – the combos are endless, but I have 6 curated below. All of them are super comfy and built to withstand the washing and wear that comes with the territory of being a modern-day mum… PLUS there's an exclusive $20 discount offer for The Organised Housewife community below!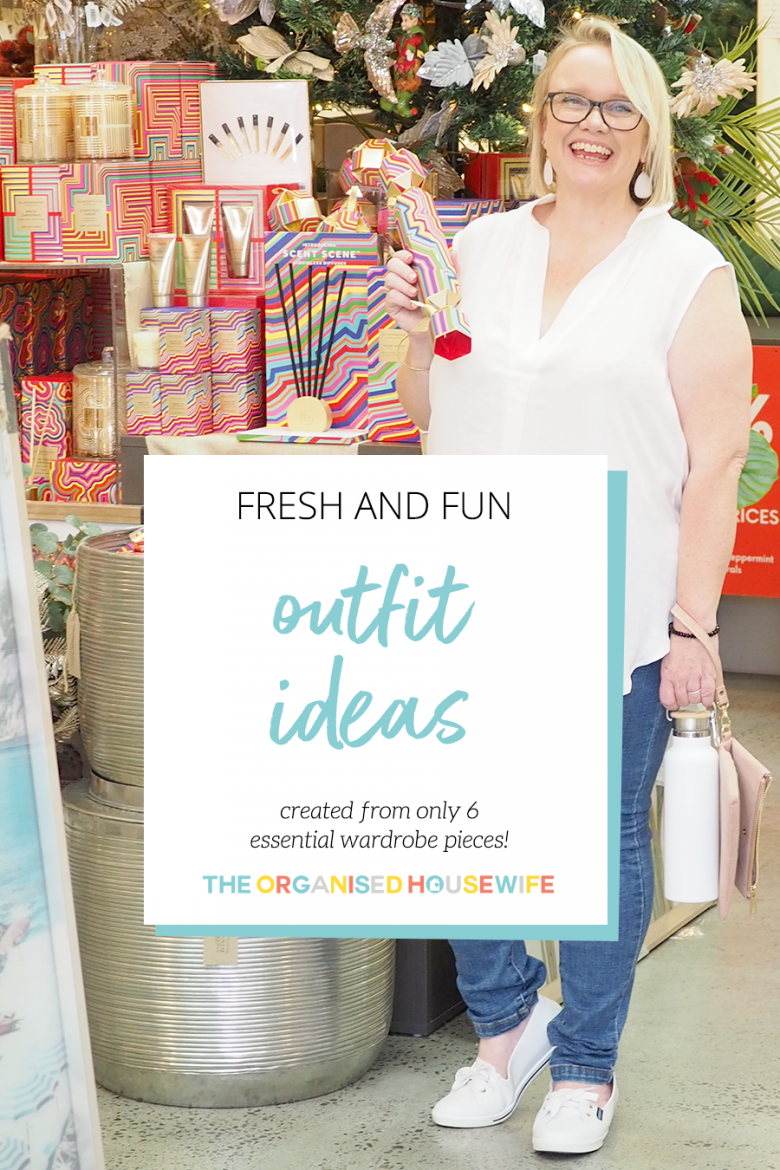 This post is in partnership with Motto
---
MUST-HAVE #1 – THE EVOQUE SHORT
These shorts are so comfortable and cool to wear – the perfect pair for a hot Aussie summer! The real benefit comes from the fabric and wide waistband – super stretchy and no digging in at the waist is always an important factor when I invest in a wardrobe item. I went up a size with these shorts because I don't like my pants tight, having said that my size did fit me, I just preferred the slightly less-fitted feel – that's the perks of getting a pair of shorts with so much stretch!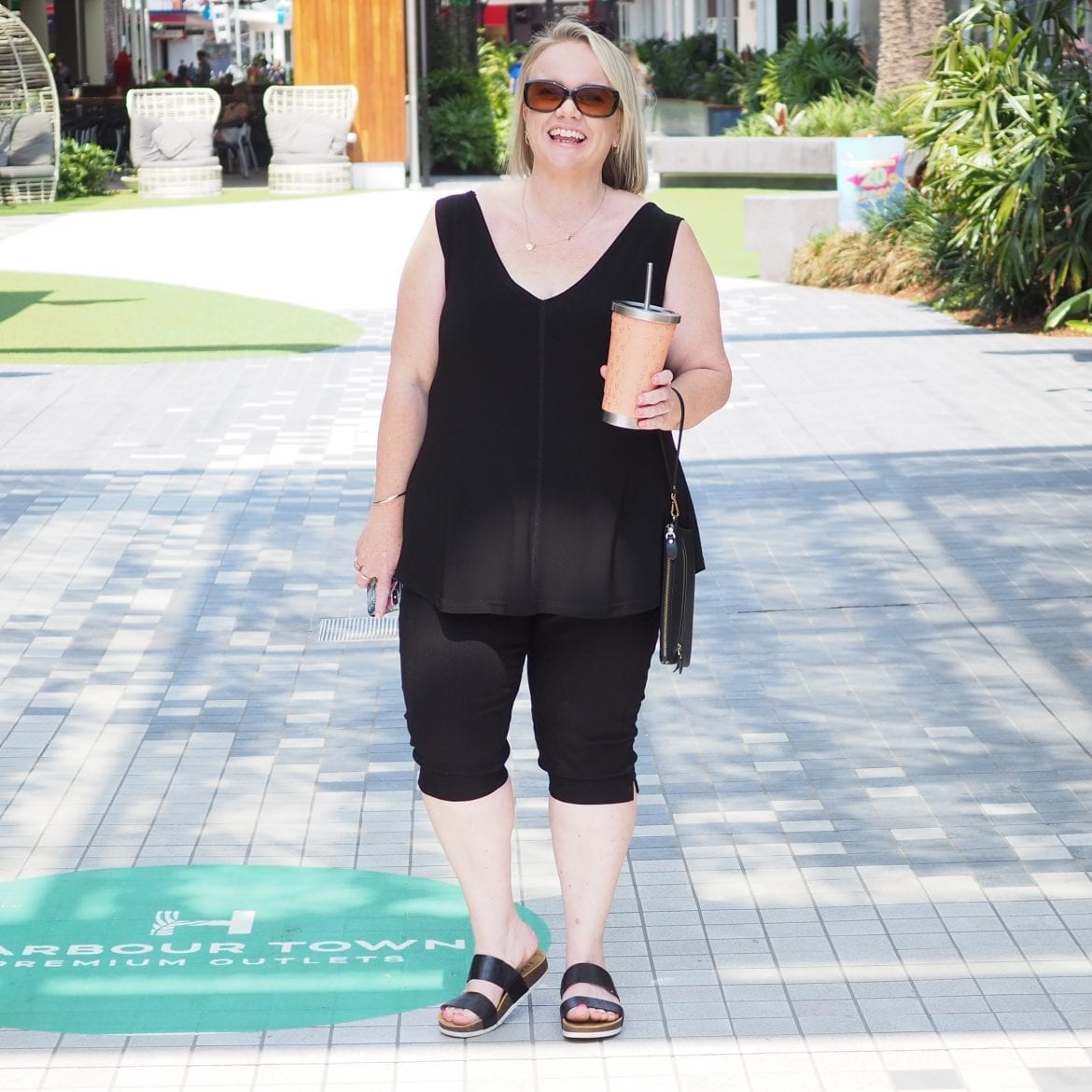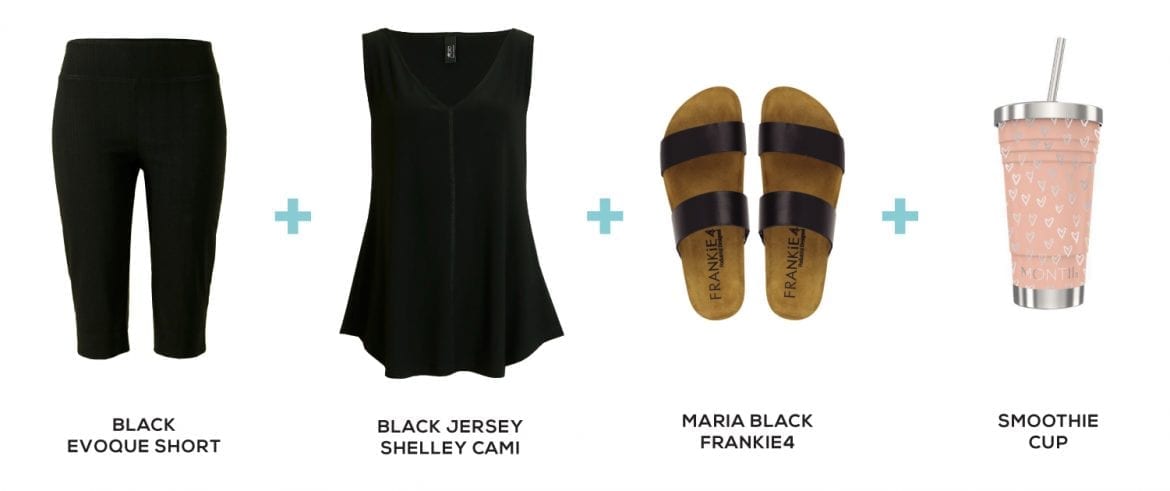 Outfit: Black Evoque Short + Cami top +  Shoes + Smoothie Cup 
---
MUST-HAVE #2 – IVORY SILKY EVERYDAY SHIRT
I love the versatility of a classic white shirt, but I always prefer mine in a soft floaty fabric so it's more of an over-shirt – making it my favourite throw over piece. This shirt is particularly great because you can knot at the waist to give you shape while you can totally relax underneath. So if you're having one of "those days", or have some pants that might be digging in somewhere, this hides it all! This shirt is really light and breathable too, so is great for warmer days. It will also dry with no creases in about 1 hour on the clothes line! Available in a variety of colours.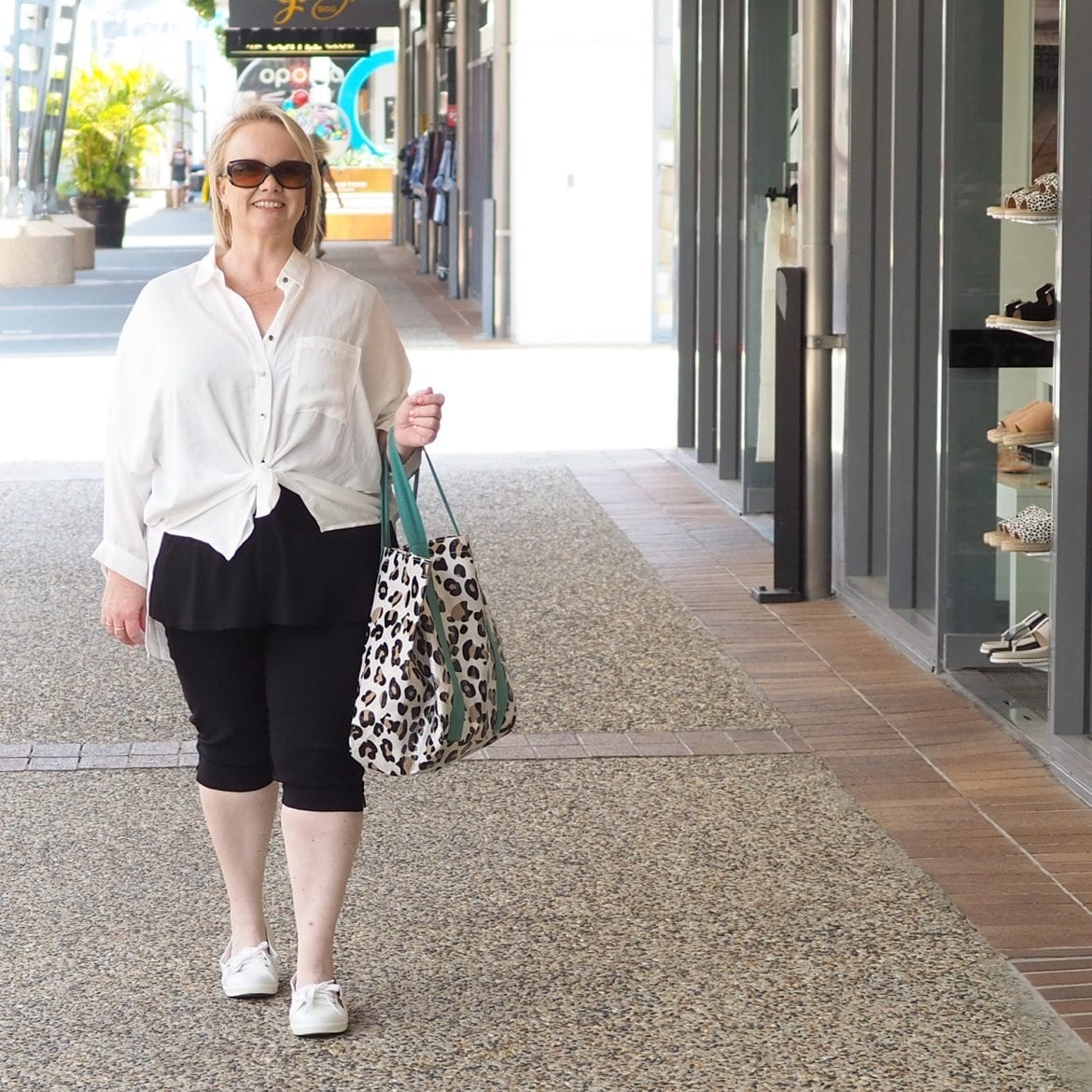 Outfit: Ivory Silky Everyday Shirt + Black Jersey Shelley Cami + Black Evoque Short + Shoes + Shopper Bag 
---
MUST-HAVE #3 – BLACK JERSEY SHELLY CAMI
A black cami is a staple when creating different looks, especially one that skims the tummy and hips which lets you wear it as a fashion item, not just a layering piece. I love the v-neckline and how it's fitted around the bust and shoulders, but then tapers out beautifully around the waist and hips. It also has a really flattering seam in the front which has been strategically placed to give me an elongated look. This best selling style of Motto's is available in a variety of colours.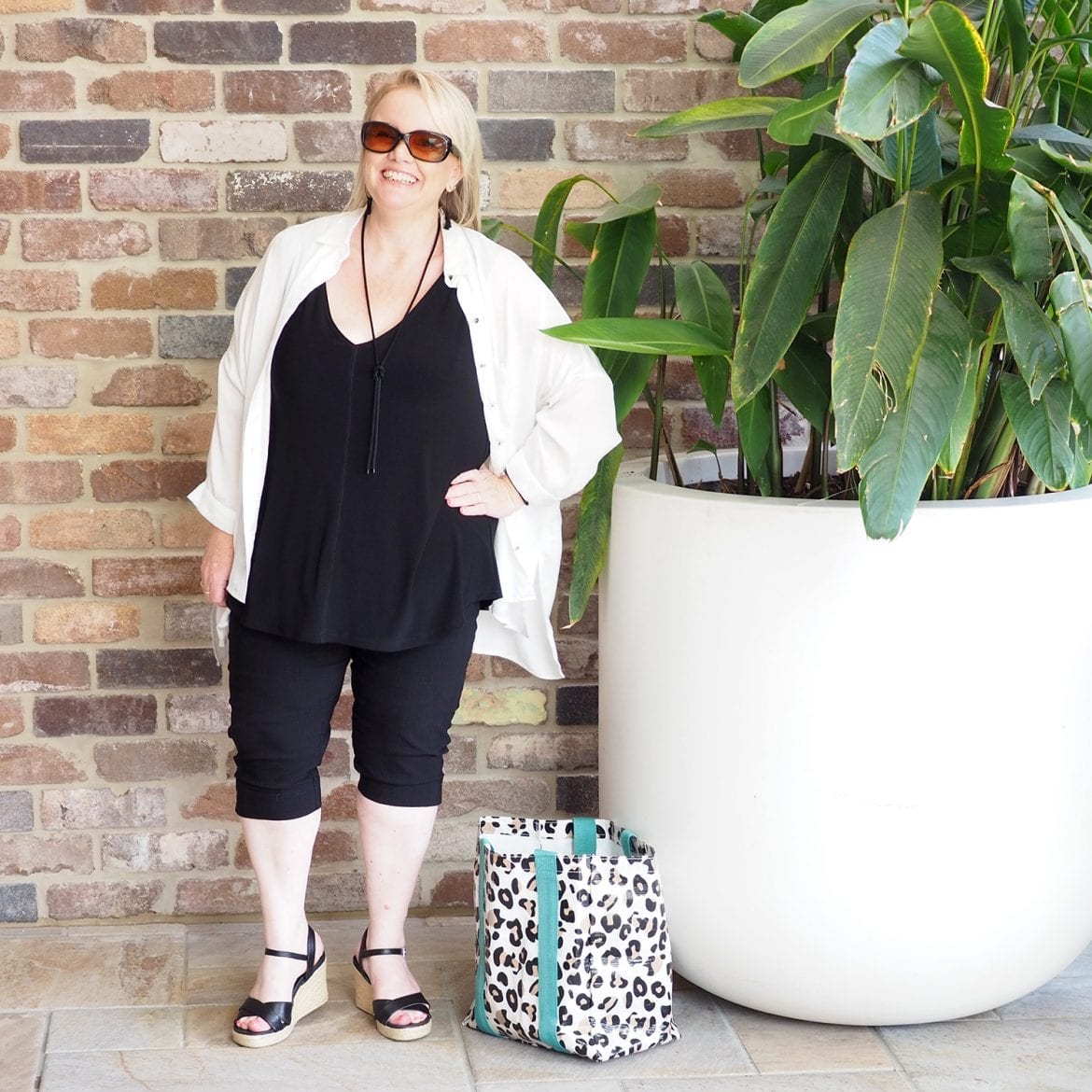 Outfit: Black Jersey Shelley Cami + Ivory Silky Everyday Shirt + Black Evoque Short + Shopper Bag + Shoes
---
MUST HAVE #4 – BONDI SHIRT
This top is so perfect for warmer days. It's very sheer and floaty, so it's one of those pieces I constantly find my hand reaching for in my wardrobe. I am a big fan of deep V-necks like this one too, because I find them so flattering. I wore this top with the black cami underneath but because the fabric is sheer, you could easily switch up this look by using different coloured camis. A red one would be vibrant and bright for a festive Christmas outing, or a white would like gorgeous and fresh for a summer day. This top is also available in another print.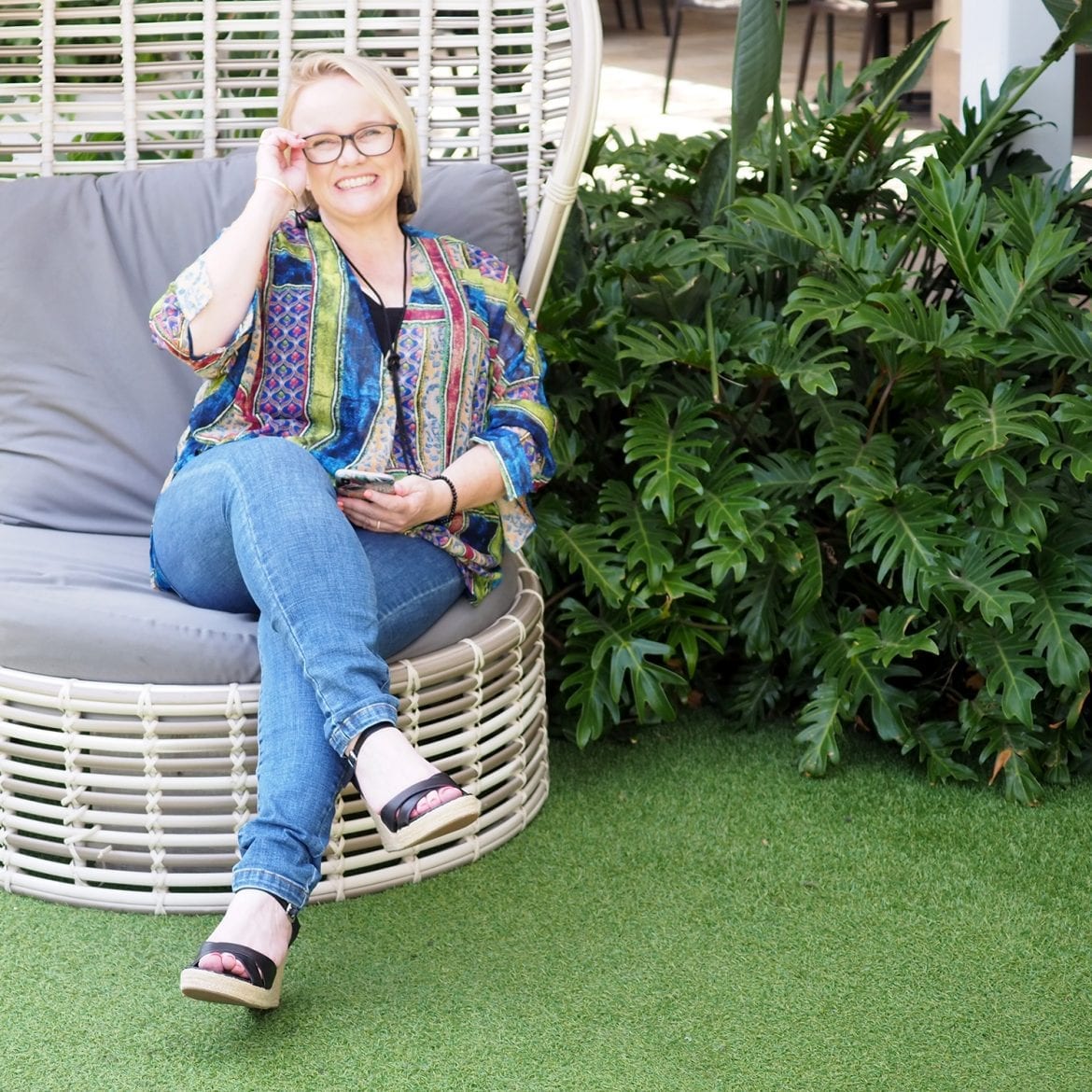 Outfit: Bondi Shirt + Black Jersey Shelley Cami + Body Sculpt Jeans + Shoes
---
MUST-HAVE #5 – IVORY SILKY BLOGGER CAMI
I'm not surprised that this cami keeps selling out in Motto stores! The designer tells me it's one of their most popular items, and most people end up with one in every colour! The reason I love this cami, is that it has a gorgeous front tuck that falls effortlessly down the front of the top creating an elongated line which is very slimming. The silky feel and flow of the cami would lend itself just as well to a night-time event (teamed with some statement earrings) with the girls, as it would to a day hitting the shops with the kids. The fabric is a new technology of fabric which includes a memory filament giving it the beautiful look and feel of silk, without the 'hard to care for' factor. This is totally machine washable, and if you hang it to dry you can completely avoid creasing – and therefore ironing – which is a big win for me! Available in a variety of colours.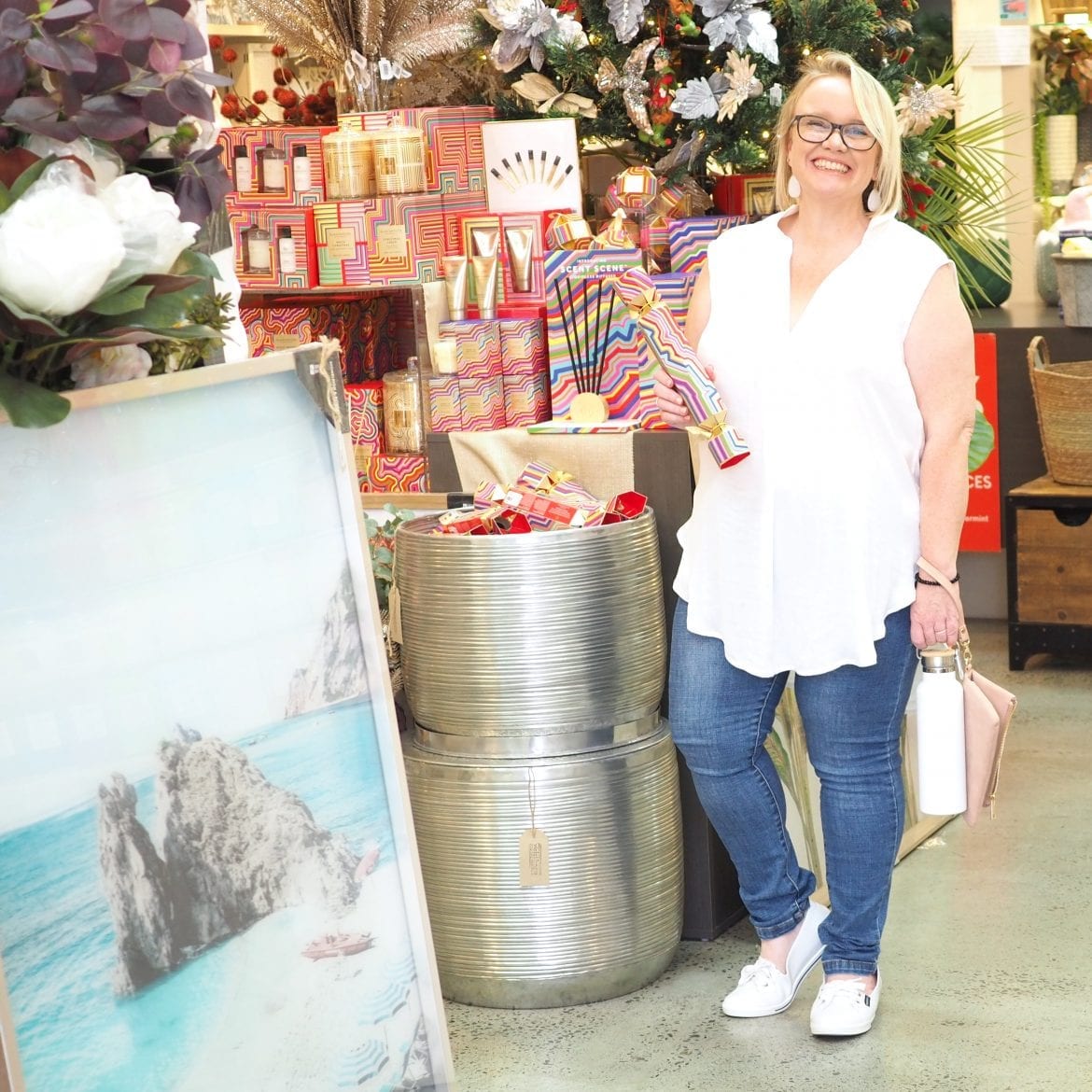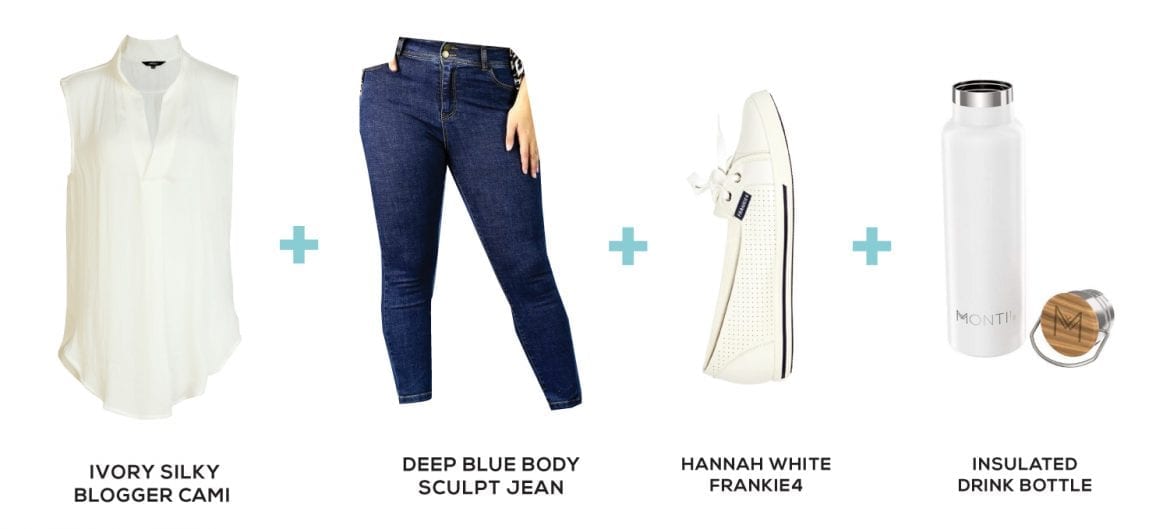 Outfit: Ivory Silky Blogger Cami + Body Sculpt Jeans + Shoes + Earrings + Insulated Drink Bottle
---
MUST-HAVE #6 – ANIMAL PLEATS ALL OVER DRESS
There is nothing like a fierce animal print to unleash your party spirit this festive season (and most of you know how much I absolutely love myself a bold animal print!). This dress is very soft and silky, and falls in a really flattering way. I love it teamed with a thin or chunky belt, and can easily be taken from day to night by switching out boat shoes or flats with a statement heel.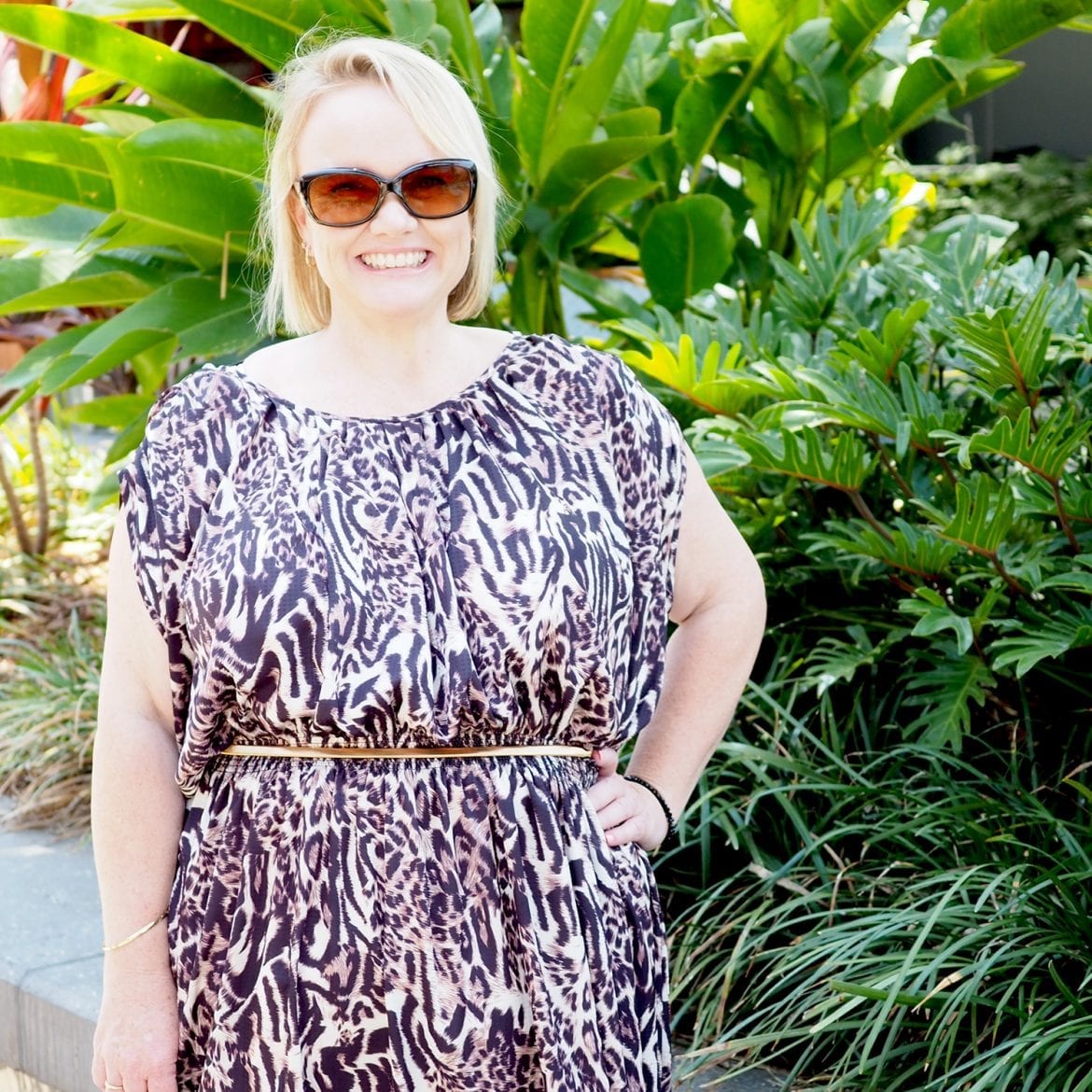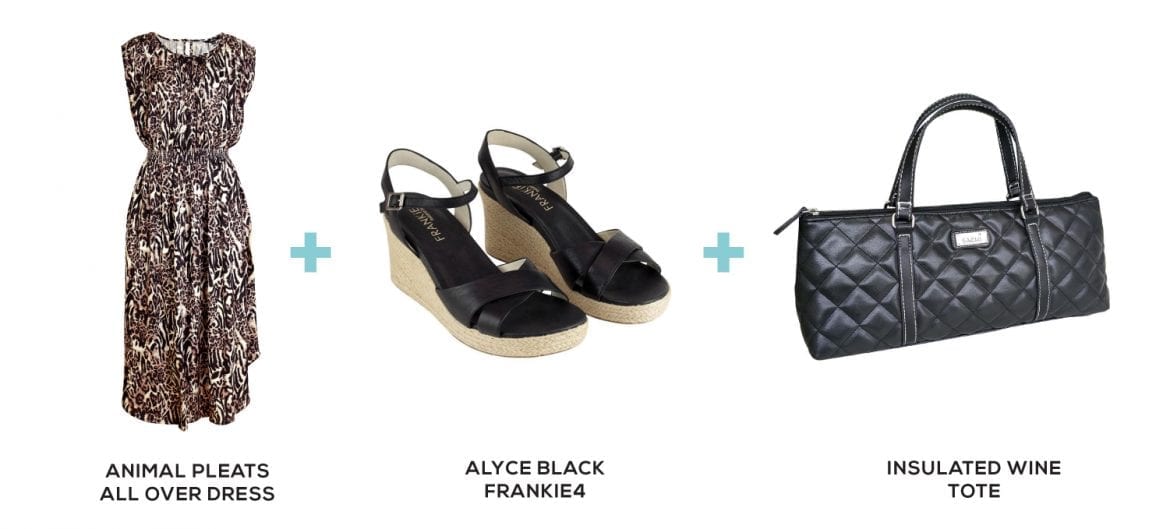 Outfit: Animal Pleats All Over Dress,  Shoes + Insulated Wine Tote
---
These gorgeous outfits are only the tip of the iceberg! There are lots of other combinations to create from these must-have pieces of clothing – the combo options are endless, and if there is one thing a busy mum needs, it's options! If you are loving on these items as much as I do, and you feel like you couldn't live without one or two of them this summer, then it's with much excitement that I announce that Motto offers a $20 voucher when you join their mailing list, plus you will receive 10% off this purchase and every purchase you ever make for the lifetime of your membership…
EXCLUSIVE OFFER FOR YOU – GET $20 OFF!
Our friends over at Motto want to see you looking fab and fresh this summer, so have kindly extended an exclusive offer to The Organised Housewife community. If you love any of these pieces as much as I do, you can simply follow the link below and get $20 off your first purchase with Motto, plus 10% off this purchase and any future ones!

This post is run in accordance with my disclosure policy.
What is your one wardrobe must have?