Over the school holidays I want to give my kids wardrobes a good clean out. Store away their winter clothes, donate clothes that no longer fit them and work out what new clothes I need to buy them. Each of them have had growth spurts over winter, one so much that non of her summer clothes fit her. So before I sort through them I wanted to find some Organised Wardrobe Ideas to inspire me when tidying them up.
When searching for organising ideas I was actually very uninspired, I couldn't find very many practical ideas. I wanted to find ideas that were realistic for kids clothes, undies, socks, and all their other bits and pieces.
HERE ARE THE CUPBOARDS IN OUR OLD HOUSE
They functioned really well, big enough to put in shelving systems and create spaces for different areas in their wardrobe.
ORGANISED KIDS WARDROBE #1 – I pulled all the shelving out of my daughters cupboard and put this storage system in, which included shelves, rails and drawers. Continue reading here.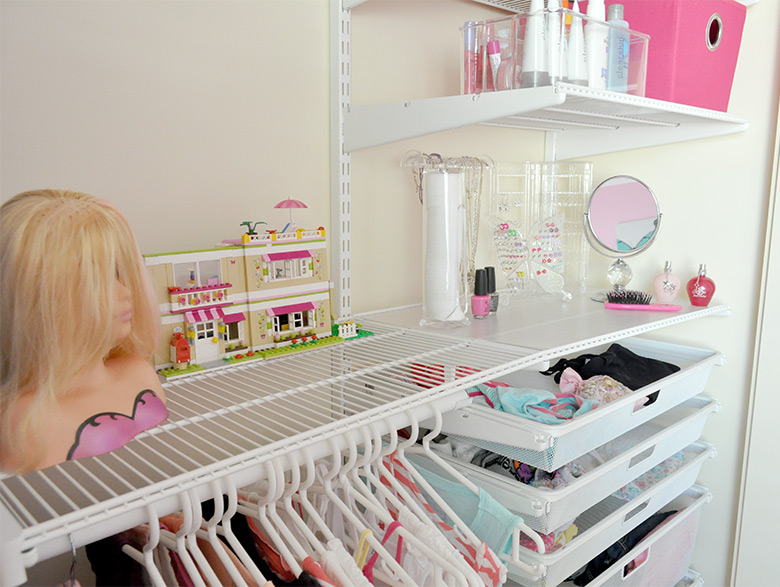 ORGANISED KIDS WARDROBE #2 – I needed to create a system for my son to easily keep tidy. What I had in his room wasn't working. See the whole wardrobe here.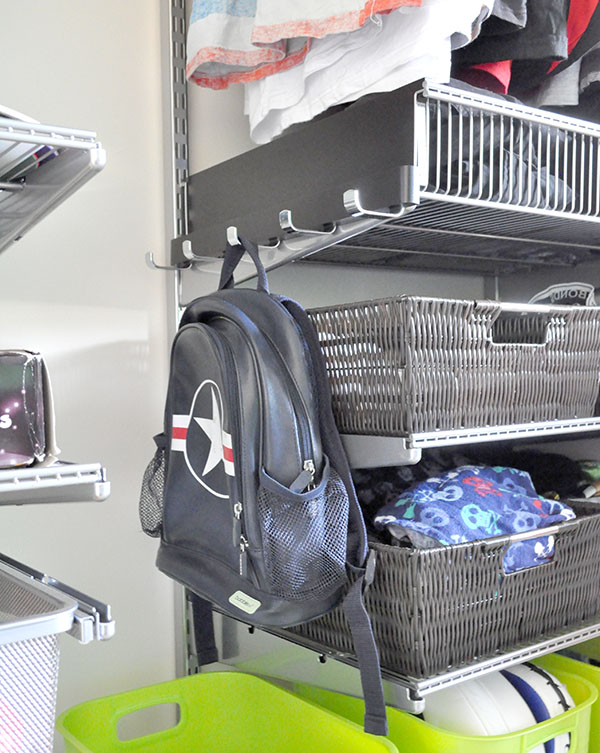 ORGANISED KIDS WARDROBE #3 – This system worked perfectly in my youngest wardrobe, she really liked having individual cubes to everything organised. Read more here.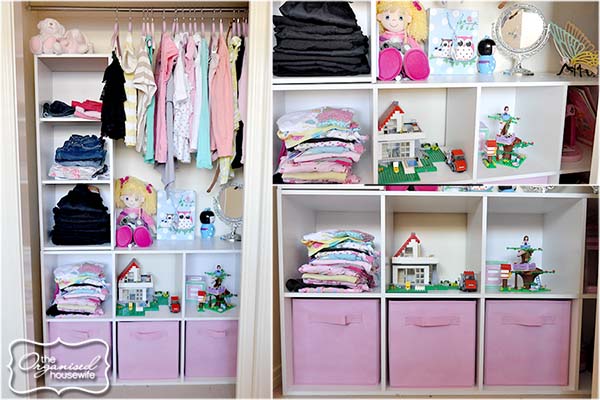 7 Ideas for Organising Kids Wardrobes
HANGING STORAGE CUBES – Add cup hooks and little plastic crates to rail. This will help to organise all the little things in the wardrobe like undies, socks, swimmers etc. Clever idea via Reality Daydream.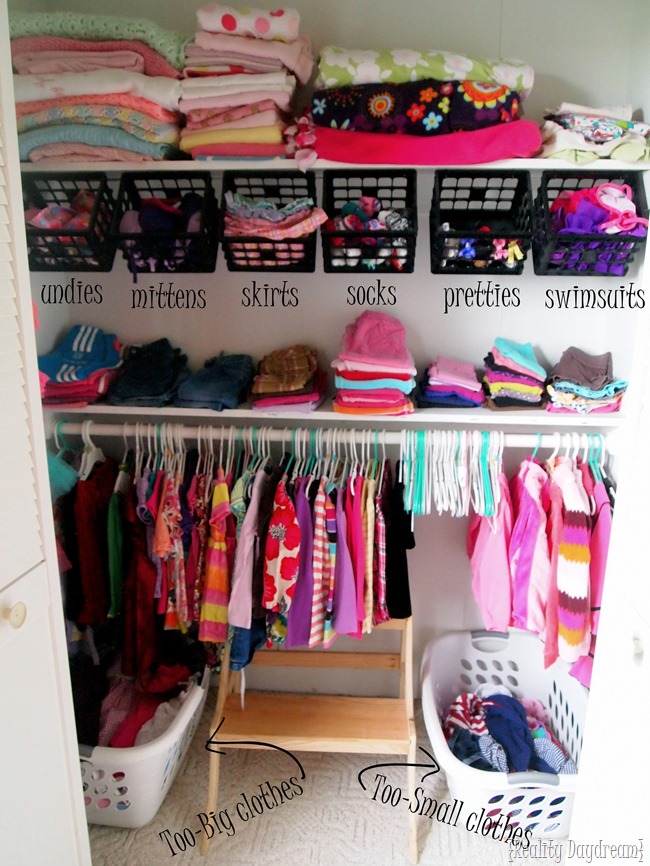 USE THE BACK OF THE DOOR – The back of the door is a great place to hang hooks to store scarves, belts, hats, handbags etc. Shown below they have added a rail with basets to store toys, creams and other trinkets. Image found via Pinterest.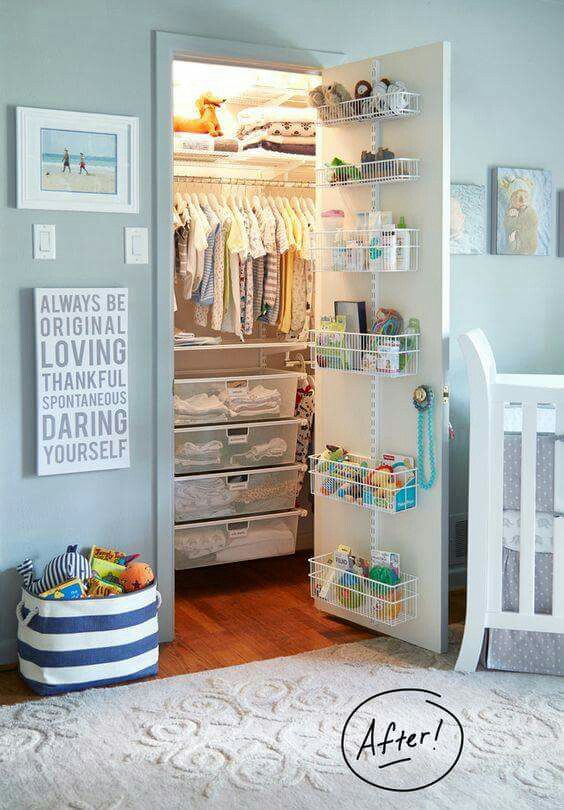 REPURPOSE POOL NOODLES – this is a really clever idea to keep your boots standing up staight. A spottedpony shares her tutorial on how she covered the noodles and added ribbon to make them just that little bit prettier.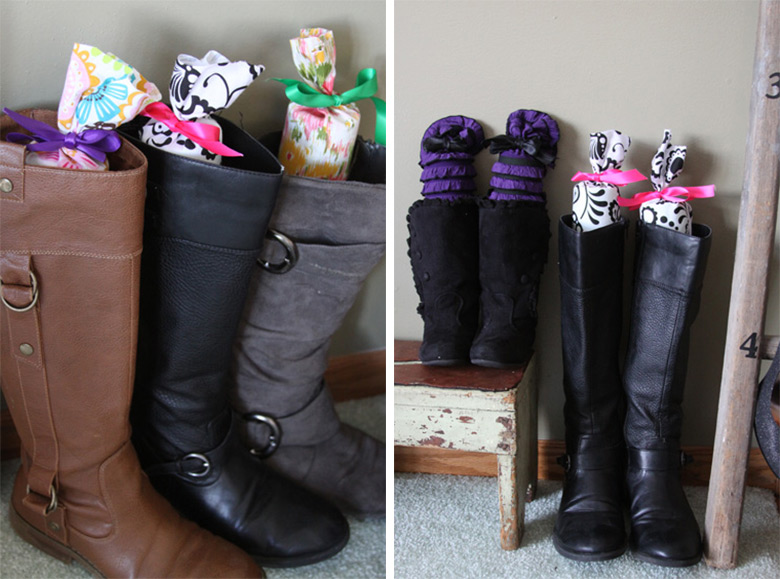 USE PEGS – This is a great tutorial on how to use pegs to hang tights, makes it easier to see what colours you have. Tutorial found at Lana Red Studio.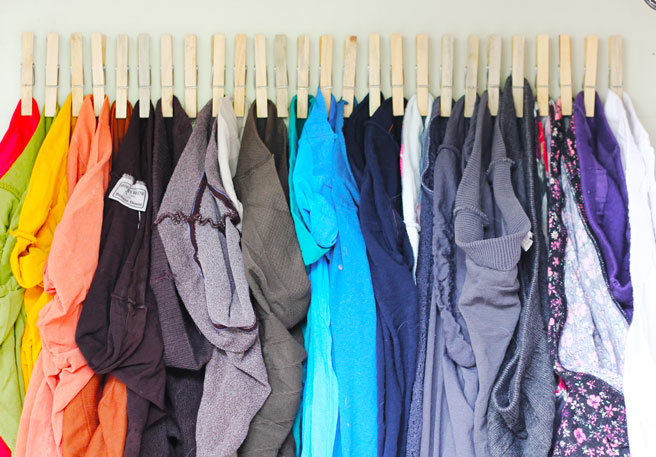 CREATIVE WAY TO FOLD CLOTHES IN DRAWERS – I have been doing this since my twins were babies, as I stored all their clothes in drawers. Simply fold the clothing into thirds or quarters (whichever fits best in the drawer) with the folded edge up. This makes it really easy to see what clothes are in the drawer, and stops you making it a mess when getting the clothes out. I like to use expandable drawer dividers (which are available in The Organised Housewife shop here) because it makes it really easy to keep the clothes in their tidy rows.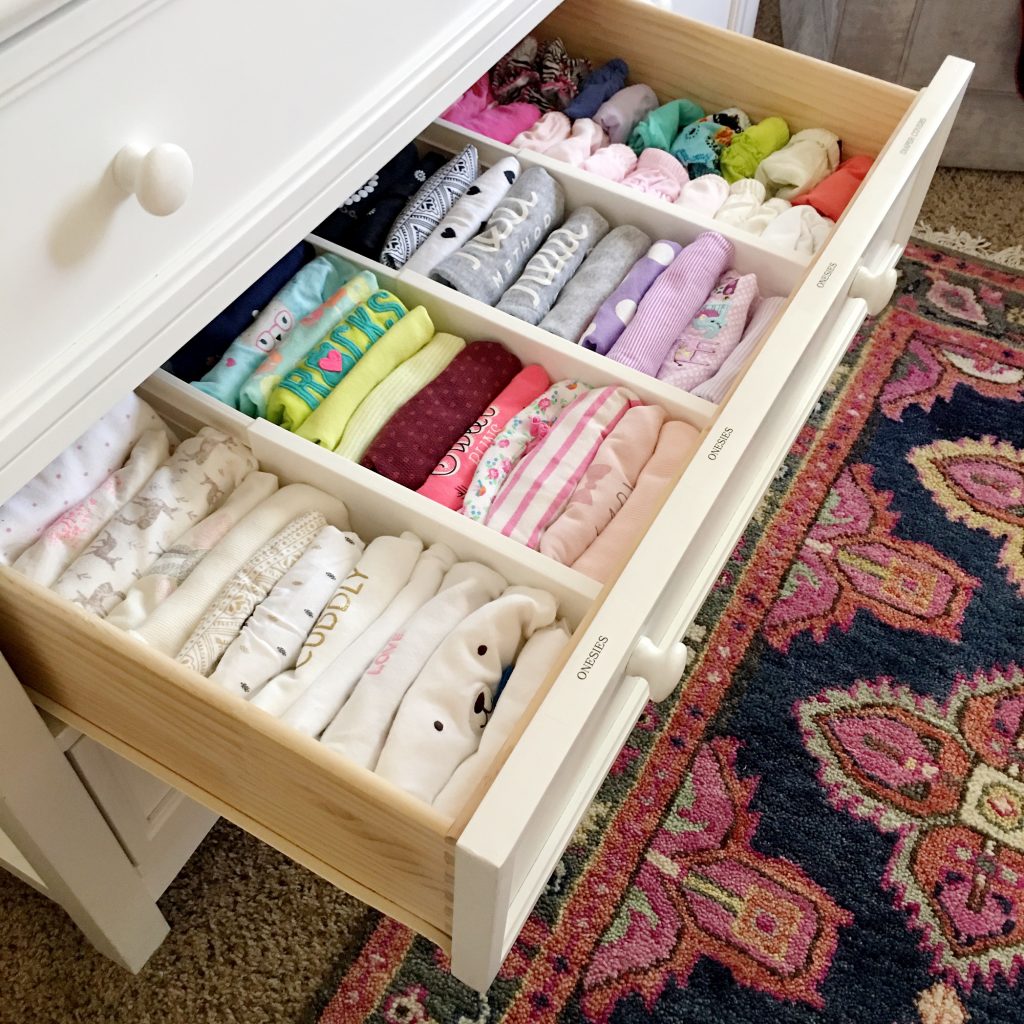 Image source: Mika Perry
These expandable drawer dividers are also great for organising and tidying up your undies and socks drawer too!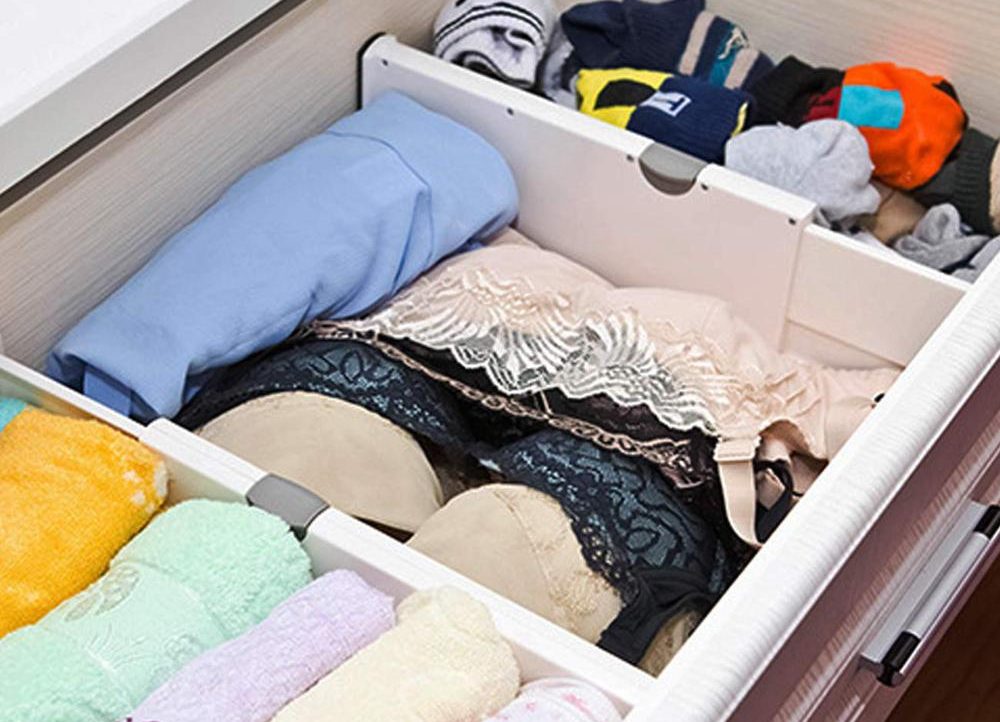 PLASTIC DRAWERS – Add extra space to a closet, these are particularly good if you are renting so you can easily take it with you when you move. Image found via Living Rich on Less.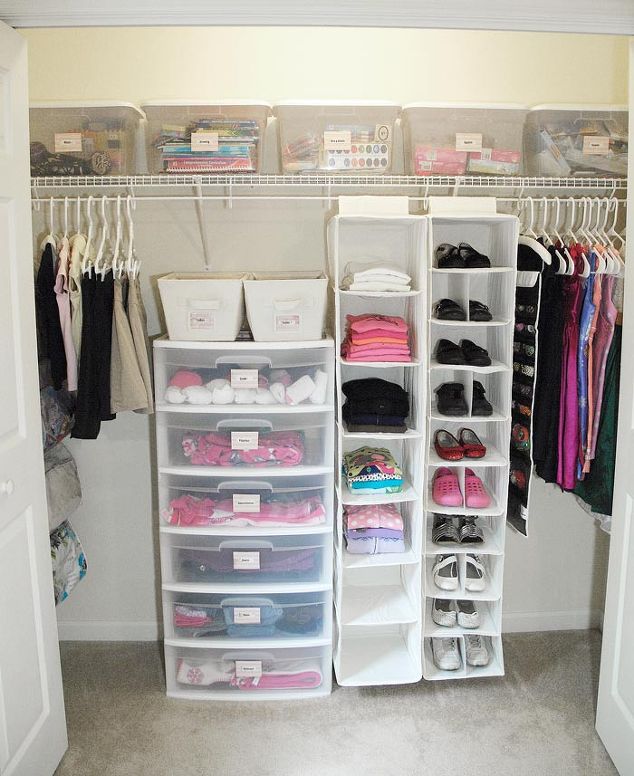 INSTALL SHELVES – install shelves at the bottom of the wardrobe for extra storage. You can find large cubes at most homewares store, including Ikea and Kmart. Image found via Max and Me.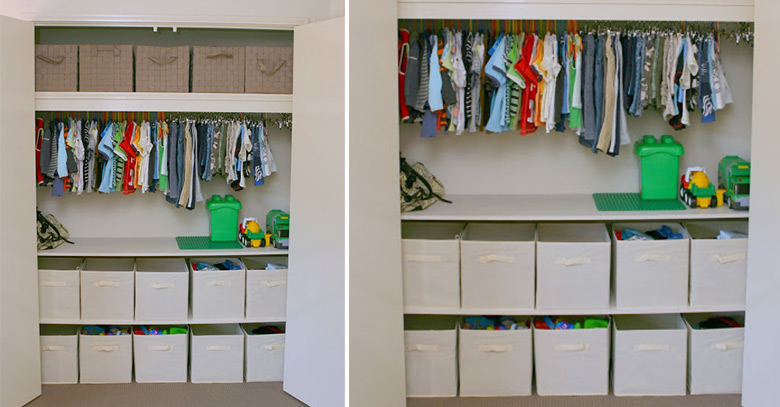 Once I've finished organising my kids wardrobes I'll share with you some photos and more tips.
Do you have an organised wardrobe you can share? Please email me a photo, I'd love to see and share with the community.
What is your best tip to keeping the kids wardrobes tidy?