I was lucky enough to recently go on a getaway to the Maldives via Singapore, with special thanks to FlyScoot, Club Med Kani and Ibis Bencoolen.
A few years ago I saw Singapore's Gardens by the Bay on Better Homes and Gardens and from then I knew this was a destination I needed to visit. I love flowers and pottering in my garden, which is filled with bromeliads and tropical plants so I was eager to go to Singapore to visit the gardens.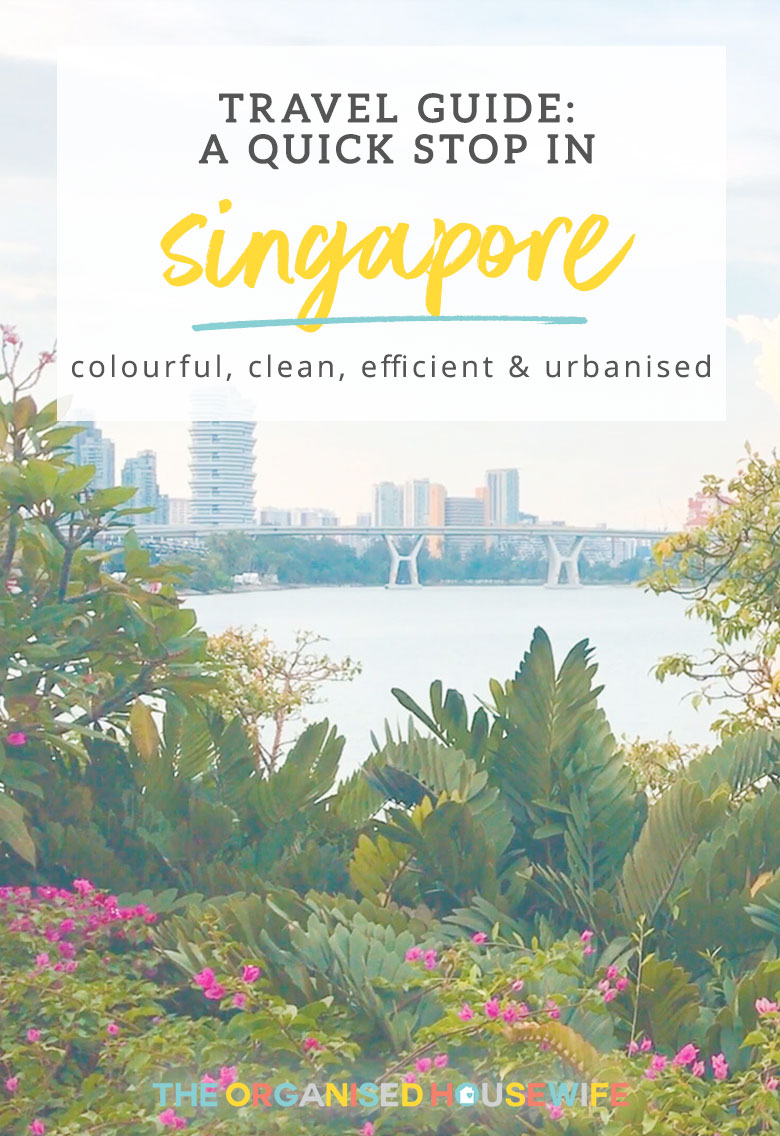 I travelled with a group of bloggers to visit the Maldives where we stayed at Club Kani (I'll share more on that soon) and Singapore. We stopped at Singapore for 2 nights before flying back home. I was so impressed with Singapore that I would love to take the kids back, before they grow up and fly the coup.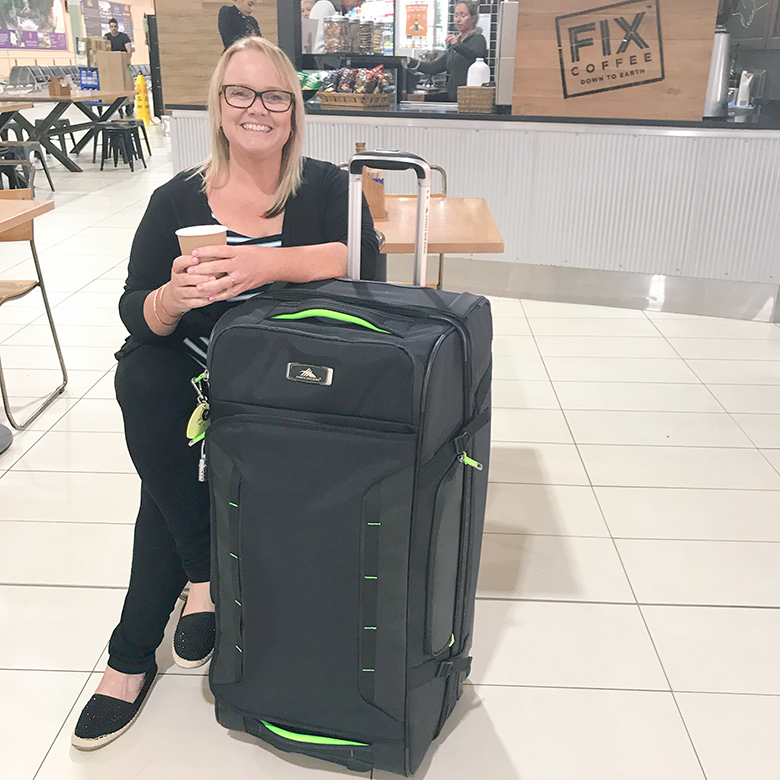 Thank you to High Sierra for my bag
I instantly fell in love with Singapore, it's so colourful, clean, efficient, urbanised with a diverse combination of different cultures and food. During my short stay I was able to see quite a few 'must see' areas.  This city-state is so beautiful in the day light hours, but even more jaw dropping in the evening when all the buildings and attractions are lit up. I left my group to go tour around the city myself, I felt safe, everybody speaks mostly English which makes it easy and the Australian and Singapore dollar conversion rate is very similar which again made me feel at ease wandering the city alone.
Here is a little video I put together of my travels:
thank you to my eldest Miss for helping me put this together
HOW TO GET TO SINGAPORE
We flew from the Gold Coast on Scoot. It is a no frilll's airline, although I found it comfortable and would consider taking my whole family on this style flight as it makes trips to overseas destinations achievable and budget friendly.
We travelled on a modern Boeing 787 Dreamliner which I found spacious enough to be comfortable for the 7 hour trip. Scoot currently travel to over 60 destinations across 17 countries including the Gold Coast, Melbourne, Perth, Sydney, Hong Kong, Tokyo, Athens, Seoul, Bangkok, Singapore just to name a few and will soon be travelling to Honolulu, Kuantan and more destinations soon.  Scoot also travel to the Maldives with a stop in Singapore, which gave us a good opportunity to explore the city.
You do need to provide your own entertainment on the flight, which honestly isn't too hard these days with everybody carrying smartphones and Netflix on their devices.  I was happy working away during my flight using my Bose headphones which are super awesome for noise cancelling, have 20 hours battery life (these were kindly gifted to me, thank you Bose) quietening the chatter around me.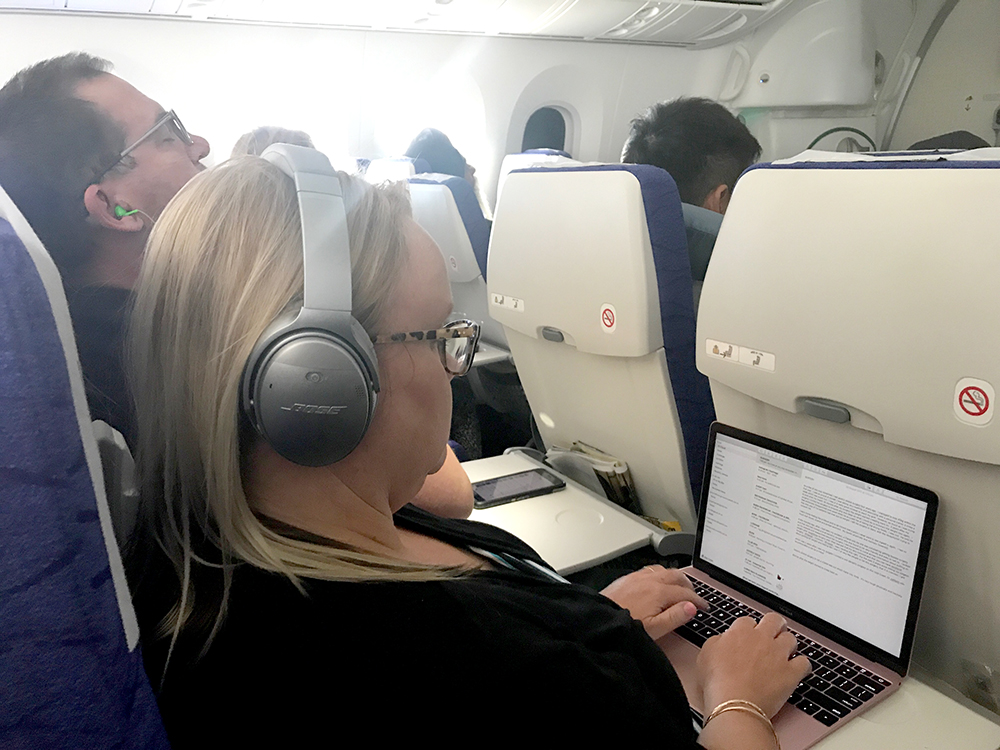 WHERE TO STAY IN SINGAPORE
We stayed at the Ibis Bencoolen which is located in the heart of Singapore. This multi award-winning property is well known for its economical rates and central location being close to Little India, Bugis, City Hall and Orchard Road.  The staff were very helpful giving us advice on where to travel and when you visit the lobby and you can get instant flight status check and print your boarding pass. After a long flight, a good night sleep was very much desired.  I have to give 5 stars to Ibis Bencoolen as they go above and beyond on the mattress comfort test,  felt like I was sleeping on a cloud, I have since found out their mattresses are exclusively designed to give their guests a perfect night sleep.  I don't think I have actually slept in a hotel bed that has ever been this comfortable or better than my bed at home. Many that follow me on Instagram asked about the bed… in my research, I found that they sell it here.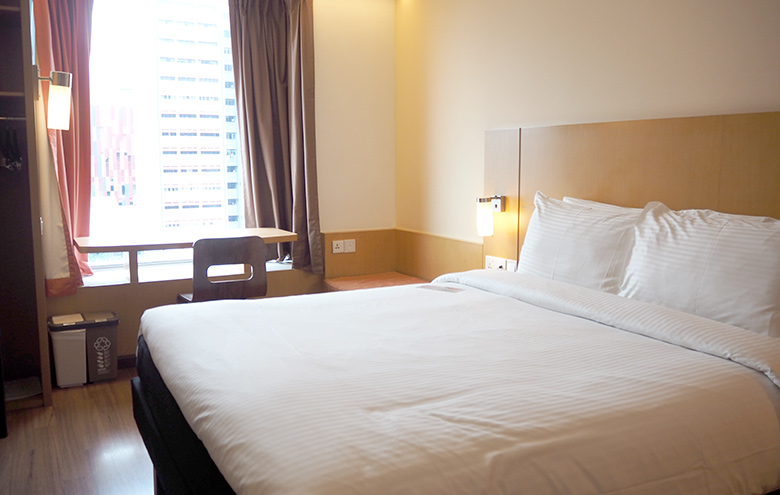 Some features of the Ibis Bencoolen rooms:
universal international adapters in each room
big bay windows
high ceilings coffee/tea making facilities
international TV channels
safe
free wifi access
USB chargers
free use of bicycle
Upgrade your package to receive the extra benefits and you will get 3G smartphone in your room, which gives you the ability to access unlimited internet as well as local and international calls (to selected countries), which made touring around town and sharing my experience with you on social media all that easier!
One step more impressive than the mattress is that Ibis Bencoolan has a unique eco-clean program where guests can help make a difference to the environment, using glass reusable drinking bottles rather than plastic, bamboo straws rather than plastic,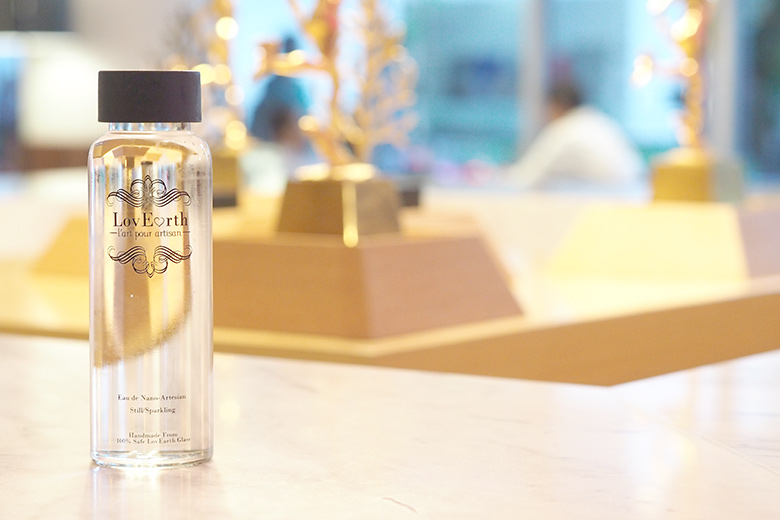 Find more details about Ibis Bencoolen here.
WHAT TO DO IN SINGAPORE
Honestly this city amazed me and I can't wait to explore it more, one day with my family. I did manage to get around to a few of the popular hotspots.
Gardens by the Bay – Flower Dome – I actaully got really emotional walking around the flower dome.  I love to garden which is a trait I must have picked up from my late mum, who really loved Bromeliads and Orchids.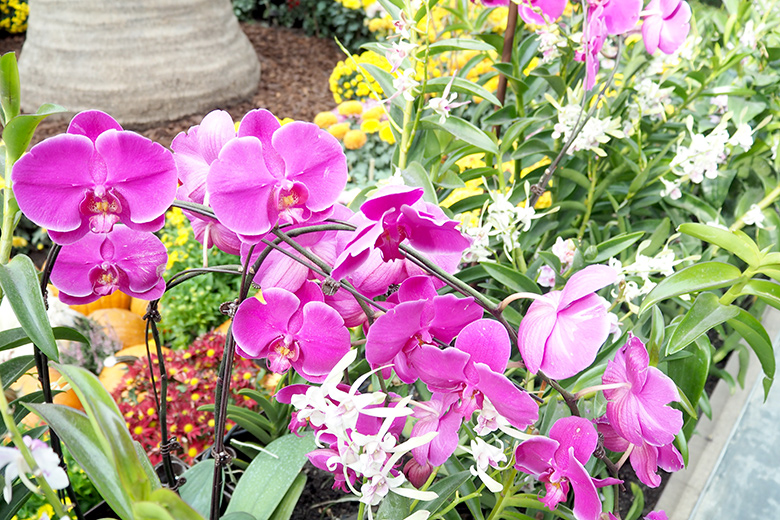 The gardens were filled with all the plants she loved, so many pretty flowers and succulents.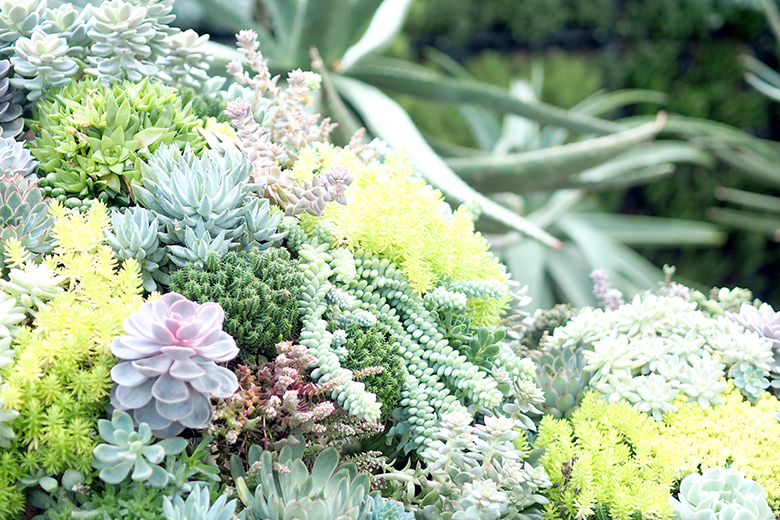 I was in awe of everything around me.
Cloud Forest – Is absolutely surreal, with the worlds tallest indoor waterfall as you walk through the entrance to planted walls.  You can even see the Marina Bay Sands which is known for it's spectacular view of Singapore, I'll have to try and get there next trip.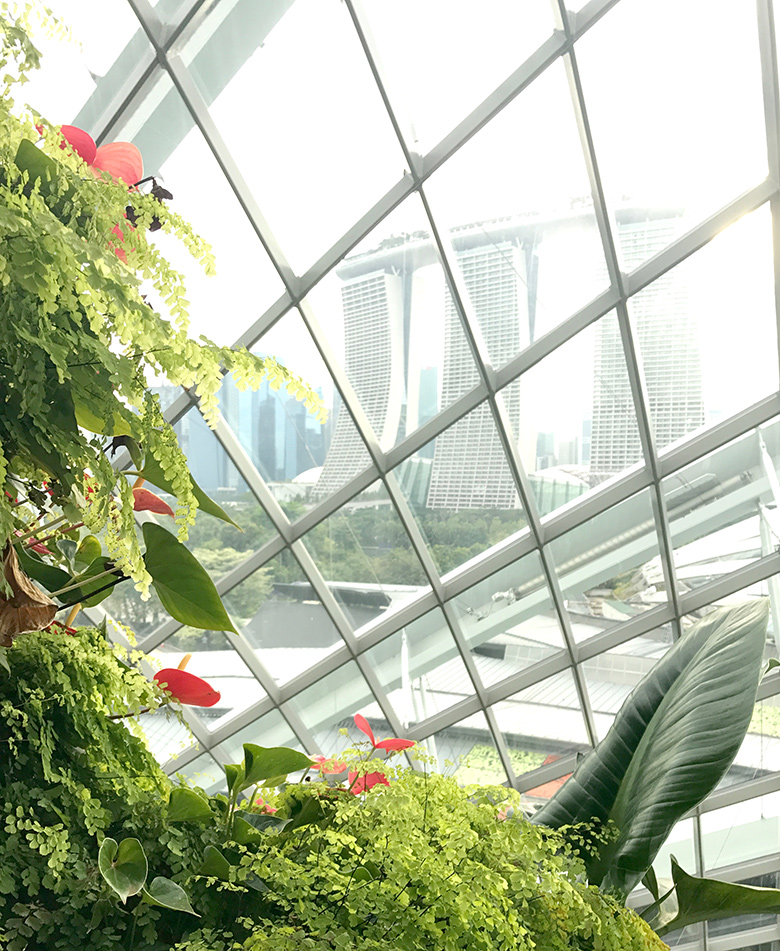 Super Tree Grove – We laid on the floor and looked up to watch this magical show of music and lights. It's so hard to describe, but it's like you're watching a real life fairy tale with the trees lighting up in many different ways to the beat of the music that stimulates your mind… and even perhaps bring a tear to your eye.  By the way, this is a FREE show and runs twice daily at 7.45pm and 8.45pm. My picture below actually does no justice to how vibrant Super Tree Grove really is.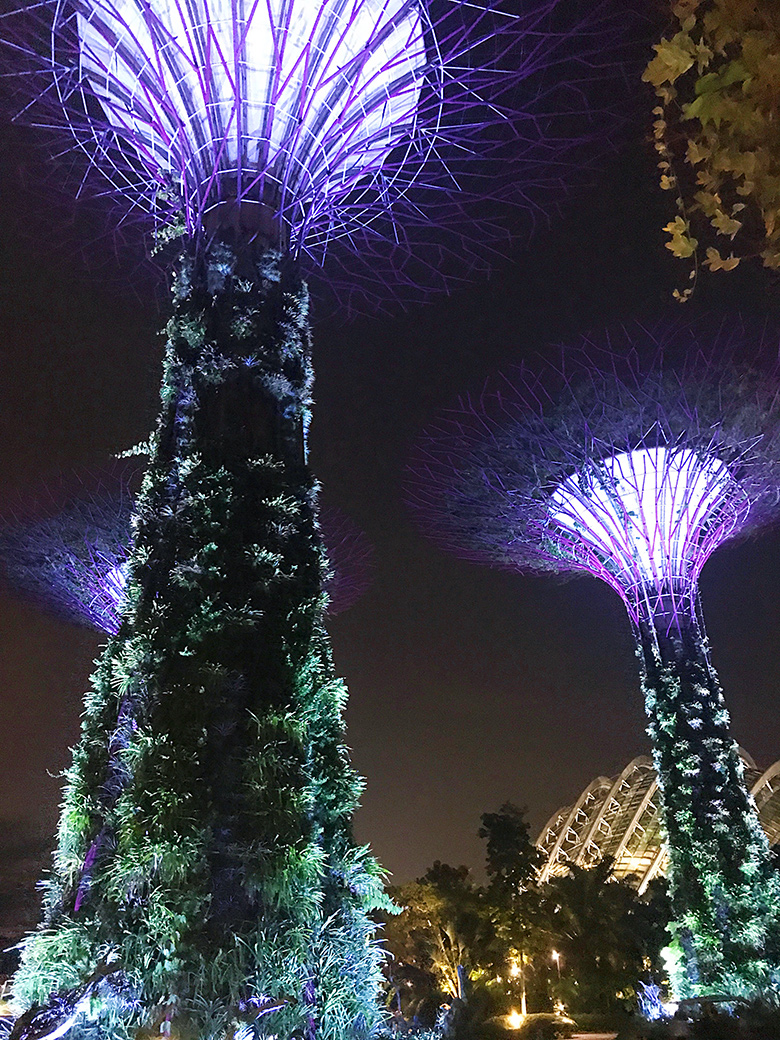 Little India – This colourful little area in Singapore is very much like your being transported from one country to another, filled with Indian culture, Indian food and shops that sell just about anything you can think of.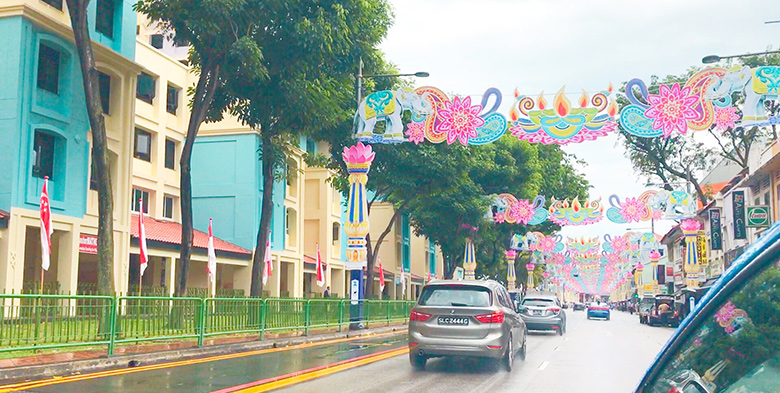 Haji Lane – In this hipster shopping lane you will find some great shopping, funky cafe's and bold graffiti. See the wheelie bins in the photo they have them everywhere this is how they keep Singapore so clean!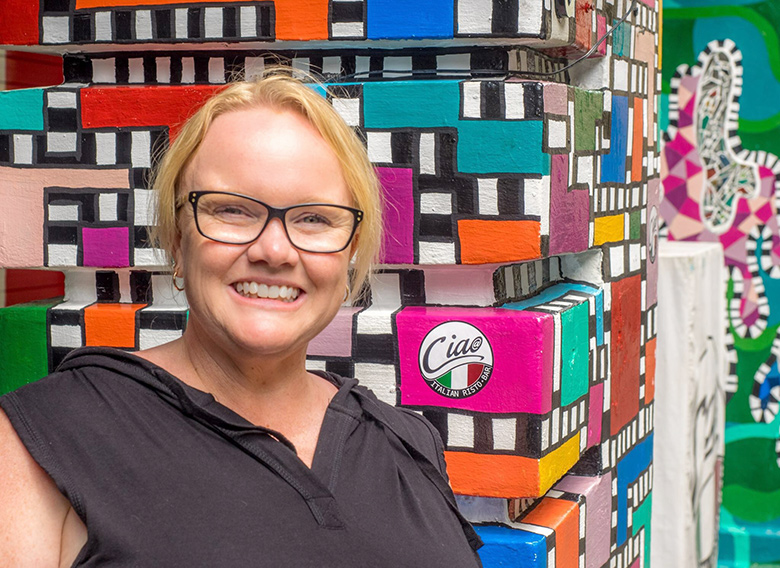 F1 Grand Prix – Each year Singapore hosts the F1 Grand Prix providing one of the most spectacular backdrops. Racing through the streets of Singapore this track makes one of the most atmospheric races. The F1 is held this year 15-17th September 2017.
A few other places to see in Singapore, but I didn't get time to do:
Chinatown
Sentosa
Universal Studios
Madam Tussauds Singapore Wax Museum
Raffles for Singapore Slings
Singapore Botanical Gardnes
Singapore Zoo
Singapore Flyer
WHEN IS THE BEST TIME TO VISIT SINGAPORE
Singapore is a year round destination, being a tropical climate it has consistent warm weather all year round. Average temperates are 30C during the day.  It is recommended to carry an umbrella not only to cover yourself from the unpredictable rain but to also shelter yourself from the sun.
WHERE TO EAT IN SINGAPORE
Food is very inexpensive in Singapore with many options to eat at outdoor hawker centres.  I didn't get to a hawker centre this time, however it does come highly recommended.
The Taste Restaurant – at the Ibis Bencoolen, you can dine in or take to your room 24/7, offers a wide range of international cuisines, my highlight being the coffee pork ribs, so tasty and tender.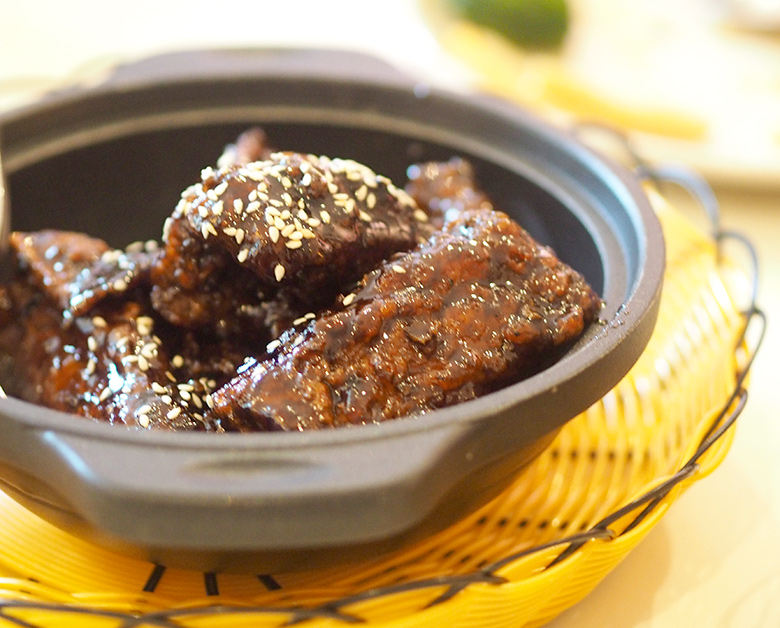 Satay by the Bay – A short walk from GArdens by the bay you will find Satay by the bay nestled in the parkland along with waterfront where you have an amazing selection of little eateries within the foodcourt. I tried the salted egg squid (which I forgot to take a photo of), it was tasty, but different.
PACKING LIST ESSENTIALS FOR VISITING SINGAPORE
A few important items to make sure you pack when you visit Singapore:
Comfortable shoes for walking
Umbrella
A hat
Sunscreen
Sunglasses
Summer clothes (most of us wore shorts because it's so warm)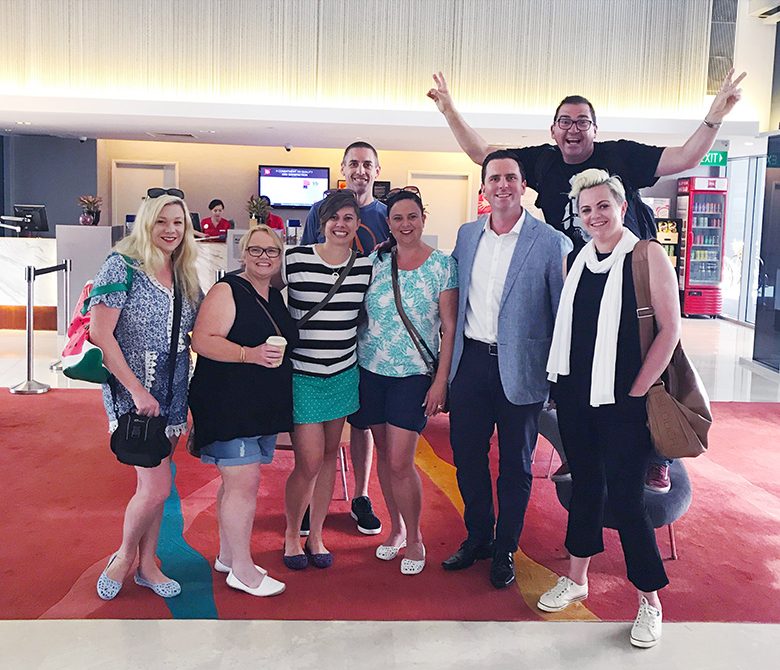 This is the blogging collective I travelled with, Big Family Little Income, School Mum, Baby Mac and Paging Fun Mums.
GOOD TO NOTE
Singapore have very strict rules on littering and vandalism, which would explain why this destination is so clean. Chewing gums is not allowed so make sure you don't pack any. They have rubbish bins everywhere, which explains why the streets are so clean.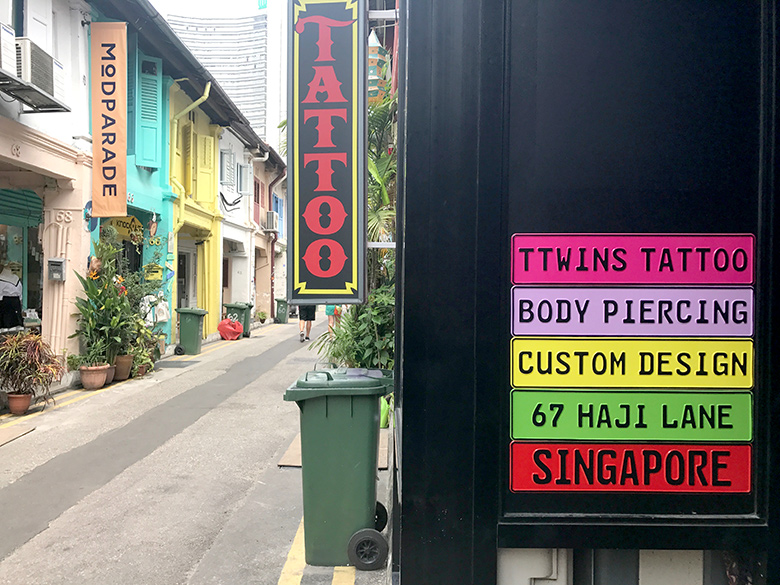 I found the taxi's very cheap.
Singapore dollar is so similar to the Australian dollar, made it really easy to work out the conversion rate. Apparently it's not as cheap as the surrounding countries in South East Asia, however, I found quite a few inexpensive things to do during my short stay.
I even enjoyed the flowers along with express way.  Bougainvillea's in full bloom everywhere makes a great welcome to this gorgeous city.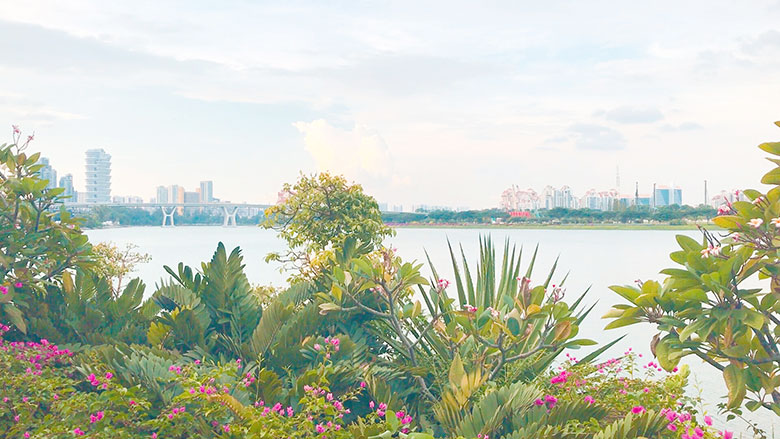 I would in a heartbeat like to take my kids to Singapore, they will learn so much from the many different cultures and have a fun time at all the different attractions.  It really is an amazing place to visit!
This post is run in accordance with my disclosure policy.