This post is sponsored by Spirit of Tasmania
Over the school holidays I had the opportunity to travel back down to Tasmania. Spirit of Tasmania contacted me and asked if I would like to take the family on a driving holiday along the east coast and if I didn't mind to have a film crew follow along to capture the holiday so I can share it with The Organised Housewife community. Honestly, I couldn't say yes fast enough, I loved Tassie the first time we went and was thrilled to go again…. and share our trip with you!!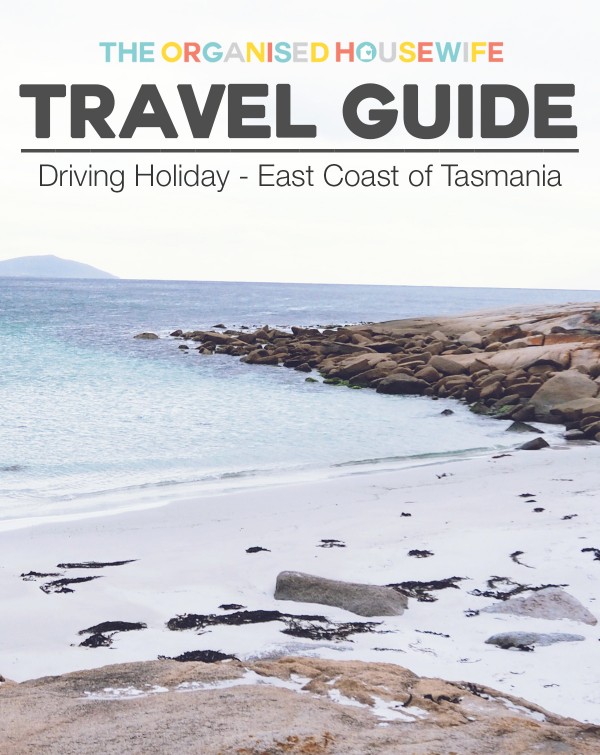 Travelling on Spirit of Tasmania
We travelled to Tassie on The New Spirit of Tasmania. It has been newly refurbished with a fresh new look. There are new dining options, relaxing lounge chairs for passenger comfort (we enjoyed sitting on these and watching the beautiful ocean and birds following the ship), cabins have been refreshed, bar and entertainment areas have been renovated, plus loads more.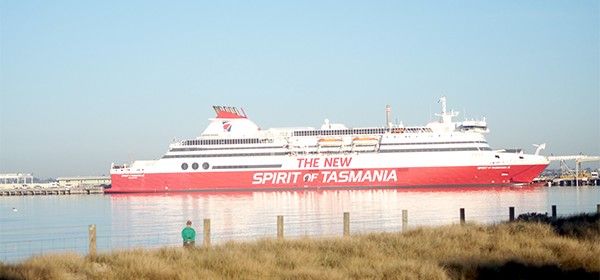 To Do
I was pleasantly surprised that there was quite a bit to do on the day sail of the ship. We started by watching the Melbourne coastline fade away, walked around to check out the newly refurbished ship, played disco bingo, the kids watched a movie, hubby and I got to have a quiet drink together, we played cards, there was plenty to do and enjoy.
To Eat
Tasmanian food is fresh and tasty and the new Tasmanian Market Kitchen food serves some delicious food inspired by what you can find when visiting Tassie. With a selection of seafood, meats, salads, a different signature dish each day and dessert you'll find something to suit everyone and their budgets!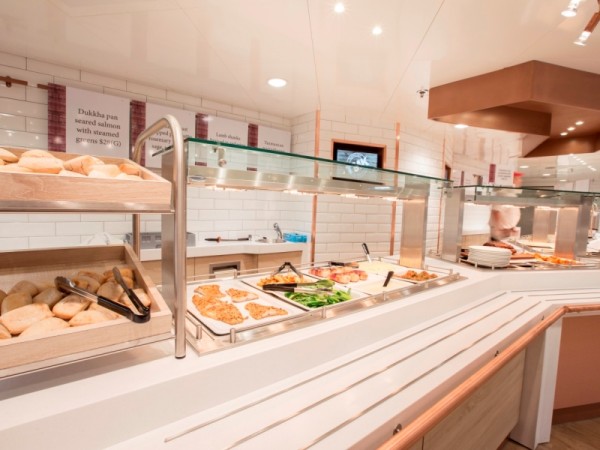 To Stay
On a day trip you can relax in the many different areas of the ship, on the lounges on Deck 10 which are close by the kids play area, tables and chairs by disco bingo (we could have spent hours here, was so good listening to all the old music) or get cabins so you can snooze and rest at your leisure through the day.
View the video of our sail to Tasmania below.
Day 1 – East Coast Tasmania
The start of our family driving holiday through the Tasmanian East Coast. We stopped and took many photos!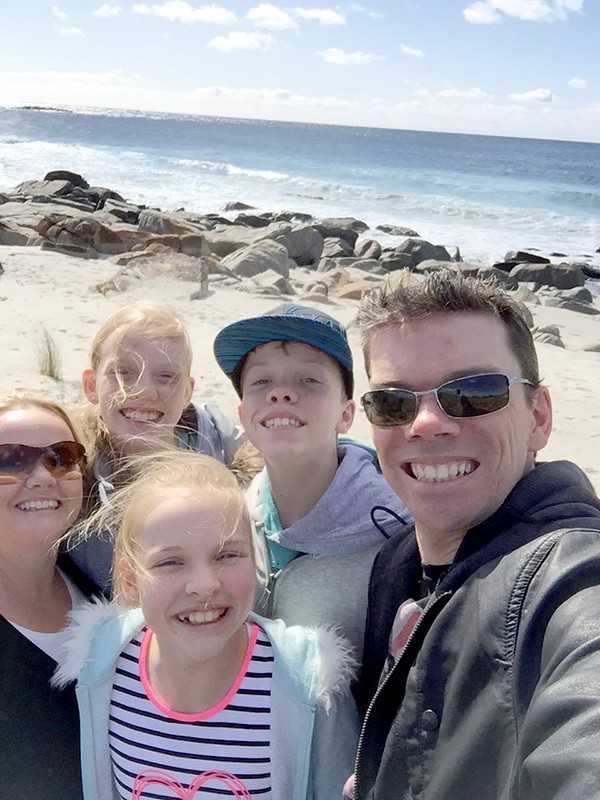 To Do
Bay of Fires with Eco Tours – We started the day leaving Devonport and travelling to St Helens to see the Bay of Fires. It was a windy day so we didn't get to go on the full tour, but we had fun on the boat ride, thankfully they gave us some wet weather gear as we got sprayed a little from the water. Apparently the Bay of Fires tour is spectacular, but I think the tour we did was pretty awesome, we saw seals…. in the wild!!! Living in Qld I've only seen them at theme parks. This was such a surprise to see them sunning themselves on top of the rocks and then sliding into the water, jumping and playing. On the ride back we saw some dolphins too!!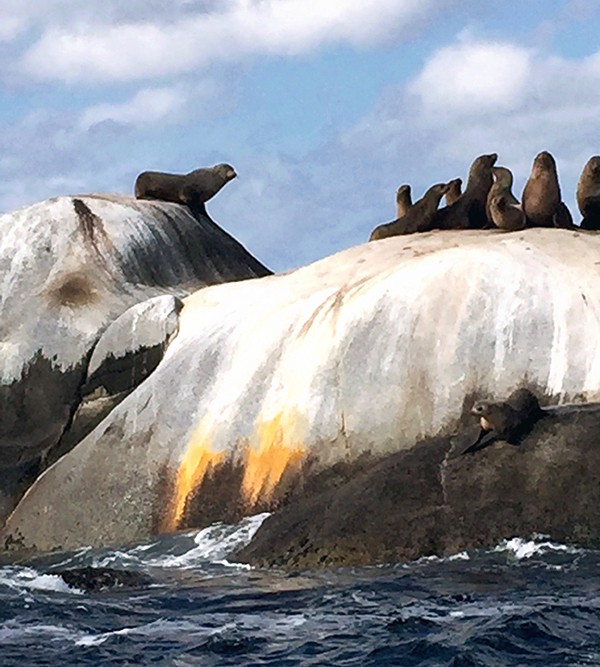 To Eat
The Holy Cow Cafe – Located in the beautiful Pyengana valley this cafe overlooks bright green fields of the Pyengana Dairy Company Farm. A great place for the family to stop, eat and drink (the milkshakes were delicious made from real milk the dairies own milk, we had a tour of the dairy and learnt about the milking process and how many cows they have on the farm and got to taste some of their 'tasty' cheeses!!!
To Stay
Pelican Point Sanctuary – I must say it lives up to its name, this is certainly a sanctuary I would have happily stayed for a week. The villa's were very inviting and comfortable, with a lovely porch where you can sit and watch the birds fly over the bay and see wildlife jumping in the paddocks. This is certainly a place where you can switch off technology and just enjoy all things around you.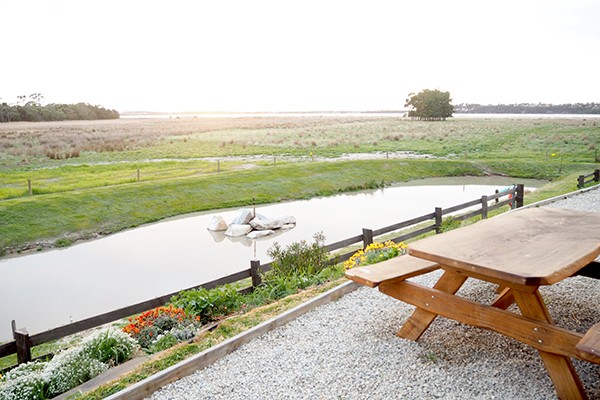 View the video of Day 1 of our Tasmanian Driving Holiday below.
Day 2 – East Coast Tasmania
The drive along with Eastern Coastline was amazing, on one side of the road you would see beautiful beaches with crystal blue water and white sands, then on the other were paddocks filled with sheep and lambs, something different at each glance.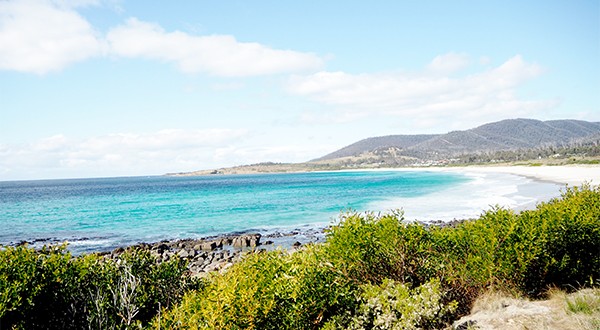 To Do
Blow Hole in Bicheno – The show at the blow-hole was just spectacular, simply put my youngest said she was so pleased that she came on the trip just to see that! When we visited it was really windy I think this helped make the show even better!! When the ocean swell is big enough the water can shoot 20 meters into the air.
Freycinet Marine Farm – We got to experience Tassies best and most freshest seafood, harvested fresh from the Freycinet Marine Farm each day. I don't think I have ever tried a muscle so fresh, it was really yummy and the kids even tried an oyster. My hubby happily devoured plenty of oysters and we all learnt how the oysters grow.
Wineglass Bay – We picked up a picnic lunch and trekked up to Wineglass Bay, we did this on our last visit and it truly has to be one of the greatest places to sit and eat, the serenity, the view… it's just spectacular.
To Eat
We picked up our picnic lunch from the Freycinet Lodge Hotel and also enjoyed a delicious dinner, Tasmanian seafood at it's finest in The Bay Restaurant.
To Stay
Freycinet Lodge Hotel – Back to one of my favourite places in Tassie, it is on the top of my favourite places in Tassie lists, but I feel I still have so much more to see of this beautiful state. I love watching the sunset over Coles Bay whilst sitting by the fire in the lounge. Just so peaceful with the cabins nestled in amongst the beautiful backdrop.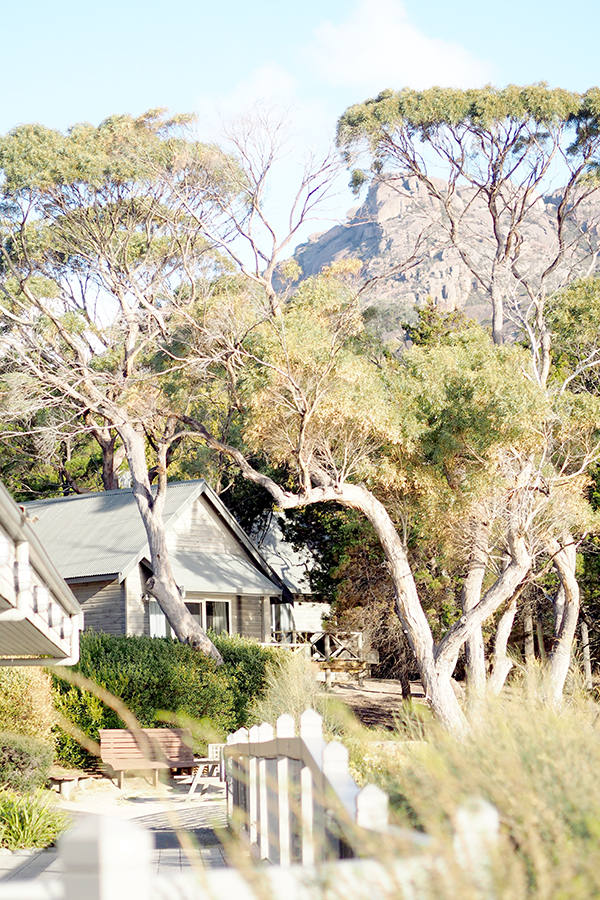 View the video of Day 2 of our Tasmanian Driving Holiday below.
Day 3 – East Coast Tasmania
An action packed start to the day, was a delight to have fun and experience it with the kids then chat about it on our car ride to St Mary's then back to Devonport for our return journey onboard Spirit of Tasmania. One of the things I loved driving in the car was seeing the fields of sheep and lambs.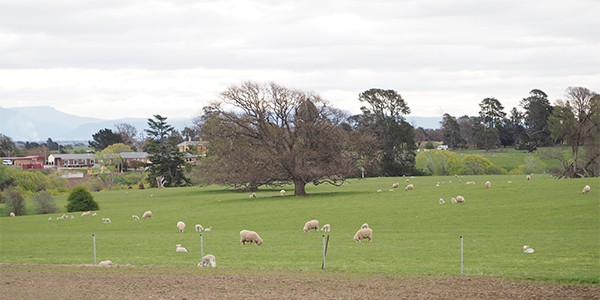 To Do
All 4 Adventure – When I think quad bike riding, I think dirt, mountains and more dirt. But this was a really fun, action-packed adventure through Freycinet National Park, stopping at the glorious Friendly Beach for a picnic morning tea and venturing back through the park. There were hills, puddles (LOL yes we found one really big puddle, see video) and the most beautiful scenery, we barely got dirty. We all had an absolute blast.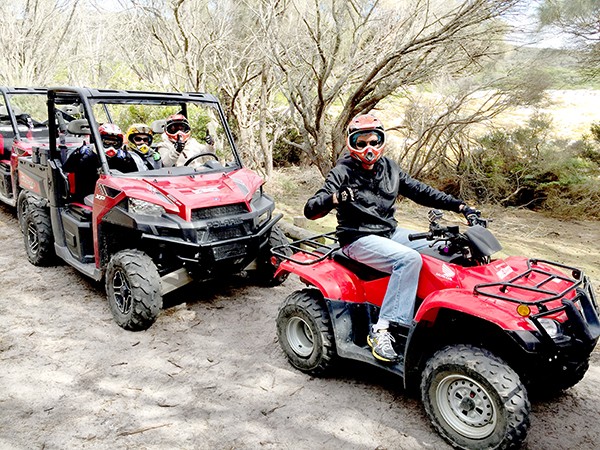 To Eat
Purple Possum Wholefoods & Cafe – After our adventurous morning we enjoyed a delightful lunch in this sweet village cafe located in the mountains of the mid-east coast of Tasmania. From pies to salads there is something deliciously healthy for everybody to enjoy. Plus you can take some healthy snacks away with you!
To Stay
Spirit of Tasmania – We travelled back to Melbourne on a night sail on Spirit of Tasmania, enjoying a delicious dinner at the Tasmanian Market Kitchen, they have different signature dishes each day so you can try something different on each sail! The cabins were comfortable and after a long day we all slept so well!
Thank you Spirit of Tasmania we had an absolute blast driving as a family and experiencing the absolutely stunning East Coast of Tasmania.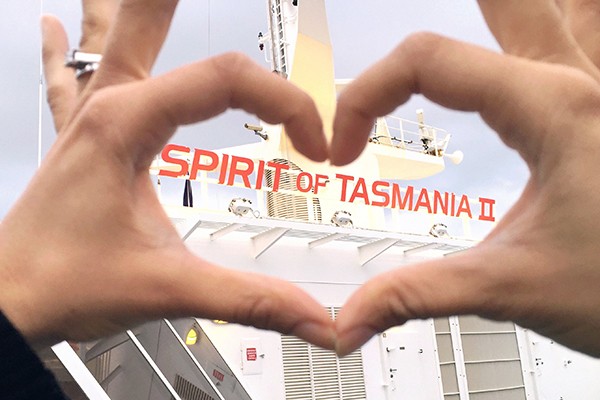 View the video of Day 3 of our Tasmanian Driving Holiday below.
Spirit of Tasmania Day sailings from $79
There's nothing quite like a day sailing, with the fresh ocean breeze and shimmering blue water as far as the eye can see. And you can experience all this from only $79*!
Make a day of it and discover all that the newly refurbished Spirit of Tasmania has to offer. Adult fares start from $79 and kids fares from $35 per person each way.
Plus, you can upgrade to an Inside or Porthole Cabin from an extra $84 per cabin each way.
Offer is available for selected day sailings between 17 January 2016 and 10 April 2016.
Book today, offer ends 11:59pm 31 October 2015.
*Conditions apply. Offer available for new bookings from 12.01am 11 October 2015 to 11.59pm 31 October 2015 unless sold out prior. $79 fare applies to an adult passenger fare (Day Ticket included) and $35 fare applies to a kids passenger fare (Day Ticket included) on day sailings between 17 January 2016 and 10 April 2016. Cabin upgrades available from $84 per cabin. Fares are per person each way. Limited availability on selected sailings. A $5 booking fee applies per person each way to non-internet bookings. Red Hot Deal fare conditions apply, click here for details.
This post was coordinated by The Remarkables Group and run in accordance with my disclosure policy