Recently we had a Japanese Student stay with us. It was such a delightful experience to have her stay with us for eight nights to learn about her culture and show her our everyday family life.  She joined my eldest daughter at school each day, attending classes with her after lunch. It's Miss 13's dream to travel to Japan one day, I hope she gets there.  We also showed our student all around the Gold Coast. I must admit we had so much fun. It was like we were tourists in a place where we would never holiday, because we live here. The Gold Coast really is paradise from beaches in the east to mountains in the west no matter which way you go you're guaranteed an enjoyable day out.  If you're thinking of travelling the Gold Coast, try to visit some of these destinations.

Fish n Chips – Charis Seafood
371 Marine Parade, Labrador, QLD 4215
Charis Seafood proudly call themselves the "largest supplier of fresh seafood on the Gold Coast" with their large 360 degree counter piled with practically every fish you can think of. What we love most is sitting outside eating some freshly cooked seafood and chips overlooking the Broadwater while the kids play in the park, and if you're lucky you may get to feed the pelicans.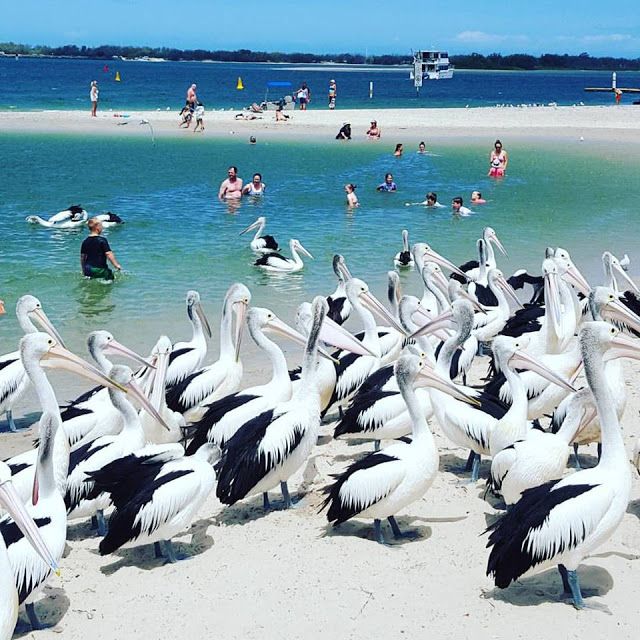 We went at night, so I couldn't get a great image, so I have to give credit for this one above to Gold Coast Mum.
From Charis Seafood, take a walk south along the path and you'll be able to see the sparkly skyline lights from Surfers Paradise.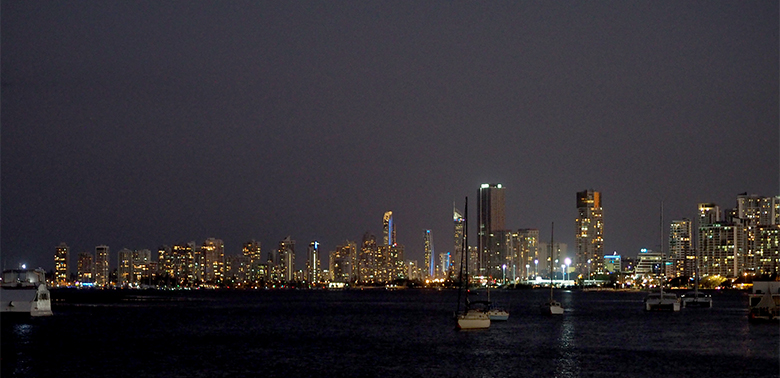 Surfers Paradise
Cavill Ave, Surfers Paradise QLD 4217
Surfers Paradise is one of Australia's iconic coastal tourist destinations, known for its glorious beaches with stretches of golden sand beyond what your eye can see and its nightlife. The thriving Cavill Mall which runs through the centre of Surfers Paradise is one of the busiest shopping strips in Queensland and the centre of activity after dark.  Surfers Paradise is the Gold Coast's entertainment and tourism centre, and the precinct's high-rise buildings are the best-known feature of the city's skyline.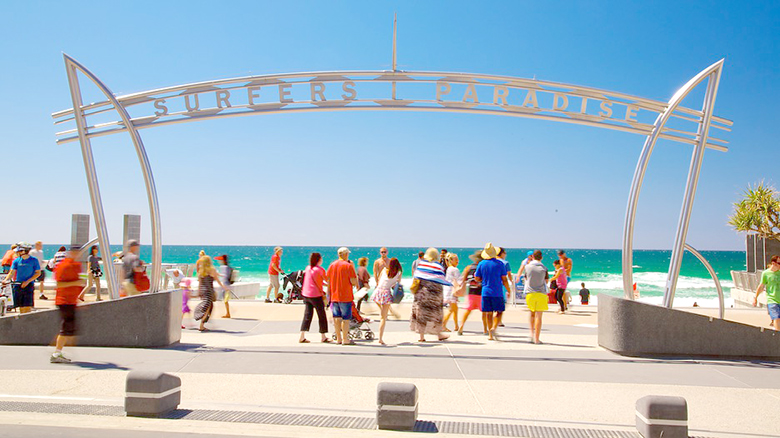 image credit Expedia.com.au
Refuel at one of Surfers Paradise's 150 restaurants and cafes. We can never pass up an ice cream by the ocean. There are a few ice cream shops in Cavill Ave.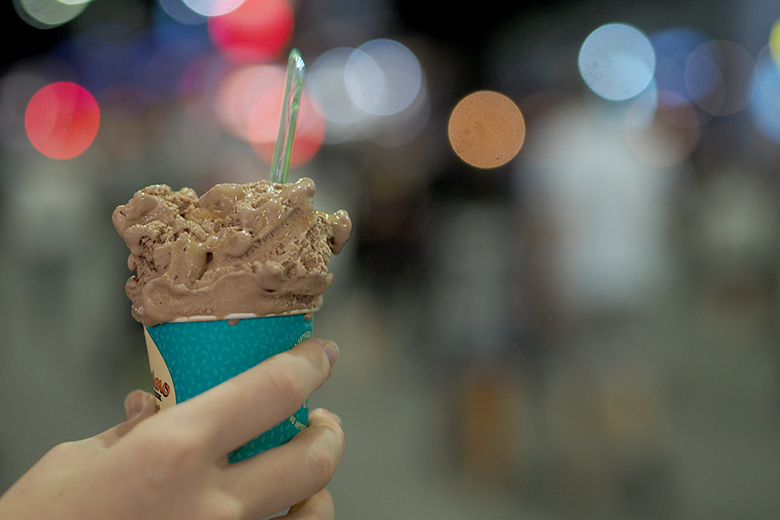 Currumbin Bird Sanctuary
28 Tomewin St, Currumbin QLD 4223
Voted one of the Gold Coast's most popular tourist destinations, Currumbin Wildlife Sanctuary is the crown jewel of the National Trust of Australia (Queensland) [NTAQ] properties. As one of Queensland's earliest nature-based tourist destinations, the Sanctuary is a physical embodiment of everything the NTAQ represents: dedication to conserving our nation's Indigenous, natural and historical heritage and culture. With Blinky Bill now present for daily shows, the amazing viewing experiences available at the Wildlife Hospital and hundreds of native Australian animals on display in natural bushland and rainforest settings, Currumbin Wildlife Sanctuary is the ultimate holiday adventure for the entire family. Read more about the park here.  
If you don't have time to spend the day at the park you can still visit the park at 8am or 4pm to feed the Lorikeets, with a gold coin donation. An excellent opportunity to take photos.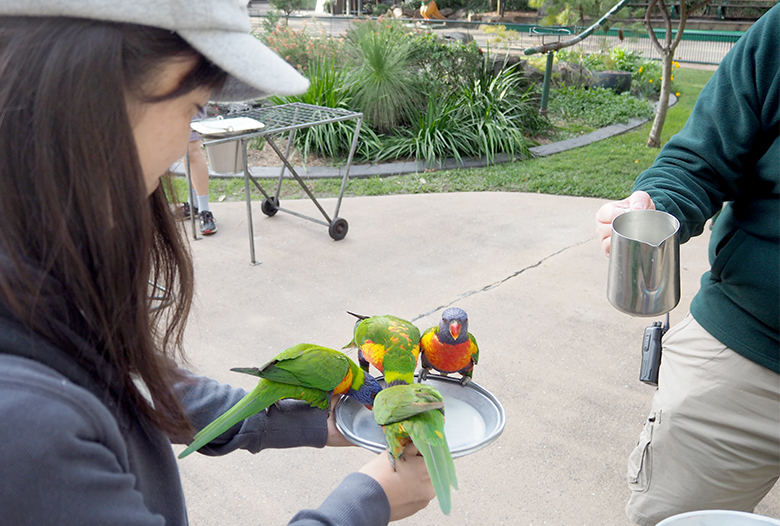 Currumbin Surf Club
741 Pacific Parade, Currumbin QLD 4223
Located just minutes around the corner from Currumbin Wildlife Sanctuary and right on Elephant Rock in Currumbin, we fed the Lorikeets then had breakfast on the balcony of the surf club taking in the magnificant 180-degree views of the Gold Coast coast and skylines. The life saving club offers breakfast, lunch and dinner, many bistro favourites and Australian cuisine.  We've been here for breakfast and lunch and have enjoyed the food both times.  If you do want to sit on the balcony, it's a good idea to call up and book a table as it's very popular.  Call to make a booking.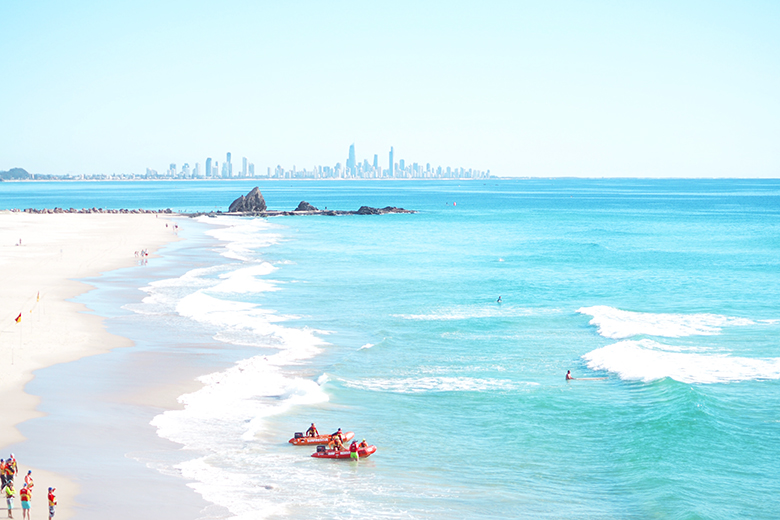 Currumbin Beach
Pacific Parade, Currumbin QLD 4223
While the car is parked at the Surf Club go for a walk or swim along Currumbin Beach.  The Gold Coast is renowned for it's unique and beautiful beaches, stretching along most of the Gold Coast coastline.  A wonderful way to cool day on a hot day and never too cold to splash in during winter.

Pacific Fair Shopping Centre
Hooker Blvd, Broadbeach QLD 4218
The newly renovated Pacific Fair Shopping Centre is centrally located in the heart of the Gold Coast, opposite to Jupiters Casino. Once the redevelopment is finished, it will be the largest shopping centre in Queensland, showcasing more than 400 specialty stores including global mega brands, Australian designers and plenty of dining and bar experiences.    I love this new section 'The Resort' it really does have this feel.  Sit, relax and people watch!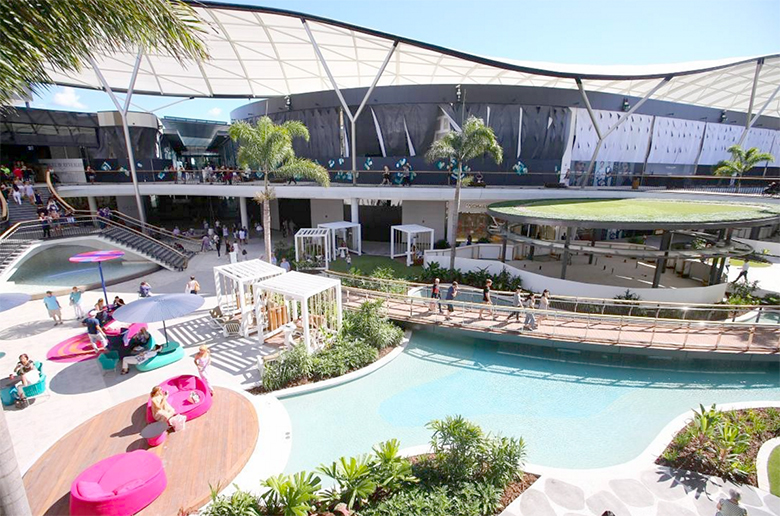 image credit Pacific Fair via Instagram.
Dreamworld
Dreamworld Pkwy, Coomera QLD 4209
Dreamworld is Australia's biggest theme park, located on the northern end of the Gold Coast.  Dreamworld is known for it's 'world of happiness' with rides, attractions, wildlife and ooh so much fun to suit all ages.  I've been visiting Dreamworld since I was a kid and have taken my kids as young as three around the park.  They have rides for the little ones to enjoy, wildlife for them to see and ABC Kids World filled with all their favourite characters.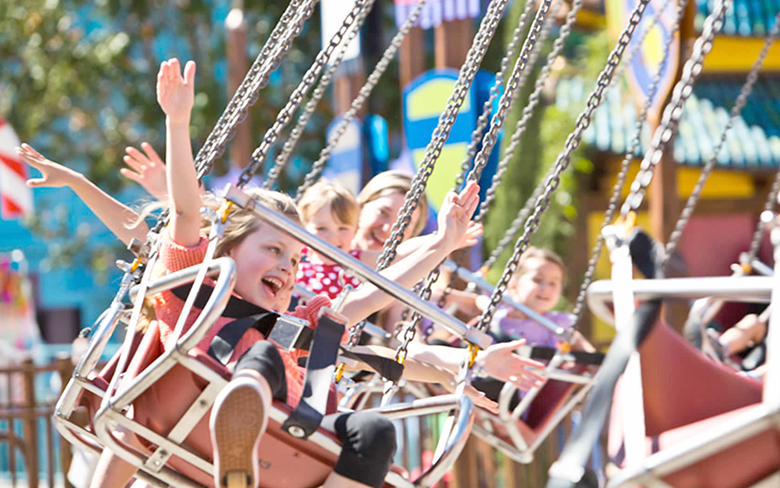 image credit Dreamworld.
Paradise Point Parklands
The Esplanade, Paradise Point QLD 4216
We often picnic at Paradise Point, either taking our own food or picking up a coffee, ice cream or fish and n chips from the local shops along the esplanade.  Paradise Point Parklands is a great location for a stroll, swim in the calm water, and kids can play in the playground while mum and dad relax overlooking the Broadwater. The Parklands host Art and Craft Markets every fourth Sunday of the month from 7am to 2pm.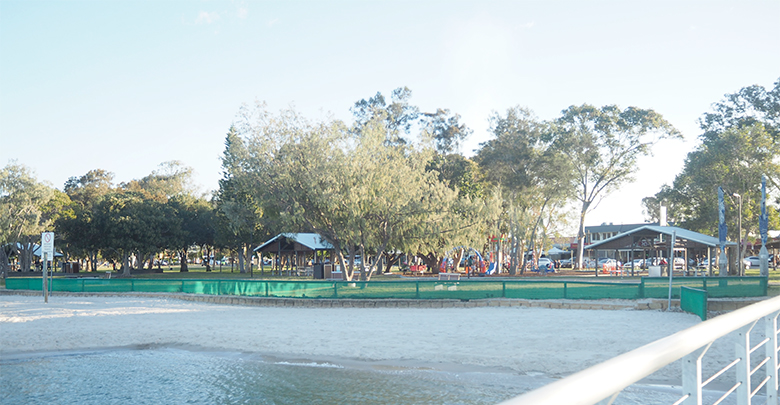 Curtis Falls Mount Tamborine
Located in the heart of Tamborine Mountain, situated in the Gold Coast Hinterland, Curtis Falls is the only waterfall that can be viewed from the bottom of the falls. Being fed by "Cedar Creek", a permanent creek, the falls run all year-round. Along the walk you will walk through the rainforest, being able to hear the local wildlife, the track ends at a viewing platform overlooking a large rock pool, with great views of the falls and the surrounding columnar basalt rock face.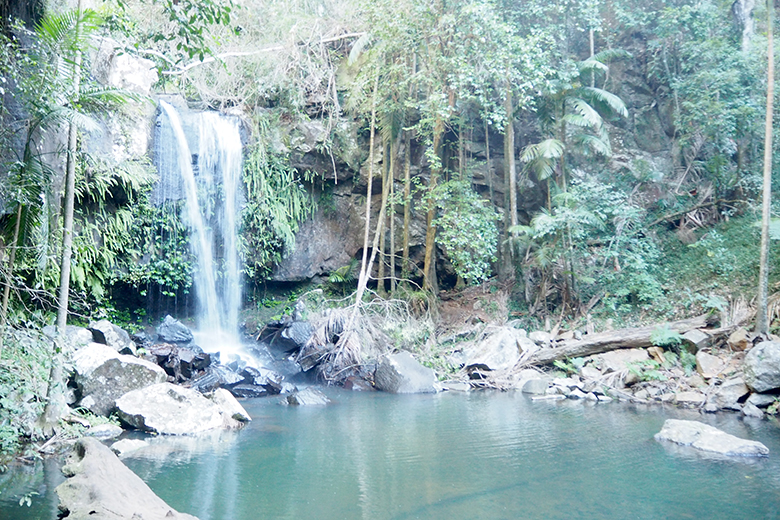 It's a beautiful place for photos…. well those that want their photo taken, Mr 13 not so eager and Miss 13 ooh too happy to!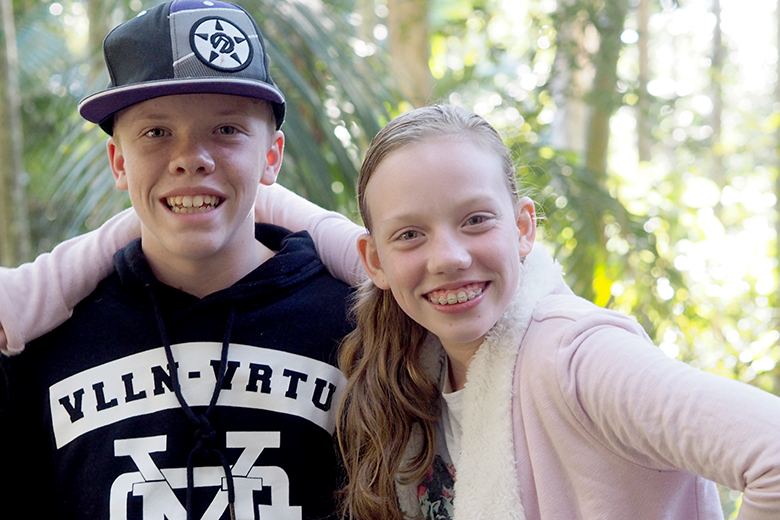 Watch the Sunset
After a stroll through the Mount Tamborine Gallery Walk Shops we went to go look at the sunset across the valley below Tamborine Mountain. It was an absolutely stunning view.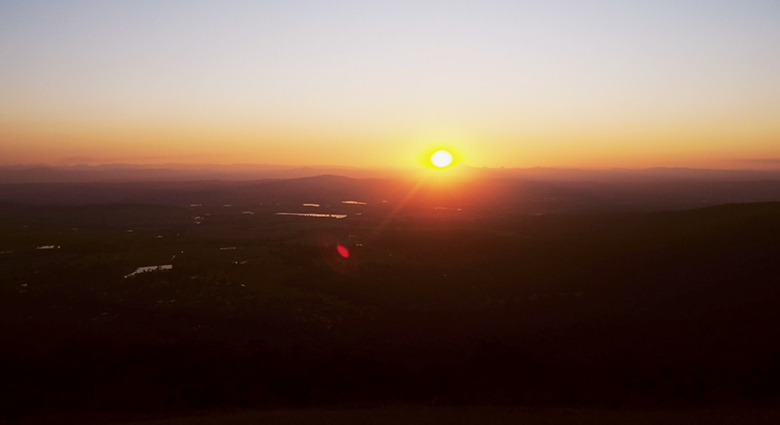 But I do suggest when the weather is a little cool to take a blanket and jacket. Can you believe I was on the beach last weekend splashing in the water, this weekend all rugged up like I'm visitng the snow.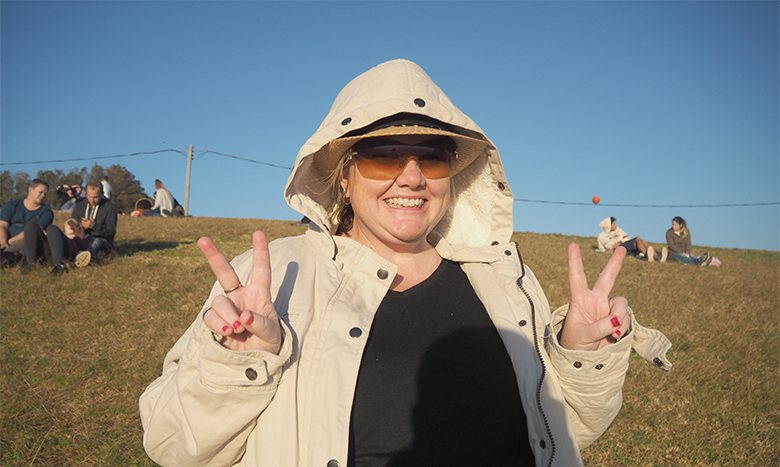 On days with the right weather conditions you'll be able to watch Hang Gliders take off from this magnificent spot at Mount Tamborine, they are very fascinating to watch, this is it in the daylight.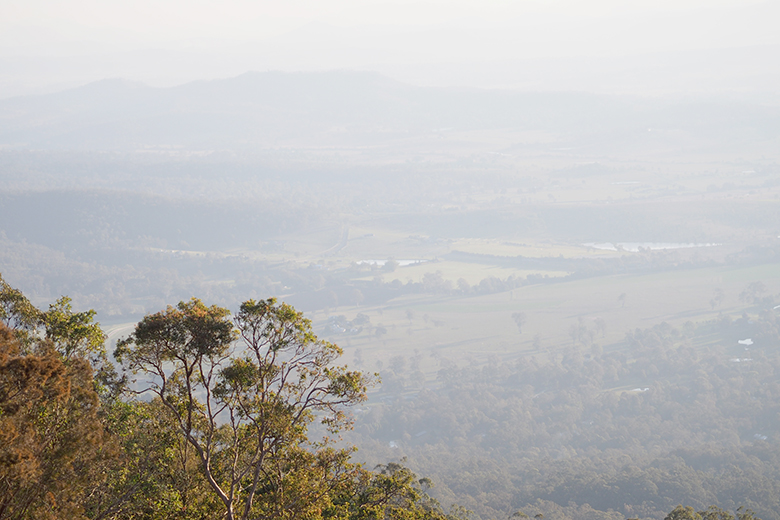 Have you been to the Gold Coast, what is your favourite part?