Do you have a bucket list travel destination?  The Maldives is typically at the top of many dream holiday destinations. It's well known for being a honeymoon destination, however, after my recent visit, I learnt that it is one of the most amazing places to bring the family giving you the chance to relax, create beautiful memories and reconnect.  I was invited to experience this getaway with special thanks to FlyScoot and Club Med Kani where they wanted to show us how to Travel to the Maldives, with family… on a budget.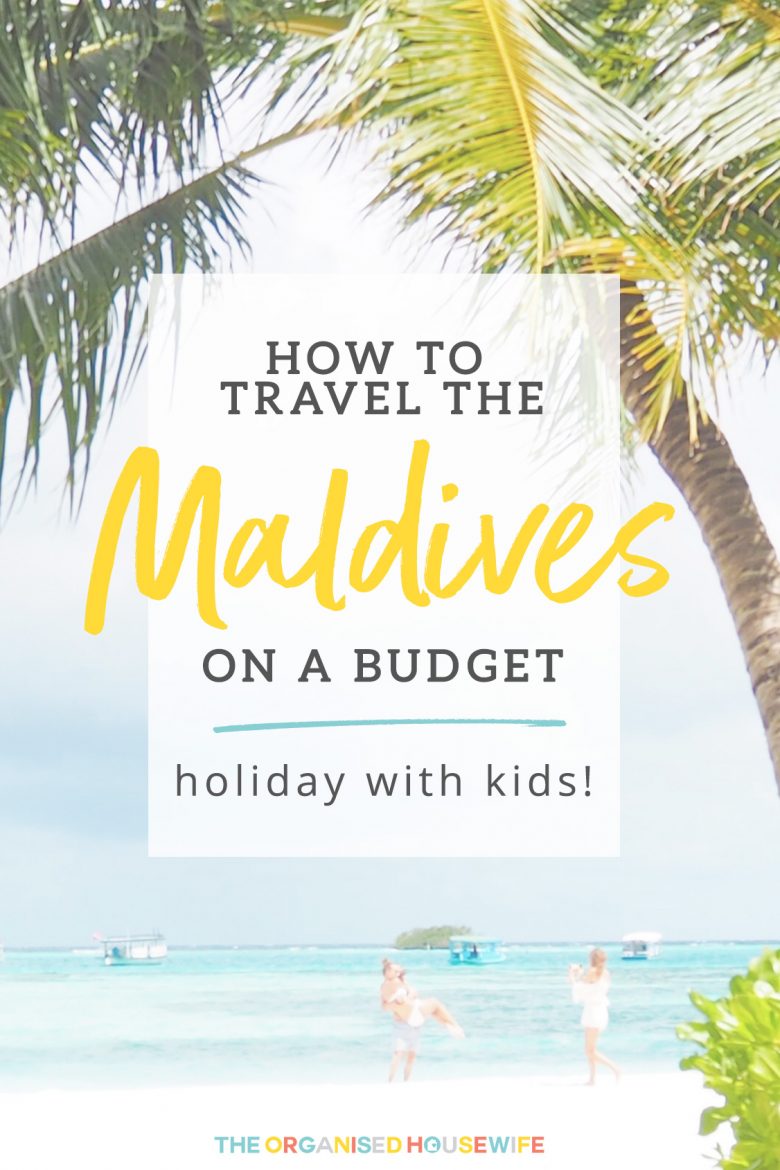 Warning…. I have filled this post with an abundance of photos, because… Maldives and so many of you asked me to!!

HOW TO GET TO THE MALDIVES
We flew from the Gold Coast Airport to The Maldives Male Airport via Singapore with FlyScoot. Scoot is a no-frills, Singaporean low-cost long-haul airline, they travel to over 60 destinations across 17 countries including the Gold Coast, Melbourne, Perth, Sydney, Hong Kong, Tokyo, Athens, Seoul, Bangkok, Singapore just to name a few and will soon be travelling to Honolulu, Kuantan and more destinations in the near future. FlyScoot make destinations like this achievable and budget friendly.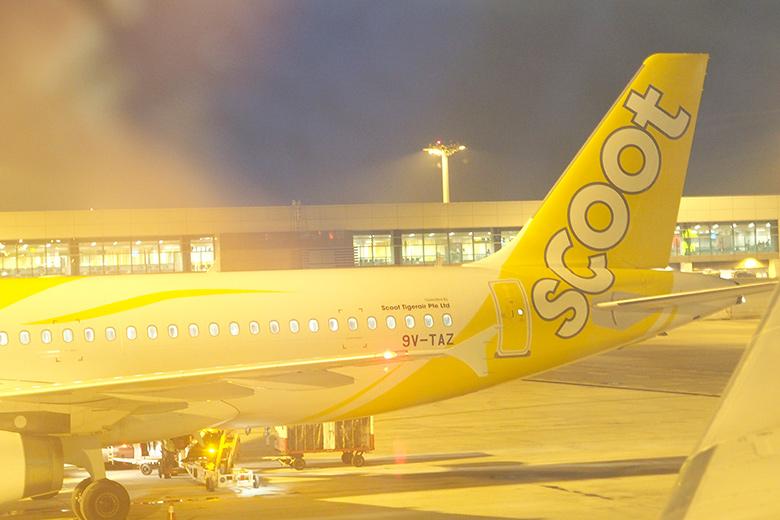 We travelled on a 787 Dreamliner, I found the seats comfortable, spacious enough for our travel time with enough legroom to stretch out (remembering I have short legs). For those that can sleep on planes (I can't), they dim the lights depending on the time of day, you can recline your seat back and will notice in this particular aircraft a quieter engine.  Typically when I get off a long flight I'm hit with a horrid headache, but I didn't experience it this time, possibly as they offer better humidity than other aircrafts which also helps to keep your skin refreshed and hydrated.  You can pre-order your meals for your plane trip, with a wide variety of premium, hot and light meals which are each provided with a drink and snack. I thought I took a photo of my meal to share with you, but I can't find it on my camera.
The staff, known as Scooties, were friendly, service was superb, continually bringing around the drinks cart for those that like to indulge during their travels and they kept the amenities clean and tidy.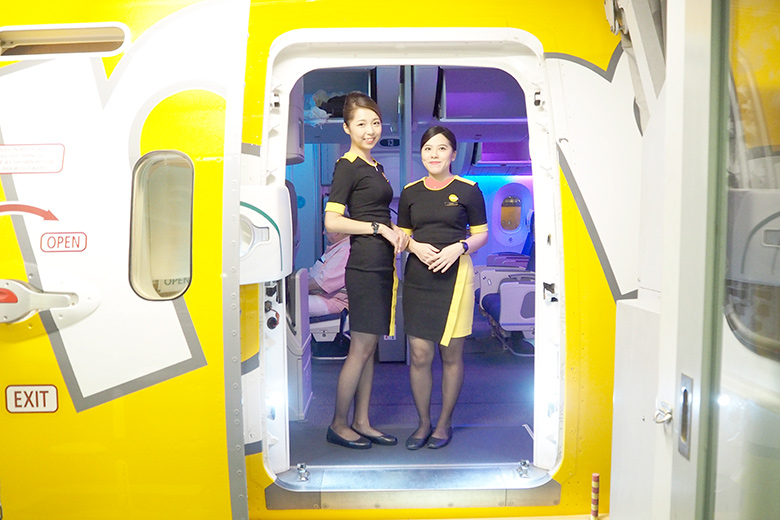 Visit FlyScoot for the best budget-friendly fares. You can book your tickets online, through their mobile app or via their Call Centre. Keep your eye on their facebook page too for great deals. 
WHERE TO STAY IN THE MALDIVES
The Maldives is an island nation located in the Indian Ocean, southwest to Sri Lanka, comprising of more than 1000 coral islands. We stayed as guests of Club Med Kani Maldives, which is an island all of its own.  I experienced some of the most magnificent endless hues of blue I could ever imagine.  The photos you see of this place are stunning but don't do it any justice.  The Maldives is paradise, the most beautiful place I have ever visited.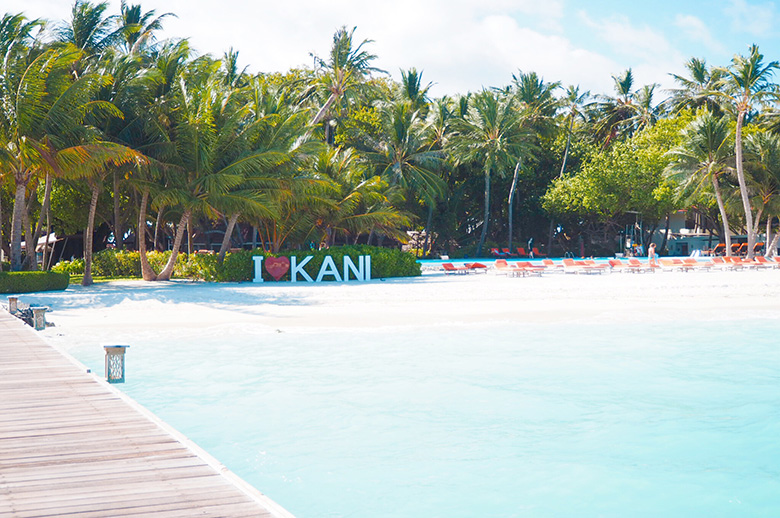 The natural beauty that is and surrounds Club Kani makes this destination feel like heaven on earth.  You have no excuse but to relax and re-energise your mind, body and soul.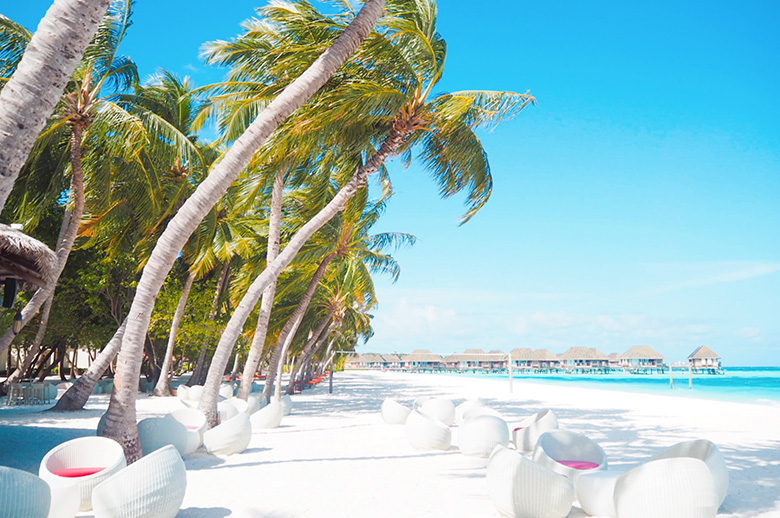 I stayed in a Beach Bungalow where I could see the pristine white sand beach and glorious water from my bed. They have bungalows that can accommodate up to 6 people and interconnecting rooms for families (I love this as a family of 5 I need this option).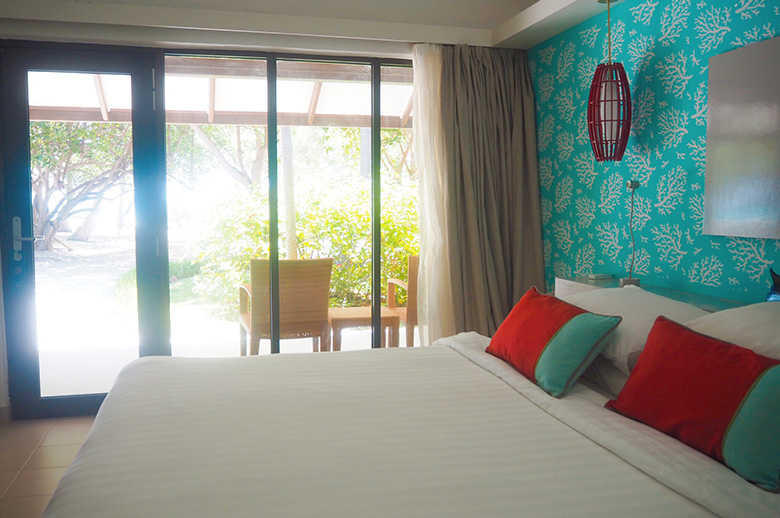 For those that leave the kids at home (these are reserved for adults only) can treat yourself to an Overwater Suite where you can dive straight into the ocean from your private terrace or soak in a bathtub with endless views, a holiday can't get better than this.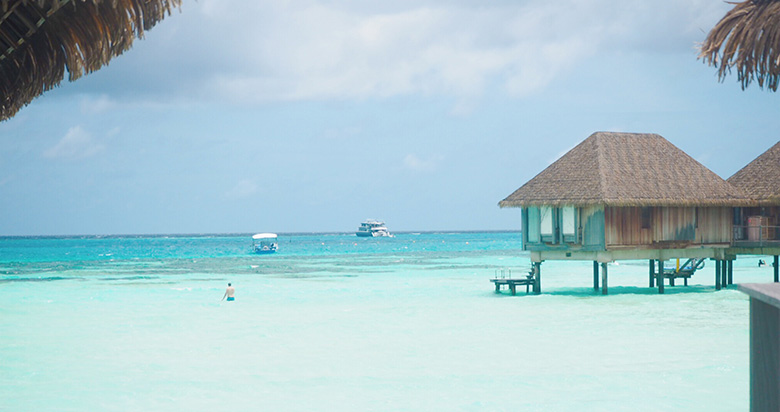 For guests staying in one of the overwater suits, you can soak up the views of the glittery-blue Indian Ocean or watch the sunset while unwinding from the day in one of these overwater lounges.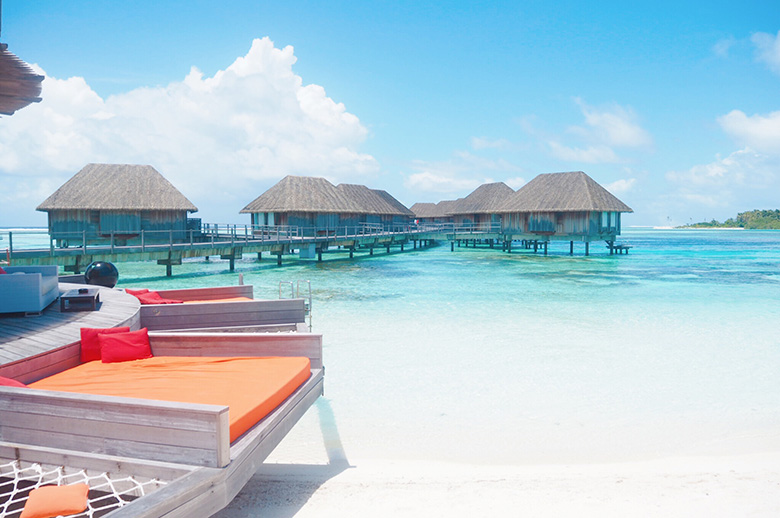 View the various accommodation options at ClubMed Kani here.
WHAT TO DO IN THE MALDIVES
You really can do as little or as much as you want to…. relaxing in the lounges by the water.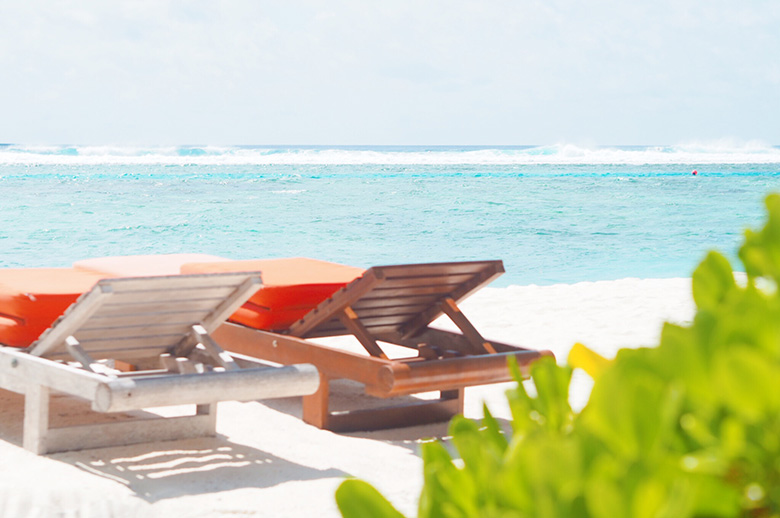 sleeping, reading or doing nothing at all…. in a hammock (this is Jen from Paging Fun Mums!)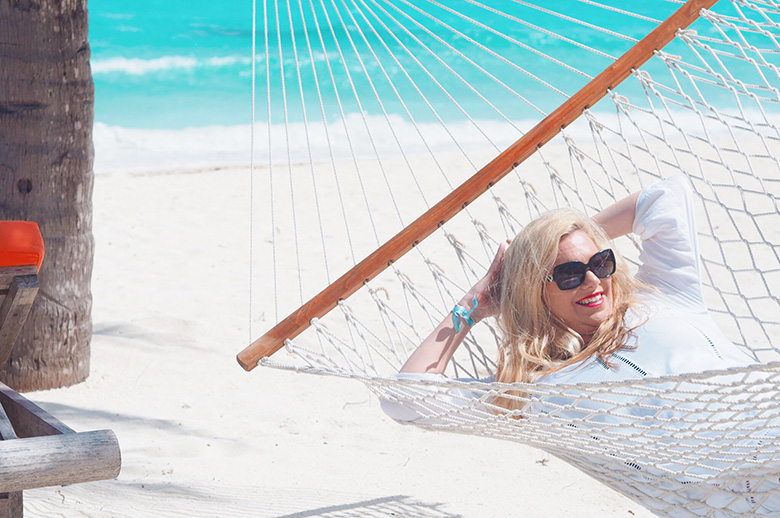 or you can try one or all of the various water and land sports available, including sailing, kayaking, snorkelling, paddle boarding, scuba diving, surfing, beach volleyball, table tennis, badminton and more.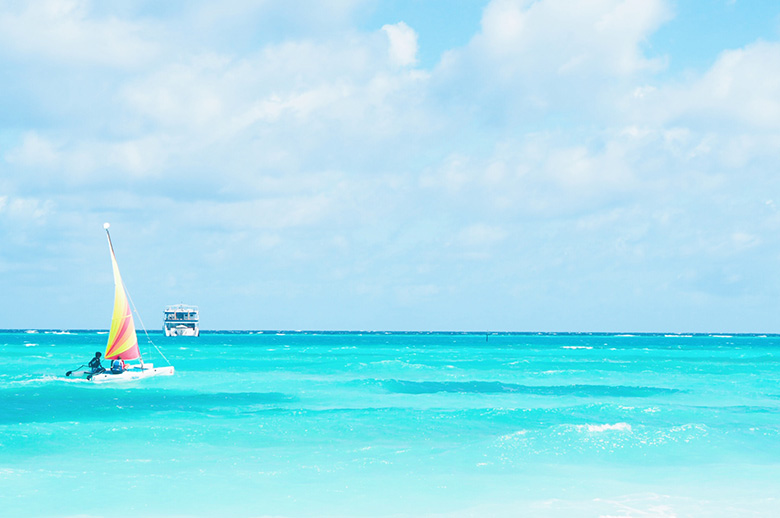 I nearly didn't go sailing, as I thought I had to go out all by myself (I had a terrifying experience a few years ago, falling off a jet-ski in the middle of the ocean and my group not realising and riding off without me).  But at Club Med Kani the wonderful staff take you and the kids out to ensure you stay safe. So glad I went, it was so beautiful on the water.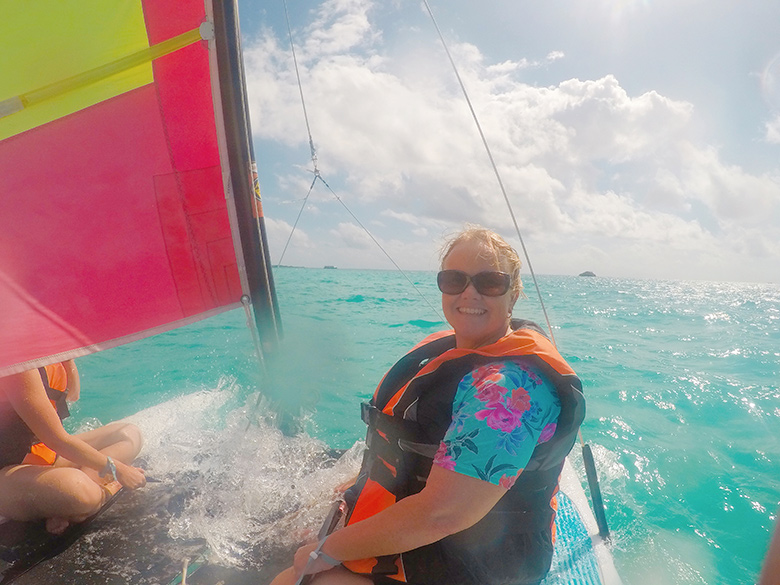 Wandering around the island and taking lots of photos. I took more selfies while on this trip than I have all year.  I couldn't help but want to, it's just so glorious.  I'm no fashionista, obviously, my hair blown everywhere, but… I am impressed with myself for being in front of the camera for once!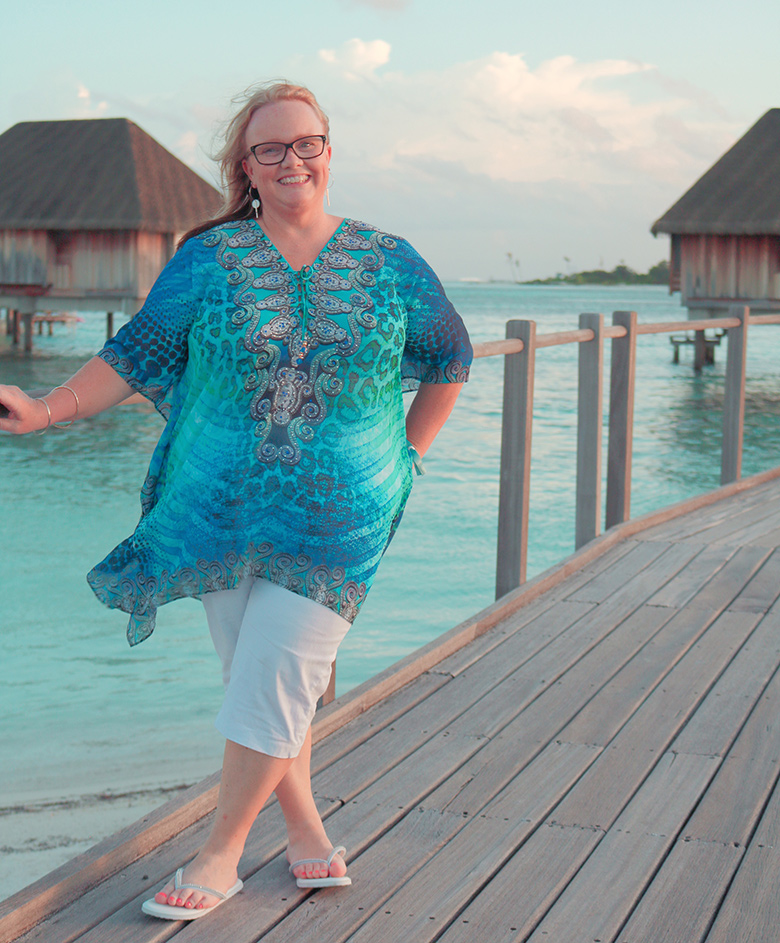 I even went snorkelling amongst the turtles, they take trips out twice a day to various different spots around the island.  This is available for kids over 11.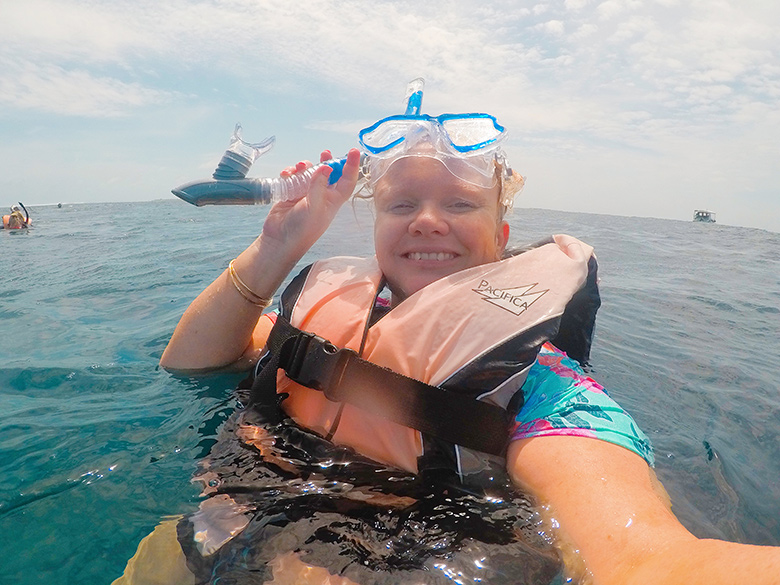 Children from 2 years of age can visit Club Med Kani, with fun games, sport and activities such as coral propagation, cooking lessons, face painting, sand castle making, sailing and more.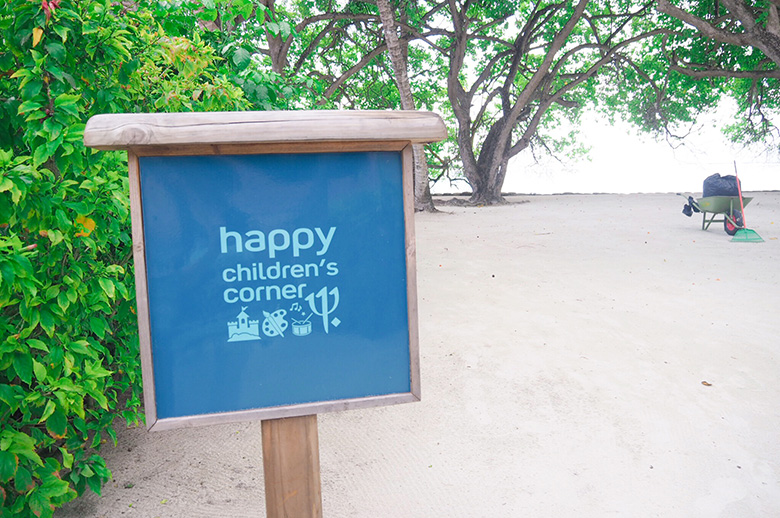 I witnessed such a fun adventure on our last day; some staff drove in on boats dressed up as pirates, which instantly captured the eye of the kids, they were running up and down the beach looking for treasure which would have given mum and dad a blissful break!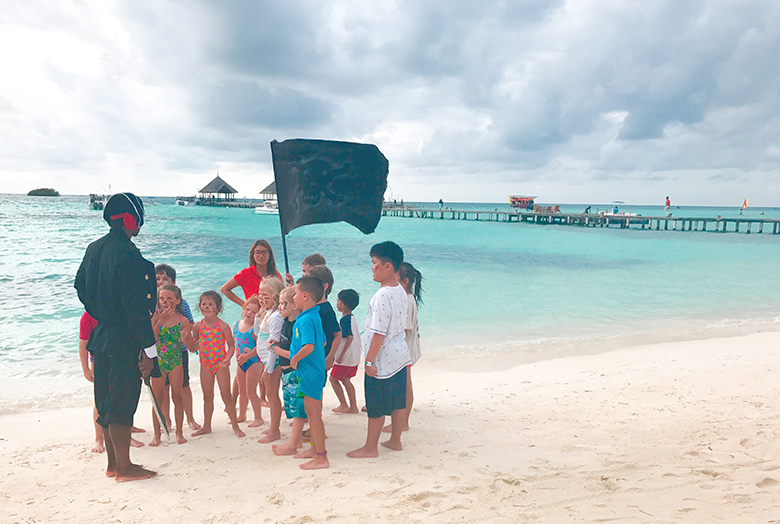 Speaking of bliss, you can experience the ultimate in relaxation at Club Med Kani's Mandara Spa with facials, massage, pedicures and more.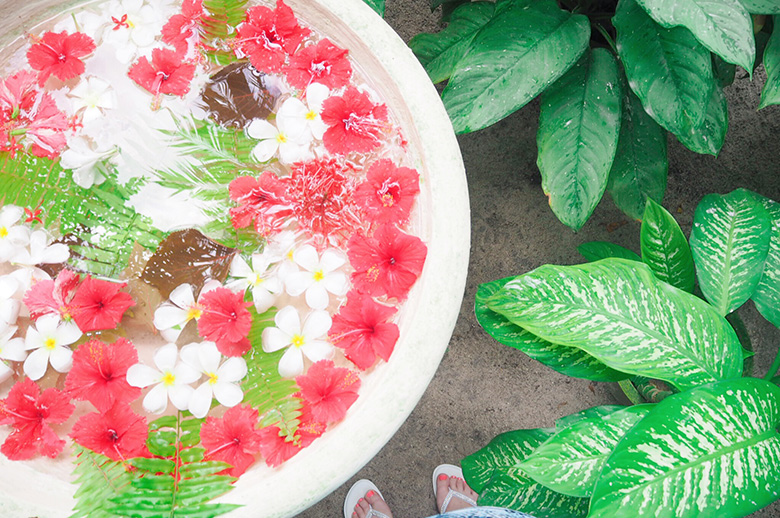 You can swim in the pool…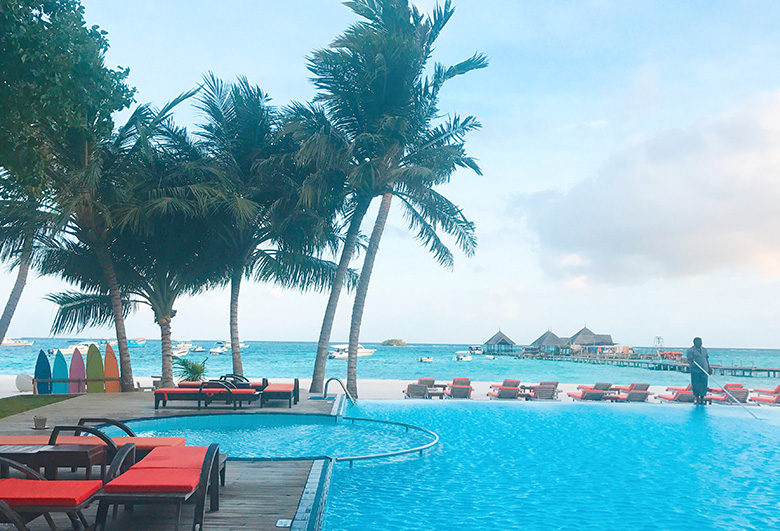 but what can beat a dip in this stunning ocean? If you have room in your luggage I suggest taking some inflatables with you.  I thought this pineapple was the perfect size to take, and thankfully the staff in the gift shop blew it up for me.  Great range of inflatables here.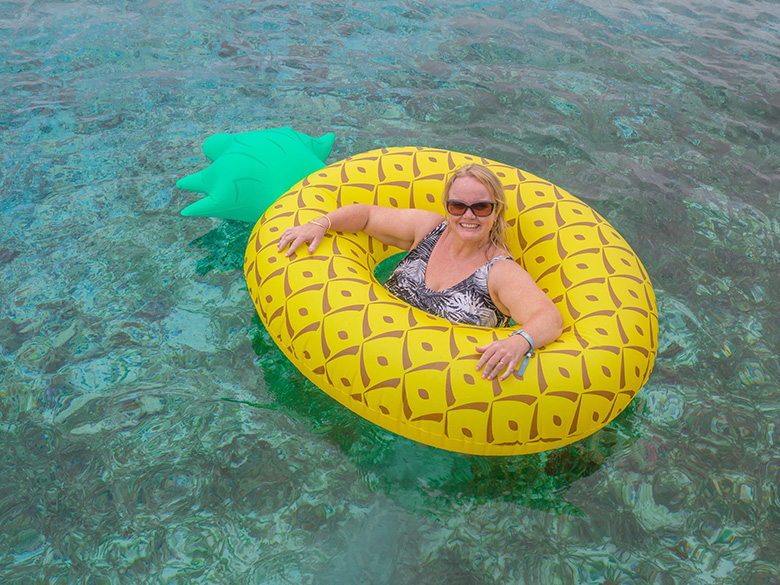 ….. I had to keep pinching myself, was I really here..there!!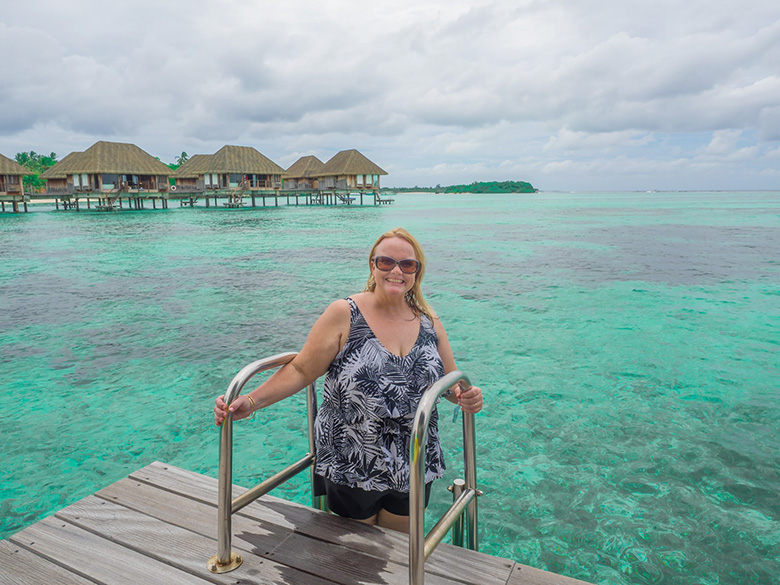 yes… yes I was!!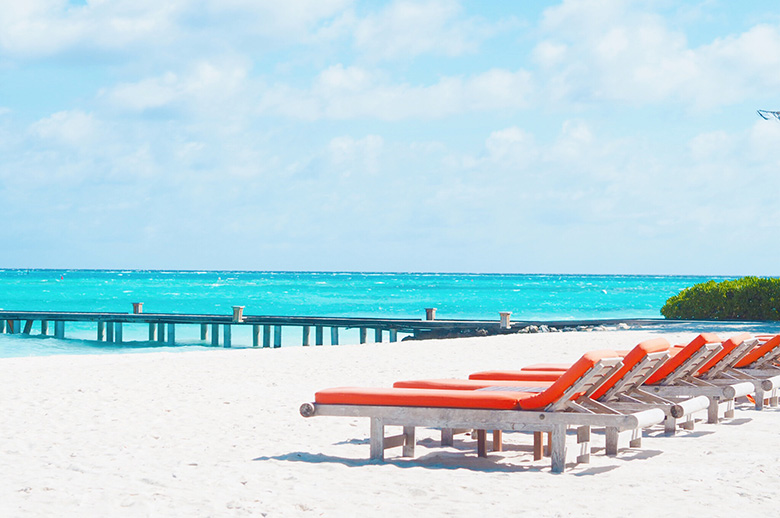 WHERE TO EAT IN THE MALDIVES
I mentioned above that this overseas holiday to the Maldives is budget friendly. Alongside the flight over with FlyScoot, Club Med Kani is an all-inclusive resort.  Your holiday includes:
Gourmet Dining – breakfast, lunch, dinner and snacks in between
Premium Open Bar – including wine, beer, spirits, tea/coffee, softdrink, milkshakes etc
Activities – wide range of sports and activities
Happy Children Corner – fun activities for kids and teens
Which means you can leave the resort with a $0 balance.  This is fabulous for those that are trying to stick to a strict budget for their holiday, you already know before you go that you won't spend any more. I especially like this as I have 3 growing kids who like to eat a lot and I find that food and drinks easily add up with when are away.

The food was amazing with many different cultural experiences, Mexican, Indian, Asian, Italian just to name a few… and the meals change each day too! With a huge buffet for breakfast, lunch and dinner that will not disappoint.  Then if you're hungry in between they have snacking stations to keep you fuelled.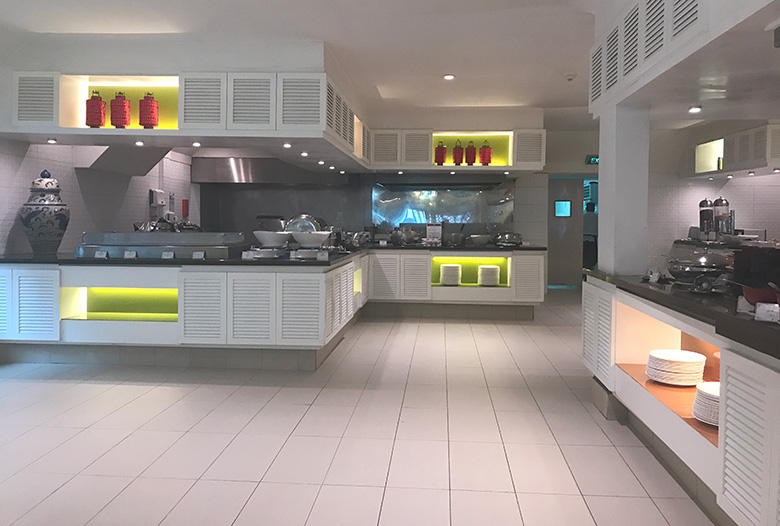 I'm not a big alcoholic drinker, but I did enjoy a glass or two during my time away…. it's all included, why not!!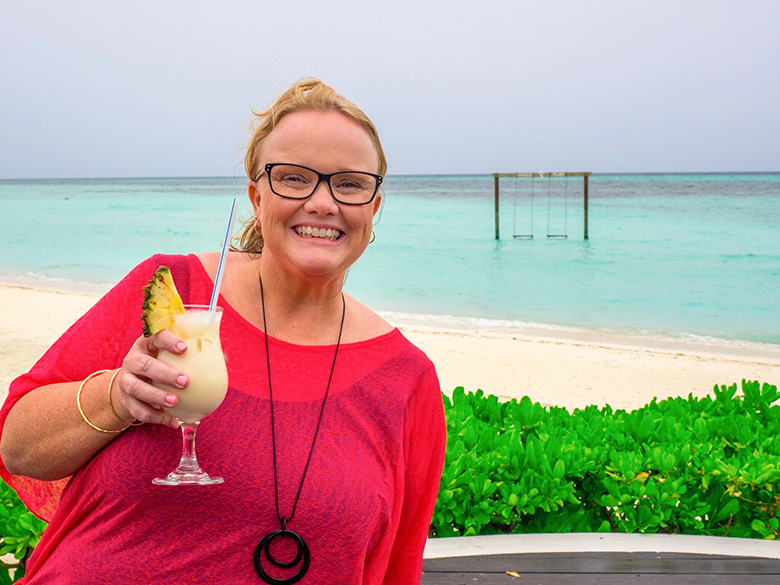 WHEN IS THE BEST TIME TO VISIT THE MALDIVES?
The Maldives is a year-round destination, so you can visit these sun-kissed beaches whenever it suits you.  Peak tourist season is between December-March, which is typically when there is little to no rain. You will find between May-October to be higher humidity and unpredictable showers.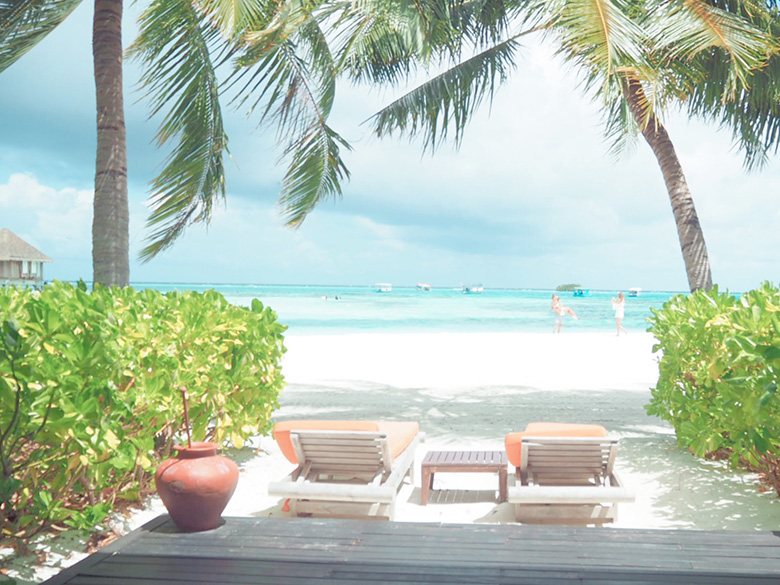 PACKING LIST ESSENTIALS WHEN VISITING THE MALDIVES
LIMITED CLOTHES – I want to say you don't need clothes but that just doesn't sound right.  But honestly, I over packed. You can get away with wearing swimmers and kaftan. They do have laundry services there so you can wash clothes if you need to. Thongs are perfect for day and night wear; I wouldn't bother packing anymore than 2 pairs of shoes.
SUN PROTECTION – The sun hits you quickly in the Maldives, I'm very fair so I ensured I always had sunscreen, hat, sunglasses and rashie on when out in the water. I kept my sunscreen in this plastic zip bag to make sure it didn't get everywhere through my bag and camera equipment.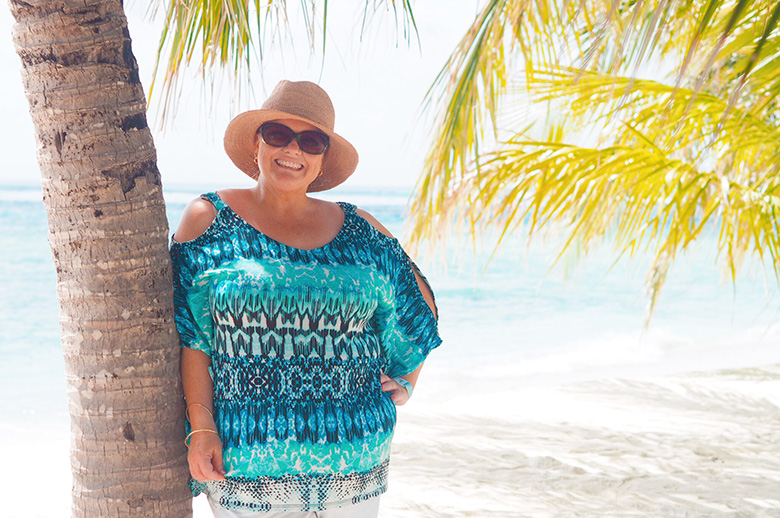 CAMERA – You just can't leave this at home, everywhere you look is so picturesque!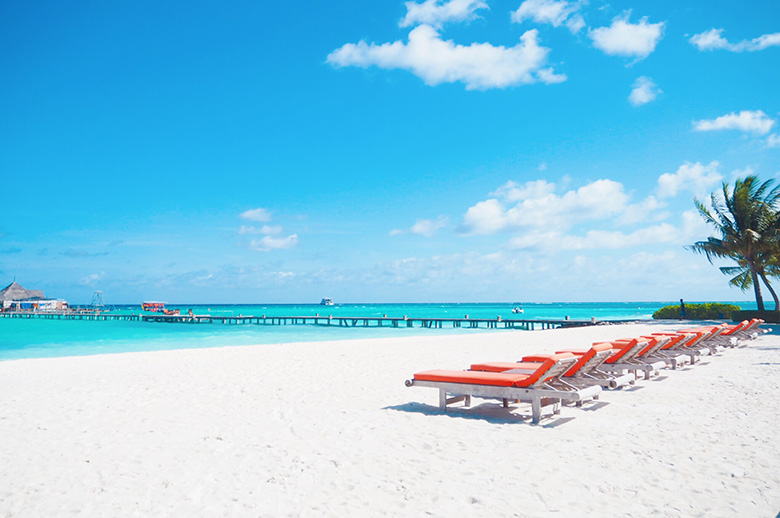 GO-PRO – Is a fabulous waterproof camera that allows you to take wonderful photos like this!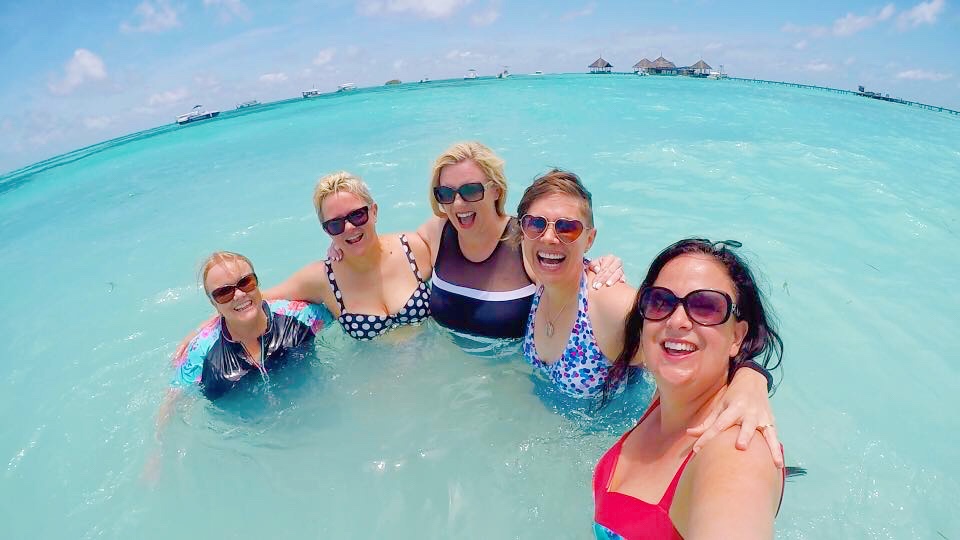 kudos to Louise from Paging Fun Mums for this happy snap!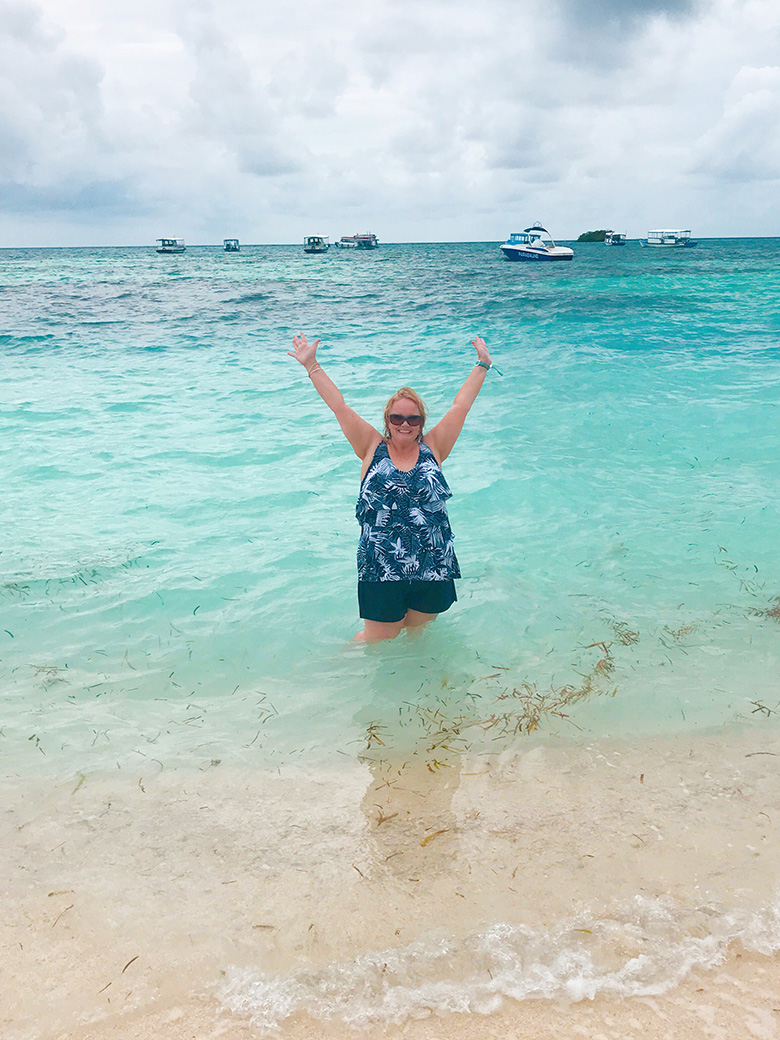 If you're wanting a tad more luxurious for your Maldives holiday, you could visit Club Med Finolhu.  We visited this resort for the day, walking around the peaceful oasis, which was so very quiet, I even questioned if there were guests on the island.  There was…. this resort is ideal for romantic couples getaways as children younger than 12 aren't allowed, explains why it was so quiet!
While I visited Club Med Finolhu I indulge in a pampering one hour massage.  There was a glass floor, one very similar to what is pictured in the bar below, which I could view the water and fish swimming by.  The outlook from the room was amazing, looking directly out into the ocean.  I tried to open my eyes to watch the fishies swimming under the floor, but the massage was that good (I would say the best I have ever had), that I struggled to keep my eyes open!  If you visit Club Med Finolhu I highly recommend you get a massage.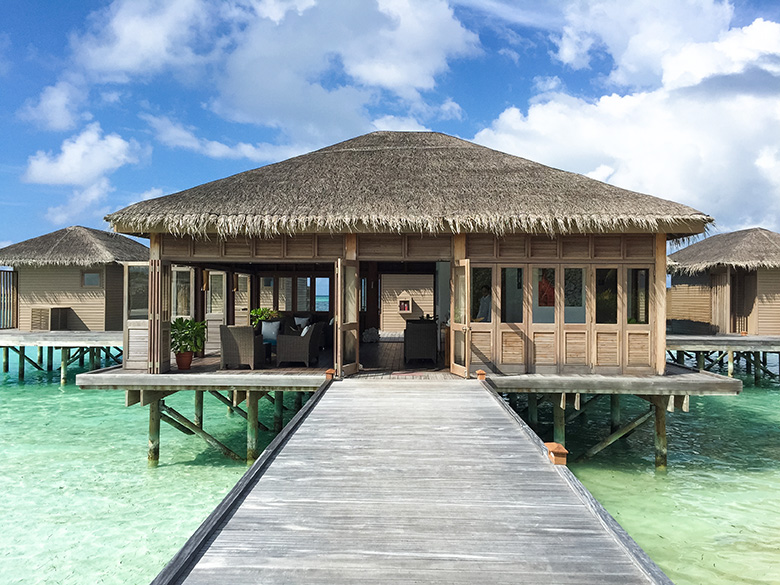 We dined at The Motu which is a refined dining experience with table service, directly overlooking the ocean.
What about this bar….. what a talking point, they have sting rays and baby sharks swimming under here often.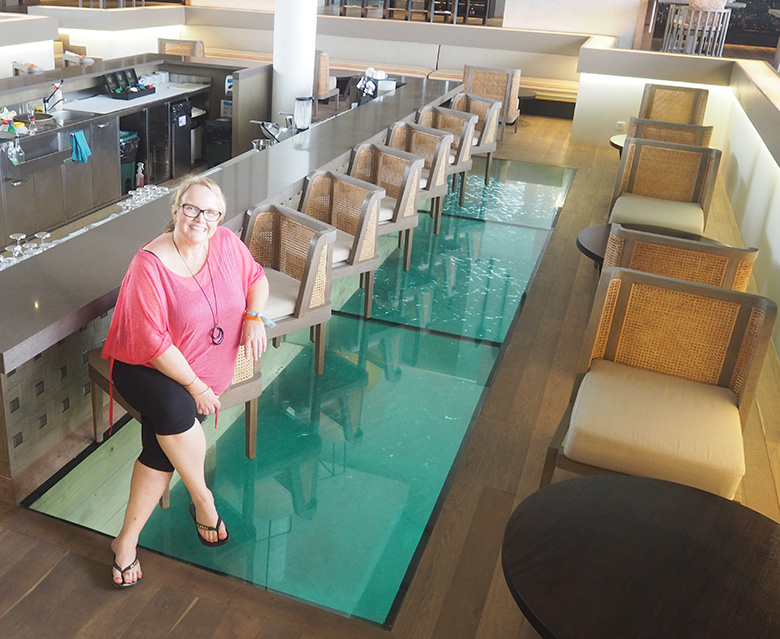 and I lounged around a little!  This is one of the overwater Villa's, with its own pool and direct access to the ocean.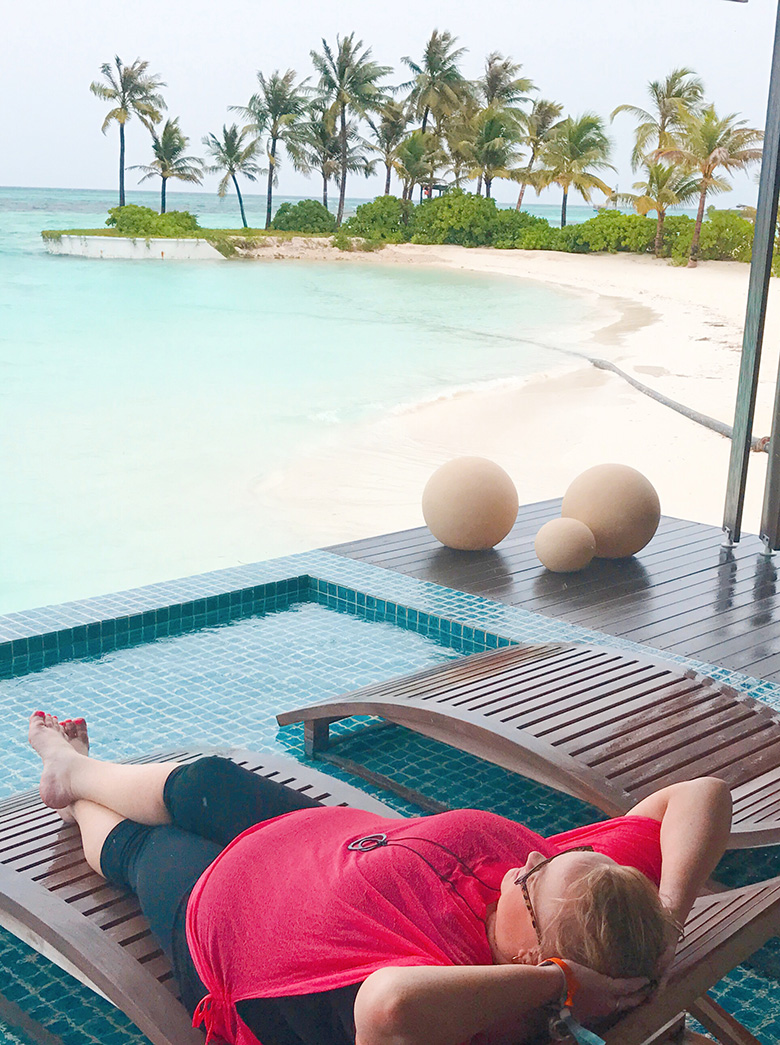 I am truly so grateful that I got to experience this magical destination.  I never thought I would ever travel to The Maldives (as I've had my honeymoon and all), but now I know that's it's family friendly and budget friendly, I am DEFINITELY coming back with my family!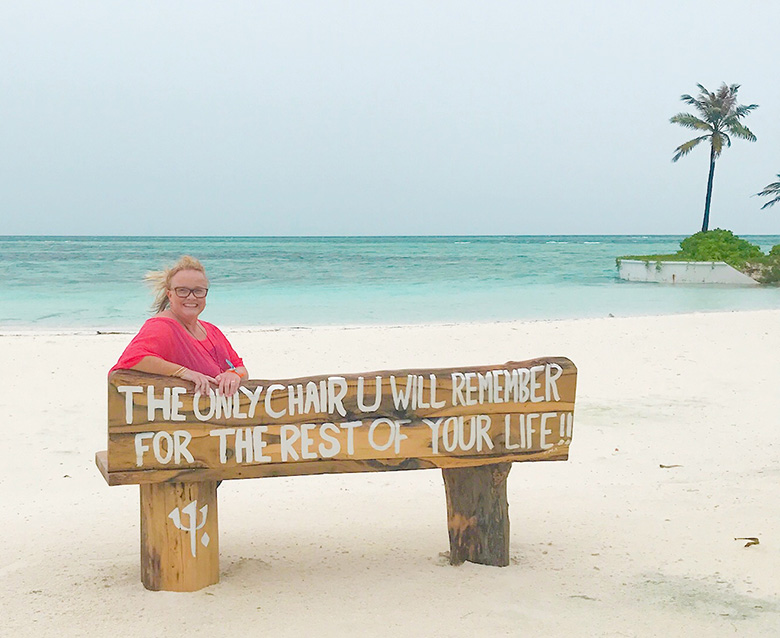 Again thank you to FlyScoot and Club Med Kani where I have to say their service was outstanding, the most friendliest resort I have been to with dedicated staff wanting nothing more than the guests to enjoy every moment. Plus additional thanks to Bupa Australia for covering my international travel insurance, looking after me anytime anywhere in the world, so it's one less thing to worry about and I could relax on my trip away.
And just for fun and big thank you to my eldest daughter for helping me put this video together of my trip away.
What is your dream destination?
This post is run in accordance with my disclosure policy.