I'm soooo excited, this time next week I will have our bags packed and ready to travel on our big family holiday to America.  We are flying into Vegas, then Lake Taho, San Fransisco, LA then Hawaii before heading home a few days before Christmas. It has been my dream to go to Disneyland since I was little and I am so excited that I will finally be ticking it off my bucket list!  I've wanted to take the kids, but our preference was to take them when they were a little older so they can remember it.  They are looking forward to Universal Studio's more than Disneyland, but I am sure both will be magical!  When I was planning our holiday I asked the Facebook community if they had travelled to LA and what were some of their best tips for booking a family holiday there. So, here are our reader's top tips for booking a family holiday to LA. If you have any more tips, please leave them below I'd love to read them before we go away.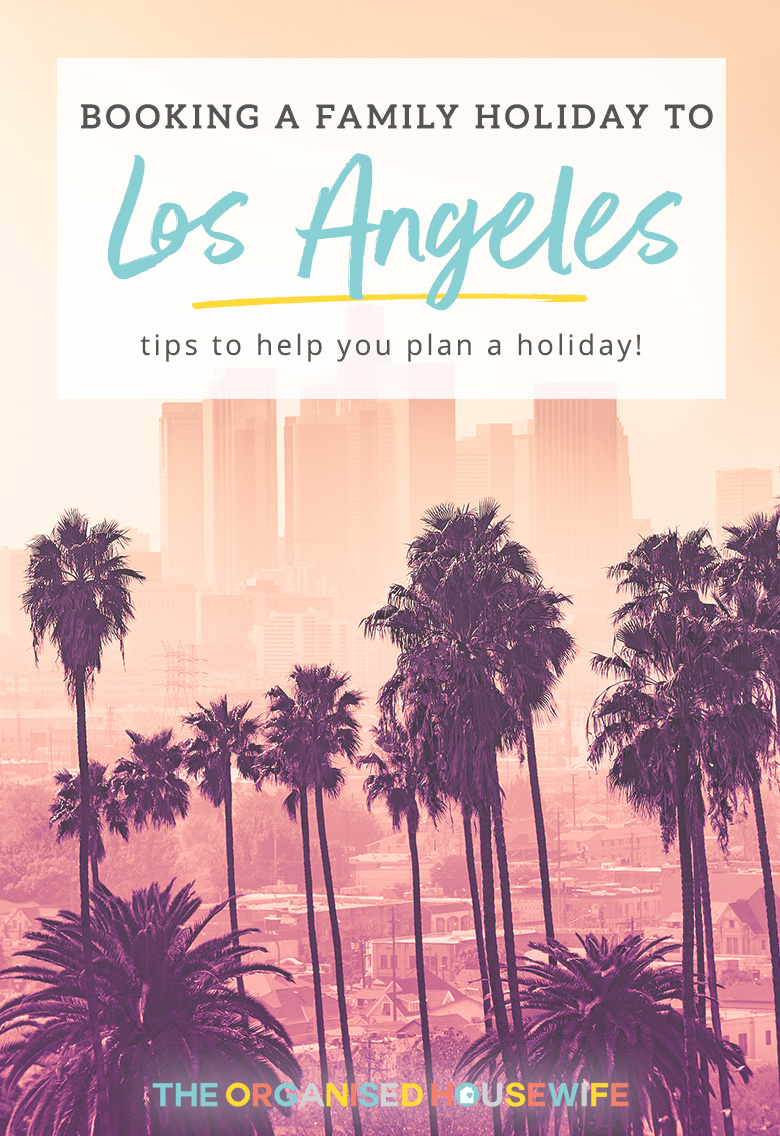 Places To Go
Highly recommend the hop on hop off buses to get around and a must do is Santa Monica, it is beautiful. – Chantelle
The grove and farmers markets are great. Get on the hop on and off bus tour on Hollywood Blvd right outside Gruman's Chinese theatre. – Melanie
Check out La Brea Tar Pits. AMAZING archaeological site in the middle of LA = you can see them actively digging out mammoth bones etc. Look it up, it's a hidden treasure. – Sarah
If u get a chance to drive to vegas the drive is amazing and the outlets in Primm are a must. – Angie
Personally, I wouldn't stay at Disneyland. Any of the properties opposite the main gate on South Harbour Blvd are great and much cheaper.
Accommodation
Do your research. Look at websites like TripAdvisor to check out hotels and places to visit. Look at what people have said (good and bad). – Judy
We booked accommodation in New York, LA and San Francisco but mostly we just drove along and found places just off the highways. We asked the prices first in most places. They are so generally cheap compared to Australia. Wifi and breakfasts are usually included. For a family it might be different though!! – Wilma
Hollywood Orchid Suites was best value family accommodation when we travelled years ago. Good location to Kodak theatre and Walk of Fame and as a base to do day trips to Hollywood sign, Santa Monica, Universal Studios. We had planned to stay at Anaheim the whole time but found it too far and so split accommodation for Disney party and then more Hollywood stuff. – Kimberley
Rodeway Inn on West Hollywood Blvd – cheap, safe, close to Kodak theatre and stars on the side walk- a bonus for US hotels – a fridge in the room! Mels Diner, I hop and others within walking distance. – Kelly
We stayed at Homewood suites in Anaheim. Food is included and it's about 2 minutes from Disneyland. You can get a self service apartment with separate bedroom for two weeks for the same price as two nights at a Disney hotel  – Misty
Stay at Magic Castle. It's the best for families!!! – Samantha
We did 2 nights at Disneyland hotel although quite expensive it was an unforgettable experience but any hotel round Anaheim should be fine depending on budget. We did 3 nights at W Hollywood hotel, the hotel was gorgeous but personally I'd stay in Santa Monica next trip and 3 nights were plenty for us. – Angie
Stay at the Howard Johnson hotel. Cheaper, has a water park. You can see the fireworks and is in walking distance to Disneyland – Michelle
We have also stayed at Beverley Garland Holiday Inn near Universal Studios which is family friendly and has free transfers up to Universal Studios. – Loryn
Disneyland/Universal Studios Tips
Make sure you allow time to visit Disneyland and California Adventure park. They are both Disney but right next to each other. Both are awesome. And also visit them at night as well. – Kelly
Universal studios was amazing. We did a vip tour which is a private group. Exxy, but well worth it, we saw all the park and got straight onto rides as you get first dibs on the ride. Also you get a buffet lunch instead of just the fast food options. And you get to do a studio tour there as well. – Kristy
You need at least 4 days for Disneyland. – Chantelle
We haven't been but are planning to go in the next couple of years. I have been doing research and Howard Johnson right next to Disneyland is apparently great! Also found if you are planning to go to a few places, the city pass can save you $. – Crystal
We loved eating at Denny's and IHOP. I would recommend more than one day at both parks. They are very busy no matter what time of the year you visit. Tax isn't included in any of the prices and tipping is expected. – Michelle
Get a 5 day hopper pass so you can come and go from both parks anytime you like. – Misty
Do the photo pass wristband – great value. – Loryn
Travel Tips
Get a US Sim Card (I have always used AT & T, last one I bought on ebay before I left) with data google maps will get you everywhere. Or install a GPS (Like CoPilot) on the iPad or iPhone with the data loaded then no roaming fees and cheaper than hiring one. The iPad needs to be a sim capable of iPad to do GPS, but need not have the sim card in it. Then there are no nasty roaming charges.  – Jillian
Just remember you need to add taxes and tip on everything. – Jo
Keep lots of $1 and $5 notes handy for tipping. I put these notes in a separate part of the wallet so as not the mix them with the higher denominations which are all the same size. – Rachel
Small notes for tipping (tipping is not required at Disneyland & not much at Universal Studios) if buying meals almost anywhere, they are huge, we fed our family with 1 adult meal for us and 1 kids meal for our 2 girls. Lots of ideas around for research. For international travel I highly recommend as good travel agent just to make sure your have all necessary documents etc. Travel light if possible. – Loyrn
Sixth car rental was great and by far the cheapest we found when we hired a car for a month while we were there. – Michelle
Front of line pass for universal studio was fabulous. No need to spend the ridiculous price tag for VIP. Organise a personal driver while over there rather than taxi as it is much cheaper. – Angie
What is your top travel tip?