This post is sponsored by Brisbane Airport
Last weekend, we set off on our big American Holiday adventure. This is the biggest holiday we have been on as a family, the longest holiday we have been on was 4 nights, so this one is all new to us.  With this holiday, we have to make friends with the airport as I feel we are going to be spending quite a bit of time in them over the next few weeks. Especially as we need to check in 3 hours before for international flights, stopping over in Hawaii for 6 hours and then flying into Las Vegas. First cab off the rank was Brisbane Airport – and we learnt lots from the experience.
Are you travelling in the near future too?  I've put together a list of Airport hacks to help you in your travels and make the most of the time you have sitting around waiting for your next plane, I hope these airport tips make travelling easier for you and your family.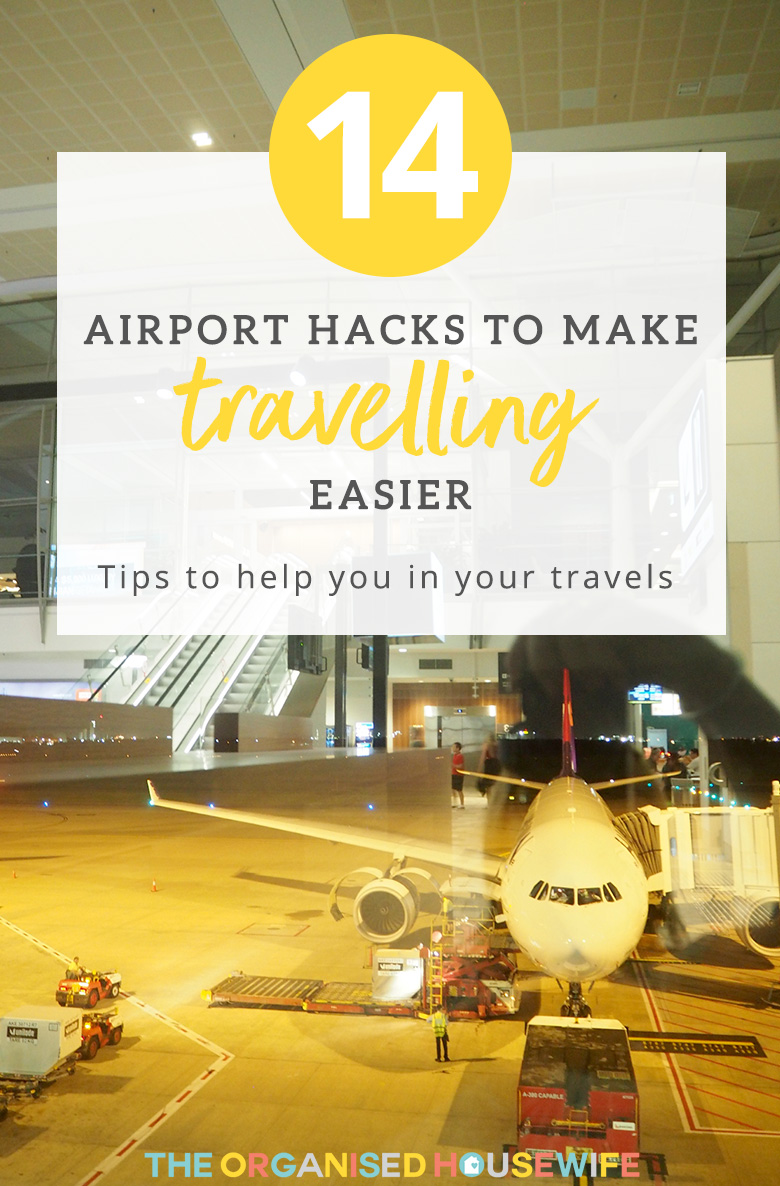 I truly needed this holiday.  I feel this year has been action packed with running my kids around to sport and now the twins are working that gives mum's taxi a whole new dynamic. The blog has been keeping me very busy and I've also been there supporting my hubby Scotty and friends.  I'm ready for this break, but I needed to make sure I had everything done before we headed off so I could just switch off and enjoy every moment without worrying about things back home. Taking into consideration we left 2 days after the kids finished school and we arrive home the night before Christmas Eve I had to truly think ahead, I am absolutely living up to my title of The Organised Housewife, before the 1st of December I:
Finished all my Christmas Gift Shopping (I did it all online this year, saved so much time)
Finished all my Christmas Food Shopping (I put my hand up for non-perishables and a Turduken I could put in the freezer).
Ordered and received the kids 2018 book supplies (all I'll need to do is label)
Mostly packed for the holiday
Emptied the fridge of all perishable food and ate anything from the pantry in an open packet
Done my online grocery order to arrive Christmas Eve so I don't have to go to the shops
Prepared all the blog posts for December (truly helped me get into the Christmas spirit early)
Wrote a detailed house/pet sitter list for my friend that is looking after our furbabies.
Hopefully, I haven't forgotten anything!?
And whilst also thinking ahead, we arrive home at 9.30pm Christmas Eve, I thought by the time we get through customs and being on such a long flight, I already know our backs are going to be very sore and from past experience I am in no shape to drive after such long flights. In the interest of our safety I booked a transfer service to take us to the airport and home again. So, from the moment we leave home we will all officially be in holiday mode!!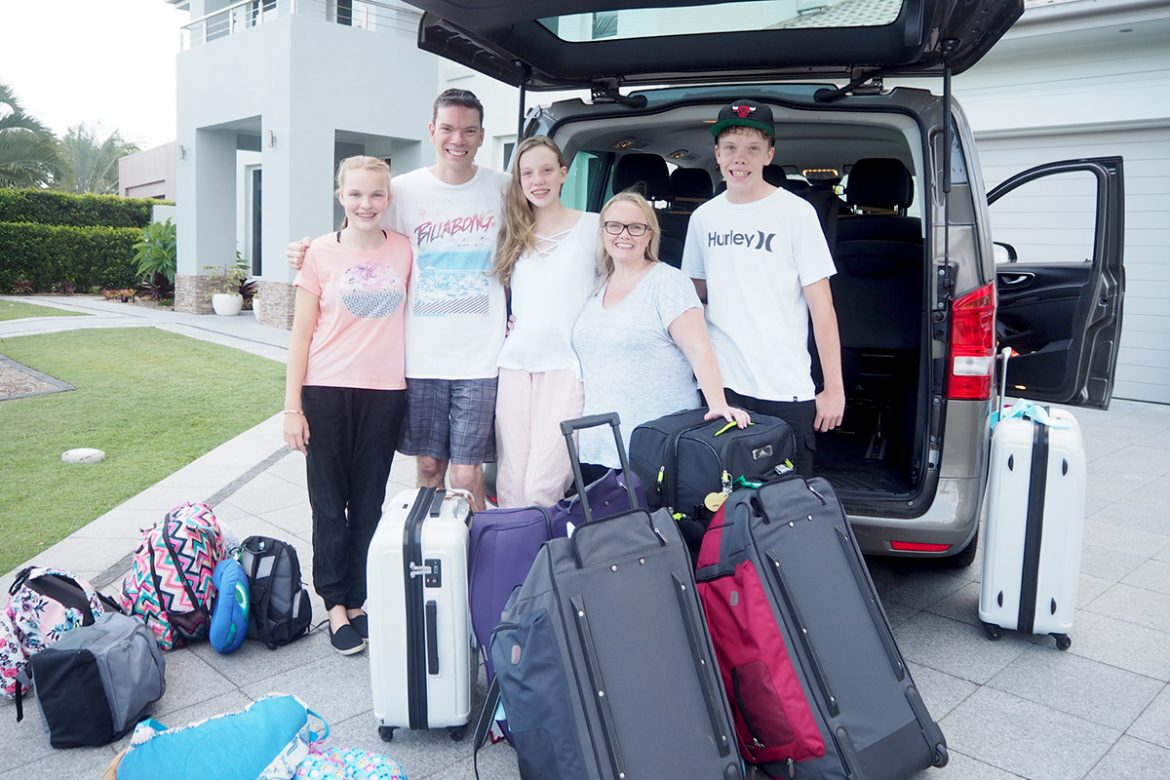 We travelled from the Brisbane International Terminal, which looked a little different from the last time we were there. The terminal's had a $45million facelift in 2015, showcasing some gorgeous artisan furniture made from local tuff stone and spotted gum timber.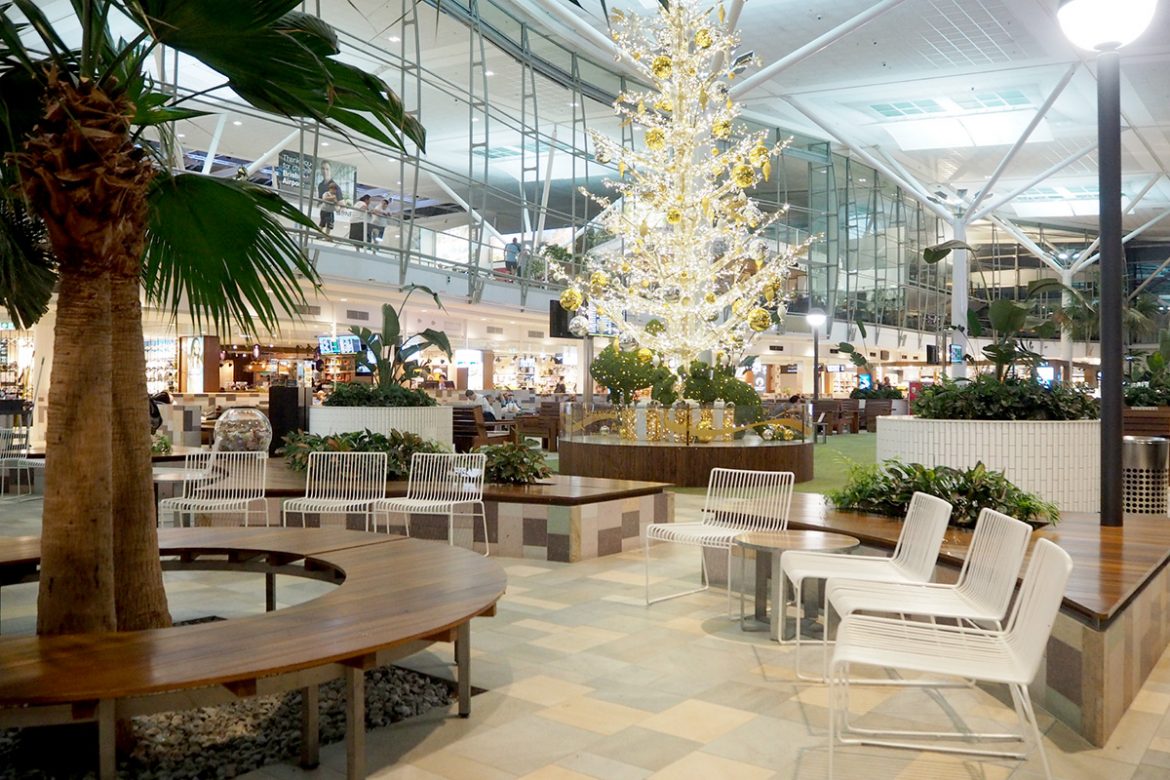 Now I certainly don't call myself a pro at travelling, but I am a very Organised Mum and want to ensure I don't forget a thing and make the most of the time waiting around in the airport. These Airport Hacks that I picked up when flying out of Brisbane Airport will help make your next travelling adventure that little bit easier, especially if you're flying out of Brisbane too.
#1 Don't hurt your back
I am still a spring chicken but there are days I feel like my back maybe 60.  If you're carrying multiple bags use the free-of-charge luggage trolleys at the International Terminal, don't try and be a super human!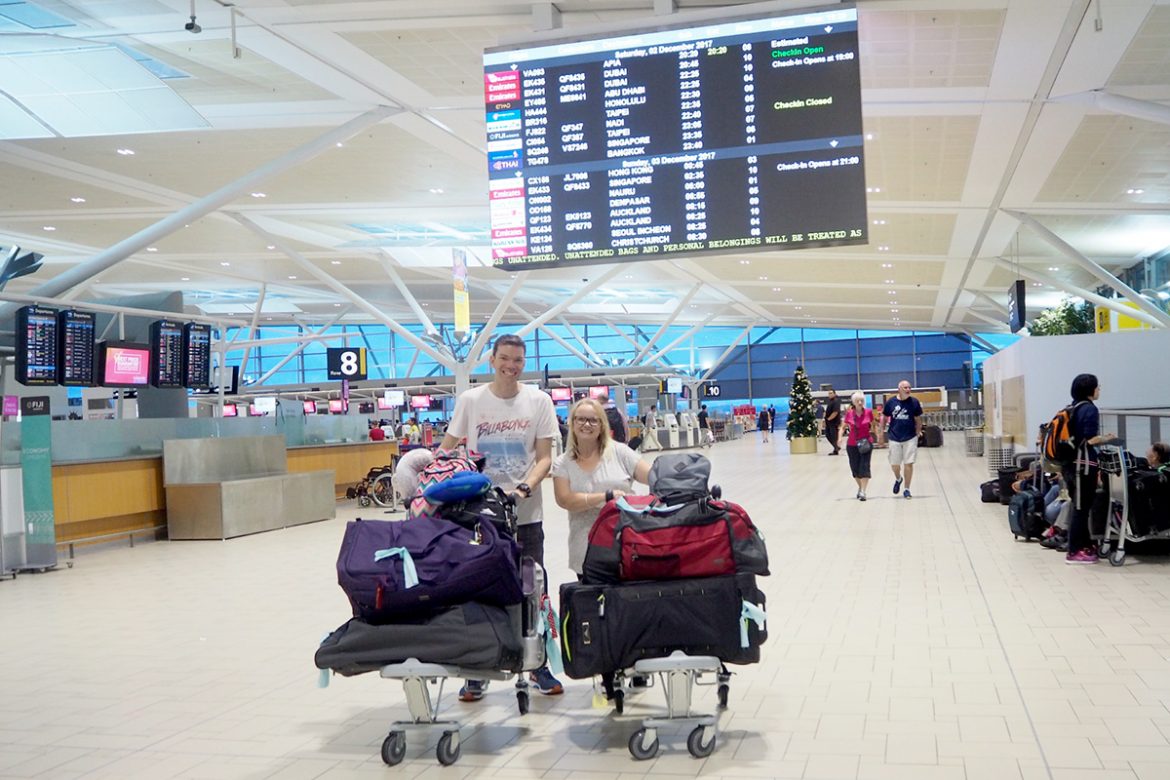 #2 Make your laptop easily accessible
I'm a blogger, my laptop goes everywhere with me!  Yep, you've got it, at the time of writing this it was 11pm on our flight out of Brisbane and I was typing up this post!!  Airport security like you to remove your laptop from your bag to scan it separately.  Make it easily accessible so that you can quickly take it out of your bag and not holding up any queue. If you don't have one, you can buy one at the Gadget Shop, before security which will save you the headache of unpacking your entire hand luggage to get it out.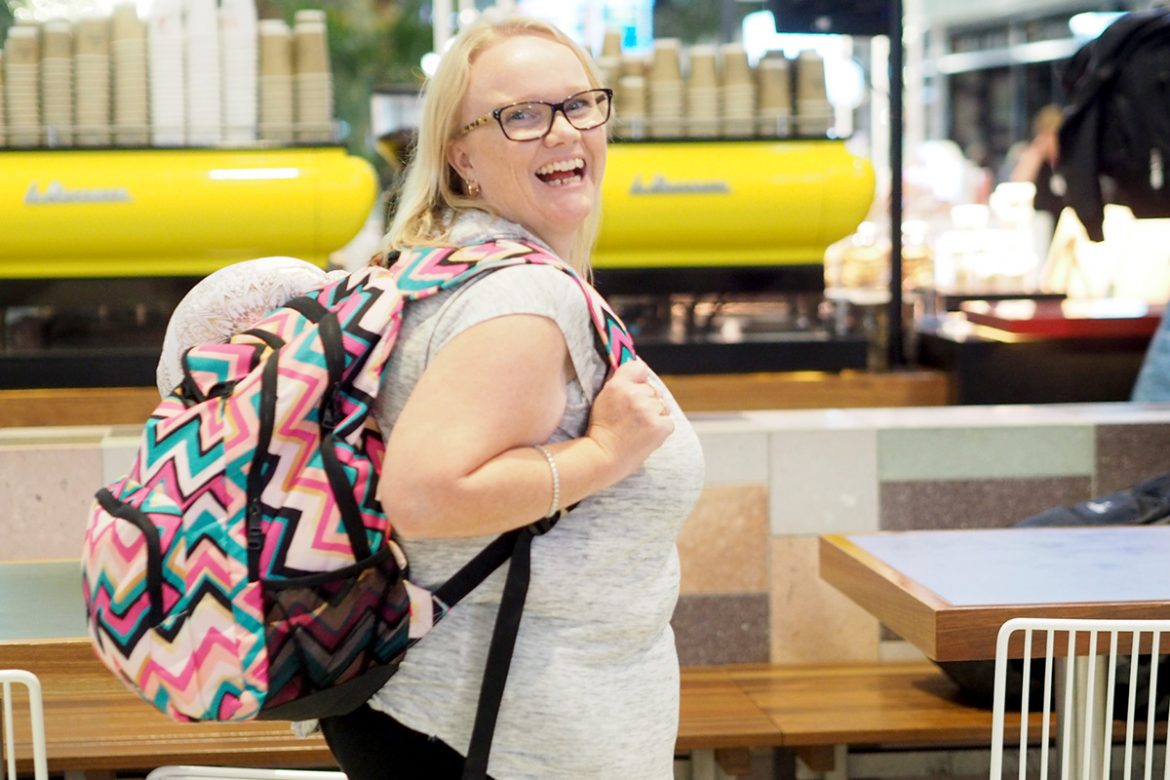 #3 Fill up your water after security
You can't take bottles filled with water through security. I often wondered why and found out, it's because it's hard to tell the difference between water and liquids that can be used for explosives. Brisbane Airport has heaps of filtered water stations, including smaller ones for accessible passengers and little kids. You'll find them near the loos and scattered near the gates once you've passed security. Alternatively, at Newslink stores past security you can pick up big bottles to keep yourself hydrated all flight.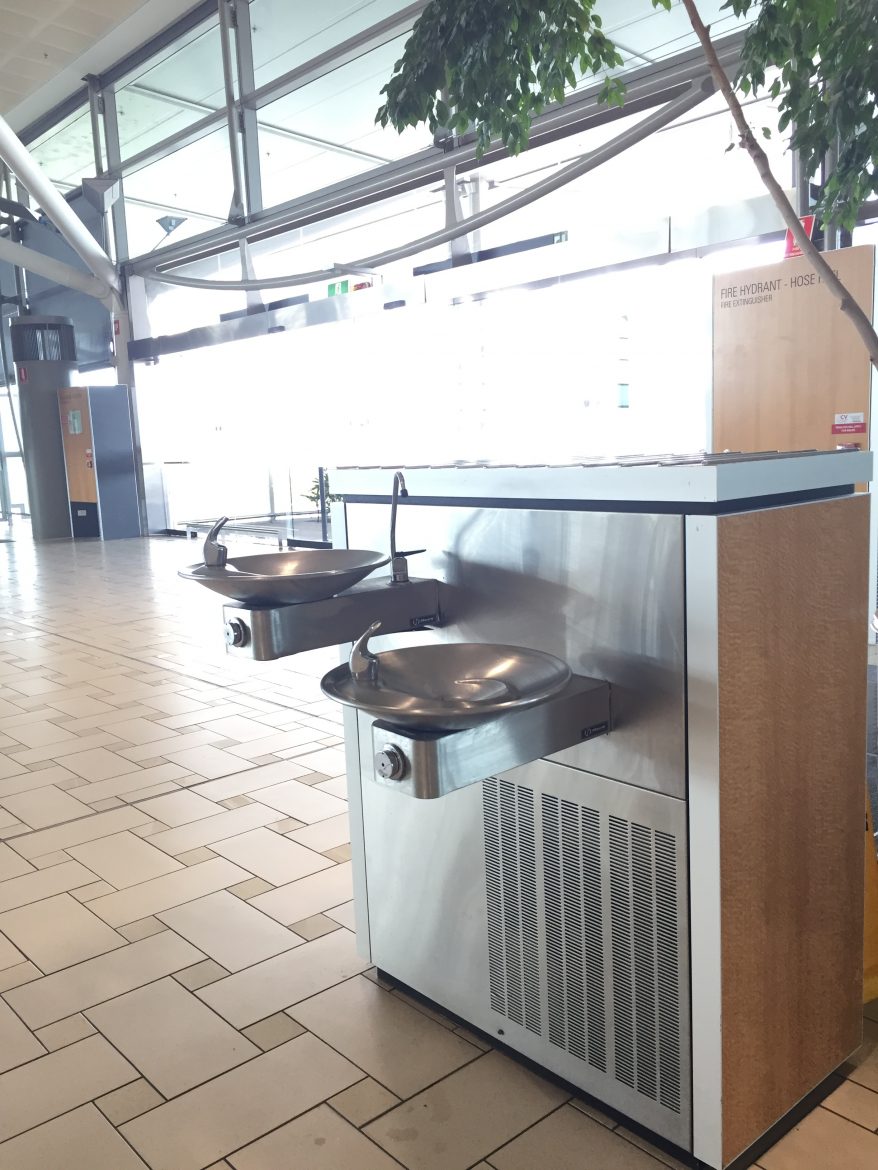 #4 Do your gift shopping
I don't know about you but I tend to overpack when travelling. I think I have done it again this time. So if you're visiting friends and relatives for Christmas, grab some pressies from the stores at the Airport to save the extra luggage. There are books, perfume, clothes, lollies and abundance of alcohol. Don't forget to buy a little gift for yourself too.  JR Duty Free's "Fly.Buy.Collect is a great way to get organised with your duty free shopping. Not only does it guarantee your purchases, but you don't have to carry them on your trip and you can find some great savings online.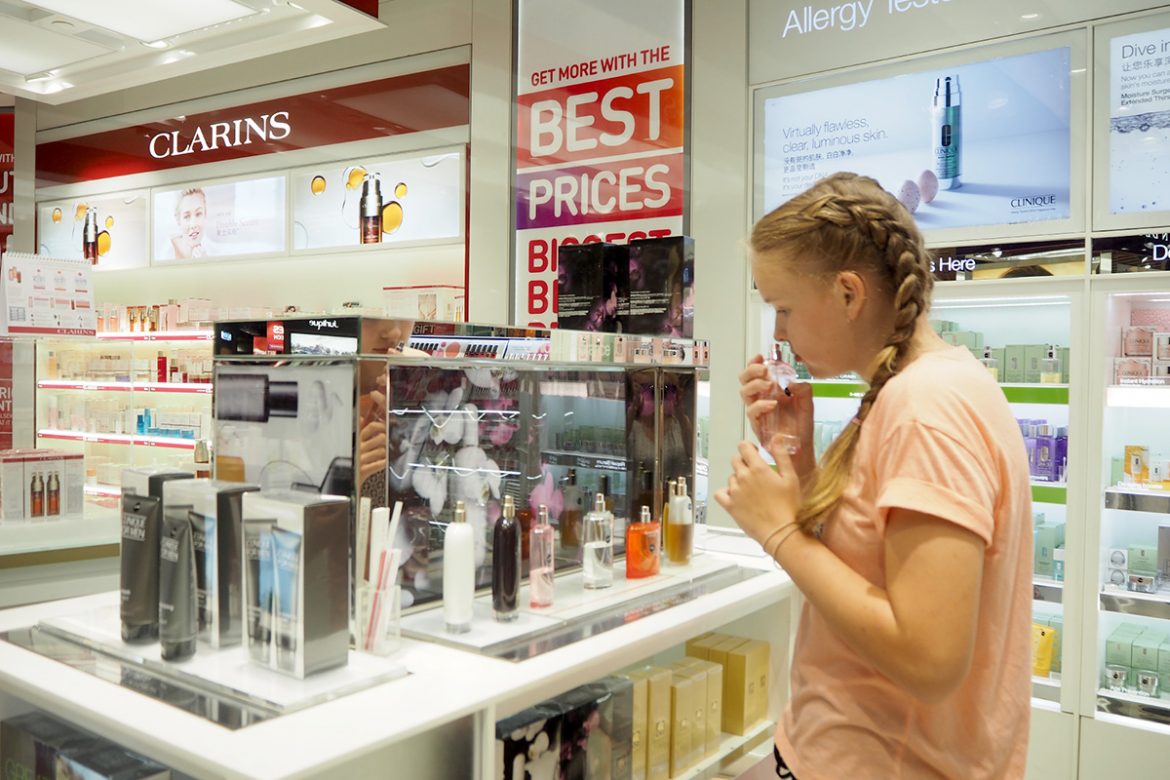 #5 Order your currency to pick up at the airport
Get organised and save yourself a trip to the bank by ordering your currency direct at the airport. For our trip we needed US dollars – and with a simple phone ahead to Travelex we could pick them up at the Airport in the time for our flight! 
#6 Eating before flight
You have to be super early for international flights, with all the waiting around it's easy to get hungry quickly.  Dine at a bistro for a nutritious lunch or dinner, opposed to something quick from a vending machine, which might not fill you up. When you are making your meal choice think about your body and the foods that it can tolerate so you don't have an upset stomach while flying.  For this reason, I like to keep my meals light on the plane. We dined at Windmill & Co at Brisbane International Airport, they have a selection of beverages, breakfast, salads, share plates and pizzas, a meal to suit any time of day. We went with a light bruschetta, caesar salad and the boys had burgers. The fit-out resembles a modern café, not something you'd usually expect in an airport, inspired by one of Queensland's oldest buildings, Spring Hill's Old Windmill, built in 1828.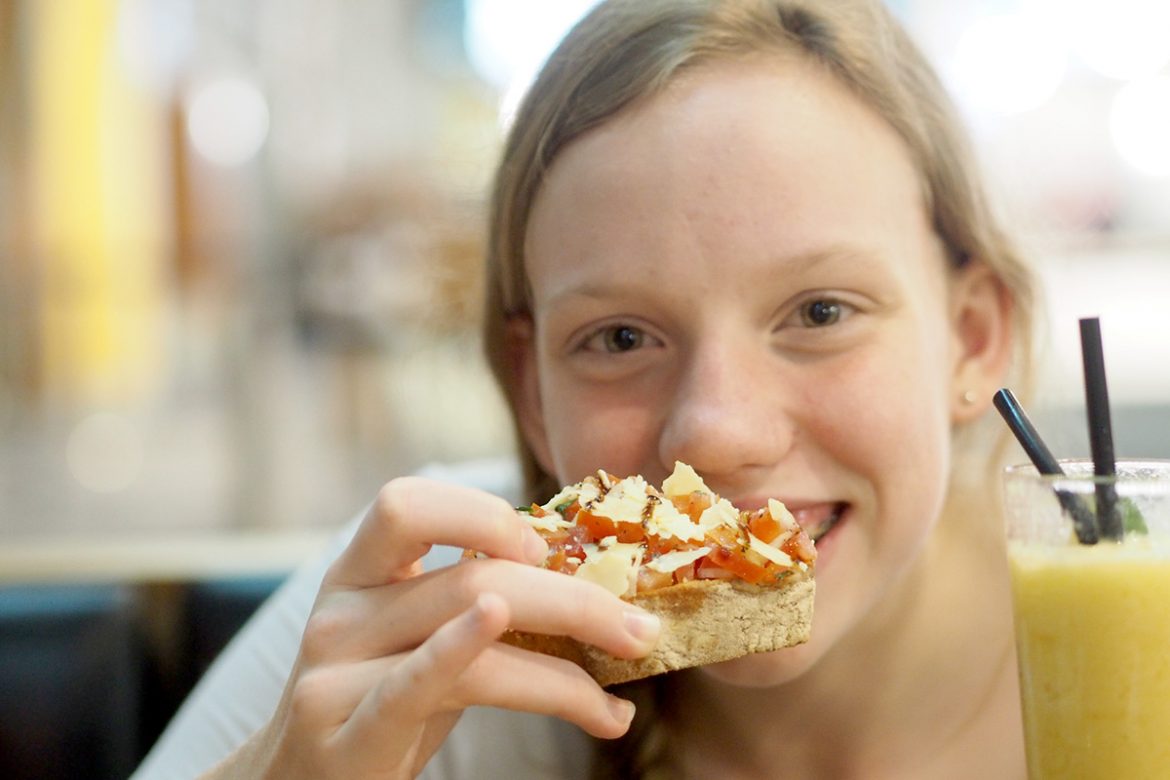 #7 Take advantage of the Free Wifi
Brisbane Airport offer free wifi in all areas of the International Terminal and in the central area of the Domestic Terminal. Take the time to check in on your social media, the latest news or check your emails. Brisbane Airport has high-speed Wi-Fi for your device so you can watch a movie or download music (there is a download limit of 500MB). It's super easy to connect to, my kids were connected moments after we stepped into the airport.  The best signal is in the food court, each user has 8 hours free wifi (crazy awesome if you have to be at the airport that long).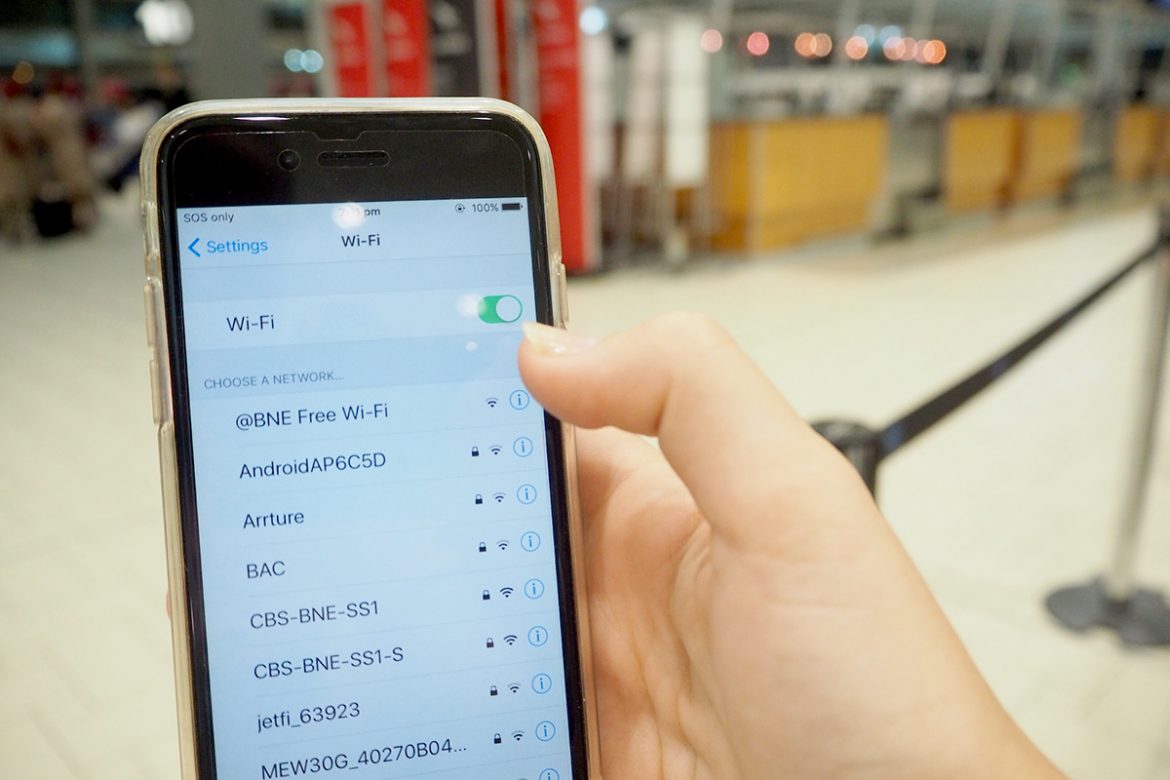 #8 Wrap your luggage with some ribbon or fabric
This tip helps you when you are picking up your bags when you reach your destination.  To make your suitcase easily identifiable it's ideal to buy a suitcase with a uniquely bright print, but if yours is one of the common colours, black, white or red, wrap some fabric around a handle to make it super easy to find your suitcase amongst a sea of other similar coloured cases if you've forgotten, Carry-on before security has a range of luggage tags for this hack.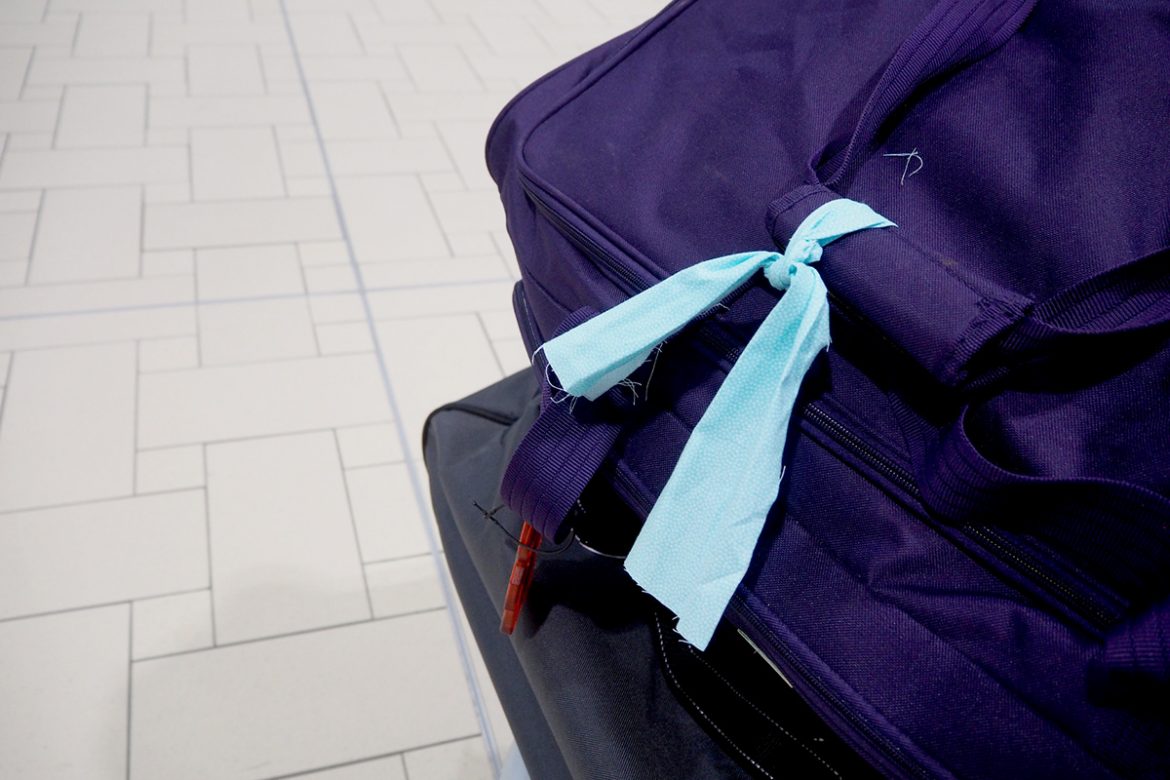 #9 Wander around to stretch your back
You're going to be sitting for so many hours to come, take a wander to get some movement in your back.  While we were walking around we found this super fun selfie booth, the girls emailed me a few pictures! It's there all Christmas – so give it a go and send someone a laugh with an 'elfie'.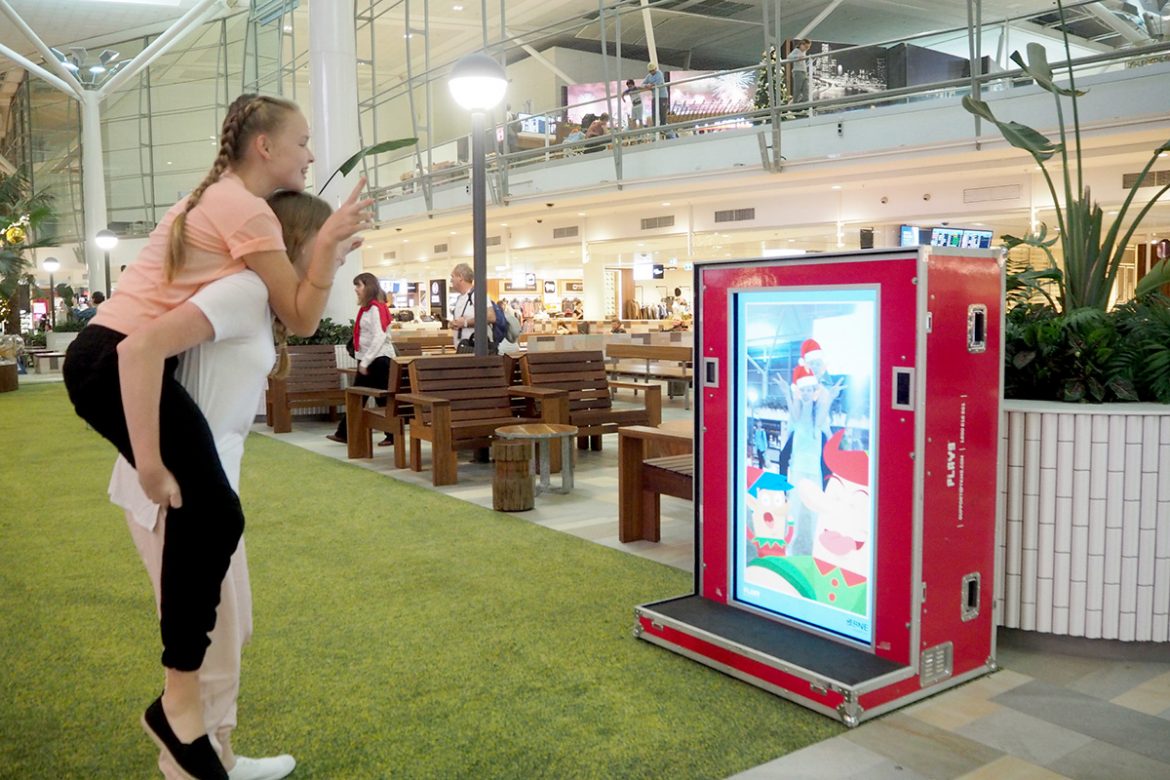 And as girls like to do we wandered into some shops.  Good thing as I needed some new mascara and hadn't made it to shops to pick some up before we left. Shops like JR/Duty Free have all the major cosmetic brands for any last minute essentials if you've forgotten – and there's also Benefit and MAC in the middle of the terminal.  It was good to see what makeup my girls were looking at, as they're at the ages now to start wearing makeup.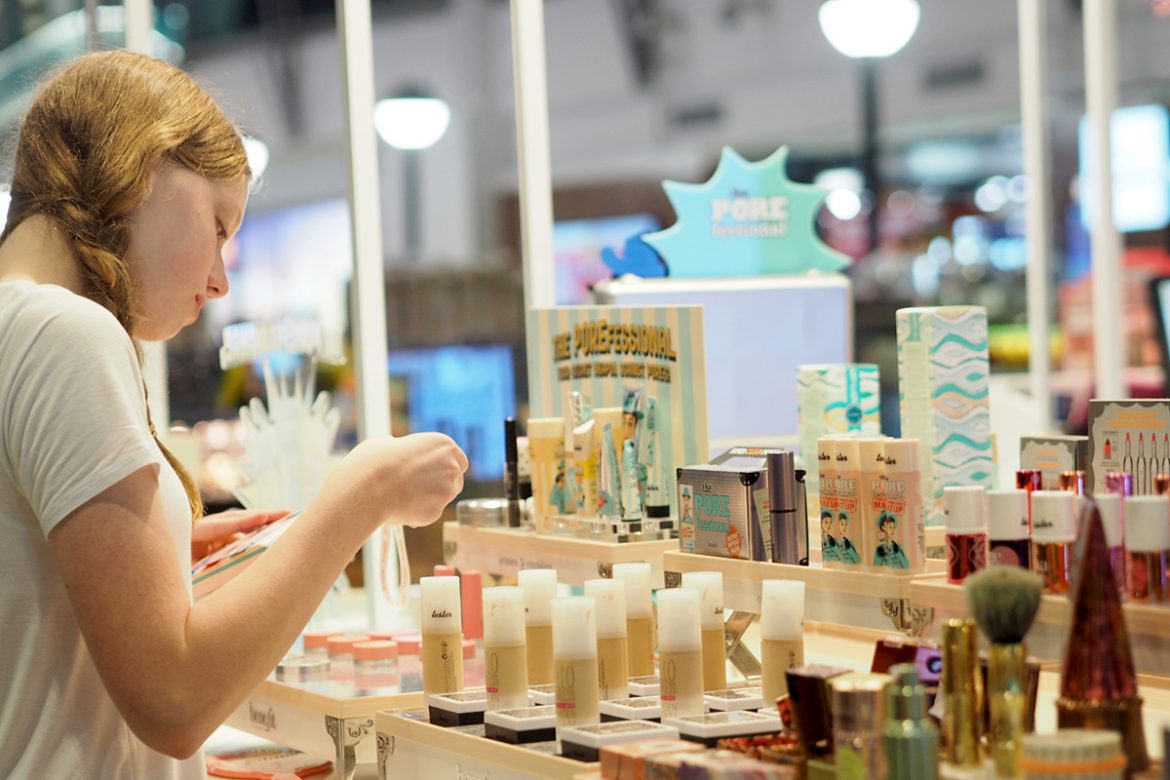 #10 Bring a power board
While we have power I want to give the devices a top up of charge before getting on the plane so we have full battery to watch the Netflix shows we downloaded, some airlines don't have USB ports to charge during the flight!  Brisbane Airport have many charging stations around the terminals, I take my power board as we have quite a few devices.  I also pack portable battery chargers for a top up of battery life during our travels and to ensure I have enough power on my phone when we land.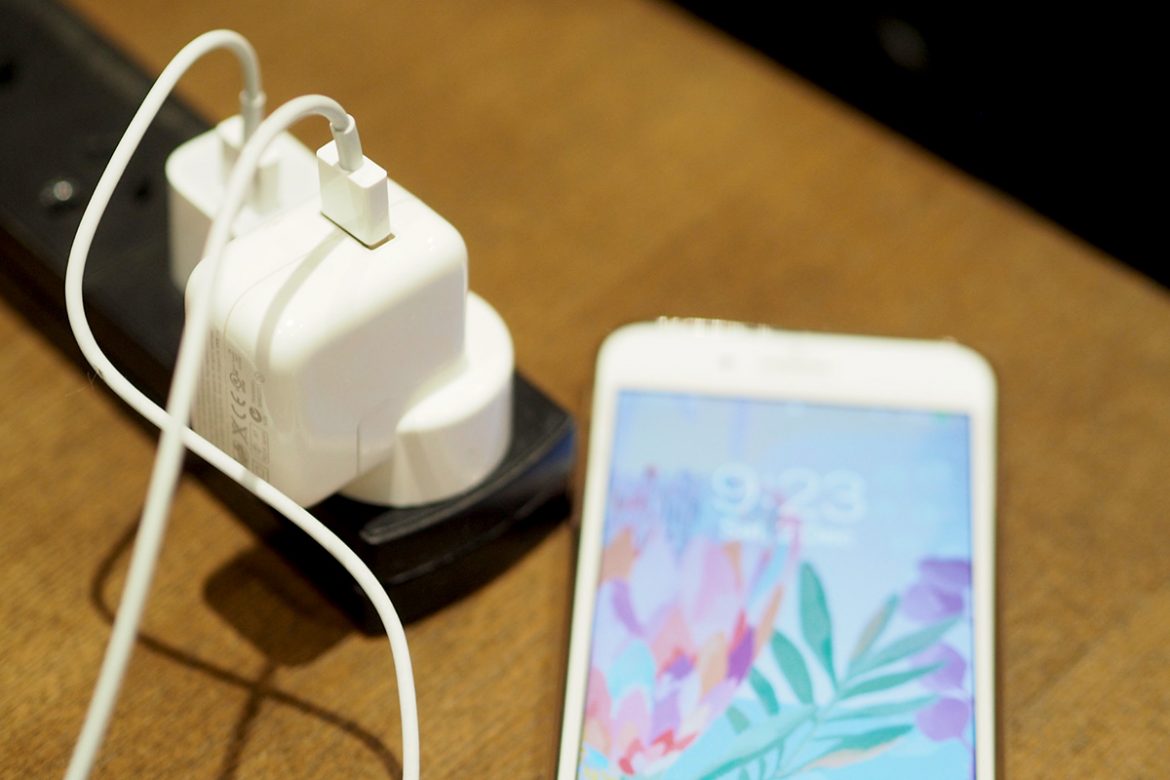 #11 Charge your device with the Chargebikes
How awesome is this, combining the tips I mentioned about stretching your back and charging devices together in one?  Brisbane International Terminal have free bike riding stations that help you generate enough power to charge your phone before a flight. If you want to use pedal power to charge up before the flight, you'll find the bikes located on Level 4 before security.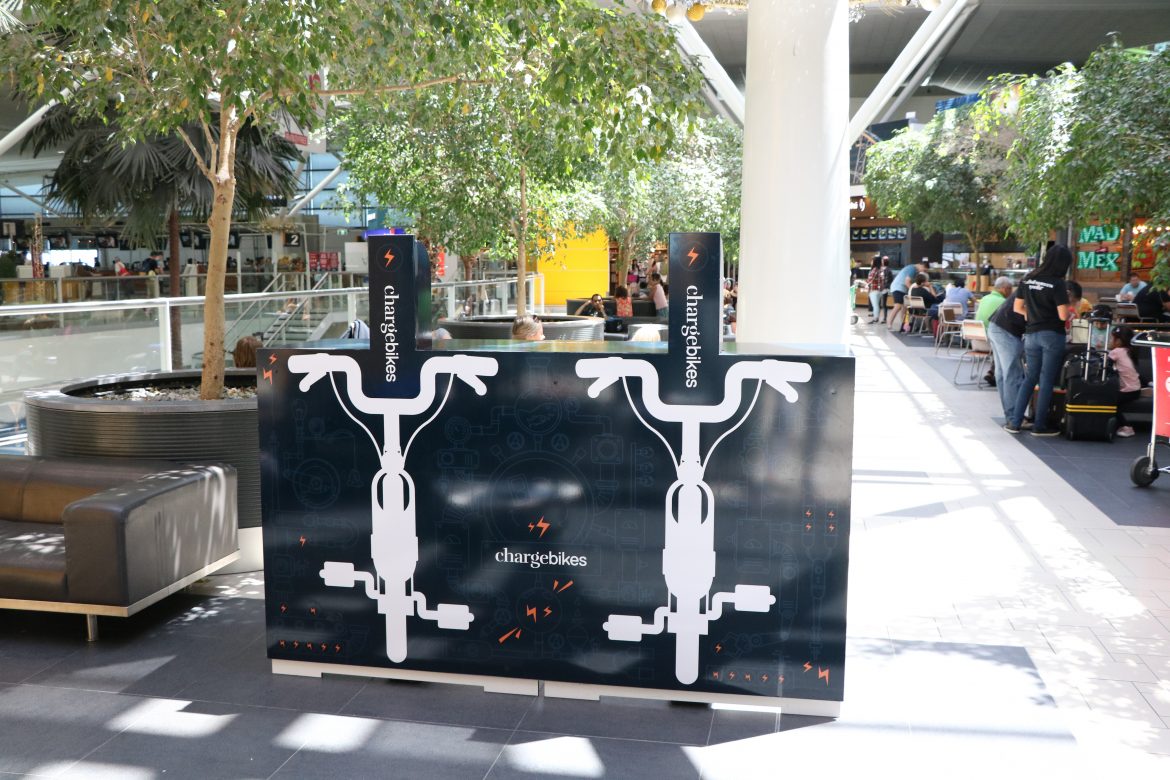 #12 Visit the Premium Lounge and Spa
I haven't earnt enough frequent flyer points for our family to access airport lounges yet, but I have learnt that at Brisbane Airport you can pay-per-use for passengers wishing to access lounge and spa facilities. Spa facilities at the airport? Hello! Visit the Plaza Premium Wellness Spa for a pamper session, anything from express 15-minute hand and foot therapies through to 1-hour body massage.  Now I thought to organise transport to the airport was luxurious, this is taking the start of a holiday to a whole new level and I think this would be a wonderful way to pass the time and ease the tension all the holiday preparations may have caused – and start your holiday in the means you wish to carry on! We hung out at the Premium Lounge while waiting for our flight. You'll find the Lounges on Level 4, after security if travelling through Brisbane Airport.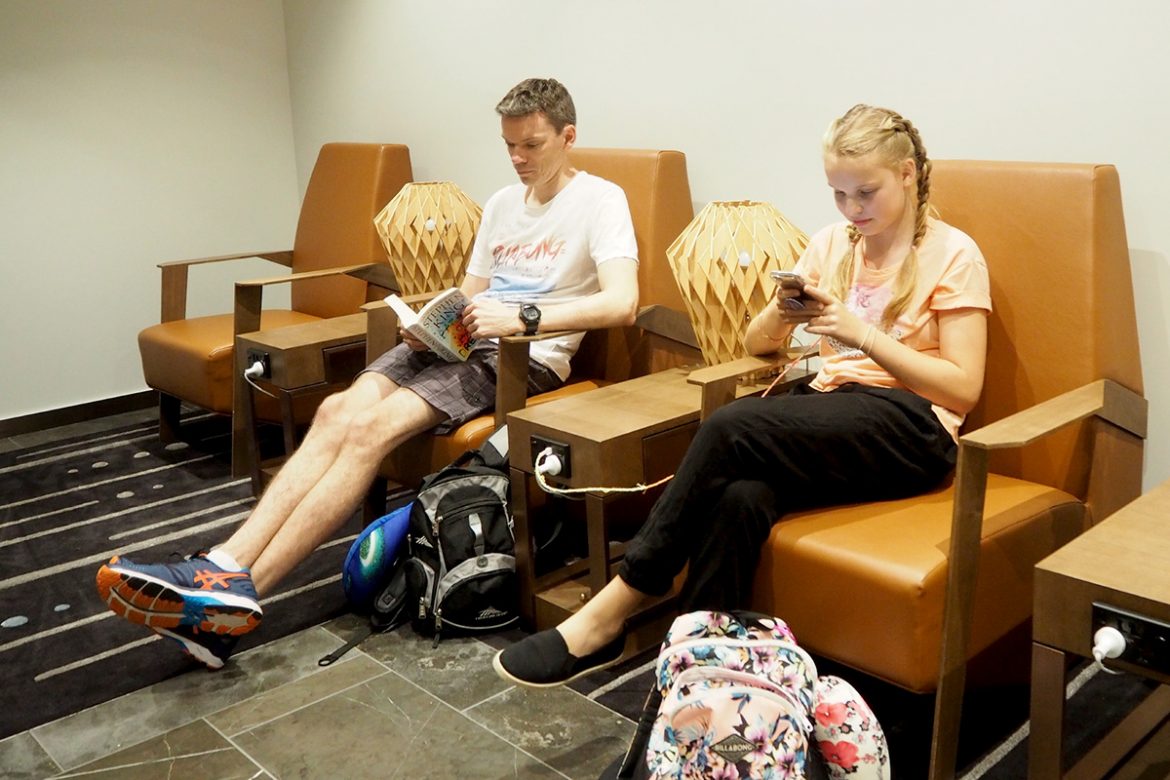 #13 Hand sanitise frequently
The last thing you want to do is pick up a bug and not be able to enjoy your holiday. To help prevent you from getting sick while travelling make sure you have some hand sanitiser in your hand luggage. If you've forgotten, you can pick up pharmacy essentials at the airport too.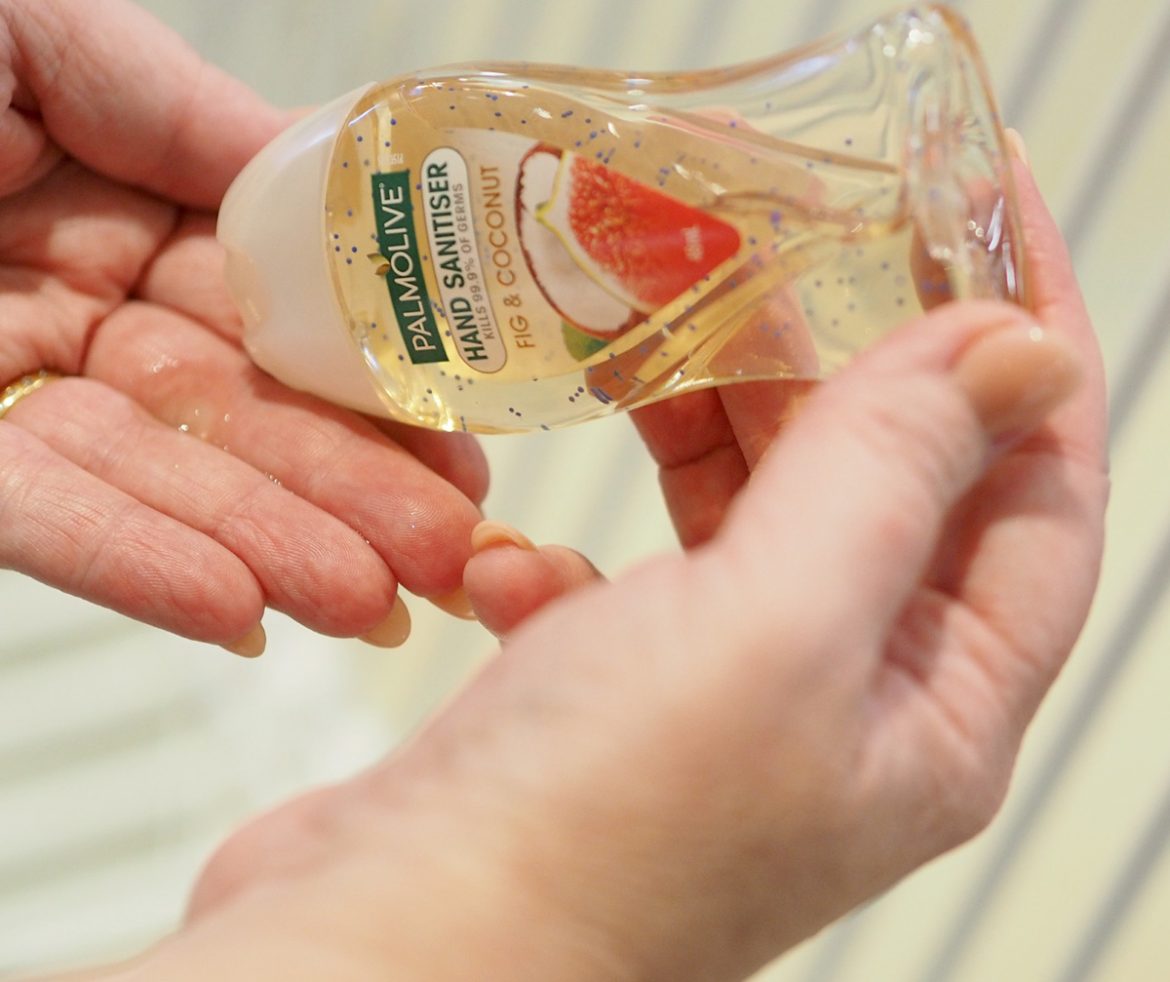 #14 Start a new holiday tradition
My hubby has a little tradition, he purchases a new book at the airport every time we go away. Something new for a forced time out, to relax and read during his travels to take him off devices!  Airports always have great books, including newest releases. At Brisbane Airport, the best selection is at Newslink which is located both before and after security. Is it time for a new tradition too?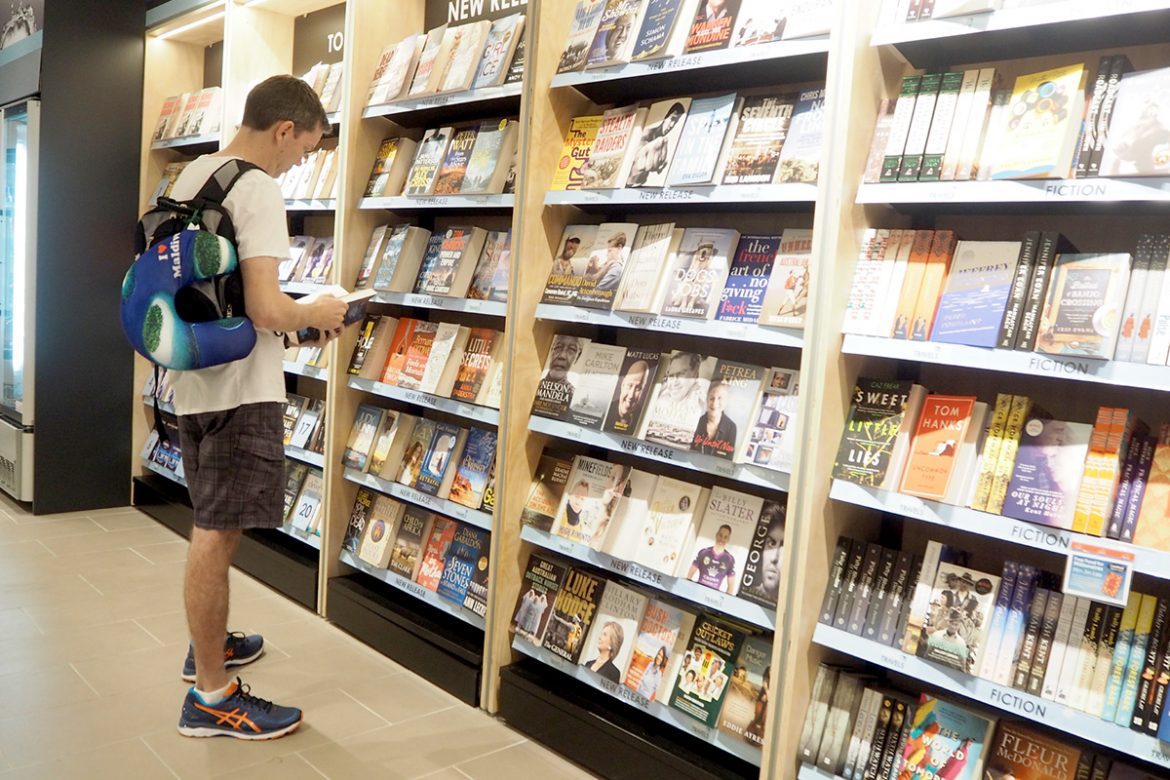 What is your top Airport Hack?
This post is run in accordance with my disclosure policy.