Music is a powerful tool for creating a mood. Whether you're wanting motivation to help you clean before the guests arrive, or a more chilled tempo to relax your friends once they've arrived, music can certainly help achieve this.
  LISTEN – to The Organised Housewife Motivation Mix Playlist on Spotify for a little inspiration.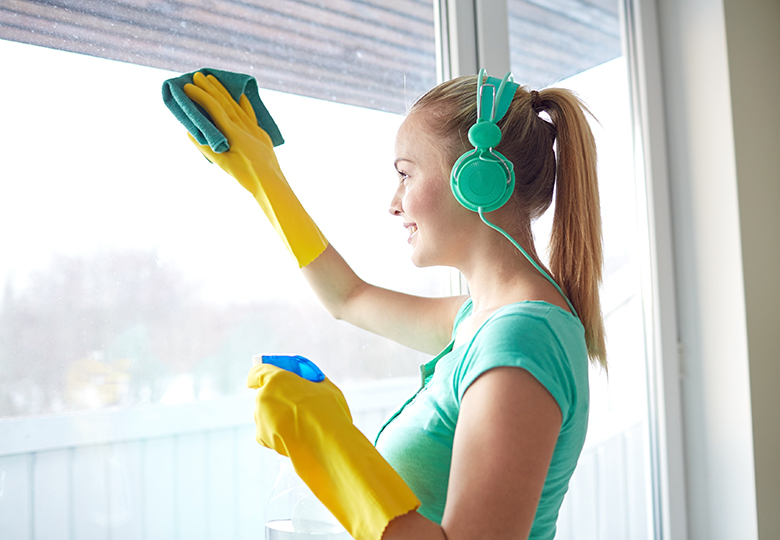 Top music to listen to when cleaning the house
I recently asked on facebook for songs that you enjoy listening to while doing housework as I LOVE the music playing while I am cleaning. I find myself moving faster and enjoying my time by dancing and singing.  So I asked and I received a great list of songs to add to my playlist, here are a few:
Avril sk8er boy
Anything by Metallica
Paper in Fire ~ John Mellencamp
ABBA
Shania Twain
Firework, Katy Perry
Pink – Bad Influence
Don't Stop Me Now – Queen
Cat empire
Bob Segar
Chris Brown, run it
Britney Spears – I'm a slave 4 u
Heartbreaker – Pat Benetar
Sexy and I know it
Brook Fraser 'Something in the water'
Tom Petty – Free Falling
LMFAO
Tina turner – the best
Karmin, Brokenhearted
The Offspring Soundtrack
Maroon 5
Call me Maybe
Van Halen's "Jump"
Dirty Bit, Black Eyed Peas
I like to move it move it
Fighter – Christina Agulera
Kylie Minouge, can't get you out of my head.
Party Rock Anthem
We built this city on rock and roll
Rock DJ Robbie Williams. anything by him gets you moving.
Stayin' Alive – Bee Gees
Dynamite
Static X
More, usher
Black eyed peas – pump it
Push it – Salt n Pepper
Walking on sunshine
Glee remixes
I will survive.
I am Woman
Eye of the Tiger
Love The Big Chill soundtrack
Domino by Jessie J
Boot Scoot'n Boogie
AC/DC
Dixie Chicks
Poison
Bon Jovi
Lady Gaga
She works hard for her money
Set fire to the rain- Adele
Santana – ceremonies
Live – throwing copper
Red Hot Chilli Peppers – californication
Nickel back
Heavy Fuel – Dire Straits
Song no. 2 Blur
Anything 80's!!
Dr Feelgood-Motley Crue.
Taio Cruz dynamite & pink one last kiss 🙂
George Michael freek
Ronan Keating – Loving each day
Jennifer lopez – lets get loud
Fun House- Pink
Shook me all night long ACDC
Sweet Child O Mine guns n roses
Bryan Adams
Kesha tik tok
Foo Fighters
What is your favourite housework song?
Mine is Firework by Katy Perry
top image credit