The 2021 range of planners and calendars have arrived here in the warehouse, with many of the pre-ordered items already out in the big wide world. I'm sharing my tips to begin using your planner to kick off 2021 in a well organised and positive note, with the practical and inspiring 2021 Weekly & Daily Planners – both of which are still available to order NOW! 
I can't do without my planner; it is the key to me to being my most organised self. Once something is written down in the planner, I no longer have to remember it, and there is no chance I will forget it. I was so pleased to be able to create both Daily and Weekly planners for 2021, so that you can pick exactly what suits you best.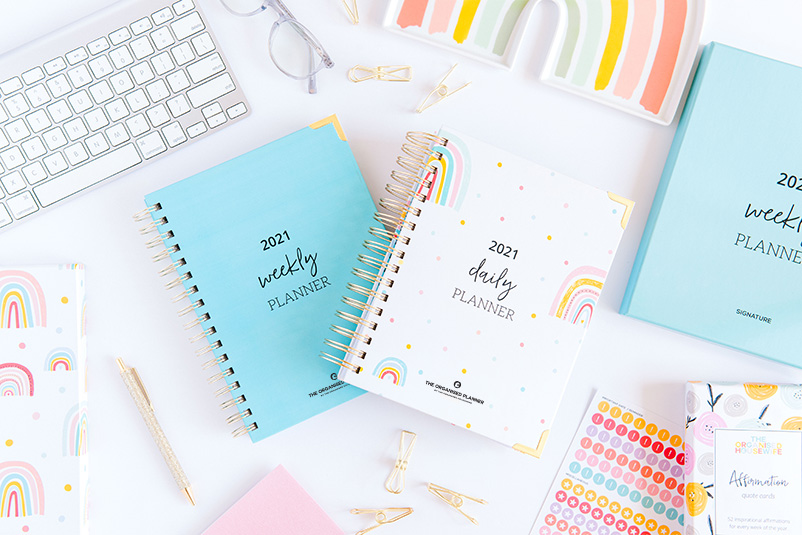 I know that 2020 was certainly an unusual year for many of us, and that most people are looking forward to welcoming in 2021. Whatever the new year brings, we can determine within our selves to have a positive outlook and plan for success with our daily habits and actions. Which is where the planners will certainly help us all do so! Read on for my tips on where to get started with your planner…
Important Dates
There is just something about the promise of a blank stationary item, ready for me to write in it and make my mark. My first step with a new planner is to enter all fixed and important dates that I already know about for the coming year. Think birthdays, anniversaries, and any already booked holidays. I record them on the yearly calendar (using a colour coding system), write them in the monthly calendars and on the pages for relevant individual days.
GOAL PLANNING
The next thing for me is to spend some time thinking and planning my goal for the coming year. I'm firm believer in using goal-setting to guide my actions over a year. By taking small steps regularly and working towards an achievement, it can be mind blowing when you look back over the course of year to see how far you have come. Sometimes I don't always hit my targets, but that is perfectly okay because I am still ahead and in a far better position than if I hadn't planned or started at all.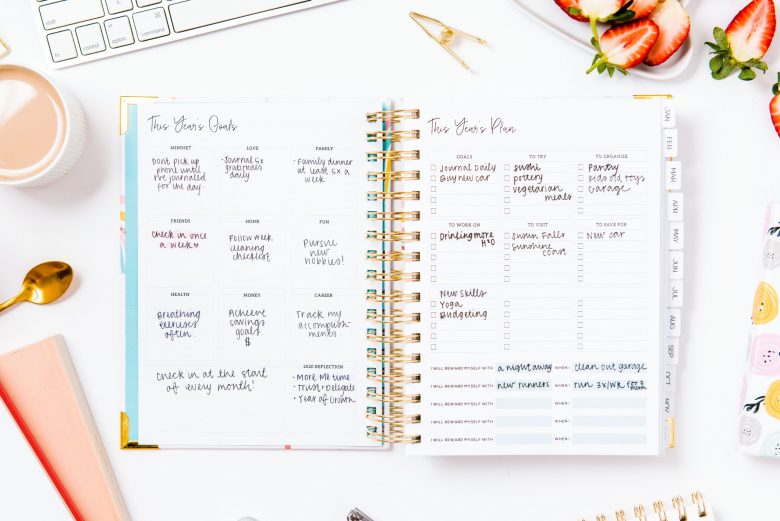 When setting goals, it is not only important to think about your end target but also the smaller more manageable steps you need to take to get there. Which is why when we were designing the planners, we not only included a yearly goal plan but also monthly goal pages, and pages devoted to your bigger yearly goals where you can break them down into a step by step plan.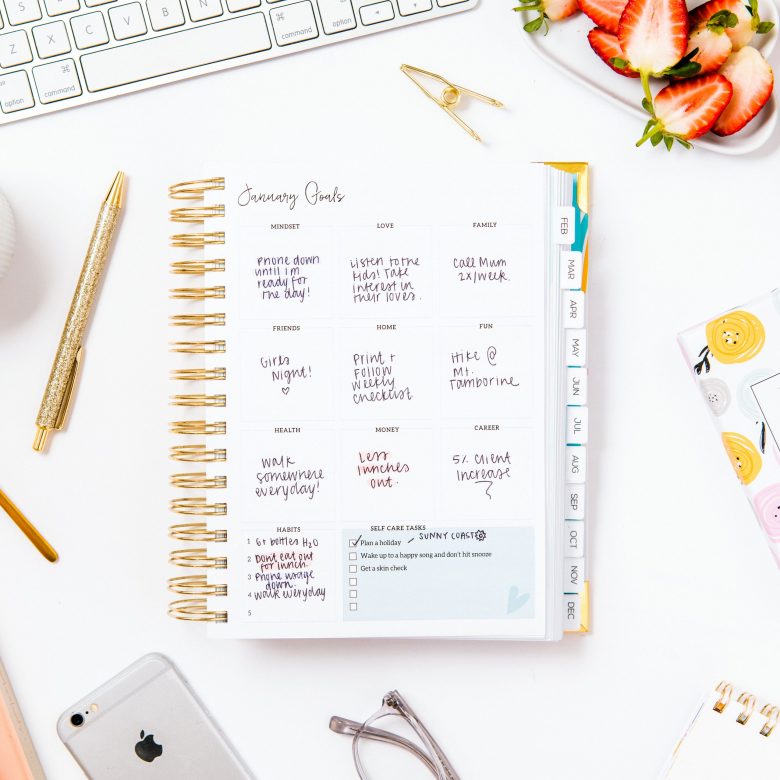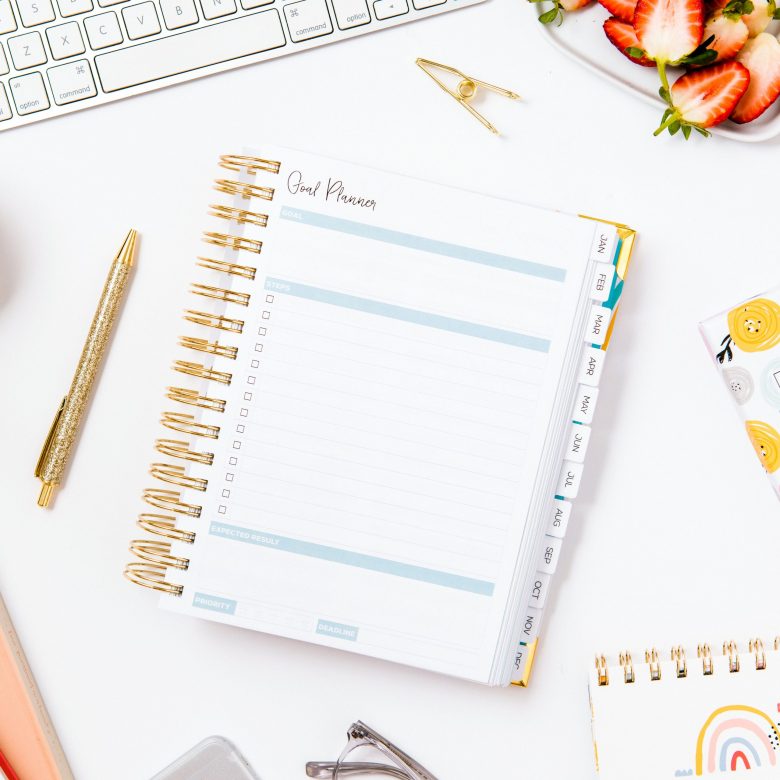 To help you kick your financial goals, there are four savings goal pages to break down your financial plans for the year into weekly savings targets. If you haven't made savings plans like this before, think about upcoming expenses for the year and things that you would like to happen. Christmas is a good one to plan for weekly, plus any holidays you would like to take and even bigger projects like a small bathroom renovation or new car!
There is also a 2021 Bucket List with a checklist to make sure that you and your family are having fun and making the most of the year to come. What sort of things will you be putting on the bucket list? A weekend away with friends? A big family bush walk?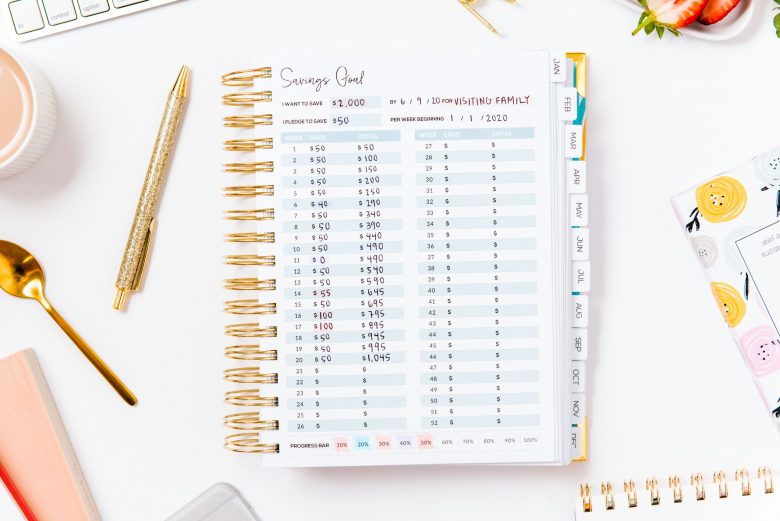 Once you have filled in your important dates, planned what you would like to achieve for the year and how you are going to do so, you will be ready the new year to kick off and to plan your way to success. Here's to to starting 2021 in the most positive, organised and successful manner with these gorgeous planners!
What will you write into your planner first?
---
Pin this image below to Pinterest!