Planning a caravan trip? Here's how to organise your caravan and make the most of small spaces. Try these storage tips for caravans on your next road trip!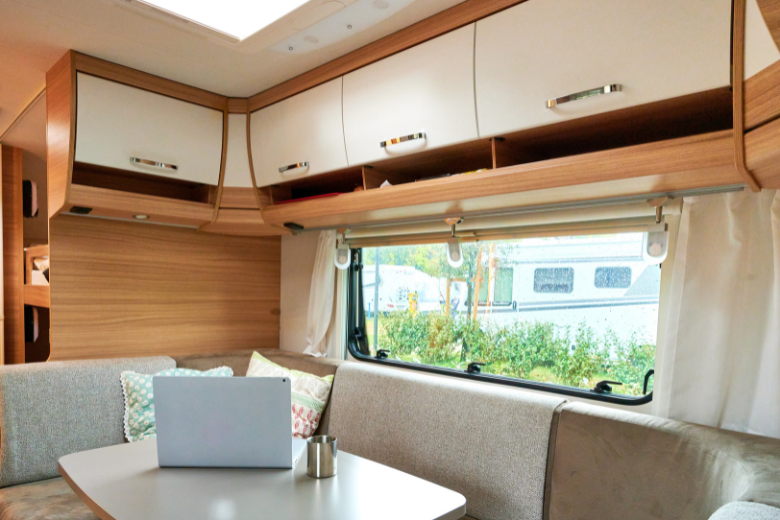 Planning a road trip is exciting but also comes with a unique set of challenges. How do you fit everything in a caravan?
The key to organising a caravan is to find innovative ways to make the most of the space. Here are my top tips!
store food in quality clear containers
Keep out insects, moisture and help prevent spills by keeping your food in sealed containers. Clear storage containers are the best option so you can see what you have at a glance and easily grab what you need. These slim containers are perfect for small spaces.
collapsible laundry basket
Collapsible laundry baskets are ideal for camping and caravanning as they fold completely flat so can be tucked away to store, saving you space (and your sanity!). They are actually really handy to carry anything, not just when you're doing laundry.
divide your drawers
Customise your drawers by using drawer dividers. Not only will this help keep everything organised, but it will stop movement and cushion your items when you're on the road.
hook it
Open up a world of new storage options and utilise all your wall and ceiling space with
hooks.
 There are so many things you can hang on the walls to get them out of the way such as jackets, hats, goggles, keys, torches, umbrellas, electrical cords and more.
use a dish drying mat
A 
dish drying mat 
is ideal for a caravan because it'll soak up excess water and takes up less room than a traditional drying rack. It's also super absorbent, fast drying and antibacterial.
Kat's tip: Label everything! Having labels on your pantry containers and other items helps you to find it quickly and also put things away.
moisture absorbers
Keep everything nice and dry when you're travelling with moisture absorbers. I love these 
bamboo charcoal air purifying bags
 as they'll absorb 
odours, allergens, pollutants, bacteria, moisture, mildew and mould.
pack only what you need
It sounds like a great idea at the time, but will you really need that puzzle or cocktail shaker? Stick to your packing checklist because the less you take, the easier it will be to keep everything organised. Check out this great checklist for caravanning with kids. 
under shelf storage
Find ways to use every bit of storage space, such as adding
undershelf storage drawers
. These fit neatly under your shelves the maximise the space.
spin it
Turntables
are a brilliant way to not only maximise space but also make it super easy to find and reach everything in those tight corners.
collapsible storage
Stock up on storage options that will fold or collapse down. Collapsible storage boxes are fantastic as they can be flattened for travelling or when not being used. I love these foldaway stackable storage baskets, because when you stack them, they turn into drawers! The sliding drawer function makes it easy to access your items. Use it for clothes, shoes, medicines, toys, hats/sunglasses/sunscreen or whatever you need.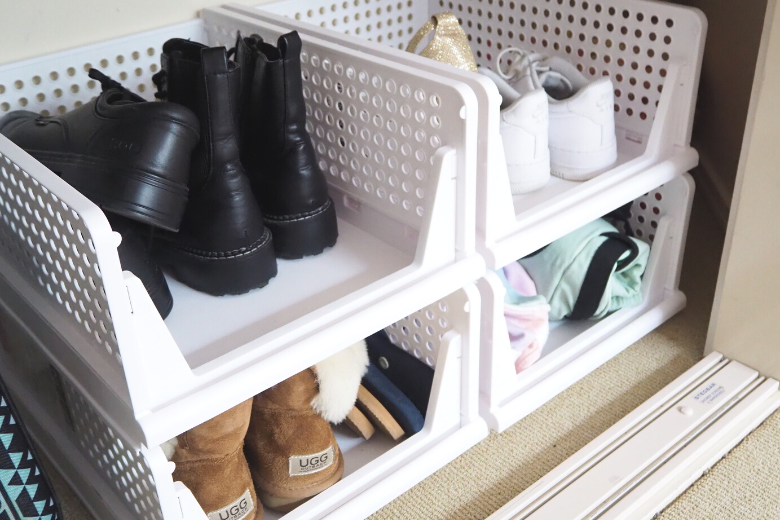 If you're heading off on a caravanning adventure, have fun while you're getting organised – I know you'll really appreciate the forward thinking once you hit the road.
Happy travels!
You may also enjoy this camping checklist.