Are you starting to feel a little more organised and clutter free?  Has it made you relaxed and calm while cooking your kitchen?  Now that your organised you will find some control and be able to cook more efficiently, leaving more time to spend with your family!!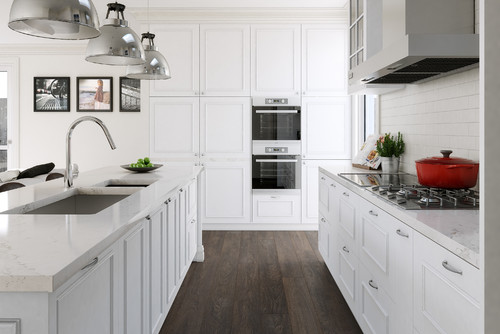 Image credit: houzz
I'll be ending the kitchen posts for now, but lastly let's review the new habits and routines to help  maintain your organised kitchen:
Keep your kitchen clutter free
Clear fridge of all old food the night before your grocery shop
Drawers:  Donate to charity or throw away all utensils that you haven't used for 6-12 months.
Meal planning saves time, eliminates waste, promotes healthy eating and will lower your frustrations
You don't need a junk drawers in the kitchen, takes up too much valuable space
Pantry:  Use food close to expiry in the pantry – Utilise space on walls – Group like items together – Label containers
Creating homes for items in kitchen cupboards.  Everything should be returned to it's place.
Try these ideas but remember this is what suits me to keep my kitchen organised.  If after a few weeks it doesn't suit you, try an alternative system to suit your family, but don't give up.  Change is hard to accept however, if you follow your new routine continually for at least 6 weeks it will soon form into a habit.