I have been on a high this week, so excited that my 2017 Calendar launched for pre-orders!   The support from this community is amazing and the message I have received have been so lovely and many that you have been waiting for me to eventually create a physical product…. why have I not done this sooner!
On Sunday I came down sick with a shocking head cold (which I am still battling) and my email inbox started playing up marking emails from as far back as 2014 as unread, giving me over 19,000+ unread emails in my inbox. Perfect week for it to play games with me. Coupled with a head cold I nearly lost the plot.  I did however, accidentally in my way of trying to fix up my emails mark most of my inboxes as read (which I couldn't easily undo), so I may have missed answering many emails, for this I apologise.  But hopefully, I can answer all your questions about the calendar below.
Don't forget to place your order today, to ensure you receive a copy from the first print run!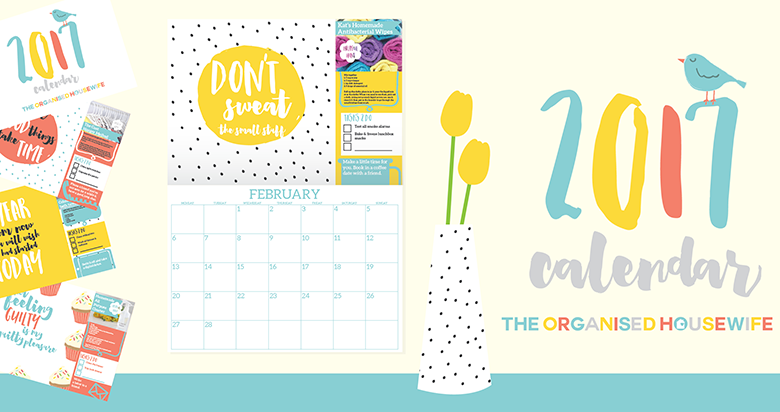 When is delivery?
During this launch period (between now and 6th October) this will give me a good idea of how many I need to print, I will be sending my order to the printers on 7th October and then hopefully have them posted to you a fortnight after that. You should have them by early November, but my aim is to get them to you sooner if I can.

Do the weeks start on a Monday?
Yes absolutely, Monday – Sunday because I have always considered that Monday is the beginning of the week.  This was one very important design element.
Does it include Public Holidays and School Term Dates?
I decided to leave the calendar pages blank, as all states are different. I didn't want to fill up the daily boxes with too much detail as it was important for me to leave enough room for you to fill in your events.
I have a page in the front of the calendar with each Australian state public holidays and school term dates so you can personalise the calendar and add in the dates that suit you.
Can you please write do not bend on the envelope?
I anticipated some posties may bend the calendar so I have taken some precautions.  
I am inserting board into the calendar, to help prevent it from bending during postage, and then wrapping it in plastic to prevent it from getting wet during transit.
I have purchased a ridiculously huge do not bend stamp to stamp on the front of each envelope.  The postie shouldn't miss it!
Looking forward to receiving your beautiful calendar – I am not one to hang calendars in the house but when I saw yours I just knew I had to have it as I know it will help me be more organised especially that my daughter is off to school next year! – Tania
I can't access my account to purchase, what do I do?
Ooh no, you should be able to retrieve your account details on you account page, but if this doesn't work, please email me, and I will create a new password for you.
Please note for those that have registered for the 20 days to clean and organise your home challenge, the shop is a different platform and you will need to create a separate account with a new username and password.
How big is the calendar?
When the calendar is open it's the same size as an A3 sheet of paper, 29.7cm x 42cm.
Is it magnetic?
No it has a hole so you can hang on the wall.  Although you can purchase magnetic bulldog clips from Officeworks and Kikki.k to you can then easily hang them on the fridge.
The password parameters on the website is crazy!
Oh my gosh, I didn't realise, that was madness.  I have since changed it so that my system will automatically create a password for you upon registration. It's now super easy to create an account.
Will you post it internationally?
I'm happy to ship the calendar internationally. I have made the calendar functional for anybody in the world, the calendar pages aren't labelled with Australian public holiday dates.  As international postage is so high I cannot offer to ship it for free.  Postage to New Zealand is $11 and all other countries is $17.50.
Add in your address on the checkout page and it will update the shipping details for your country. 
When will your 2017 printable calendars be available?
They won't be available for a little while, I have been busy working on this calendar and the Christmas Planner.  However, I am positive this calendar will look so much prettier up on your wall!!