Over the past few weeks I have been spending some time out in the garden, it has been very neglected and while it was a little cooler I wanted to give it some TLC. Each Thursday over the coming weeks I will share with you the different projects I have completed in my backyard.
POSTS FROM THIS SERIES:
From sandpit to a beautiful garden
Our trampoline garden
Our new Vegetables Garden
Growing seedlings & How to store and organise seeds
Organising kids pool toys
Creating a potting bench and organising my gardening tools

When we moved into our home we made the kids a sandpit.  I remember playing with my brothers in our sandpit throughout my childhood and it was something that I wanted my kids to enjoy too…. every child needs a sandpit.  We made this pit ourselves, we dug out the area, surrounded it with painted treated sleepers that matched our garden edging, laid weedmat and filled with soil suggested by our local landscape supplier. My kids have had loads of fun playing in the sandpit, but over the past year they have stopped playing in it and they also stopped using their swing set.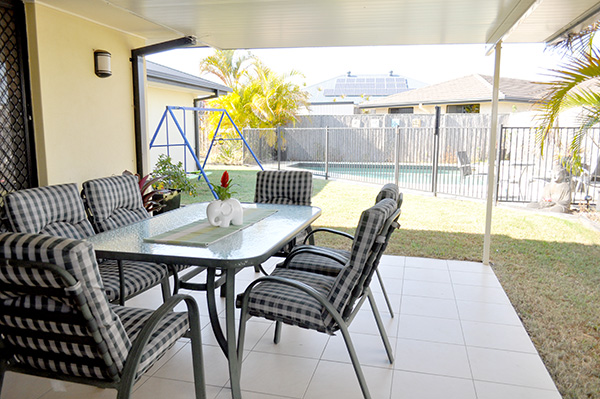 My mum was a huge Bromeliad collector, she had hundreds, if not thousands of Bromeliads in her collection, all very different to each other.  Mum passed away last year leaving her beloved 'Broms' as she used to call them behind.  I really wanted to take a few and create a garden in memory of her in my backyard.  I picked the Bromeliads that appealed to my eye (mostly the ones that had shades of pink, cause I love pink) and I kept them in the kids sandpit.  To be honest they have been in this sandpit for about a year, in the beginning I cared for them each day, but slowly they were getting a little neglected and dry.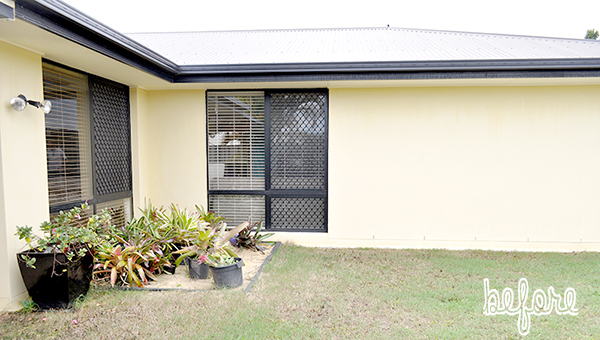 So I pulled out my green thumb and changed this drab area into a gorgeous tropical garden.  I was able to sell the swing set on Gumtree!!  I enlisted the help of my brother to help me with the heavy duty jobs.  He pulled up the edges of the sandpit, dug out the grass and put in the garden edging.  I could of chosen something fancy, but I wanted to keep the costs low.  I used a black (to match the trim of the house) 150mm plastic edging from Bunnings, it was flexible so followed the shape of the edging I wanted really well.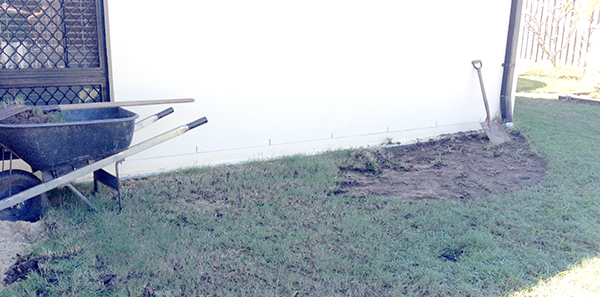 I wanted a curved bed so I could arrange the plants in a particular order and in particular give emphasis to a gorgeous Red Frangipani tree that mum gave me many years ago.  I have taken cuttings from the original plant and will plant the Frangipani when it has matured slightly into this new garden bed.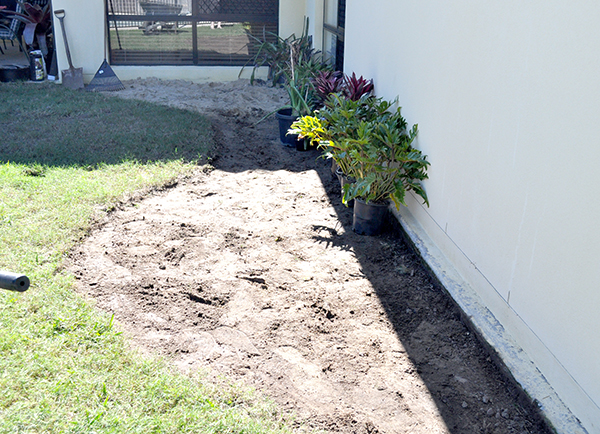 We used the grass we had to fill in part of the sandpit to make a rounded edge.  Bromeliads love sand so we were able to use it in the garden bed.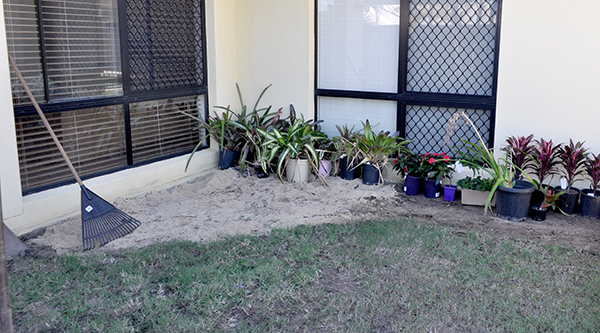 I arranged the bromeliads in the new garden bed and left in them standing for a fortnight to make sure they could tolerate the small bit of sun that they will get in the afternoon.  If I found some burned slightly I could move them before I planted them.  Most of them were fine.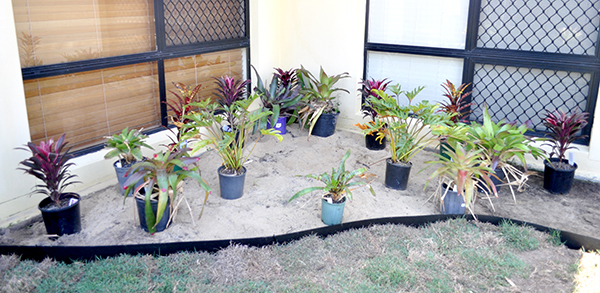 As we were planting the Broms I set up a little potting station and removed all the dead foliage and pups, planting the pups into pots to mature.  This 'potting station' made me realise I need something a little more permanent, can't wait to show you what I created in the following weeks of this series.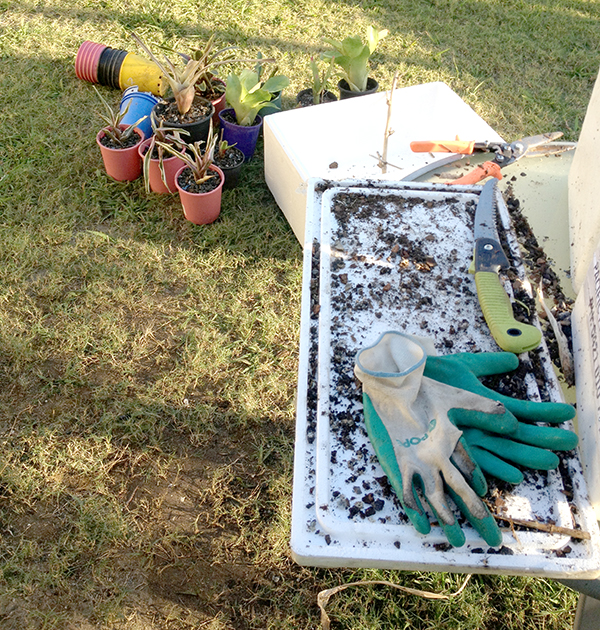 The team at About the Garden heard about my upcoming 'outdoor' projects and kindly shared some gardening tips with me along with which products are best to be used.  Before planting I mixed some Searles Garden Soil Mix* into the sand.  As I was planting the Bromeliads I put some Searles Cymbidium & Bromeliad Specialty Mix* around the plant as this mix has a special release fertiliser specially formulated for Bromeliads. I learnt very early on that they prefer a special mix, sadly a few I planted last year with potting mix didn't survive.  After planting all the broms I topped the garden bed up with Searles Pine Bark Mulch*.  Usually people buy the mulch by the truck load and use a wheel barrow to distrubute around the garden.  We used 7 bags in this garden and found it so much easier pouring the bag of mulch into the garden (we don't own a wheel barrow, no room for one).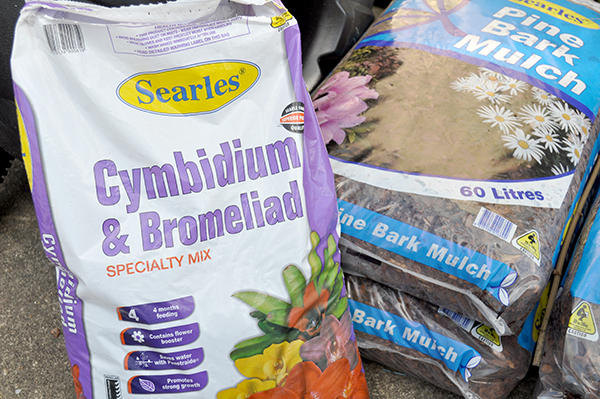 I am loving how beautiful this garden looks! A beautiful memory for my mum x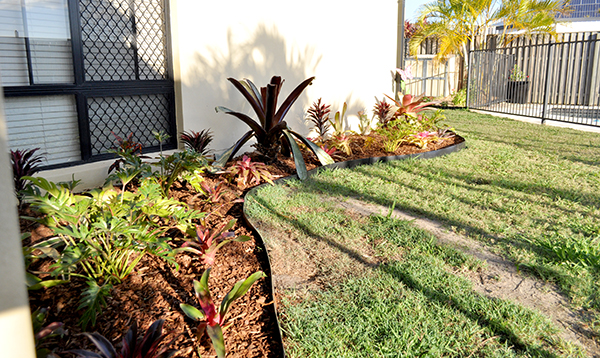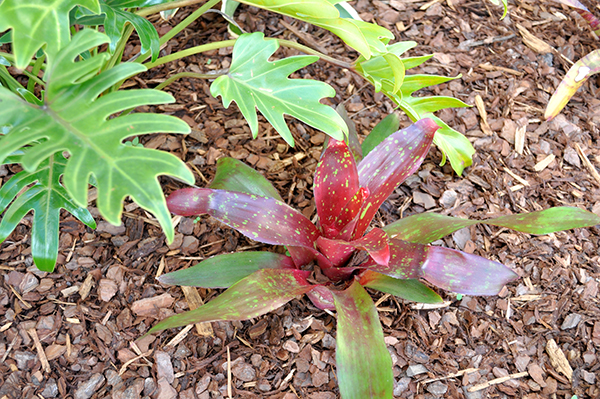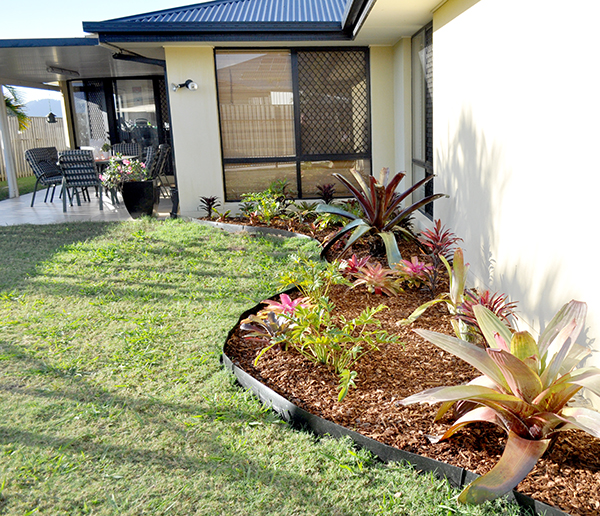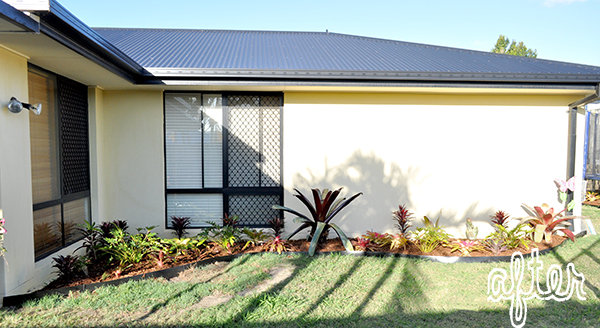 Follow the About the Garden Facebook page for simple garden tips and advise for you and the kids.  I saw on their page recently how to remove bindii prickles from the lawn, now wouldn't that be nice!

* I received Searles products for editorial consideration, run in accordance with my disclosure policy.