Over the past few weeks I have been spending some time out in the garden, it has been very neglected and while it was a little cooler I wanted to give it some TLC. Over the coming weeks I will share with you the different projects I have completed in my backyard.
POSTS FROM THIS SERIES:
From sandpit to a beautiful garden
Our trampoline garden
Our new Vegetables Garden
Growing seedlings & How to store and organise seeds
Organising kids pool toys
Creating a potting bench and organising my gardening tools

I mentioned in my first post of this series how I created a beautiful garden with some of the Bromeliads from my Mum's collection.  Bromeliads are such beautiful plants, so many different varieties, colours and some of them flower, they are simply stunning. The great thing about Bromeliads is they create pups, so you can cut the pups off the mother plant, place into a pot and then once roots have formed plant them into the garden (or keep in the pots if you wish).  I have quite a few Bromeliads in my collection now and after an afternoon of bending over and potting up the pups my back was so painful.  I needed a bench to work on.
I browsed Gumtree and found a pine cabinet with cupboards on the bottom and shelves on the top, was less than $40.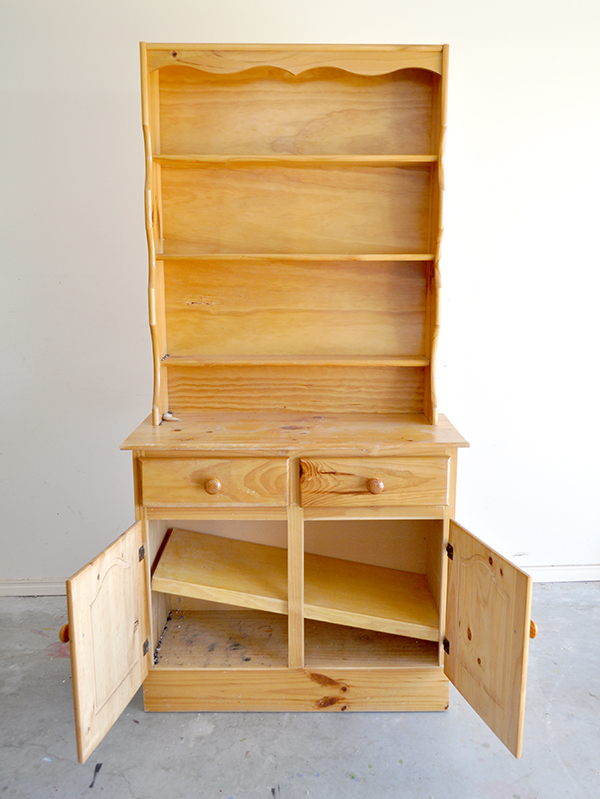 I removed the shelf in the cupboards so I could fit in some tubs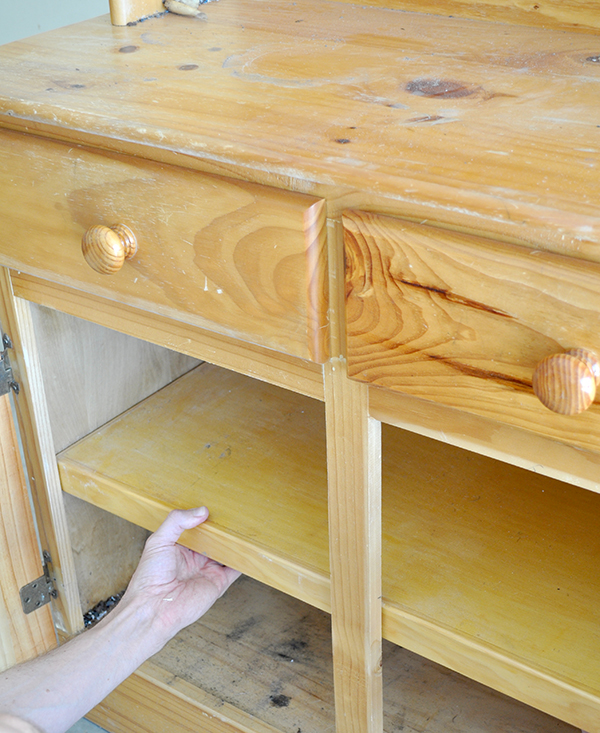 Now that I had the shelving unit I wanted to pretty it up, give a bit of colour to the side of the house.   I read about Chalk Paint (different to Chalk Board paint) from my blogging friend Tina Gray.  She mentioned that you didn't need to prime the furniture and if you used a thick amount of paint that one coat would be enough. I was sold!!  At the time of painting the unit I was really time poor and didn't like the idea of having to sand and prime the unit, this was a great solution.  I purchased a tin of Annie Sloan chalk paint, from a local supplier,  you can find other varieties at specialty paint shops.
Apart from the brilliance that I didn't need to sand or prime the furniture the chalk paint can also have various textures, leaving the chalk paint as is on the furniture gives it a rough chalky feel, or you can apply a coat of wax to give it a smooth shiny appearance.  As I was putting this unit outside I was happy to leave it with a chalky feel.
Painted… so much prettier!!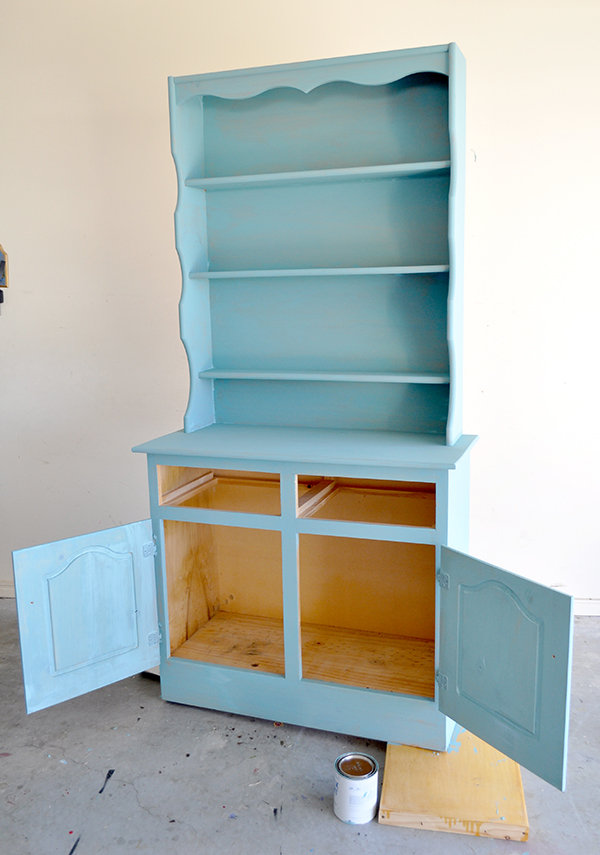 With the remaining paint my kids painted some old pots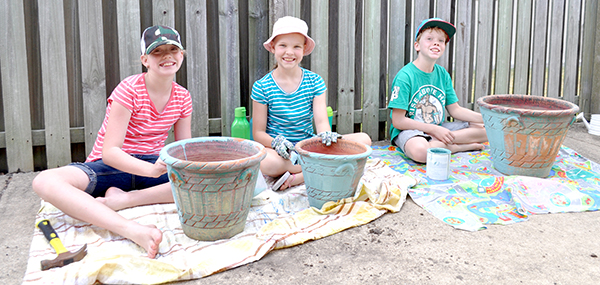 I have potted up a dwarf lemon orange tree using Searles Potting Mix*, I also potted up a dwarf lemon and dwarf Mandarine tree.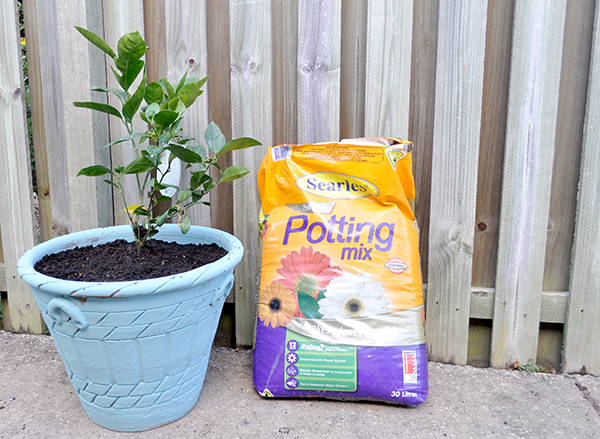 When my seedlings are bigger I will plant some herbs into the smaller pots.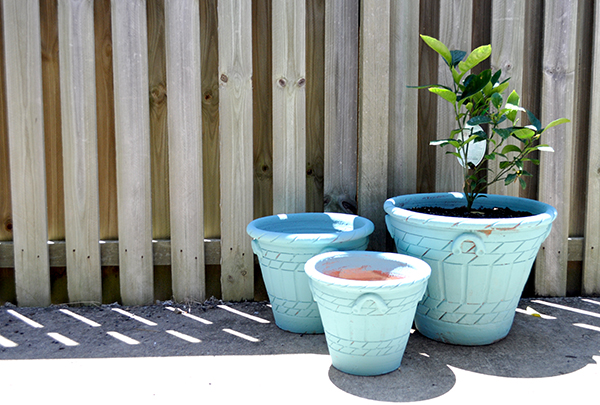 Now with all my new citrus and potting bench area up the side of the house I needed a better hose system.  I really like the retractor reels and my brother-in-law spoke highly of the Hoselink* variety.  He was super excited when he heard I was installing this one, expressing how he has heard the quality is outstanding.  And I have to agree, comparing it to another retractable system we have this one is high quality. Retracting the hose is a breeze and not a complicated effort.  We can add a padlock (which I will do) so nobody can take it.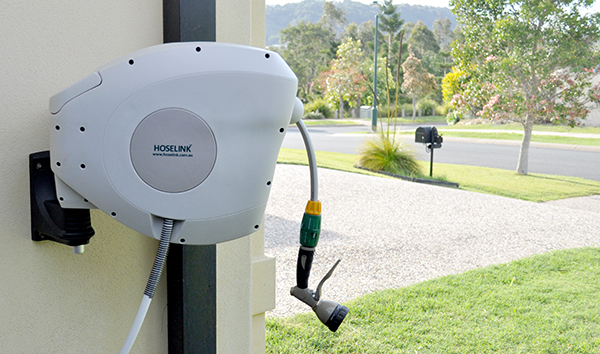 What I couldn't stand with my old hose was when the pressure was too high the nozzle would pop off and water would go everywhere.  This connection below prevents that from happening. The seal is 100% water tight, no leaks, won't burst… read more details here about the Hoselink no-burst hose fittings.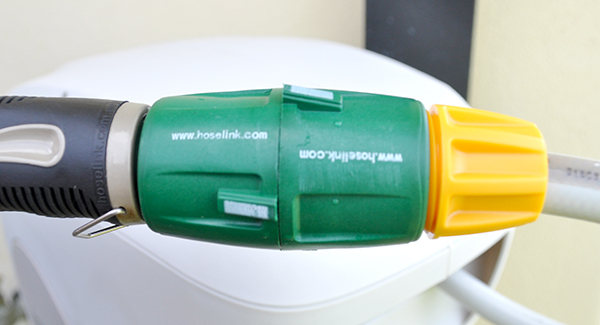 and the nozzle itself it top quality, all metal but very light to hold, with a different selection of water pressures, from a really fine mist, which is perfect for my seedlings, then a shower for the general plants and the jet system works really well when cleaning the path.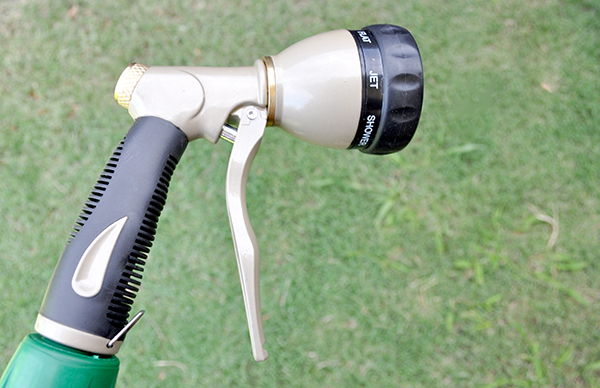 Read more about Hoselink here and checkout their Christmas Gift Guide give with great savings on their range.  
I have put the potting bench along the side of the house, in the utilities area where we keep our rubbish bins and house a big air-conditioning unit. It had become a dumping zone and needed a good clean up.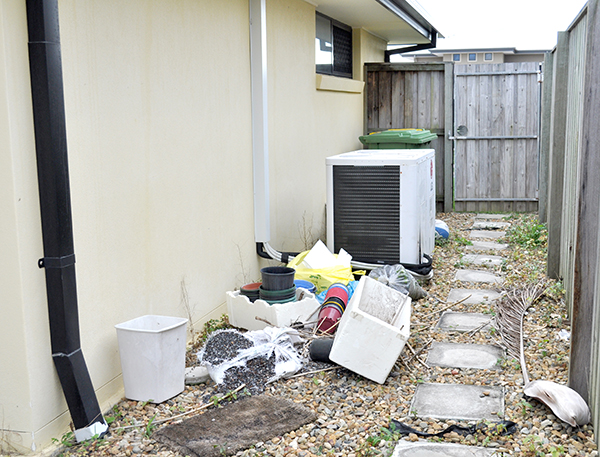 Now doesn't this look a lot better!!  I love seeing this space now every time I hang out my washing.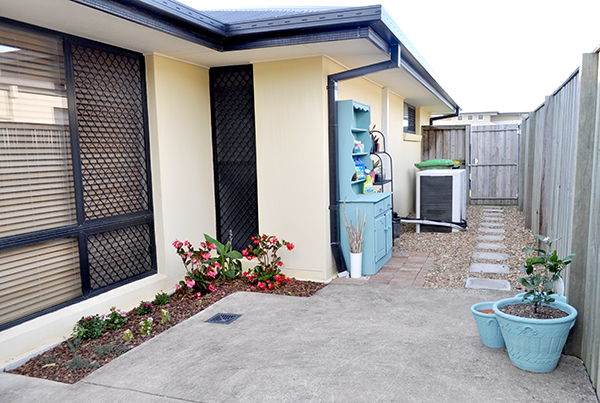 Now my little potting area keeps all my pots, gardening tools, fertilisers (the fish & kelp* is helping my plants stay healthy), plant food etc.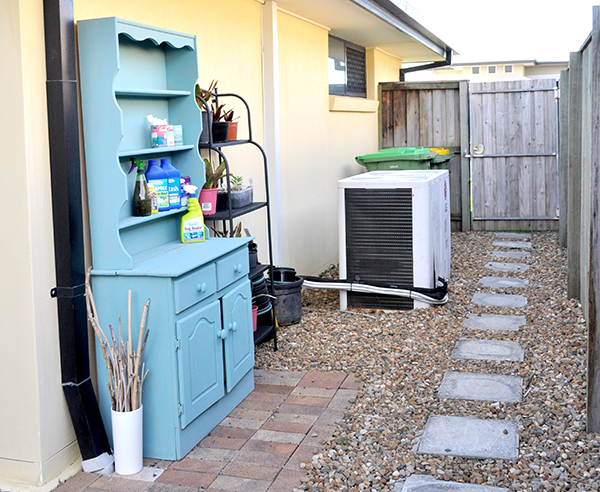 I found a perfect size pot at Bunnings to keep all my bamboo sticks that I keep on hand for propping up bromeliads when they need support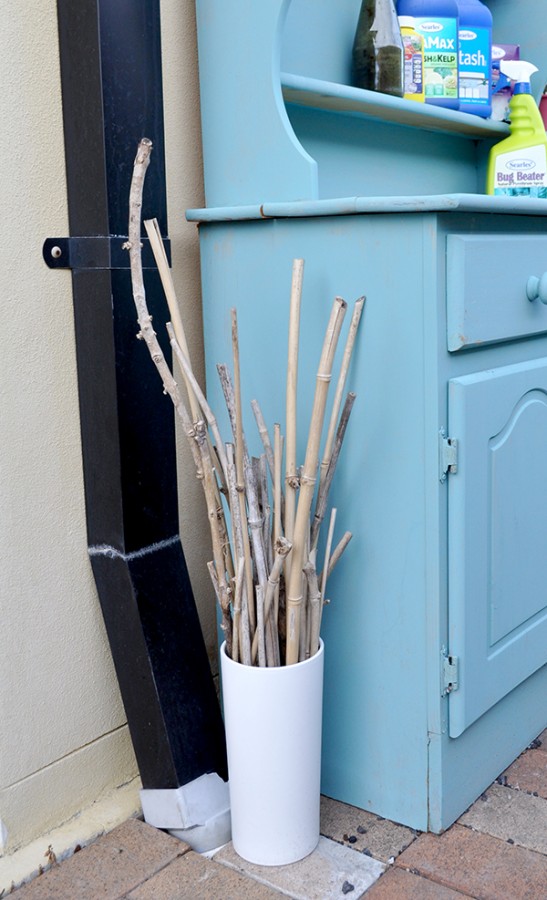 These soup cans are so funky, they are holding labels for my seedlings and bromeliads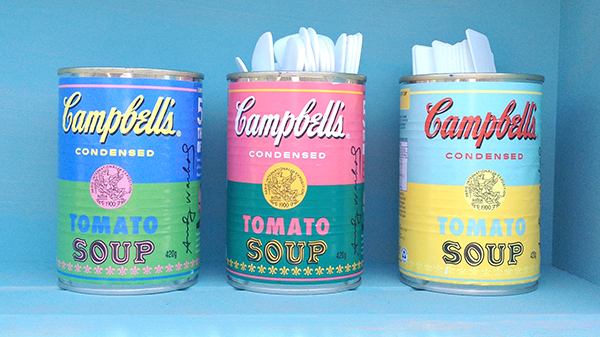 Top draw of my unit keeps my gloves, tools and seedling packets on hand.  One tool that I find really useful, and I don't know why it's not in the drawer is my handheld saw, perfect for cutting the baby broms from the mother plant.  I am no expert in this field, I still have so much to learn, but you can find some great tips on propagating bromeliads from About The Garden.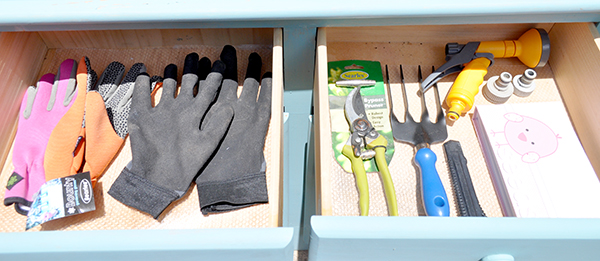 In the cupboards below I store some Bromeliad mix and styrofoam, which my mum liked to put at the bottom of her pots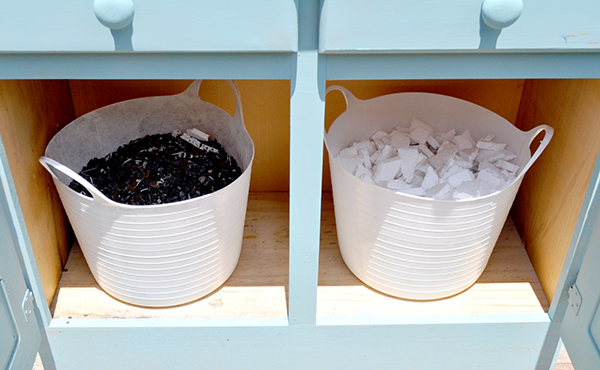 I have been searching for a pot stand for sometime now and finally found one at Ikea!!  So I have removed all the baby broms from under our trampoline garden and keep them on this stand until they are ready to plant into the garden.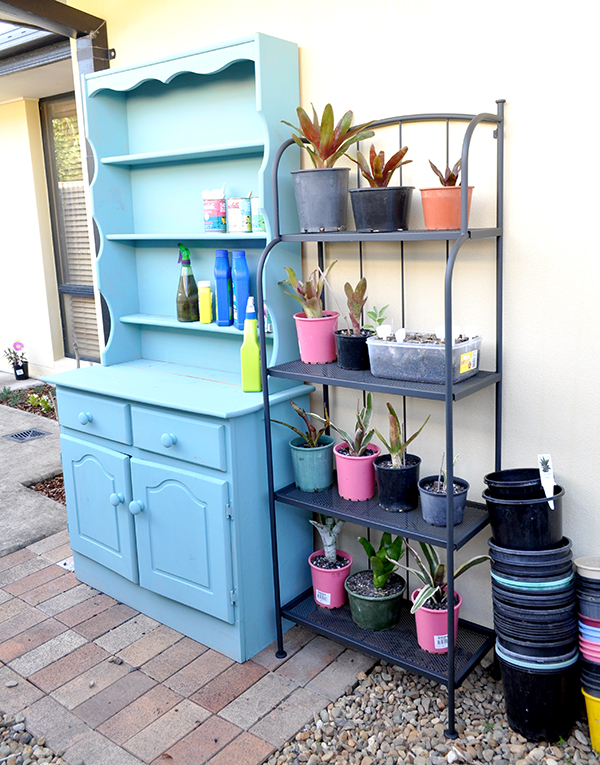 I also tidied up our bin area.  Gold Coast City Council now has green waste bins, for lawn mower clippings, plant trimmings, weeds etc.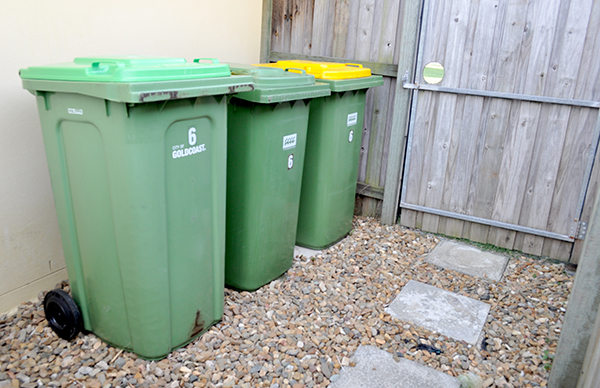 * I received products for editorial consideration, run in accordance with my disclosure policy.