This post is sponsored by Howards Storage World
Recently I set you the task in the Declutter 52 Things in 52 Weeks Challenge to purge all the kitchen appliances you no longer use.  I LOVED this task as I really needed to get rid of some kitchen appliances.
I purchased a Thermomix last year.  The Thermomix has the function of over 10 appliances in one unit, it can chop, beat, mix, emulsify, mill, knead, blend, cook, stir, steam, weigh, melt and so much more.  It is an expensive appliance, but I believe it's worth every cent.  I am still learning how to use it to its full potential, but mostly I love that I can easily cook food from scratch, knowing that my kids are eating less sugar, preservatives and additives. But this post isn't about how great the Thermomix is, however how it has taken over my kitchen with all the extras included, steaming baskets, butterfly whisk etc.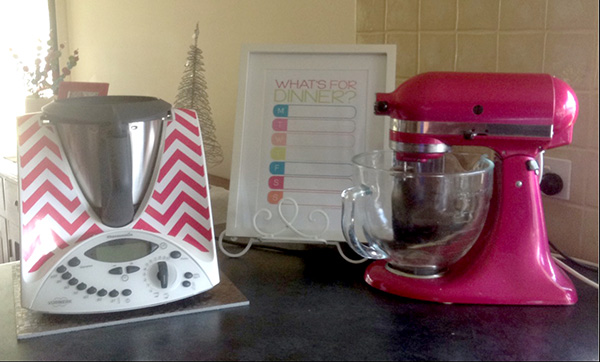 I was struggling to keep my crockery cupboard tidy.  After Christmas it was a bomb everything started to get pushed in, piled on top of other things and I struggled to find things easily at a glance.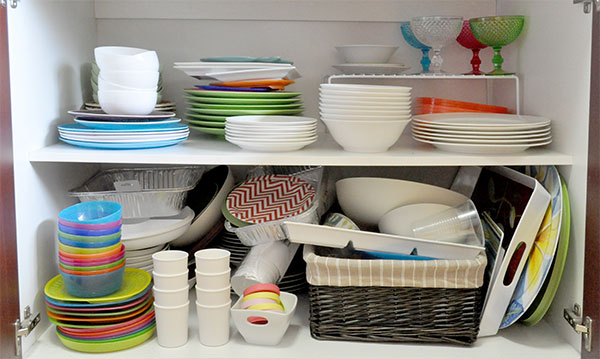 Something had to change, however in my true spirit, to re-organise one area meant I needed to re-organise another.  I started with all the kitchen appliances in the top of my pantry that I no longer use…. I purged them.

 I gave the crockery cupboard a good clean and purged items I no longer used.  I started placing back the items I knew I really needed and wanted to reach easily.  I then assessed all the items I had left and came up with the best storage solution.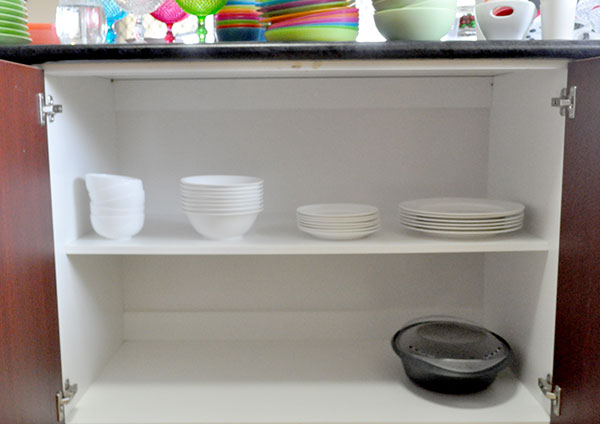 I pulled everything back out and added some extra shelves at the back.

The 2 Tier Flat Wire Chrome Shelf on the left holds all the beautiful plates and platters that I use on special occasions.  Having the 2 tier shelf helps to keep them tidy and having not too many stacked on top of each other makes them easier to get out and will prevent them from chipping.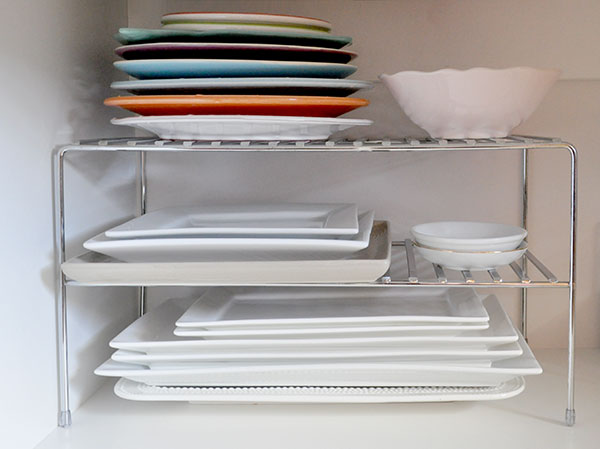 I wasn't using this expandable shelf that I had in my pantry.  It fit perfectly in the back of this cupboard to store our sundae bowls on top and dip dishes underneath.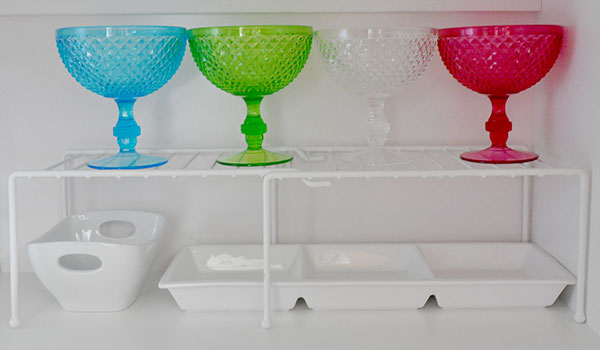 The completed and tidy top shelf!

Now to show you the bottom shelf.  These platters and bowls look neat and tidy, but I knew this space could function better.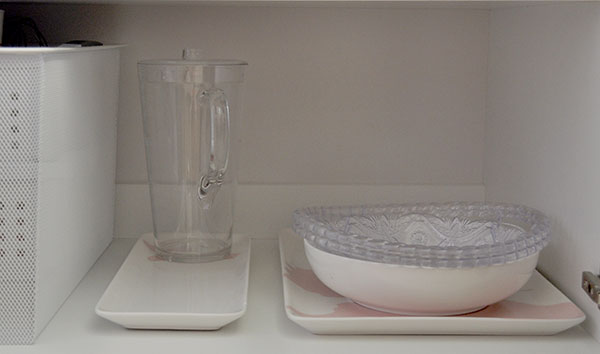 I rummaged through our shed and found a metal bracket, which I screwed into the base of the shelf to hold up the platters.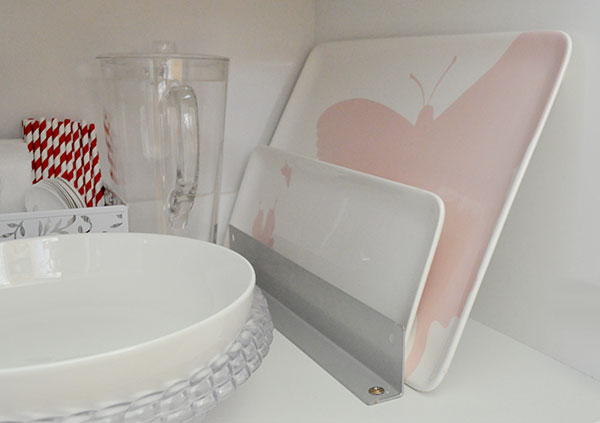 Having the platters upright allowed more space for bowls, jug and my BBQ Party Caddy.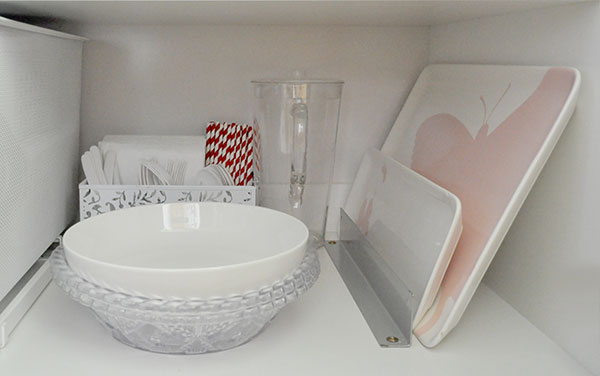 My BBQ Caddy holds napkins, straws and plastic cutlery.  There are times when if they whole family come over for a BBQ I don't have enough crockery or cutlery, the plastics have to come out.  This caddy is easy to grab and put on the table for people to grab what they need.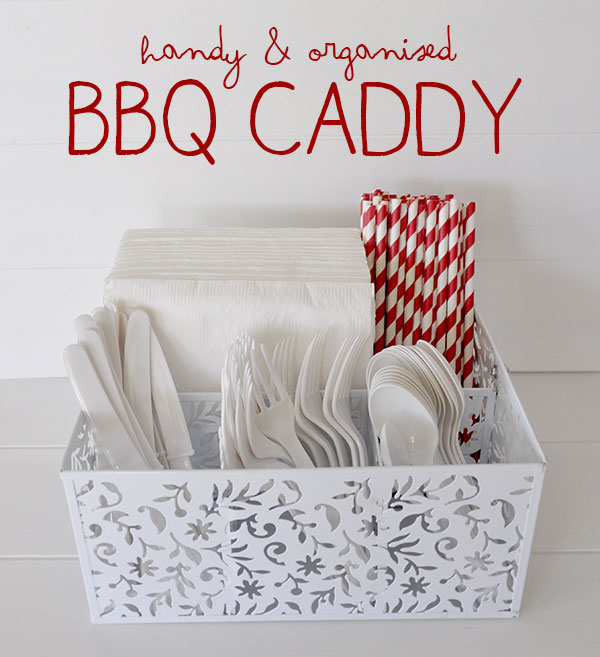 I installed a sliding Mesh Drawer with an elfa Easy Glider to store all the Thermomix components, my kitchenaid tools and plastic plates which I have kept for when my niece and extra kids visit.

 As this is the bottom shelf, it makes it harder to reach all the items at the back, having the drawer makes them more accessible.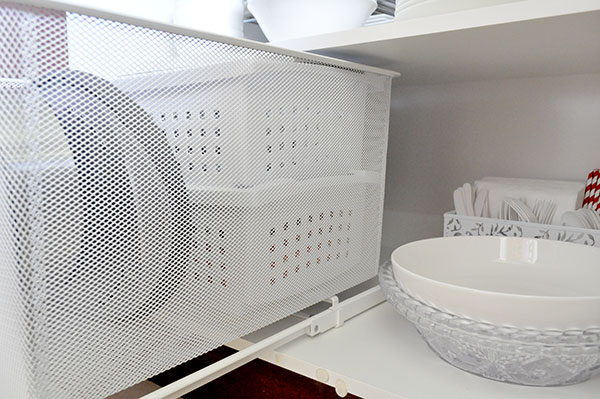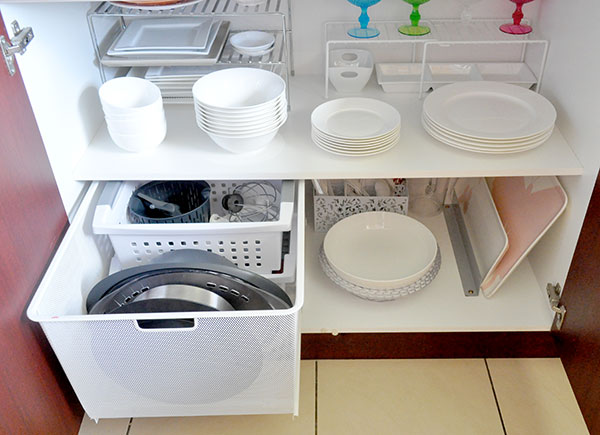 Two Sterilite stacking baskets fit perfectly in the drawer, stacked on top of each other for maximum storage use of the drawer.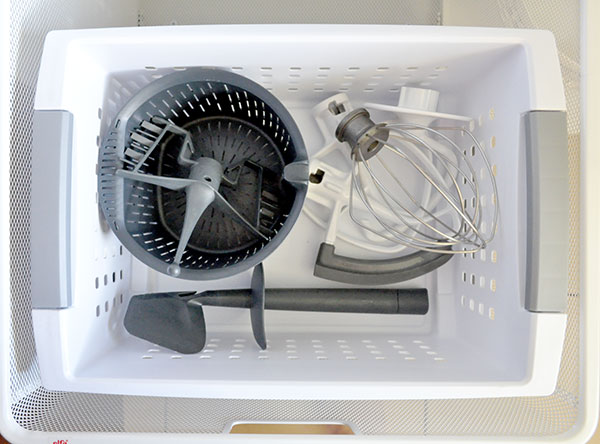 Handles flip in so the baskets stack on top of each other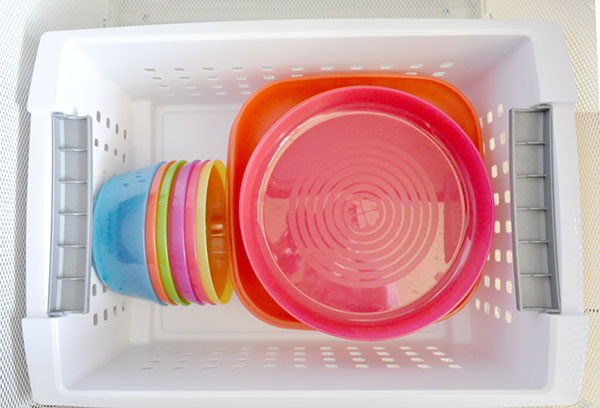 And finally all the extra pieces that didn't fit in the crockery cupboard are now stored tidily in the top of my pantry, where there's extra space after purging appliances.  I like the holes in the Clara Organiser Baskets, I can get my finger in one and easily bring the basket down (cause I'm a shortie).  In each of the baskets I keep extra oils and condiments I don't use often, party plates and cups, hubbys gym powder, vitamins and chocolates.  In the corner are the larger bowls that I don't use as often. Moving these bowls from the cupboard into the pantry helped to create more room to play with in the crockery cupboard.

There you have it, one beautifully organised crockery cupboard.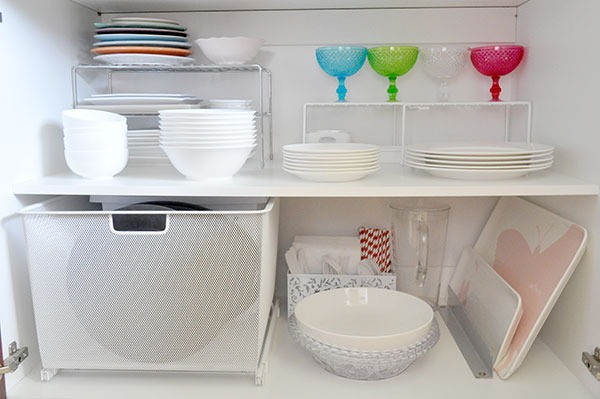 What is your secret to keeping the crockery cupboard organised?
This post was coordinated by Nuffnang