The pantry can be one of the most cluttered and disorganised cupboards of the home, but today I'll give you some ideas how to organise your pantry, using boxes, baskets, containers and extra shelves.  Organising the pantry doesn't have to be a huge task, you have two choices:
Remove everything from pantry onto your kitchen bench and give it a complete clean, declutter and organise; or
Give it a quick 15 minute makeover.
The choice is yours depending how much time you have, but I assure you you will feel oh so good when this task is completed.
Before starting try to plan your storage needs.  Visit stores such as Kmart, Big W,  Target or Ikea for great storage products.
Throw out all products that have expired or past it's best before date.
Put aside anything that you have never used and probably won't.  Donate to a charity or friend that you know will use them.
Make a note off all products that are close to expiry, plan to use them while meal planning the following week.
Use extra storage solutions to maximise the space in your pantry.  Using baskets, small wire shelves and containers.
Consider which items are used more frequently and place them on shelves at easy reach.
Group like items together, such as: pasta, baking, cereal, spreads, cans, oils and sauces, tea and coffee etc.
Consider repacking bagged items (such as flour or pasta) into containers like recycled food jars, ice-cream containers, decor or tupperware.  This will help maximise your storage by being able to stack containers onto each other.  Also the decor and tupperware are airtight and will keep your foods fresh.
Label all containers using a dymo, address labels cut in half or masking tape.  This will allow you to easily find items.
Utilise space on walls or door to hang a spice rack.
Step back and admire your organised pantry!
Keep it organised
The most important of this task is to learn to keep your pantry organised.  When returning from the grocery store make it a point to continue with your organising and place like items together.
My pantry
My pantry is filled with Tupperware modular mate containers.  I became a Tupperware Demonstrator 2 years ago purely because I wanted modular mates for my pantry so I earned some for free and purchased the rest at discount.  Apparently this is why most women start selling Tupperware lol, it can become an addiction (that much so that I'm having a party soon because I want more!!).  I'm no longer a demonstrator but I'm thrilled that I achieved my beautifully organised pantry.  In saying that though I'm not trying to advertise tupperware to you, Decor is a great choice as well easily accessible from Kmart, Big W or even Bunnings, it comes in a wide range of sizes.  I did see recently some gorgeous jars at Ikea which would be great for storing rice, flour and pastas.
Below: This is my pantry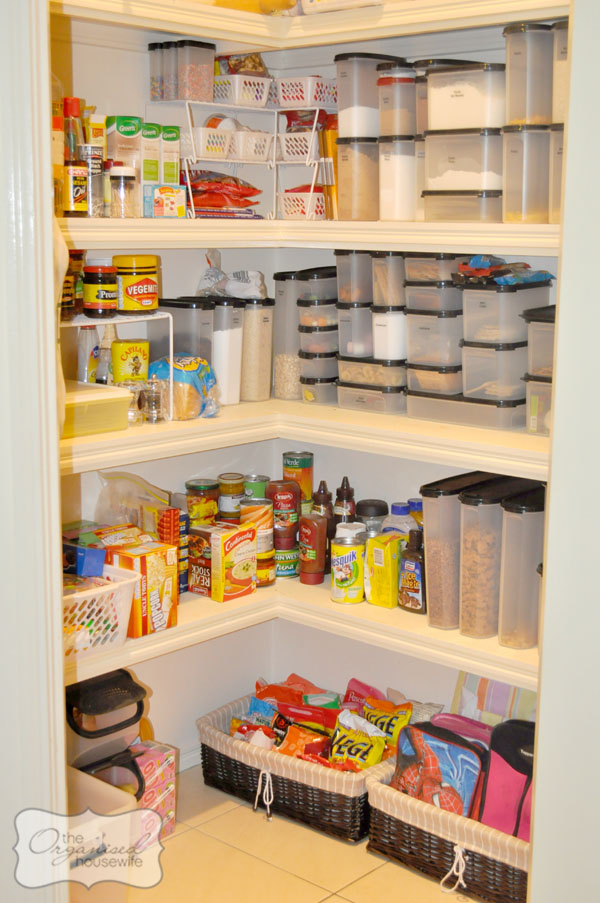 Below: From bottom to top:  Recycling box with Containers for storing potatoes and onions.  Storage for foil, cling wrap and baking paper I purchased from homecare.  In basket I store all biscuits as I find if stacked onto each other the kids knock them over.  Spreads stored on top of wire rack with container of freshly made cookies and larger spread and lunch items underneath.  Oils, yes I have way too many oils and a few boxes of cake mixes for emergencies (I usually like to bake cakes from scratch) . On the wall on the left side hiding away is a spice rack filled with spices, I also hang a bag of bags and my dustpan on the wall.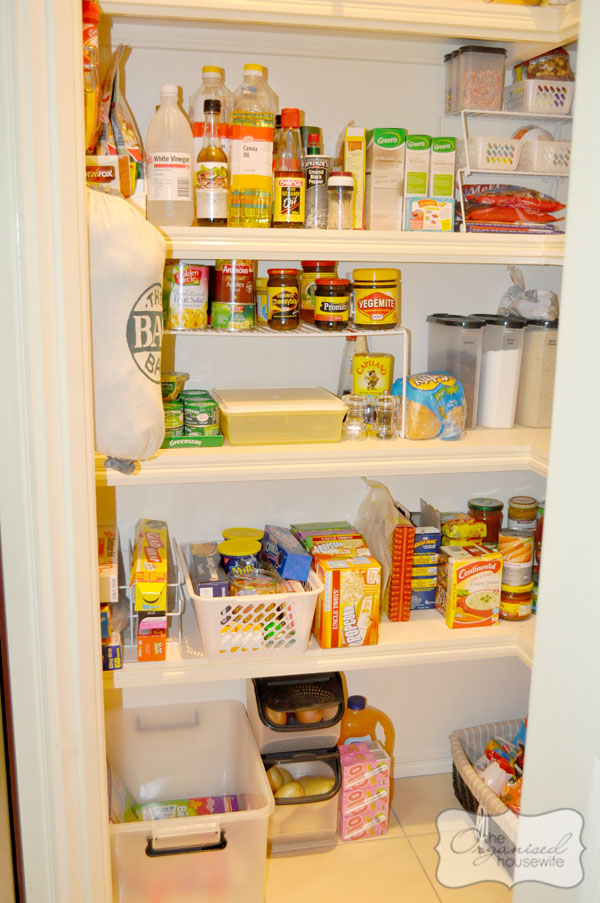 Below: from bottom to top:  baskets for storing extra food items ready to put in containers when they are emptied and storage for kids lunch cooler bags.  I keep my cereal on a low shelf for easy access for the kids.  I need to keep cereal in these containers otherwise I was finding they were going stale as the kids wouldn't close boxes properly. Next shelf up is crackers, dried fruit, chips, lollies and snacks…this is the shelf I look at when making kids lunches. Containers on the right side store packets of chips, muesli bars etc, all easy access for little fingers when hungry.  Top shelf is all my pasta's, rice, flours, sugars…baking products.  On the wall on the right I usually have hung here the kids and my aprons, and another spice rack see details below.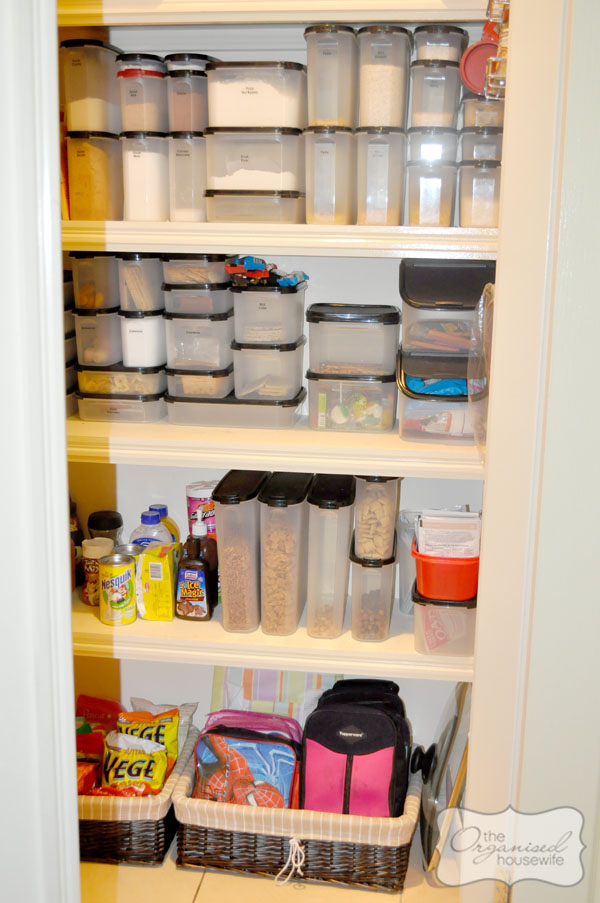 Below:  Prior to this little shelving system it was hard for little me (i'm a shortie) to reach and see what was stored in this corner.  Recently I found these cute little shelves at Target and they have worked a treat organising this corner for me.  This system stores all my choc chips, sprinkles, bags of nuts, choc melts, candles and muffin cases.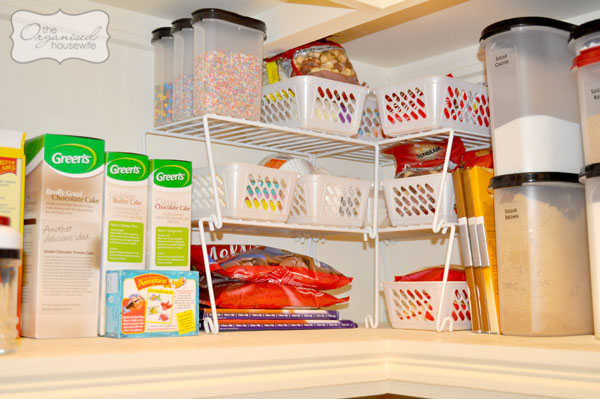 Below:  The top of my pantry stores a basket of plastic storage bags, bin liners etc.  In the containers are first aide and medicines.  I have 4 containers (1) for bandaides, bandages etc.  (2) kids medication (3) adult medication (4) prescription repeats and medicine measuring cups.  To the right you can see another spice rack hung on shelf this rack stores all my vanilla and other flavoured essences and food colouring.