Last year I excitedly created my first physical product, a 2017 Wall Calendar.  I receive an abundance of lovely messages, positive feedback and photos of it within members of our communities homes.  This encouraged me to then create a range of notepads (shopping list, to-do list and weekly planner). I loved that my products can help within your homes and make so many smile.
I absolutely LOVED the 2017 Calendar you made. So different to ones you buy in the shop. The colours are bright and fresh and the recipes are to die for. My friend wants me to give her the recipes once I'm finished with the calendar. The to do items were a great help also. I'll definitely be buying the 2018 calendar when it comes on sale – Janine.
Every year is an opportunity to set new goals and aspirations, form new habits and start fresh. It is a chance for all of us to reflect on the year that has passed and improve for the year ahead. 2018 should be dedicated to you and your happiness.
The Organised Housewife 2018 Wall Calendar is now available! ORDER YOUR 2018 CALENDAR HERE.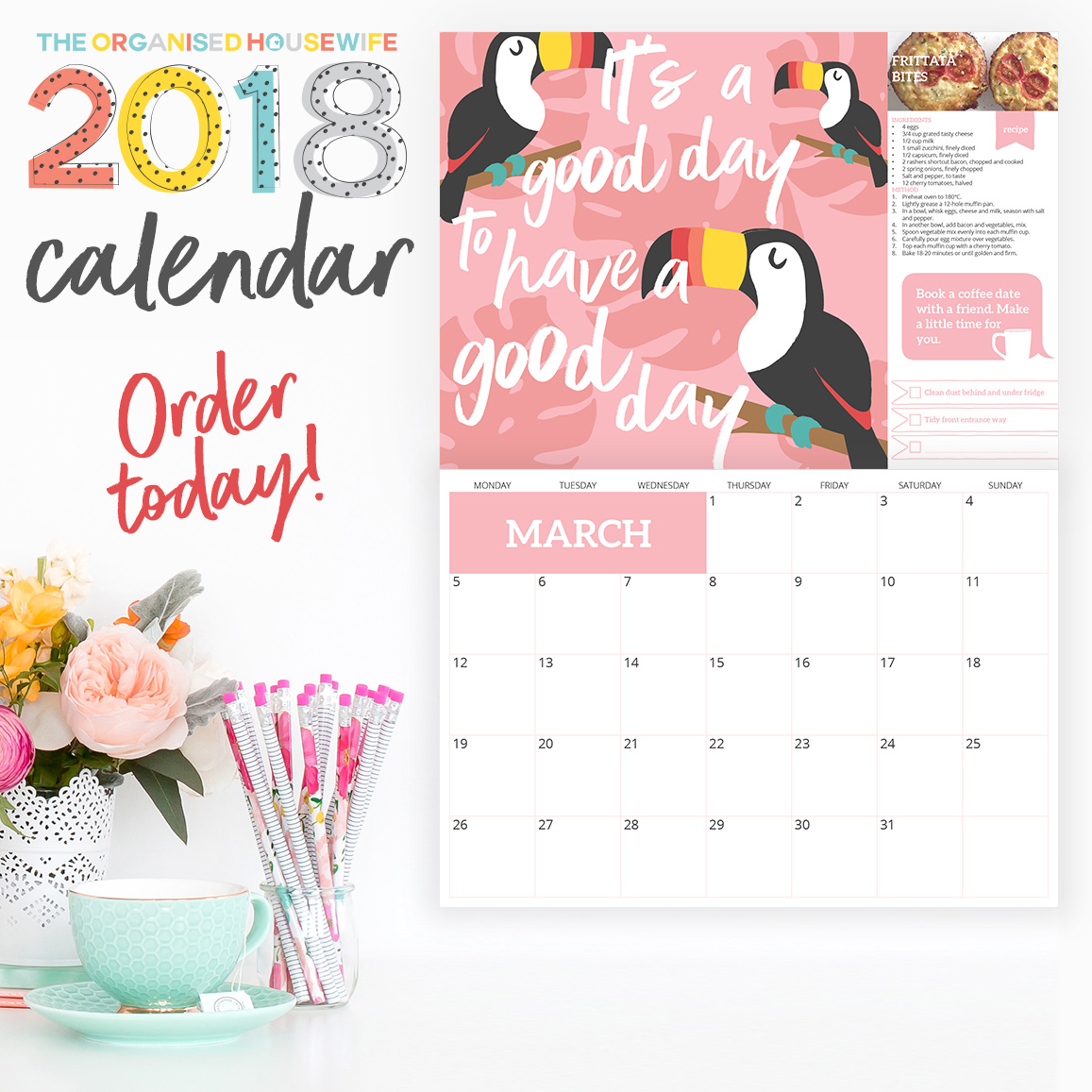 My calendar is the perfect way
to stay organised, inspired and motivated
all year!
Unlike most of my digital products, you won't have to print this calendar, I will be putting them in envelopes, licking the stamps (maybe not so much licking) and sending them to you.  Like a little part of me is visiting your home!
The theme for 2018 is inspiring and vibrant, because being organised shouldn't be boring! The 2018 calendar, which has been designed and printed locally, is full of bright and colourful designs to inspire and motivate you. I want you to look at the calendar and feel encouraged to achieve new things!
I loved getting up each morning and seeing Kat's calendar on my kitchen wall! Love the bright colours and the inspirational quote for each month. Seeing it always puts a smile on my face and keeps me focused on the little jobs around the house that I might otherwise forget to do. Can't wait for the next calendar! – Louise
Each month has a unique feel and features fun and quirky graphics.
INSPIRING QUOTES
I find that quotes are a fun way to draw inspiration and can instantly pick up your mood. I asked the community what some of their favourite quotes were and I have featured them in this calendar each month.
DELICIOUS RECIPES
The calendar features some of my most delicious recipes, that you and your family will be sure to enjoy.  Some of the recipes are: Frittata Bites, Easy Mint Chocolate Cake, Salmon Chowder, Choc Macadamia Bliss Balls, Chicken Pumpkin Tortilla Bake, Easy Vegemite Cheese Scrolls and more.
TASKS 2 DO
Much like my Todays 2 Do feature in my newsletter, my 2018 calendar contains Tasks 2 Do. Each month I give you two tasks to help you stay organised and accomplished throughout the year.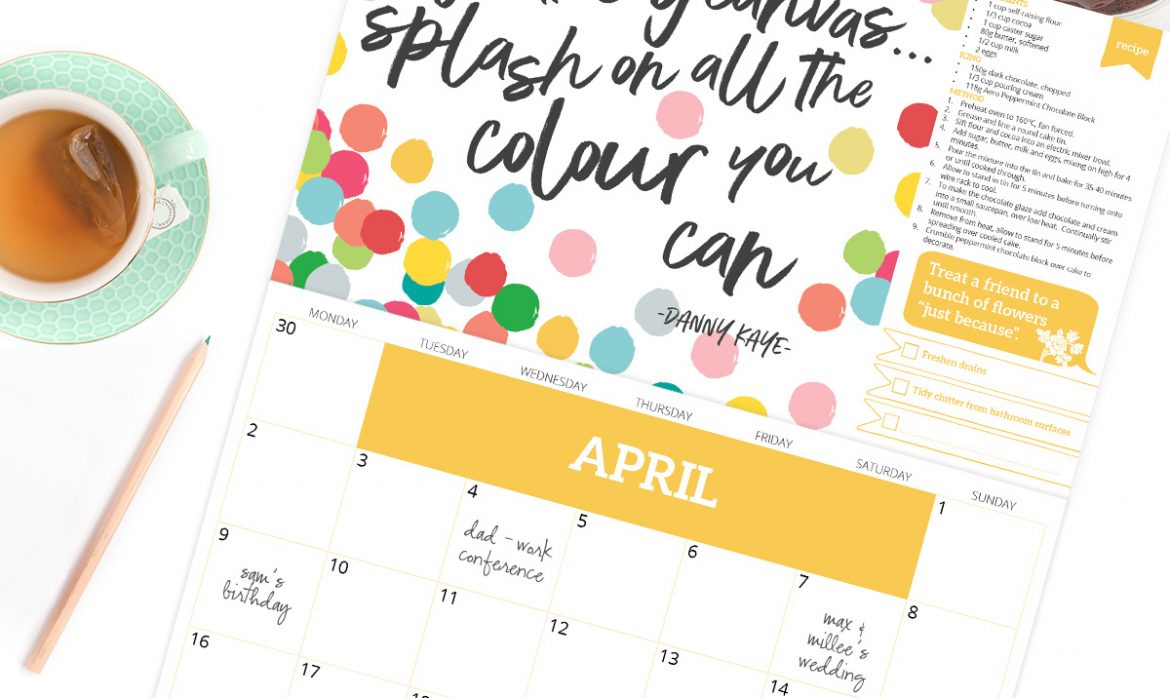 Order your copy today!

It's fresh, it's colourful and it's helpful! Something that will look BEAUTIFUL on your wall.
The Organised Housewife 2018 calendar
is the essential accessory for any home