This is a guest post by Louise Glendon from Click.Love.Grow
As mums I know we love to record our little one's special moments, and sometimes it's fun to take more of a pro-looking portrait, so we have something that's extra special to keep or to pop on the wall!
Whether you're using a fancy DSLR or your iphone, here are some tips for taking portraits at home that will look purposeful, powerful, and professional.
What you Need for a Great Portrait?
Light – Soft light found in shaded areas is perfect for portraits! It falls evenly over our subject without leaving any harsh shadows or bright spots and it means our kids won't be squinting! Look for ovely soft light by windows and doors, in open shade such as a patio or garage doorway, or under other open structures such as a gazebo or the shade of a large dense tree.
Declutter – One of the biggest mistakes we can make when taking photos is not seeing all the other elements in the frame. When there is clutter in our background it leaves us with a 'snapshot' feel and distracts from the main subject of the photo! So look before you shoot and move that barbie, odd shoe, or school bag lying on the floor that you can see in the corner of the photo!
Get Down Low – One mistake I see frequently when adults photograph children, is doing so from their adult height. Instead get down nice and low to your kids' eye level, so your photos can capture great eye contact!
Get in Nice and Close – Getting in close is one of the best ways to ensure your subject is the main focus of the photos, and is an easy way to cut out surrounding distractions.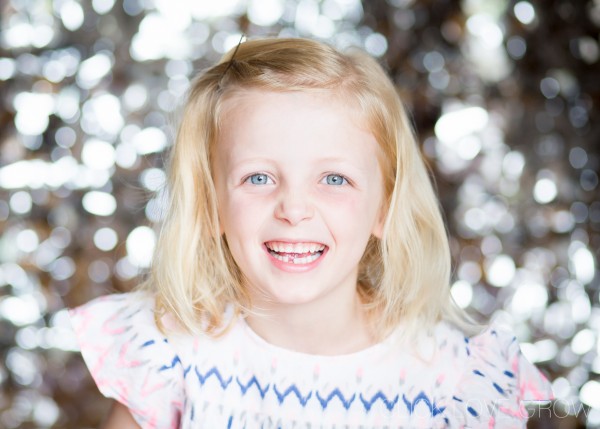 But where to shoot at home?
The good news when you're taking beautiful portraits of your kids at home you're not limited to plain walls in order to achieve it! There are many corners around your home that will allow you to capture fantastic photos!
Beds
You can photograph your children jumping on the bed, reading, tickling their siblings, or laying on their tummy and get right down to their eye level and get in close.
Keep the styling simple. Remove any clutter, including soft toys on the bed, items from the bedside tables, stray clothing and shoes etc. Don't forget safety! For very young children or babies, have another adult nearby to ensure they don't roll off. Also, ensure the bed is sturdy when suggesting children jump on the bed.
For those of you with a DSLR, when shooting children jumping on the bed, remember you'll need fast shutter speeds to freeze that motion!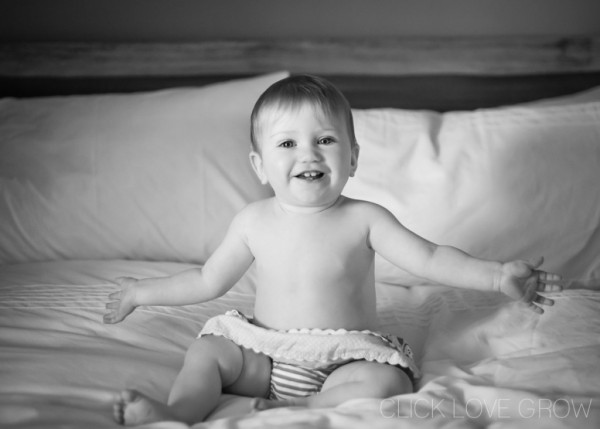 Patios & Decks
All of these options offer soft light through open shade. When shooting on your porch or deck, you have the added benefit of your home being backdrop, putting your subject into a related environment. Just remember to look for any clutter.
Cubby Houses
Cubby houses are a great option because at the right time of day, depending on where and when the light falls in your yard, you can always find soft light in the doorway and windows. They also offer a simple and natural textured backdrop and a dark interior which can create lovely separation between subject and background. I love to play 'peek-a-boo' with kids popping in and out of the window or doors and then they can never resist a big wide grin!
Bathtime Fun
A great way to take fun photos is to run a bubble bath… kids love the water and it presents an opportunity for lots of enthusiasm from kids and usually bathrooms have great soft light, which bounces around all the lovely white tiles!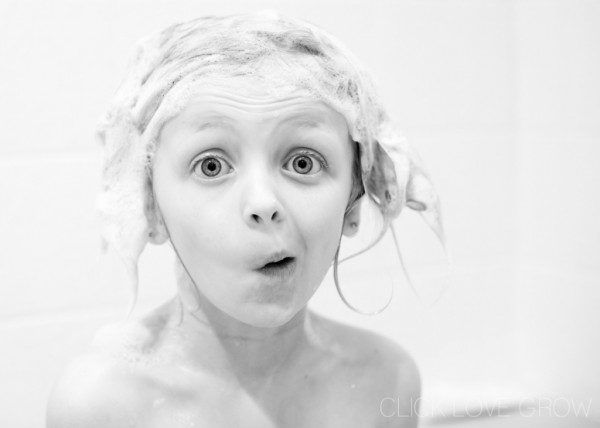 Your Garden
The open shade of a large tree is also a great place to find lovely light and a nice simple backdrop. Just be sure to avoid dappled light on your subject's skin, and look out for patches of overblown light that might work as a distraction. When using foliage as a backdrop, put at least 2 metres between your subject and the background in order to get a beautifully blurred background.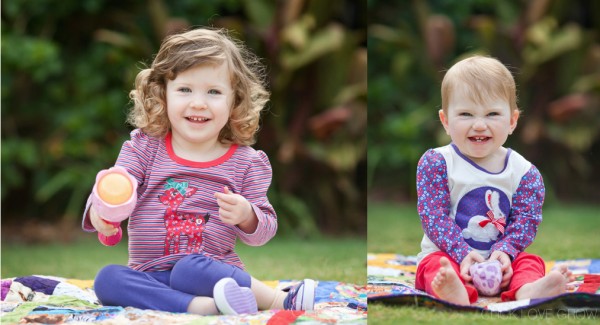 Use Furniture
A way to offer some added interest in your plain wall portraits is to use furniture pieces, such as chairs, couches, chaises, or simple sitting stools.  Just ensure your furniture piece goes with the setting and doesn't detract from the overall image.

Look Down
When your surroundings are limiting you, try looking down. This will eliminate background clutter entirely without needing to move anything! Also, this is a great way to compose kids portraits because it's fun and playful, just like kids.
Think about what's underneath them, and try colourful blankets, bedding, or nice flooring to create a beautiful shot. Or head outdoors and use the grass as their background.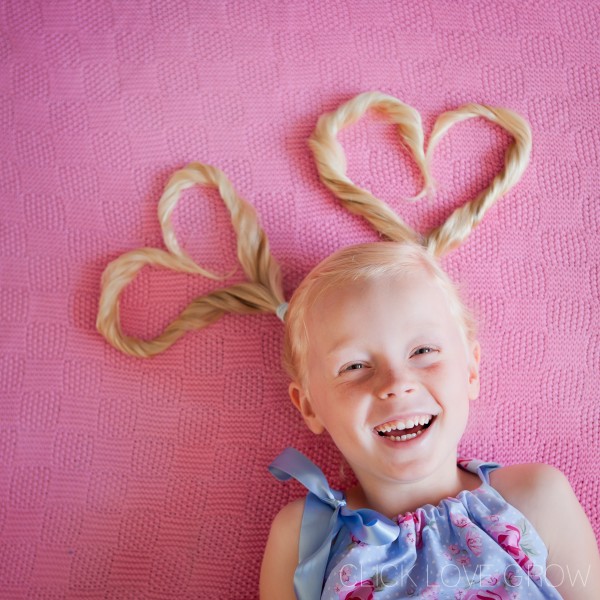 Look Up
Similar to Looking Down, we can eliminate clutter and create a fun and creative composition by lying or kneeling down, and shooting up at our subjects, which essentially ensures the sky is our "backdrop".
LOUISE'S ONLINE PHOTOGRAPHY COURSE FOR WOMEN
If you'd like even more fabulous tips on photography, or you're ready to master that camera of yours and start capturing great images that you love, check out Louise's Online Photography Course for Enthusiasts.  Read more details here
Easy to understand language, a fabulous community of women, and practical challenges and feedback so you can finally figure out how to use manual settings on your DSLR.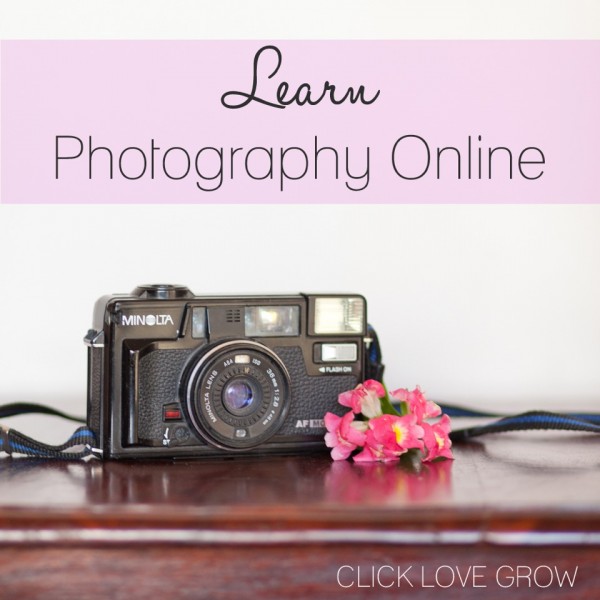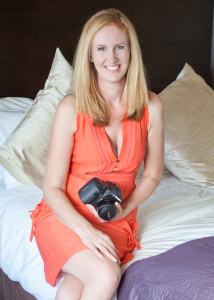 About Louise Glendon
My name is Lou, I'm a Boudoir Photographer in Adelaide Australia and I happen to love all things beautiful, colourful and filled with light!
Click Love Grow is here to inspire! We're bringing you beautiful online photography courses for women who love photography, and for business women who're looking to enhance their brand through strong imagery. We?ll help you connect and engage through your images whether you?re sharing with friends or reaching out to your online audience!
Check out our tips and tutorials for improving your own photography, and hang with us as we grow and build a community of women who love to take gorgeous photos and like the occasional wine.