I love working at home, however it can be hard to stay productive with all the different distractions in the home or on the other hand work can distract you from your family. It takes a lot of discipline to work from home, but it is achievable to create a good home/work balance. I've had my share of struggles, but I feel I have now mastered the art and balance with working at home. Below I share my 9 Top Productivity Tips for Working at Home.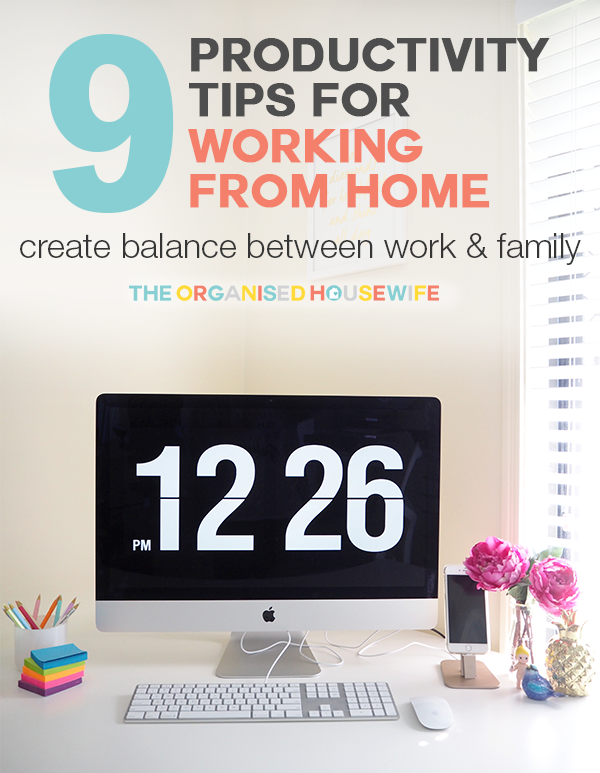 You may also enjoy reading my tips onhow to start a blog, how to plan blog posts with a blog planner and lessons I have leart from blogging.
Tips for Working at Home
We are all different in how we work, messy vs tidy, working in daylight hours vs at night and the routine of our family life.  What works for me may not work for you, but some of these tips for working at home are ideas that can be adapted to suit you.
Create a designated workspace
As comfortable as it may be working from the couch, this delightful and comfy setting will hinder your productivity. Create a corner or room in your home as a designated space for your work.  If your dining table needs to be your office, try and ensure you have a tidy kitchen so you aren't looking at the mess while trying to work.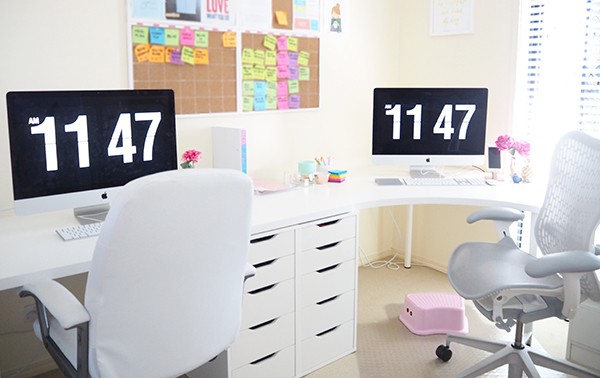 I share my office with my hubby (who also works from home, his desk is out of view) and my assistant. It's a great space, so light and fresh. I purchased the desks and drawers from Ikea. On the wall is my blog editorial calendar (I need big a visual one) and above that is my inspiration board to keep me motivated.
Create working hours
The beauty of working at home is you can choose your own hours and the amount of hours you work.
I love my work and could easily do it 7 days a week, but this balance is not healthy. I have set hours I work during the week, strictly 10am-3pm. I don't enter the office after these hours or on weekends to ensure that I stay away from all things work related.  If I want to go online I look on my iPad or I use my laptop.
I could easily fill up all hours in the day with tasks I need to for the blog. It is not uncommon for me to switch the computer off with a few tasks still on my to-do list and over 100 unread emails… my theory is that it's my time with the kids and it can all wait till tomorrow.
Find time to exercise
It's so easy to get caught up in "I have so much to do I have no time to exercise" excuse, I put my hand up, I used to be like that, but it's not good for your body to sit all day without moving.  It's important to fit in time to go for a walk, work out, get out in the sunshine, stretch and move your body.
I like to exercise in the morning and feel energised for the rest of the day.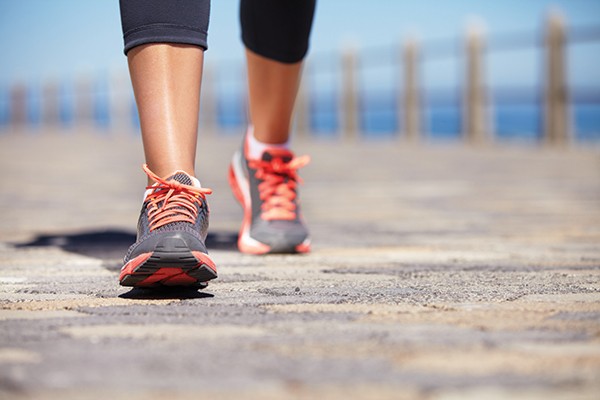 image credit
Create a routine
Treat working at home like a regular job, get up in the mornings, have breakfast, exercise, shower, get dressed, do tasks around the home like cleaning and washing, then start work.  Being showered and dress will help you to feel refreshed and ready to start the day.
Creating a routine for the areas that you know can swallow up time will help you become more productive.  Social media can be a huge time waster, I start writing blog posts, then have a coffee about 45 minutes after I start, which is when I check facebook, once I've finished my coffee I switch facebook off.
Screen calls
Phone calls can become a distraction and before you know it an hour of productive work time has just gone out the window and your deadlines not met, which may mean you will need to work into your home/family time.  Answer the phone if you have the time available, but do consider your to-do list/deadlines.
I truly love my family and friends but they assume because I am at home I must not be busy. I screen my phone calls through the day and message those that have called and check that they are OK and let them know I am working and busy and can't take the call right now. Most of the time they've called up for a chat, I'll call them back later that afternoon, on the weekend or even better schedule time to catch up for a coffee.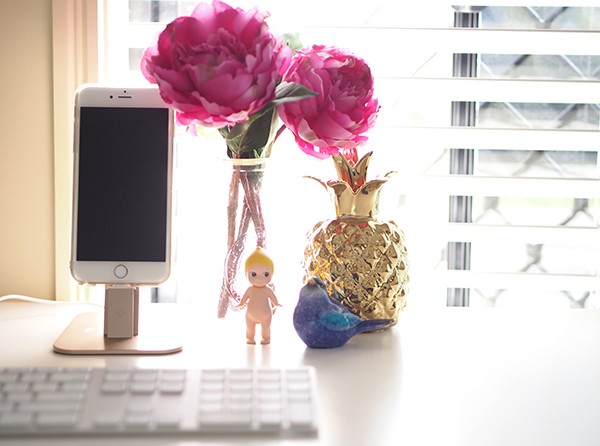 I keep my phone on a charging stand (purchased online from the apple store) next to my desk (this is my desk pictured above) and I like to keep a vase of fake flowers and pretty ornaments, the dove reminds me of my mum that is no longer with us.  I love these little dolls, they make me smile, ooh so cute.
I have even stopped answering the door for those dear lovely people who come around and see if I am interested in putting solar on my roof, or signing up to something they are trying to sell.  They are a distraction.
Keep your desk tidy
It is said "tidy workplace, tidy mind".  A messy desk is a distraction and disrupts productiveness, especially when you are trying to find paperwork.
Then again there is this article by David Burkus on Forbes explains when it makes sense to have a messy desk and when to keep it tidy:
"Albert Einstein famously quipped, "If a cluttered desk is a sign of a cluttered mind, of what, then, is an empty desk a sign?"…obviously advocating for the benefits of cluttered desks.

…being in an orderly environment influences us to conform to the conventional expectations set for us. However, being in a messy room helps us depart from those conventions and unlock more divergent thinking … we are more influenced by our environment than we might initially suspect.

We can learn to structure environments to suit our goals and help use more effectively achieve those goals. If you're trying to bring some more order, healthier choices, and a more generous perspective into your life, then maybe you should start by cleaning up your office and home. However, if you need a creative insight or breakthrough idea, that same tidy office could be stifling your creative thinking."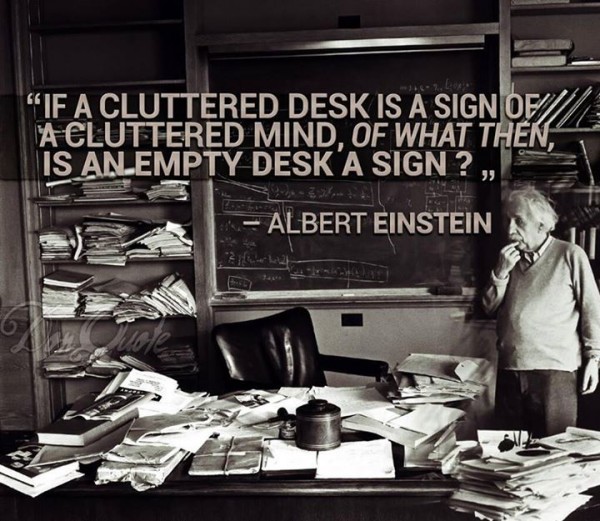 It drives me crazy starting work with an untidy desk, it's like starting the day with an untidy mind, so I make sure that I leave it tidy before I pick the kids up from school. Plus my office doesn't have doors so my desk is visible to everybody in the house, for my own sanity and love of being organised I like to keep it tidy.
Consider your attire
I love my PJs and could happily wear them all day, but it would probably also make me feel lazy and sluggish which in turn wouldn't be very productive.  Speaking of sluggish, when I do feel tired or know that I have to get through a long to-do list I like to work in my gym clothes.  It improves my mentality, it makes me feel more active and I find I complete tasks quickly. Like a little energizer bunny.
Turn off notifications
Close down emails and switch off facebook, ooh the horror! It's amazing how this improves focus and you will work more efficiently when you eliminate simple distractions like this.
Use a to-do list
I am such a forgetful person and rely on my to-do list each day.  I put all tasks onto my list big or small, I prioritise each task and add due dates. I usually look at my to-do list before I shut down each day so I know what is due tomorrow and can do a quick game plan basing my day on what is a priority.  I ensure that I complete my regular tasks such as writing blog posts, replying to comments, checking social media etc before I start on my to-do list. I also spend some time managing my to-do list on a Friday afternoon which helps me structure the following week. I'll discuss more about my to-do list tomorrow.
What is your top tip for working at home?
I hope these productivity tips help you work more efficiently at home.