Organise your desk drawer so it's no longer a junk drawer stuffed full of old papers and broken stationery. Containers are a great way to keep similar items together and easily findable!
One of my desk drawers at home was full of office supplies, odds and ends, notes, and all the random things that somehow end up in a junk drawer! It's quite frustrating not being able to find something you are looking for, and having to sift through a bunch of random items. I emptied the drawer, wiped it out, tossed broken pens and old papers, and organised it using my new clear containers from Organised HQ. Now I can easily find what I am looking for, no more hunting for a pen or post-it notes!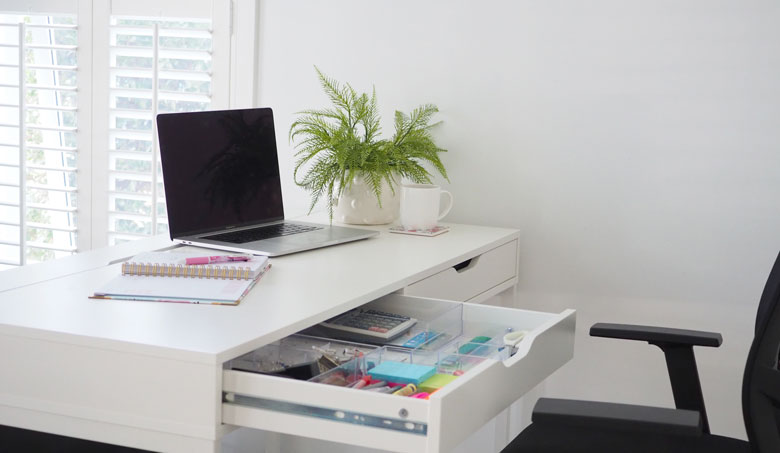 Steps to Clean and Organise Your Desk Drawers
Empty out the drawer
Sort through the contents and decide what needs to be kept and what should be thrown out
Rehome items if they don't belong in your desk drawer
Wipe out and clean the inside of the drawer
Sort the items you are keeping into groups with other like items
Use containers to keep items together and organised
Measure the interior dimensions of the drawer if you are planning to purchase new containers to organise the contents
Select containers that will fit both the drawer and the contents

Spot the chapstick: Random little fact about me. I am completely addicted to chapstick. I will always have one with me Plus, I have spares in my handbag, kitchen drawers, desk drawer, office, and car!
organise your cables
If you have charging cables tangled or strewn across your working space, organise them into a neat bundle with this super handy cable storage organiser.
WATCH HOW I ORGANISED MY DRAWER
I don't know about you, but I love seeing photos and videos of spaces being organised and cleaned. I find it soothing! Check out the video below if you also find organising videos soothing LOL!