I shared this image on instagram and facebook earlier today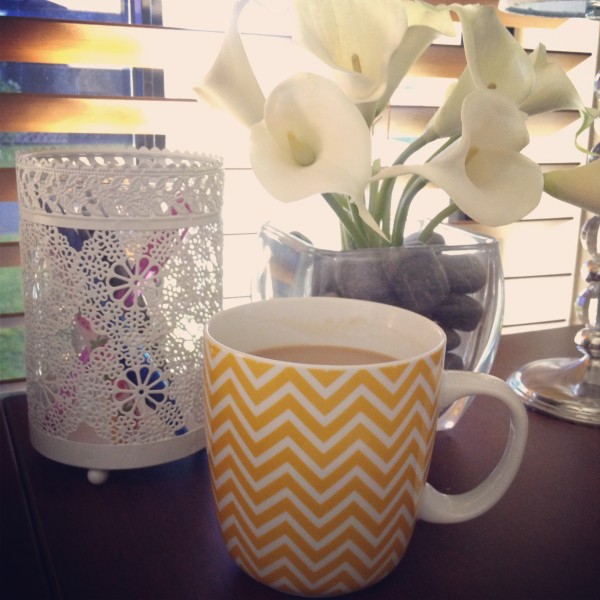 With the following caption:   I have a confession, I tried really hard to stay caffeine free, but I just can't go without my morning coffee. I am however really proud I haven't had any soft drink particularly coke for 10 weeks now!! What's one thing you can't do without while dieting??
Funnily enough Chocolate was the popular answer!!
But I also had a lot of enquiries about where I got my cup and pen holder from, so I thought I would share with you:

Pen holder is a candle holder from Pillow Talk
Chevron cup is from Woolworths
Flowers from Earthborn
WIN A CLEANER FOR A YEAR COMPETITiON
Back in April, Dettol Mission for Health gave one lucky mum the opportunity to win a cleaner for a year and a personal visit from yours truly to offer some cleaning tips for around the home!
The Mission for Health team and I visited our winner, Kiah, at her home in Orange, New South Wales.  I shared with Kiah a few cleaning tips for keeping the kitchen, bathroom and laundry looking neat and tidy. Check out the video HERE to see how the day panned out.

Looking at this video actually made me cry.  Sometimes you know you are overweight, but you don't feel it.  I had no idea I was 'that' big.  I have been dieting for quite a few months now and have lost 15kg.  I have a long way to go to hit a healthy weight, but I am feeling so much healthier and happier.  Here is a recent photo I shared of myself on instagram. There is such a difference in my face.