This year has just blown by so fast and I have to admit I am not ready for Christmas. Usually I start organising Christmas gifts in July at the mid year sales, but as I have had a lot going on personally, my head just wasn't in the 'Organising Christmas' mood.
Did you know there are only 60 days till Christmas!! 
If you would like to be organised, have everything planned and enjoy your Christmas day you will LOVE my new series.
I will be running the 'Organise Yourself A Merry Little Christmas' series from Monday 5th November 2012.  
Each day I will be sharing a new Christmas organising task to ensure you have completed all that needs to be done by Christmas Day,  yummy Christmas recipes, fun Christmas activities and a gift guide with ideas on what to buy or make your loved ones and more.
I look forward to you joining me to 'Organise Yourself a Merry Little Christmas'.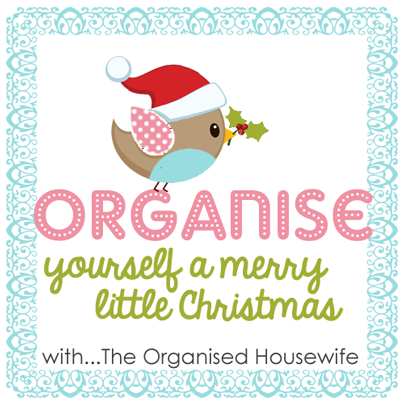 Thank you to Lisa from Life As We Know It, for creating my graphic above, it's super cute!
You will need:
The Organised Housewife Christmas planner.  I will be referring to pages in the Christmas planner for you plan and organise certain tasks, such as who you will be writing cards for, creating gifts lists for family and friends, planning your Christmas budget and so much more.  The Christmas Planner is $14.95, 45 pages to help you be organised and be ready for Christmas.  Click here to purchase planner.  It is not a must but will definitely make planning and organising Christmas easier.
How to follow along:
Visit the blog each weekday from 7am (QLD time) to view each new task, recipe, activity, gift idea and more.  I will share links to the blog post daily on facebook and twitter.
Subscribe:
I will add a link to the blog post to the Daily Task emails.  I will send the daily emails at 7am (QLD time) each morning.
If you can't follow along daily sign up to our newsletter.  I will send you a summary of the weekly posts each Friday morning.
Submissions for bloggers and online businesses:
Christmas Recipes and Crafts
I would love to feature some Christmas recipes and crafts from other amazing bloggers.  I will include a photo and link back to your blog post.  If you are interested please submit your post HERE.
Gift ideas
I will be sharing a range of items that I have found online recently which I think would make a wonderful gift to give to a friend or loved one.  I am also offering positions for online businesses to feature some of their products in the gift guide section.  If you are interested please submit your post HERE.
Will you be following along?