I helped my Dad to move house a few months ago, so I picked up some great moving and how to pack tips, as well as the handful of times I have moved home of the years.  Moving home can be a stressful time, remembering to do everything, pack and clean, but if you can stay organised you can get through this period with little worry.
As I've mentioned previously when moving I believe the key is to purge your clutter before you move, don't take it to your new home.  Take the time to sort through your clutter, sell or donate excess clutter or organise a garage sale.
Moving Home Checklist
So you have decided to move to a new home and you need some help to prepare for the move, follow through my moving home checklist to help you through each step.
6 weeks before move
Create a folder to keep all moving documentation together (eg. checklist, quotes etc)

Create a budget on how much you can spend on moving costs

Organise quotes for removalists
If renting, formally notify property manager you will be vacating
If renting, book in to have carpets clean and house pest controlled
Check when your new home last had its carpets cleaned and was pest controlled.  If outside of 12 months, organise for your new home to have the carpets clean and it pest controlled before you move in.
Enrol kids into new school and have their records transferred over
Call your insurance company to see what changes may need to be made to your insurance policy.  Ensure your new home is insured from the day it is unconditional, not the day you move in.
Research and book storage facilities, if needed
Start collecting boxes, newspaper, bubble wrap
Organise time off work for moving
Tidy the garage so you can use this space to place packed boxes
Full 6 week countdown checklist is available in the Moving Home Pack with checklist.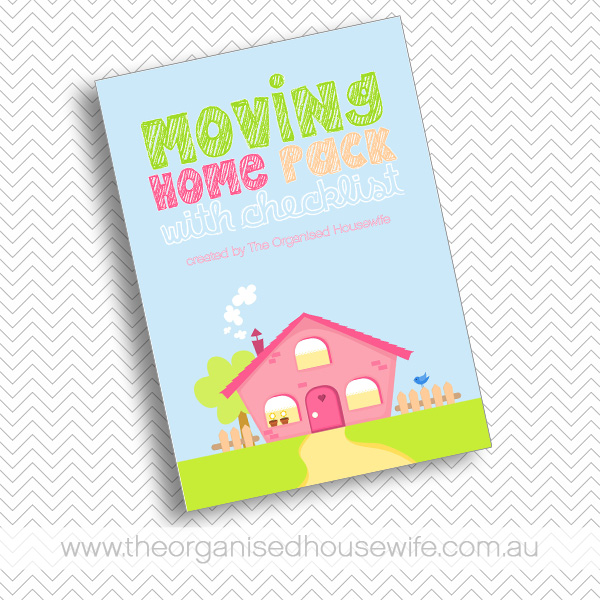 In this pack you will receive:
6 week countdown moving home checklist

a page to list down all important details, such as moving day, time, your new address, phone number and more

list of items to have in an essentials pack.  An essentials pack is a group of items to have on hand at the new home, just in case it's too late to unpack boxes, you have everything you need for a comfortable nights rest.
list to keep track of utility companies you need to arrange for disconnection and reconnect to the new home
list of services you need to contact and notify of your change of address
cleaning checklist, this is especially handy if you are renting
blank to-do list
a cute page to write a message to the new home owners (note down which day is bin day or details on how to use things around the home)
contact details, keep all contact numbers handy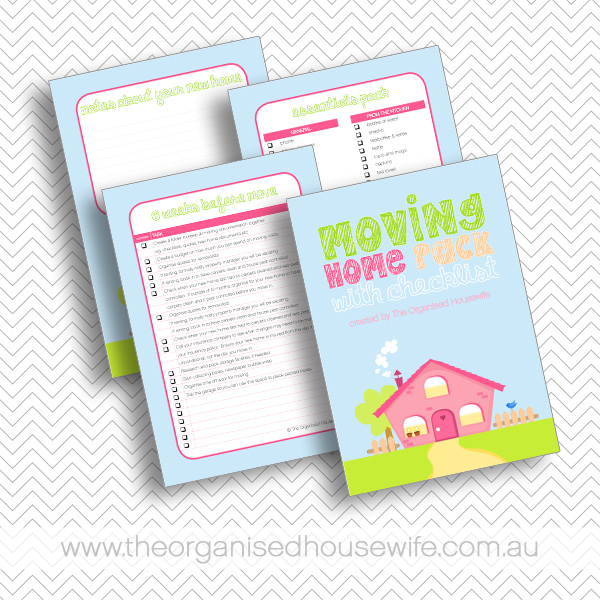 Door signs – blu-tak the signs to doors in the new home to removalists know which room is which (colour coded)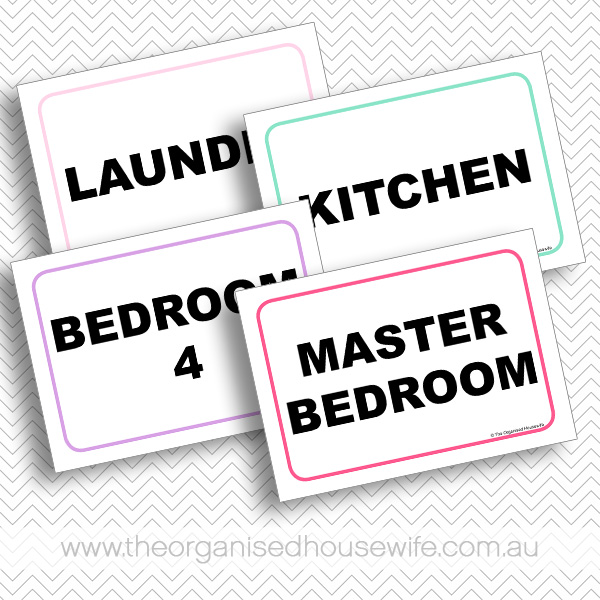 Packing lables – print and tape the labels to your packing boxes, note what is in the box in case you need something before you have finished unpacking.  Labels colours match door signs so removalists can easily drop boxes in correct room
Fragile, open first and storage labels, print and tape to boxes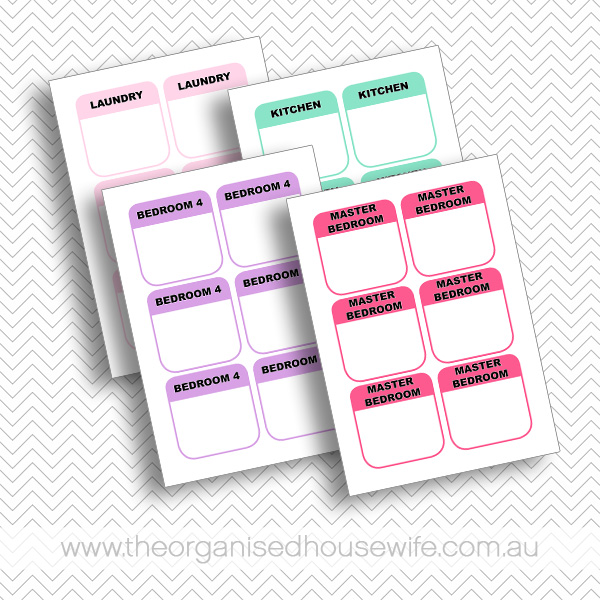 Moving Tips
Research removalist or ask friends for a recommendation, best removalists is one that is recommended.  Also phone around for several quotes as they all vary in price
If you aren't moving far take all the clothes hanging in the wardrobe, still on hangers and transport in your own car to the new house.  Put clothes direct into new wardrobe, will save you so much time.
Check the weather forecast, if rain is predicted keep some towels and tarps handy to protect furniture and other items from getting wet
Make sure you pets are secured and safe for the day as more than likely doors and gates will be left open
Packing tips
Take care when packing items, carefully wrap all breakable items and label the box as fragile
Pack heavy items into small boxes
The less space in the box results in less damage, so try to pack as much as you can into each box
Pack items from each room into separate boxes, this will make the process of unpacking easier for you
Remember to reinforce the bottom of heavy boxes with packing tape, this will make the box stronger
Put bubble wrap on the corners of precious furniture so they won't get damaged during the move
Pack all jewellery and important documents in one box, keeping them safe and with you during the move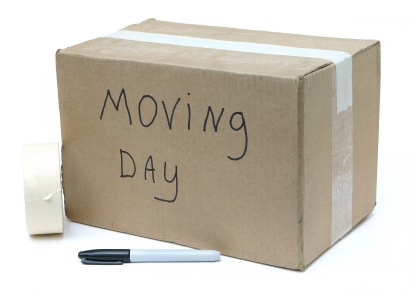 Hope these moving and packing tips help you during your next move