Being that the end of financial year is approaching and Christmas is now less than 6 months away, it seems the right time of year to share with you some of my top budget tips. Juggling finances can be difficult, especially with kids. It sadly can result in stress, guilt, envy and disappointment, which my affect your health or relationships. I want to help you reduce your living expenses and change the way you spend your money so that you can reach your financial goals.
NEW BLOG SERIES – STARTING TOMORROW!
I have created a series of blog posts that will publish over the next month. This will help you understand how you spend your money, how to save and reduce your living expenses, make your debts more manageable and save for your next holiday or something that will make you happy! I hope you can follow along.
Continue reading for a FREE My Financial Goals Printable, plus please let me know in the comments what you would like to learn throughout the budget series.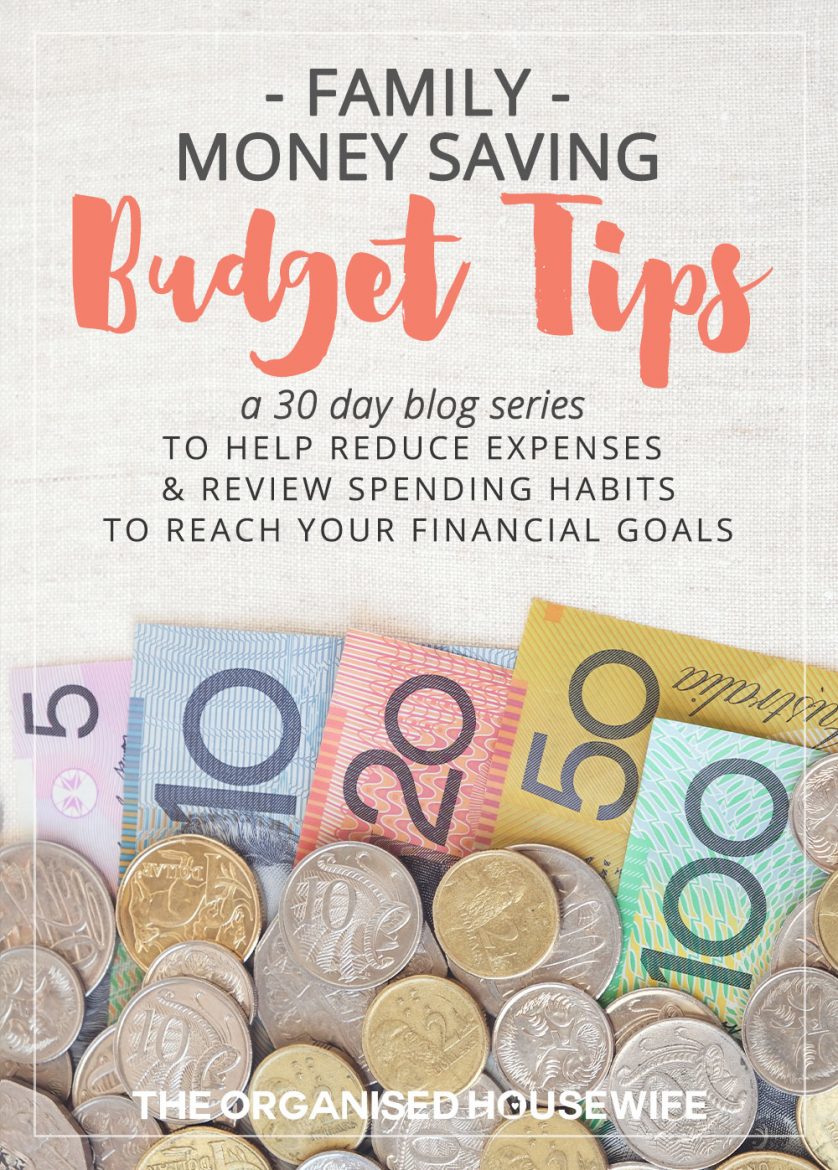 HOW TO FOLLOW THE SERIES
The Family Money Saving Budget Tips Series starts on the blog tomorrow. FREE for you to follow along. Visit the blog each day to see the latest blog post, or join my daily Todays 2Do emails where you will receive a convenient link to the latest posts.  By signing up to the Todays 2Do emails where you will receive this 'My Financial Goals' printable for FREE, plus a few other bonus printables in the series!
Use this printable to help you work out your goals, what your motivation is to achieve it and the steps you need to take to get there.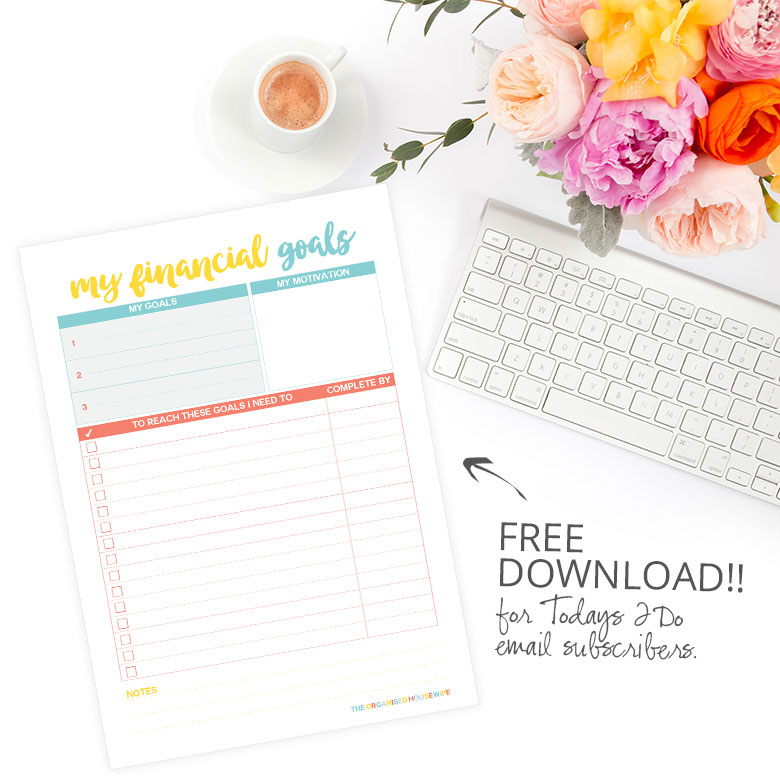 If you have already subscribed to the Todays 2Do emails, please see today's email to download your bonus printable.

MORE ABOUT KAT
Perhaps you ask, who is Kat to give advice? I'm not a financial exper, my tips aren't proven and not guaranteed. However, I am a mum who has 3 kids (now 14, 14 and 12) and lived on a single income for a number of years when the kids were younger. I started budgeting once we went onto one wage. I must admit, I do a happy dance when I spend less than what I budgeted for and this amount can then go into our savings! It's like being in competition with yourself. Now I'm a sharer
I'm a sharer… so here is my financial story, I'm being very open here.
Growing up I didn't receive pocket money and was not taught how to manage my money. I soon learnt that it was only up to me, I was the only one in control and the only one that could help make my financial goals happen (once married, it was then up to the both of us).
Scotty and I were married at 21, we both worked full time. 6 months after our wedding we had saved enough money (no financial help from our family) for a deposit to purchase our first home.  The main reason why we were capable of doing this is because we were strict on the spending for our wedding and honeymoon, we didn't eat out, we ate simply to stick to our grocery budget, we had minimal furniture and I only had enough clothes for a week similar to a capsule style wardrobe.
I fell pregnant at 24 with twins. Long story very, very short (for another time) – I had to stop work when I was 12 weeks pregnant to look after my precious cargo. It's from here that I learnt all about the necessity of budgeting.  Because of this we were able to save and build our next home.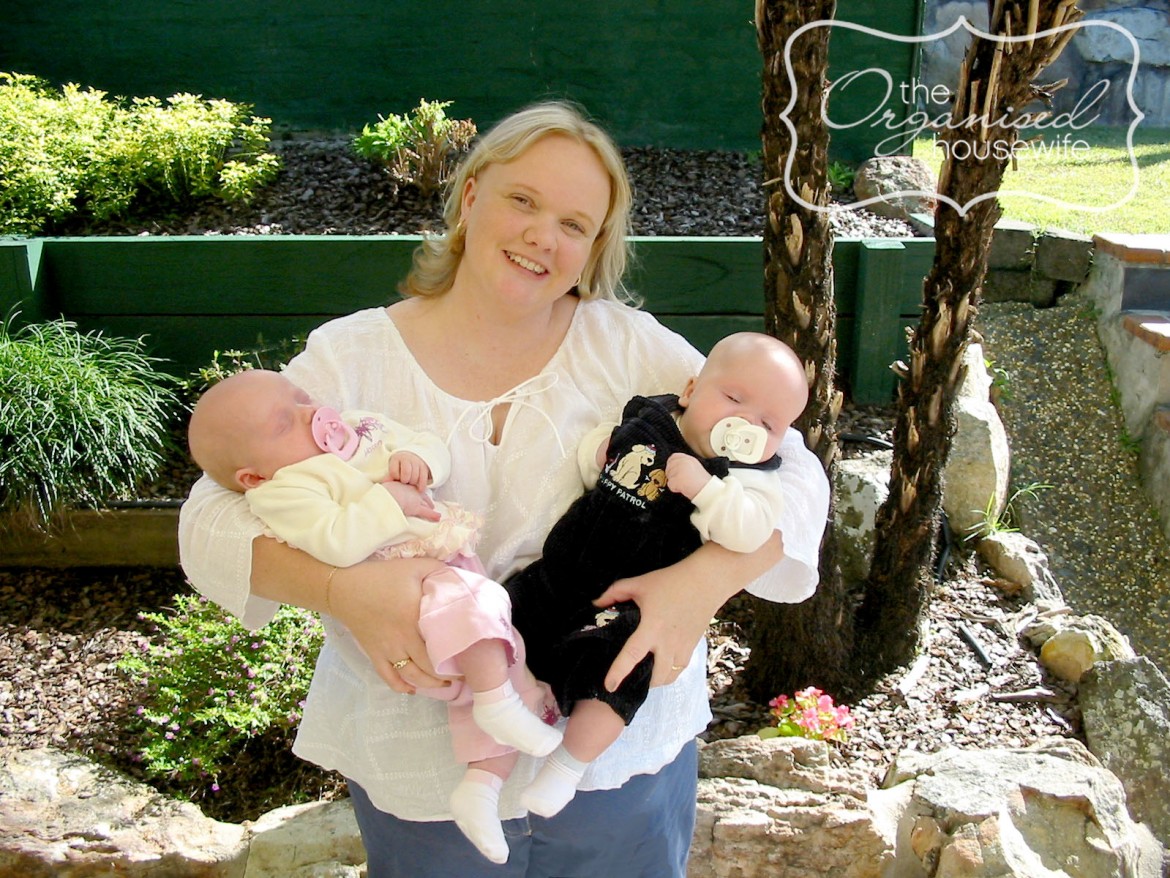 We welcomed baby number 3 two years after the twins were born. I continued to be cautious with our spending and I found food was the biggest area that we could easily overspend if I didn't keep track. We didn't go on any family holidays as our goal was to always do that when the kids were older and could remember the experience. Our savings goal was then to pay off the cars and house so we could then one day move to something bigger.
The year my youngest started school I wanted to continue to be a stay-at-home mum as I was volunteering at the school. To fill my time while the kids were at school I created a little business selling kids' artwork that I painted. I spent 3 days painting one canvas and sold it for $20. My hubby (who is an accountant and understands the value of time and product) said I should stop as it wasn't worth my time. But I struggled to sit at home and do nothing… The house was clean and tidy, I had baked for kids' afternoon tea and I was bored. A week later, I started this blog, The Organised Housewife, purely to pass time and share some recipes and printables with my friends. The first 6 months I was paying for all the expenses out of my family savings which wasn't ideal so I found advertisers and sponsors. 7 years later I am very proud that I have built this blog into my full time business as I absolutely love sharing my real life tips.  Just over 18 months ago we sold the house we built and moved into that 'something bigger' that we had been saving for.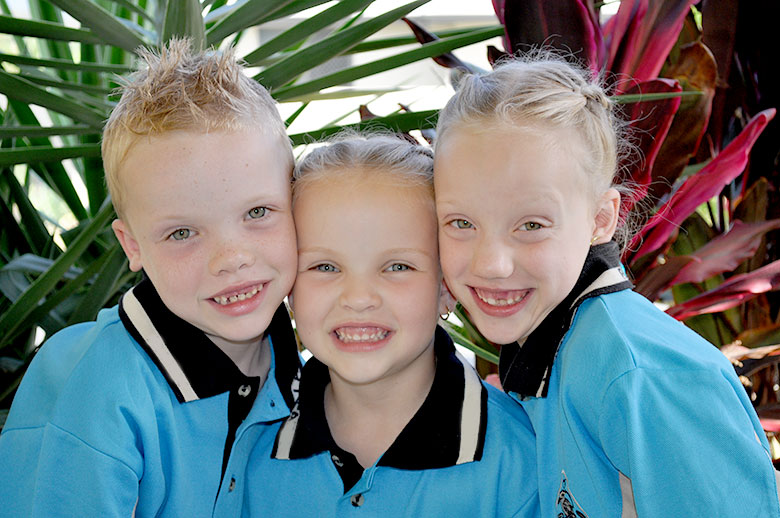 Now I have to admit, I do like to have coffees out with friends and I have a serious addiction to purchasing new quilts for the beds in our home, but it all fits within the budget. I don't spend money on cleaning supplies, choose green when I can (ie. borrow books from the library rather than purchasing), meal plan to ensure we meet our grocery budget each month, don't eat out regularly, pay bills on time so we don't pay overdue fees, purchase my clothes from Kmart or Crossroads and I've learnt to stop impulse buying.
Our current savings goal is for a big family holiday to Disneyland and, now the kids are older, this is the perfect time!
What would you like to learn throughout the Budget series?