When I do my grocery shopping, I have my list in hand. However, I've noticed that many fellow grocery shoppers don't use grocery lists when they do their big shops and just 'wing it'. I personally love making lists and can never walk into a grocery store without a shopping list!! Not only do they save me time and money but they also have many other benefits. You can create a list on your phone, scribble on a scrap piece of paper or use one of my grocery list printables. If you don't make shopping lists, I encourage you to start and experience a more efficient, effective and stress-free way of shopping!
Note: For my regular readers I am pausing my regular family weekly meal plan posts during July as I will be sharing this series of Budget Tips. If you are wanting some meal planning inspiration. View all my past plans here.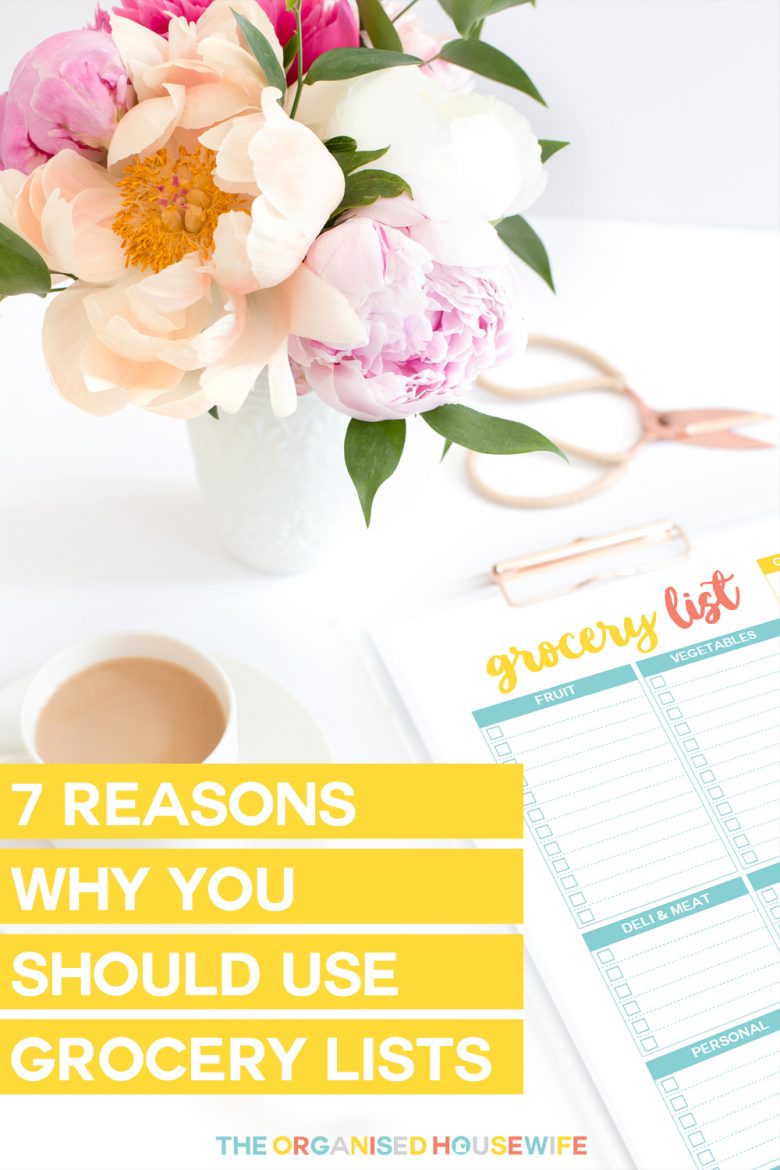 How to create a grocery budget
One of the biggest spends in our budget is food. The good thing with this category is this can easily be adjusted if you need extra $ for another category. As your loans are set prices, you can reduce your grocery bill to help save money.
I am often asked how much I spend on groceries. It has changed over the years. I could have easily fed my family of 5 for $100 a week when they were younger. Now that I have a 12, 14 and 14 year old, they are growing children who like to eat. Realistically my budget now is $180, including fresh fruit and vegetables and all the essentials, such as toilet paper, toiletries, household items, etc. I get excited when it's under and quite often it can be.
How to determine your food budget:
Review previous receipts to calculate how much you are currently spending on groceries.
Determine how much you can actually budget towards groceries (should be approximately 15-17% of your total income).
Consider your shopping habits and reflect if there are areas you can save so you can reach your budget goal each week.
DOWNLOADABLE GROCERY LISTS
You can find these downloadable grocery shopping lists in my shop, they are all available as an instant download so you can print as many times as you like, for personal use.
GROCERY LIST WITH CATEGORIES – Use this grocery list to fill in everything you need for the week's grocery shop. The categories help you section out the shop to make it a faster process! Available in A4 and 2 lists to a page (A5 size). Available to download from my shop here.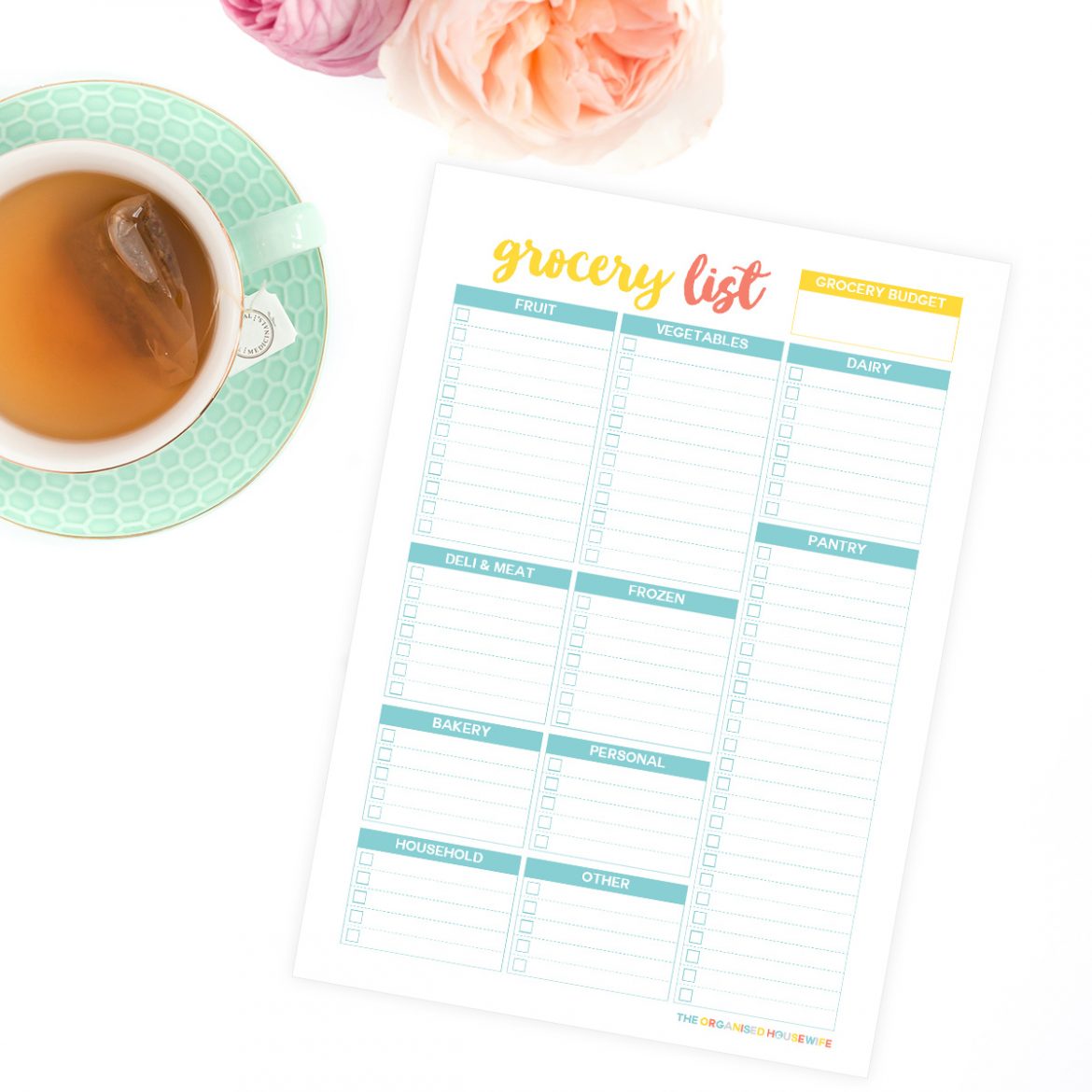 BLANK SHOPPING LIST -Never run out of anything again.  Use this shopping list to write down items as you use them up so you remember to purchase them at the grocery store at your next visit. Available to download from my shop here.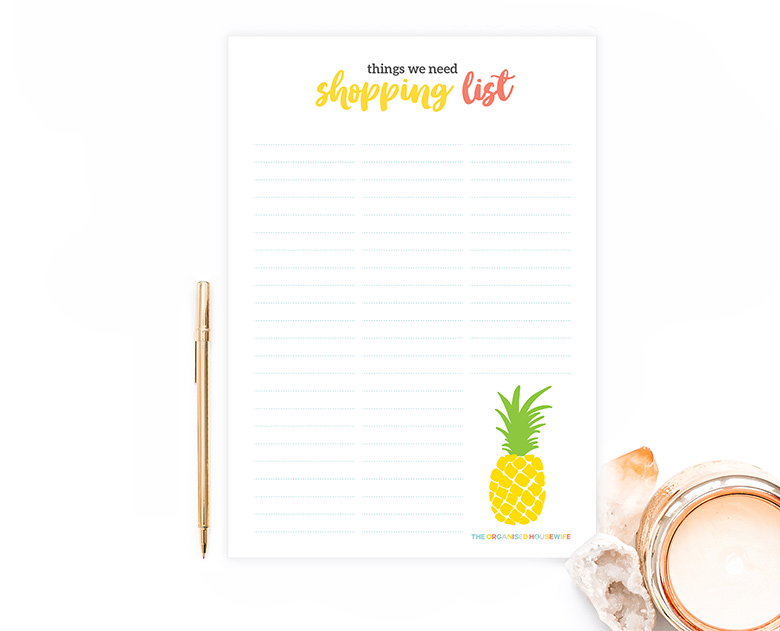 LITTLE HELPER GROCERY LIST – To make grocery shopping more manageable when my kids were younger I used to give them a little list of grocery items I wanted them to look out for during the shop.  This helped to keep their attention. This is an A4 sized page with 3 lists on the one page. Available to download from my shop here.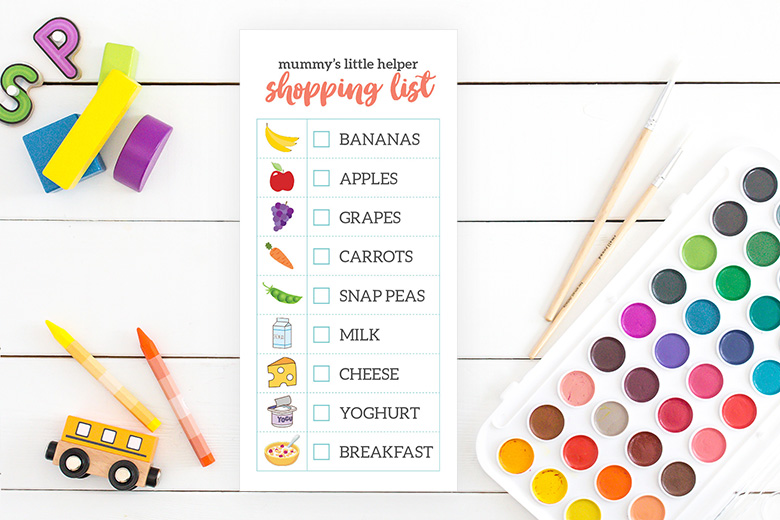 WITH A MEAL PLANNER – Don't forget a vital ingredient when you do your next grocery shop, plan your week of meals, then write down all ingredients you need. Meal planning saves you money and time on a busy weeknight! Available to download from my shop here.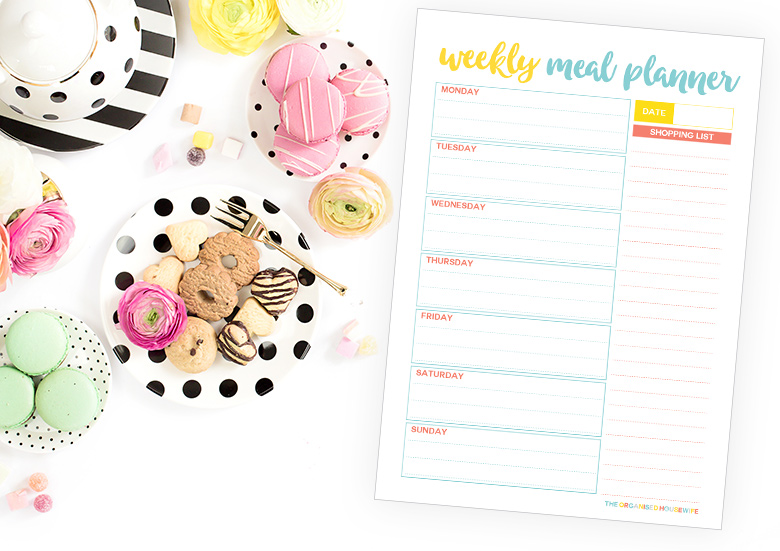 7 Reasons Why You Should Use Grocery Lists
I'll share lots more budget friendly grocery tips throughout the series but my biggest I wanted to start with you is using a grocery shopping list. There are so many good reasons to:
SAVES MONEY – Yep, grocery lists can save you lots of money! Having a list means that you won't go off on tangents and buy food items that are not necessary. Research indicates that you can reduce your food expense by 25-30% by taking a shopping list along with you. I would say this statistic would be accurate.
SAVES TIME – When you go to shops with a grocery list, you will know exactly what you want. Instead of spending time pacing up and down the aisles umm'ing and ahh'ing about what you need, you can just pick up the groceries you have listed and leave. It saves sooo much more effort and you'll be in and out of the shops in a flash.
HELPS YOU PLAN YOUR MEALS – By using a grocery list, it can also help you to plan your meals out for the week. If you've been following me for a while, you'll know how obsessed I am with meal planning and how I always rave about the benefits of doing so. If you create a meal plan and write a grocery list, you'll be set for the week ahead. Find how to meal plan here.
LESS TRIPS YOU MAKE – Instead of grabbing bits and pieces throughout the week as you need them, simply head to the shops once with all you need written down. This means that there will be less trips to the shops for only a couple of items and stop impulse buys.
EAT HEALTHIER – You are able to make smarter decisions and properly evaluate the types of food that you and your family are consuming. Instead of making last-minute unhealthy decisions on your shop, you can stick to a healthier trip.
LESS STRESSFUL – If you're someone that gets anxious or stressed going to the shops, this is a big help!! Having a list and something to follow during the hustle and bustle is incredibly useful.
MINIMISES WASTE – Exclusively buying groceries that you are prepared to cook means that you won't be buying food you don't need and letting it go to waste.
Tell me, do you shop with or without a list?