Make shopping easier and more efficient when using a shopping list. It will help you to save time, money, and help make your next shopping trip stress-free!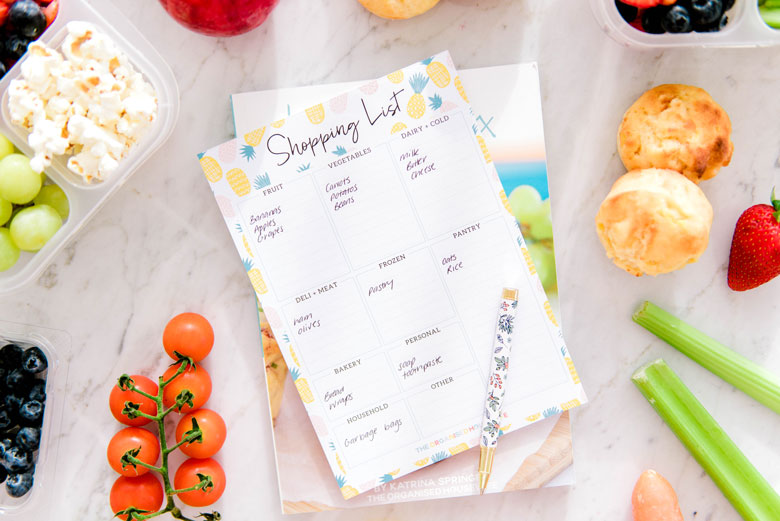 I always make sure to have my trusty grocery list with me when I go shopping. But I've noticed that a lot of people prefer to wing it and shop without a list. I love making lists, and I never go into a store without one! Not only do they save time and money, but they have tons of benefits. You can create a list on your phone, jot on scrap paper or use one of my shopping lists. So, if you're not already making lists, give it a try and enjoy a more efficient, effective, and stress-free shopping experience!
I created the Shopping List Notepads with categories as I found myself having to back track up aisles I've already been up as there was something lower on my list that I didn't see. Categorising helps to save time while at the grocery store. 
7 REASONS WHY YOU SHOULD USE SHOPPING LISTS
SAVES MONEY
Yep, it's true! By sticking to a list, you'll resist the temptation to go off on tangents and buy things you don't really need. In fact, studies show that you can reduce your food expenses by a whopping 25-30% just by bringing a list with you to the store.
SAVES TIME
Bring a shopping list! With a list in hand, you'll glide through the aisles much quicker, ditching the indecision and scooping up only what you need. Trust me, making a list is a game-changer and will save your sanity. 
HELPS YOU PLAN YOUR MEALS
With a grocery list, you cannot only ensure you have what you need for the week, but you can also easily plan your meals. As someone who's all about meal planning, trust me when I say this simple step can make a world of difference. Check out my
meal planning tips here
and get started on your shopping list.
LESS TRIPS TO THE SHOPS
Using a shopping list is a smarter way to shop, as you won't need to make multiple visits during the week to pick up odds and ends. With everything planned out ahead of time, you'll curb the temptation to make impulse purchases. You know that block of chocolate that you probably wouldn't have bought if you didn't just quickly pop in to buy more groceries. 
EAT HEALTHIER
Planning ahead can help you evaluate the types of food you're consuming and avoid last-minute unhealthy decisions. Stick to a healthier trip and feel good about the food you bring home.
LESS STRESS
If you're someone who gets anxious or overwhelmed while shopping, this small change can make a big difference. With a list to guide you, you can navigate the crowded aisles with ease and get everything you need without any unnecessary stress. Plus it helps you to remember everything too!
LESS FOOD WASTE
Want to reduce food waste? Start by grocery shopping with a list. Not only will it prevent you from buying unnecessary items, but sticking to the essentials means less food ending up in the rubbish. 
Using shopping lists is incredibly beneficial and worth the effort. With the structure it provides, you can save money, time and energy by having all necessary items gathered for each meal.
Plus, with the use of a list you can make meal planning easier, avoid stressful trips to the store due to forgetting something, opt for healthier snacks and meals as you are able to pre-plan what you will buy during each shopping trip. Shopping lists make life easier.