Fabulous discounts and savings on top brands and online stores with the latest Australian coupon codes and shopping bargains.
Coupon codes, also known as promo codes or discount codes can save you many in various different ways.  Some may offer you free postage and others a percentage or dollar value off your total order. When shopping online you may find many great sales, but those online stores may also have coupon codes that can be used as well.  However, you usually have to go searching for the coupons, they aren't easy to find…. until now!!
I regularly search for coupon codes when I'm buying online. I saved hundreds of dollars recently when I used coupon codes to book tours for our holiday (I was quite impressed with myself!!).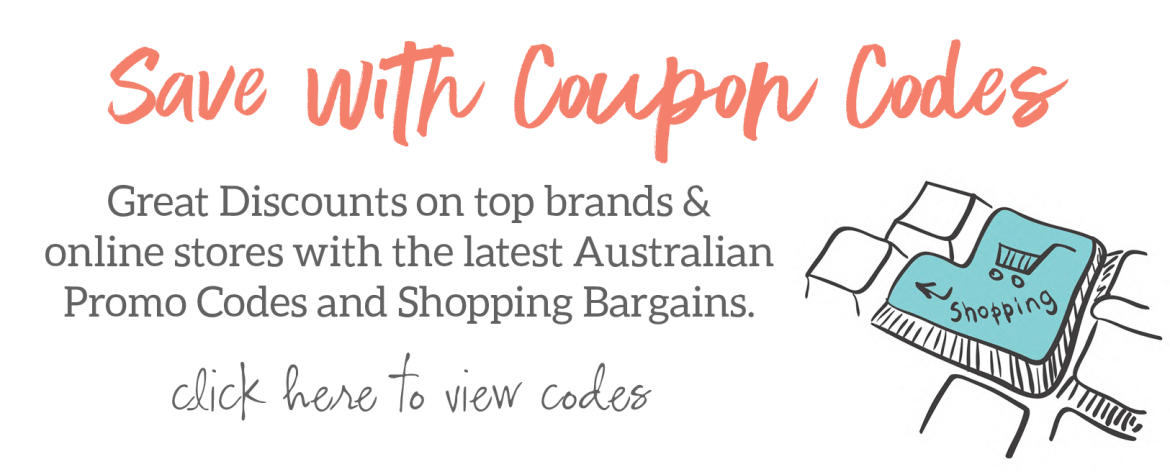 I'm excited to share with you that you can now easily find loads of promo codes, discounts & deals from some of your favourite Australian online retailers right here on The Organised Housewife! If you're unfamiliar with how coupon codes work I've put together a little guide to help you below.

WHAT ARE COUPON CODES?
Browse through various retailers who sell clothing, toys, travel, homewares and more, and then find a coupon code to suit your purchase. There are many different types of codes available, just to name a few:
FREE POSTAGE – this is a fantastic saving when shopping online. Some retailers may offer free postage when you purchase over a particular amount, however some may offer it on any value.
CART OR PRODUCT DISCOUNT – some coupons may offer discounts on particular brands or products (ie. Target offering 40% off Lego) or they may offer you a discount off your total cart purchase.
SALE ITEMS – Some may not offer a discount code, but rather make you aware of a sale they currently have running.
HOW TO USE COUPON CODES
Coupon codes are very easy to use, simply:
Search through the coupon codes page.
Find a code that you want to use, and click on the button to reveal the code, then click 'COPY'.
The online retailer's website will also open, ready for you to start shopping.
When you get to the checkout of the online retailer, simply PASTE the code to apply the discount.
MY COUPON CODE WON'T WORK?
I have partnered with a team that are testing and updating the codes regularly, however, at times online stores may alter or discontinue their promos and codes at any time without notifying us. Usually retailers offer a range of different coupons so please continue to search and find a coupon code that will work.
If the code has expired most stores will pop up with a message advising you that your code is invalid.
Most codes are in caps and some stores can be case-sensitive, so the code might not work if you enter it in lowercase.
If it is successfully applied you should see the discounted amount applied to your total.
Be sure to meet the minimum requirement. ie. if a codes is free postage on orders over $50, ensure you have $50 in your cart.
If you can't find a coupon code box for an online retailer the best option is to check the retailers FAQ (frequently asked questions) or call and email the customer service to help you use coupon codes on their website.
HOW DO I KNOW IF THE CODE WAS SUCCESSFULLY APPLIED?
Most stores allow you to paste the coupon code at checkout. Search for a box or link that says 'coupon code' or 'promo code'.  Some stores may require you to log in before you can access a coupon code box.
There's plenty of potential to save money using coupon codes, do you use coupon codes?