I updated my lounge room with some new stylish blockout roller blinds to make my living space cosier, more private and gives it a cinematic feel when watching the TV. 
Our lounge room/dining/kitchen area is all open plan and surrounded by windows. Having a lot of glass makes the rooms cold in winter and hot in summer. I decided to make some changes to the space to help improve the temperature in our home so that our lounge room was cosier and retained warmth more. I also wanted to improve the privacy of our living spaces, as we have new neighbours who use a room that looks directly into our lounge room much more often than our previous neighbours did.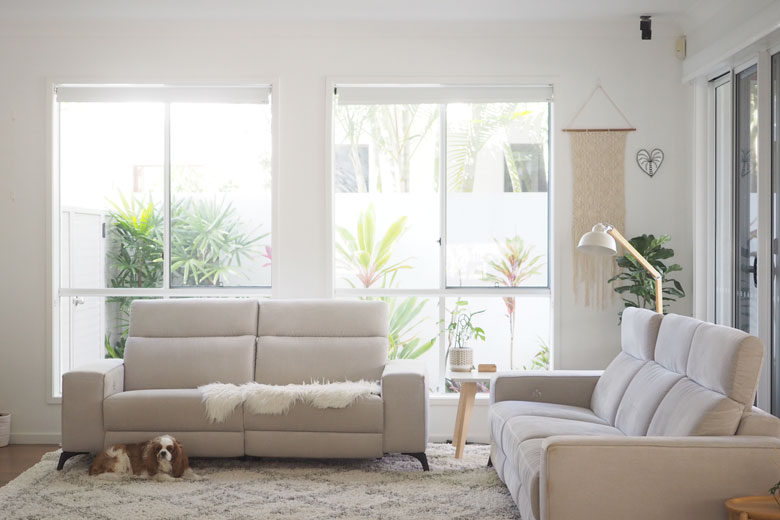 In partnership with Half Price Blinds
We wanted new blinds for a few reasons:
To keep out the cold air, as being surrounded by glass makes sitting in our lounge room quite cold.
Improve the privacy and sense of coziness in the room.
Switch to block out blinds, to get rid of reflections on the TV so we were able to use it during the daytime. 
Our previous blinds weren't blockout or automatic. I really wanted to switch to motorised blockout roller blinds so that I could open and close them more easily and to create an insulating barrier against the glass.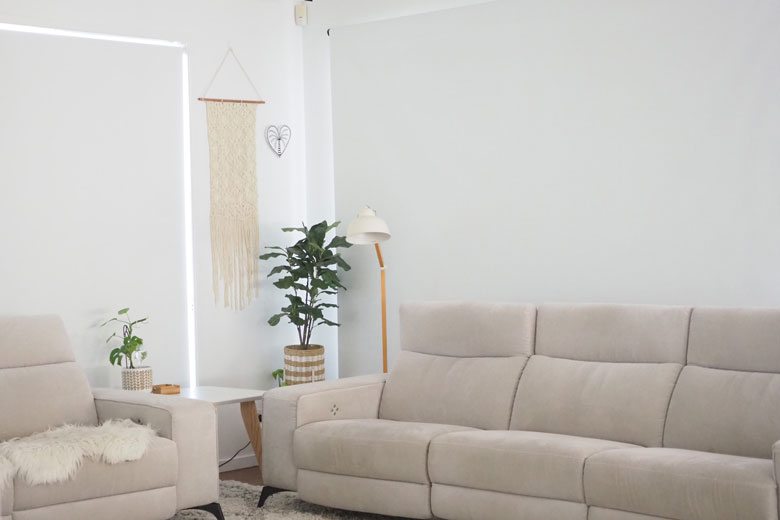 The process of choosing and ordering new blinds was so easy. You can order six free fabric samples from Half Price Blinds to help you determine what fabric and blind you want for your room. I followed the instructions on how to measure my windows and get the measurements right. The process was all very simple. Then, when I was ready to order, I popped all of my measurements into the website, and waited a few short weeks for my ready-to-install blinds to arrive.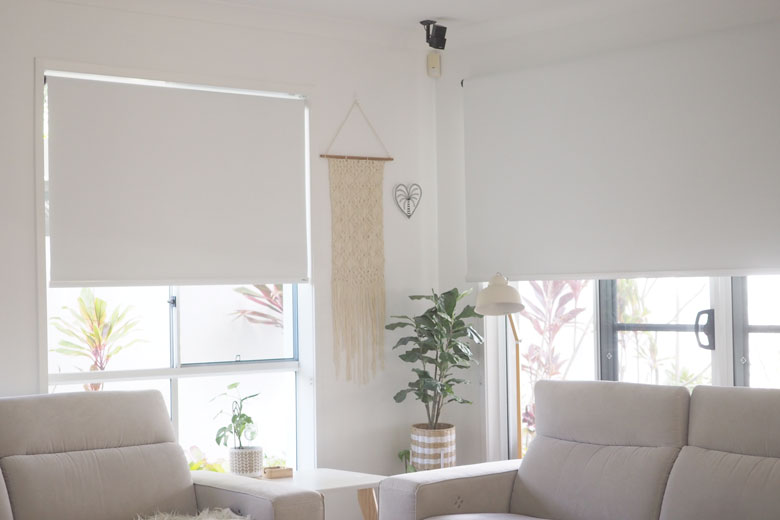 Installing the blinds was also very simple, despite me thinking it was going to be more complicated than what it was. But we (hubby DIYed as I supervised and photographed the process) just removed the blinds we had, then drilled in the new brackets and simply snapped the roller blinds into place.  
Connecting to the remote control took as little as 10 seconds.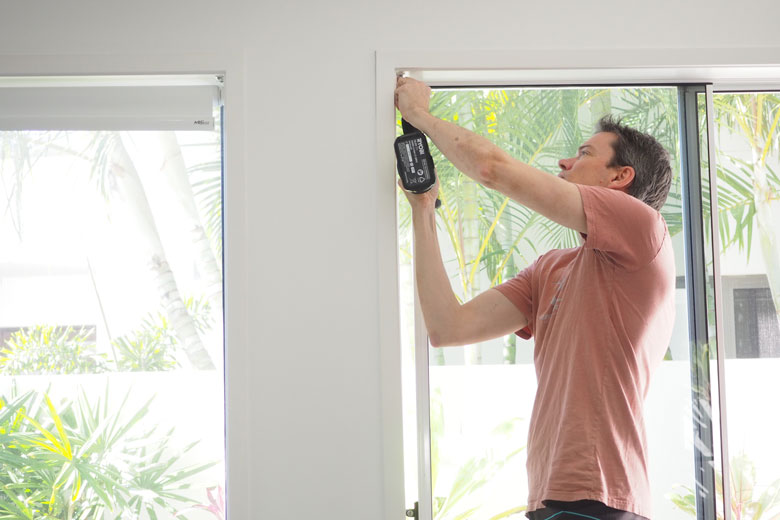 I LOVE how the motorised roller blinds sync up and I can open or close the blinds with one click of the button. Previously I would have to manually open and close 6 blinds which took forever and I was always worried with the old blinds, that with one hard yank they would fall off (has happened before, so this is why I was always so scared).
The remote also allows you to also lift blinds one at a time too if you like. We also used the remote to set where we want them to stop at the top and bottom. Sooooo clever.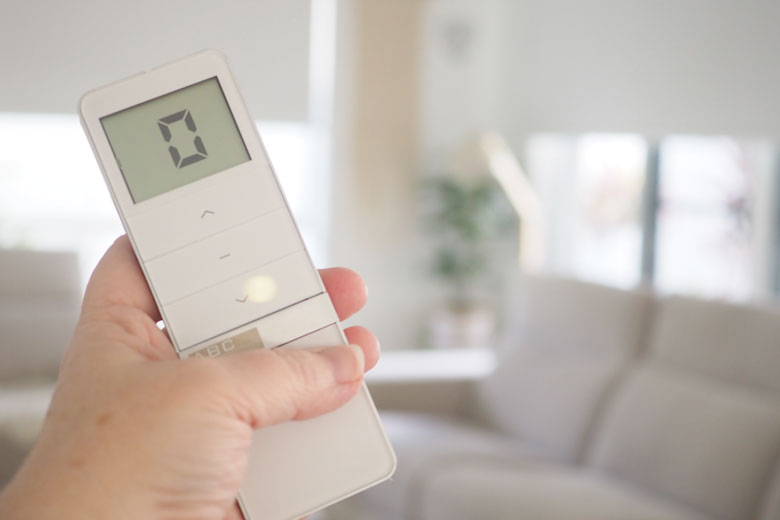 When I want to watch TV in the daytime I can make the room so dark and cozy with the blinds drawn. It actually makes it semi-feel like I'm in a in home theatre. I absolutely LOVE IT!!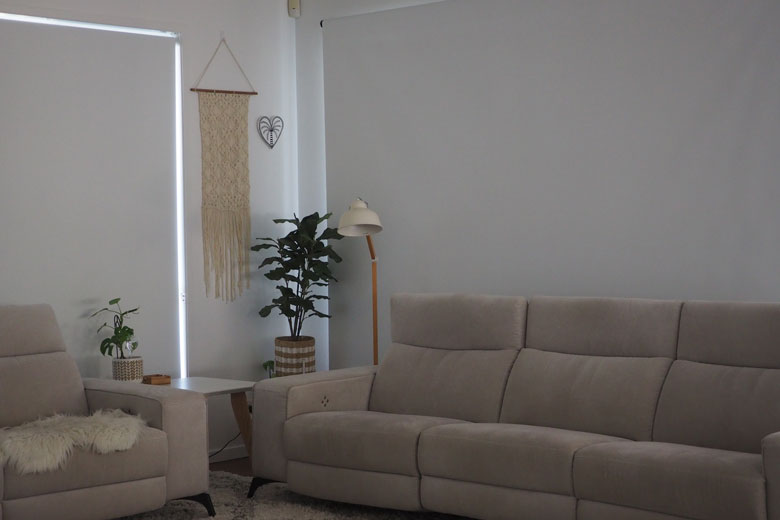 I love that all the windows in the living spaces let in so much light and sunshine, but it's great to be able to close the blinds when I want to darken the room and retain warmth in the house. I only got blinds for the lounge room for now, but I'm going to order more for the dining area. Our kitchen will still let in light (I don't want to put blinds on the windows there).
DETAILS OF BLINDS
COLOUR: ELITE BLOCKOUT – DOVE
Window left: – 1407mm width x 2011mm height
Window right: 1401mm width  x 2011mm height
Big window: 3005mm width x 2380mm height
This post is run in accordance with my disclosure policy.
DO YOU NEED NEW BLINDS FOR YOUR HOME?
MY EASY DIY PLANTATION SHUTTERS
I re-vamped my bedroom with gorgeous DIY plantation shutters that were quick and easy to install, plus a fabulous choice for my allergy-prone family! Continue Reading