This post is sponsored by Fetch
If you asked me 10 years ago 'What is your hobby?', I would have answered scrapbooking. However, now that I am busy working all day and running kids around, at the end of the day I just want to put my feet up and watch TV. I perhaps like watching TV a bit too much as I really enjoy a good binge session of 3 or more episodes in a row.  So when I was asked by Fetch to become a #motherfetcher and review their product, I didn't have to think too hard… YES!
For me, sitting down and watching TV is relaxing and allows me to switch my mind off, but I find constantly channel surfing to pick something to watch is extremely frustrating (it's one of my biggest pet hates!). I am usually happy to sit down and watch TV shows that I have recorded and any movie as long as I don't have to spend 15 minutes picking one. I much prefer to watch recommended TV shows and movies.
Friends recommended Big Little Lies to me, it wasn't on my radar before that. I loved the show, it had me drawn in. I have put together a list of 'What's new on TV for June 2017' and the shows I have been enjoying lately to help you find a new show that's binge-worthy!
Please share with me any of your favourite shows in the comments below, I'd love to read your recommendations!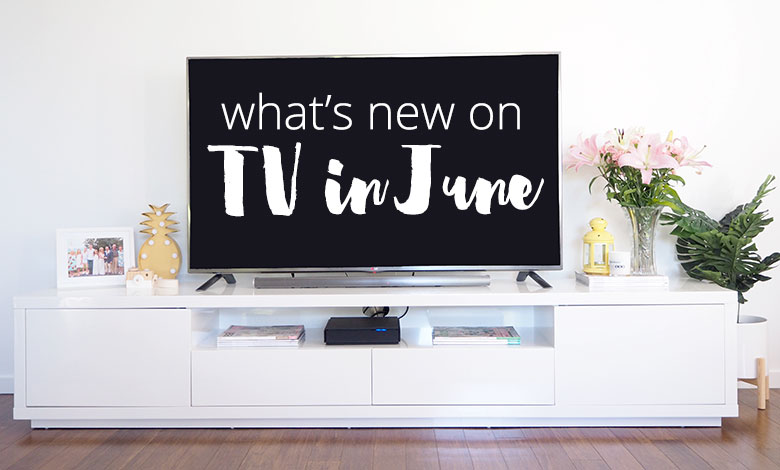 What is Fetch?
Fetch have the latest movies and TV shows in one easy to access place. With so many channels to chose from, there is always something for the whole family to enjoy. I have found the system extremely easy to use and navigate through. Here are a few other features:
FREE TO AIR TV – Pause and rewind live TV.  This is brilliant because… 'kids'.  They always want something and usually at the most crucial moment of the TV show.
RECORD – Missed your show? You can record up to six shows at once whilst watching the seventh. Six at once would have to be for the truly TV obsessed but I have found this helpful as some nights where I can't decide between The Voice, Masterchef or (don't judge me) The Kardashians.
CATCH UP TV – If you have forgotten to record your show, you may also find it on Catch-Up TV with apps including Plus7, tenplay, SBS on Demand, ABC iView, 9Now and more.
TV STORE – This is one of my favourites features about Fetch.  Buy seasons or individual episodes from over 100 popular TV shows.  This is how I managed to watch the Big Little Lies series and catch up on the latest season of Suits, Vampire Diaries and Pretty Little Liars.
MOVIE STORE – Gone are the days of driving to the video store. You can rent or buy the latest movies to watch when it suits you. They have over 6000 to choose from, scrolling through this many would drive me a little bonkers (pet hate above but the on-screen ratings and reviews from Rotten Tomatoes will help you decide what to watch).
PREMIUM ENTERTAINMENT – If you want more, they have four bite-sized channel packs for any interest and each at just $6 a month or you can get them all in the Ultimate Pack for $20 per month. I've been enjoying MTV, having it on in the background while pottering in the kitchen and the Universal Channel airing law shows all day (my 14yo son and I enjoy this channel together)!!
NETFLIX & STAN – Netflix and Stan apps are available too, so you can watch all your favourite shows in one place. Subscriptions are required for these apps.
REMOTE – Set up the fetch remote control to also switch your TV on and off and control volume. You only need the one remote control…. less clutter, I love this!!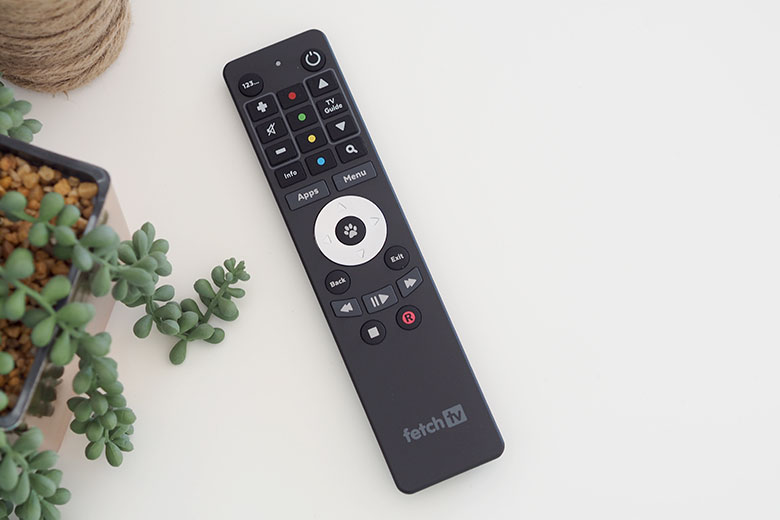 STORAGE – It has a 1TB hard drive that will store up to 585 hours of content. Record your favourite TV series to watch when you have a spare moment (cough, busy mums, spare moment, when??).
MOBI APP – There are a lot of features on this app but the one that stood out to me was that you can hit record from anywhere so you never miss a show. I have used this when having a coffee with a friend, she told me about a show and I hit record while out so I don't forget.
MULTIROOM – you can connect up to 3 boxes on one account because most TV households these days have more than one TV. I have the Fetch Mighty (the black one under my TV), it is nice and slim.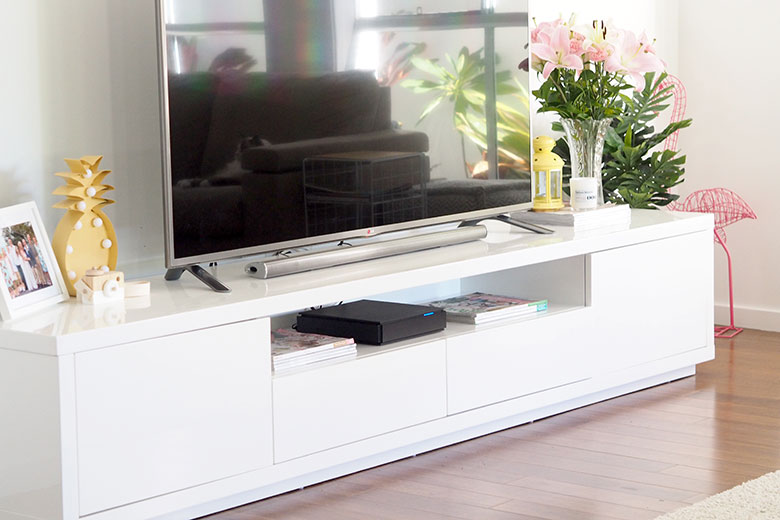 Where is it available? Fetch is available through some broadband Internet Service Providers (Optus, Dodo, iPrimus, iiNet, Internode, Netspace, Westnet, TransACT Victoria and Adam Internet. You can sign up by contacting your broadband provider). As well as select retail stores (Harvey Norman, Domayne, Joyce Mayne, JB Hi-Fi).
How much does it cost? The price will vary depending on your Internet Service Providers, but the entry price is $10-$15. Check the packages page for details.  Buy the Fetch from one of their retailers for an initial cost of $349 for the Mighty box or $199 for the Mini box + a $1 one off activation fee. You can choose to add Movie Box (30 free pre-selected movies per month for $1 per month) or channel packs starting at $6 per month.
There are some great features which I have picked up just using the system.

What's new on TV this month – June 2017
I only ever know what's new on Netflix when they appear in the trending banner at the top. So, I thought I would save you the hassle of flicking through the great abundance of shows and put together this list of what's new on TV (not just Netflix) this month. There are plenty of  TV shows and movies to buy or rent but these are a few key highlights:
Fetch
BIG LITTLE LIES – Buy Season 1 now – Fetch TV Store
In the tranquil seaside town of Monterey, California, nothing is quite as it seems. Doting mums, successful husbands, adorable children, beautiful homes: What lies will be told to keep their perfect worlds from unraveling? Based on Liane Moriarty's bestseller, Big Little Lies.
**MY TOP RECOMMENDATION THIS MONTH – I really enjoyed binge watching this mini series, which includes Nicole Kidman, Reece Witherspoon and Alexander Skarsgar (Eric from True Blood).  I don't want to ruin the show but their take of 'school drop off' made me laugh, but also showed that you don't know what's happening behind their closed doors.  It was very addictive.
GIRLS – Buy Season 1 – 6 now – Fetch TV Store
Created by and starring Lena Dunham, the show is a comic look at the assorted humiliations and rare triumphs of a group of girls in their mid-20s navigating their way their life through New York. There is nowhere to grow but up for Marine, Jessa, Hannah and Shoshanna.
PRETTY LITTLE LIARS – Episodes weekly available to buy – Fetch TV Store
Rosewood is a perfect little town. So quiet and pristine, you'd never guess it holds so many secrets. Some of the ugliest ones belong to the prettiest girls in town: Aria, Spencer, Hanna and Emily, four friends whose darkest secrets have been unravelling since Alison, the Queen Bee of their group disappeared. As the mystery surrounding Ali's disappearance resurfaces, the girls begin getting messages from a mysterious "A," who they quickly realise is out to get them. No longer just wanting to sit by and wait for "A's" latest cruel attack, Aria, Emily, Hanna and Spencer take matters into their own hands and try to finally put a stop to their tormentor. 
** SHOW TO WATCH WITH YOUR TWEEN/TEENS – I watch this series with my girls (12 and 14).  There is a lot of mystery and intrigue. They they engage in theft, break rules and gossip, but they are a group of friends that stick together.  The suspense got me hooked.
VEEP – Buy all seasons June 22 – Fetch TV Store
Former Senator Selina Meyer has accepted the call to serve as Vice President of the United States. The job is nothing like she imagined and everything she was warned about. Veep follows Meyer and her staff as they attempt to make their mark and leave a lasting legacy, without getting tripped up in the day-to-day political games that define Washington.
AMERICAN GODS – Buy Season 1 June 20 – Fetch TV Store
A recently released ex-convict named Shadow meets a mysterious man who calls himself "Wednesday" and who knows more than he first seems to about Shadow's life and past. Shadow finds himself amongst a conflict between the old gods and the supposed "new gods" – the gods of money and technology, who believe their elders should leave Earth. Gaiman's original novel is a mixture of Americana, fantasy, and ancient and modern mythology.
Here's the complete list of what's new on Fetch:
TV shows:
Big Little Lies – Buy Season 1 now
Girls – Buy Season 1 -6 now
Pretty Little Liars – Episodes weekly available to buy
Veep – Buy all seasons June 22
American Gods- Buy Season 1 June 20
Genius – available on National Geographic
SS-GB – available on BBC First
Taboo – available on BBC First
Movies:
Beauty and the Beast – Buy and rent from June 21
Logan – Buy from May 31. Rent from June 7
LEGO: Batman – Buy and rent June 28
RED DOG: True Blue – Buy and rent June 7
Netflix
ORANGE IS THE NEW BLACK – Season 5 9th June
Piper Chapman is sentenced to fifteen months in a women's prison in Connecticut for her past association with a drug runner a decade ago. A public relations executive in her thirties, Piper is completely out of her element and is forced to adjust to a life behind bars. During her stay, she meets many unusual inmates and characters, and even strikes up some unexpected friendships.
FLAKED – Season 2 available June 2
Chip lives in Venice Beach, California. While he pretends to be the go-to guy for advice and appears to have his life together, he really is just a recovering alcohol who is dealing with his own baggage. Chip and his best friend Dennis both end up falling for the new waitress called London that has started working at their local cafe. As Chip's web of deception and little lies starts to come undone, his image and sobriety are put to the test.
Here's the list of what's new on Netflix:
TV shows:
House of Cards – Season 5 – 30 May
From Dusk Till Dawn: The Series – Season 2 available 1 June.
Flaked – Season 2 available June 2.
Orange is the New Black – Season 5 available 9 June.
The Ranch  – Season 2 available 16 June.
Fargo – Season 2 available 16 June.
My Only Love Song – Season 1 available 9 June.
El Chapo – Season 1 available 16 June.
GLOW – Season 1 available 23 June.
The Originals – Season 3 available 25 June.
Gypsy – Season 1 available 30 June.
Movies:
Catfight – available 1 June
Kardashian: The Man Who Saved OJ Simpson – available 1 June
Life in a Day – available 1 June
Little Boxes – available 1 June
Of Mice and Men – available 1 June
The Man in the Iron Mask – available 1 June
Theatre of Life – available 1 June
What If – available 1 June
Saving Banksy – available 2 June
The Lovely Bones – available 2 June
True Story – available 3 June
Sweeney Todd: The Demon Barber of Fleet Street – available 4 June
Suicide Squad – available 7 June
Eye for an Eye – available 9 June
Gimme the Loot – available 15 June
Enemy at the Gates – available 16 June
Harry Potter and the Philosopher's Stone – available 16 June
Harry Potter and the Chamber of Secrets – available 16 June
Harry Potter and the Prisoner of Azkaban – available 16 June
Harry Potter and the Goblet of Fire – available 16 June
New Year's Eve – available 18 June
Ninja Assassin – available 18 June
Disney's Pete's Dragon – available 20 June
Storks – available 21 June
The Gift – available 21 June
Bokeh – available 22 June
Vanilla Sky – available 23 June
A Hologram for the King – available 25 June
J. Edgar – available 25 June
The Last Samurai – available 25 June
Disney's Oz the Great and Powerful – available 28 June
The Magnificent Seven – available 28 June
Munich – available 30 June
The Intervention – available 30 June
Currently Trending
Girl Boss
Sense8 – Season 2
Riverdale
Unbreakable Kimmy Schmidt – Season 3
Bloodline – Season 3
House of Cards – Season 5
13 Reasons Why
Chewing Gum – Season 2
Gilmore Girls
Black Mirror
War Dogs
Disney's The BFG
Stan
TWIN PEAKS – New episodes weekly from 5th June
TWIN PEAKS is based on Dale Cooper, an FBI agent that is trying to solve the murder of a homecoming queen Laura Palmer.The small town was shocked when the seemingly innocent high schooler was murdered. The story still continues 25 years later and this is a terrific crime drama that potters in the surreal world.
Here's the brief list of what's new on Stan:
TV shows:
Twin Peaks
Under the Dome – Season 3 – available 1 June.
Barely Famous – Season 1 – available 16 June.
Shimmer and Shine – Season 1 – available 16 June.
Preacher – Season 2 – available 26 June.
Movies:
Truman – available 4 June.
Kate & Leopold – available 5 June.
Pulp Fiction – available 9 June.
Defiance – available 10 June.
Currently Trending
The Powerpuff Girls – Season 1 
Drunk History – Season 2 
Better Call Saul – Season 3
Rugrats – Season 4
Angie Tribeca – Season 3
Wolf Creek
Call the Midwife
Orphan Black – Season 4
The Fixer
iZombie
Bad Moms
The Legend of Tarzan
The Notebook
If only we had all the time like our pet's to sit and watch all these shows!! My ragdoll, Millee, curled up on my 'TV spot'.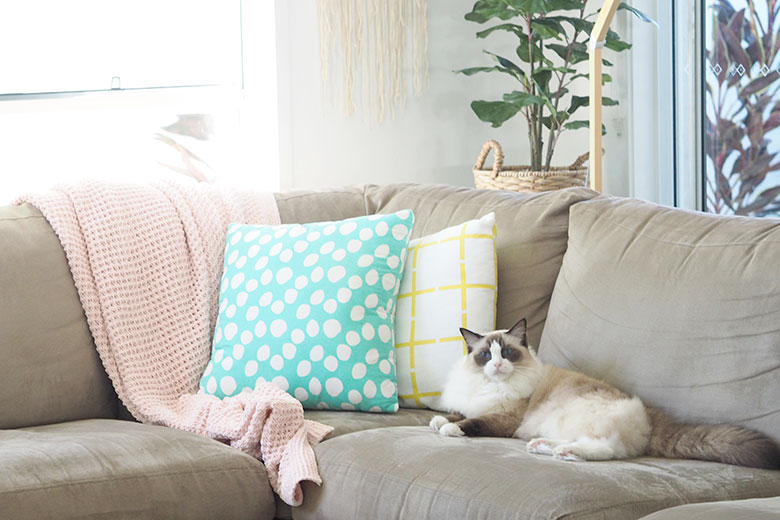 Please share with me any of your recommendations.