School holidays are well and truly underway and if you have kids, I'm sure they are trying to find a dozen activities to fill in all their free time. A good TV show or movie is a great way to keep them occupied for a couple of hours and, luckily, there are a great range of new seasons on the box to do just that! Enjoy a few of these with your kids or save some for yourself when you're tucked into bed after a busy day. Hopefully you can find something binge-worthy on this list! Here's what's new on TV this July.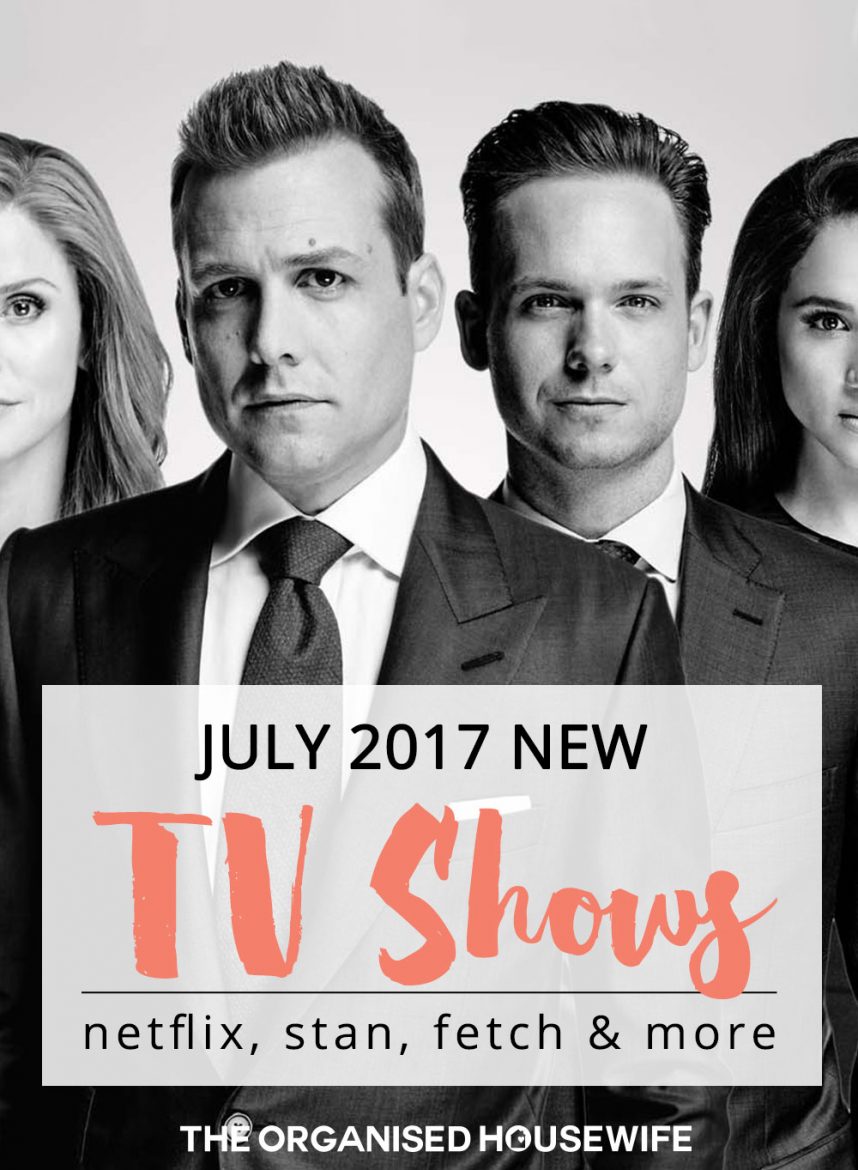 What's new on Netflix
FRIENDS FROM COLLEGE – Season 1  – 14 July
With interwoven and oftentimes complicated relationships with one another, Friends from College is a comedic exploration of old friendships, former romantic entanglements and balancing adult life with nostalgia for the past.
OZARK – Season 1 – 21 July
In this dark, dangerous series, a family struggles after moving to the Missouri Ozarks resort community. They are thrust into a world of dirty money when his dealings with a drug cartel go awry.
OFFSPRING – Season 6 – 1 July
Thirty-something obstetrician Nina Proudman searches for love and balance in her chaotic life. In Season 6, Nina & the Proudman clan are shaken by tragedy when a family gathering results in explosive revelations.
SUITS – Season 6 – 14 July 
Season 6 begins with the aftermath of the events that led to Mike being put in prison. After he signs a plea deal to save his colleagues from a similar fate, Mike must learn how to deal with prison life.
Here's the list of what's new on Netflix:
TV shows:
Dance Academy – Season 1 & 2 – 1 July 
The Stand Ups – Season 1 – 4 July
Castlevania – Season 1 – 7 July
Dawn of the Croods – Season 4 – 7 July
Animal Kingdom – Season 2 – 12 July
Fargo – Season 3 – 14 July
Suits – Season 6, Part 1 – 14 July
Shooter – Season 2 – 19 July 
Last Chance U – Season 2 – 21 July 
The Worst Witch – Season 1 – 21 July
The Adventures of Puss in Boots – Season 5 – 28 July
Chelsea – Season 2 – Every Friday
Movies:
Pineapple Express – 1 July
Friends with Benefits – 1 July 
Hancock – 1 July
Hob Tub Time Machine – 1 July
Snowden – 2 July
Paddington – 8 July
Shadow Hunters: The Mortal Instruments – 11 July
Buddy Thunderstruck: The Maybe Pile – 14 July
Chasing Coral – 14 July
To The Bone – 14 July
The Goonies – 15 July
Disney's The Princess Diaries – 19 July
Save The Last Dance – 21 July
Terminator Genisys – 28 July
The Incredible Jessica James – 28 July
Tallulah – 29 July
What's new on Fetch
I don't have a list of what's new on Fetch this month, but you can catch up on some of these popular shows.
GAME OF THRONES – Seasons 1-6
I've been binge watching the last few seasons of Game of Thrones this month.  Fetch has all the previous seasons.  I'm a huge fan and get absolutely hooked into this show. I truly wished the seasons were longer, anyways…. I'm all refreshed with the story line ready for it to start again later this month!
VAMPIRE DIARIES – Seasons 1-8 
I'm a sucker for vampire style romance shows, ooh Buffy!! I have been watching Vampire Diaries with my girls, and I'm sad to see this series come to an end.  I was waiting for the final season to come on Netflix but they are so slow at bringing some shows out.  I found the whole series including the final season on Fetch!!!!
FARGO – Seasons 1-3
Self-made real estate mogul Emmit seemingly has it all — a successful business and a perfect family. That doesn't sit well with younger brother Ray, who has always lived in Emmit's shadow and blames his brother for the less-than-ideal hand he's been dealt. Things appear to be on the upswing for Ray when Nikki, one of his parolees, offers to help turn his fortunes around by stealing back his good karma. Of course, the situation quickly gets out of hand…
What's new on Stan
CATFISH – Season 1 – 3 July  
Catfish is a reality-based documentary series based in America. It is hosted by Nev and Max who help unveil the lies and truths of the online dating world
PREACHERS – Season 2 – 26 June & throughout month 
Fulfilling a promise to his deceased father, one-time outlaw Jesse returns home to West Texas to take over his dad's church. Jesse's mission becomes twisted when his body is overcome by a cryptic force that unleashes within him a highly unconventional power. Together with hell-raising ex-girlfriend Tulip and Irish vagabond Cassidy, the preacher-in-training embarks on a journey to find God in a world inhabited by holy, hellish, and everything-in-between characters. 
Here's the list of what's new on Stan:
TV shows:
Johnny Bravo – Season 1 – 1 July
Ready Steady Wiggle – Season 2 – 1 July
Geordie Shore – Season 11 – 11 July
Broad City – Season 3 – 19 July
The White Princess – 26 July
Twin Peaks – Weekly
Movies:
Where the Wild Things Are – 2 July
The Handmaid's Tale – 3 July
Ace Ventura: Pet Detective – 3 July
Ace Ventura: When Nature Calls – 3 July
The Lucky One – 4 July
The Woman in Black – 5 July
Becoming Jane – 7 July 
Journey to the Centre of the Earth – 7 July 
Robin Hood: Prince of Thieves – 9 July
Swimfan – 10 July
The Butterfly Effect – 12 July
The Road – 13 July
Ocean's Eleven, Twelve & Thirteen – 14 July
Sleepover – 14 July
Evolution – 15 July
Last of the Mohicans – 15 July
The One – 16 July
Zero Dark Thirty – 17 July
Alysum – 19 July
Party Monster – 19 July
Dark Shadows – 21 July
Only God Forgives – 21 July
Black Hawk Down – 22 July 
Exorcist: The Beginning – 23 July
Killers – 25 July
Behind Enemy Lines – 26 July
Crime and Punishment – 27 July
Magic Mike  –28 July
Major League – 29 July
America's Sweethearts – 30 July
What's new on Free-to-Air
This was the stand-out for me, apart from Offspring that started last month.
AUSTRALIAN NINJA WARRIOR – Season 1 – 9 July
Australian Ninja Warrior is a sports entertainment competition that pits competitors against each other by competing in extremely difficult obstacle courses. A new breed of hero is coming… On Channel 9.
Last Month's Reader Recommendations
OUTLANDER  
Based around the best selling books by Diana Gabaldon, Outlander is set around Claire Randall, a former British Army nurse. She is enjoying a second honeymoon in Scotland with husband Frank when suddenly, Claire is transported to 1743 and into a mysterious world where her freedom and life are threatened. To survive, she marries Jamie, a strapping Scots warrior with a complicated past. Claire is caught between two vastly different men in two completely different lives.
DESIGNATED SURVIVOR
As a lower-level cabinet member, Tom Kirkman never imagined something would happen that would catapult him to the oval office. When a devastating attack on the night of the State of the Union address claims the lives of the president and most of the Cabinet, the Housing and Urban Development secretary — who was named the designated survivor in case of such an event — finds himself promoted to leader of the free world. Suddenly thrust into his new position of power, Kirkman struggles to keep the country from dissolving into chaos and must adjust to his new normal, unaware of what fresh horrors may await the United States.
RANCH
Colt, played by Ashton Kutcher, returns home to his family's ranch in Colorado after his semi-pro football career ends in failure. Colt plans to run the ranching business with his older brother, Rooster, and his father, Beau, whom he hasn't seen in 15 years. In addition to proving himself to his father and navigating family dynamics, Colt is torn between his current girlfriend and his high school sweetheart, Abby, when she expresses doubts about her fiance.
What do you recommend to watch?