We arrive back home late tomorrow from our big trip to America and I'm exhausted!!  We'll see the family for Christmas and we all plan to sit, relax and binge watch TV over the days following!  I've compiled a list of some totally bingeworthy shows to watch over the Christmas break! Hope this inspires you to sit down and take some time out for yourself too!!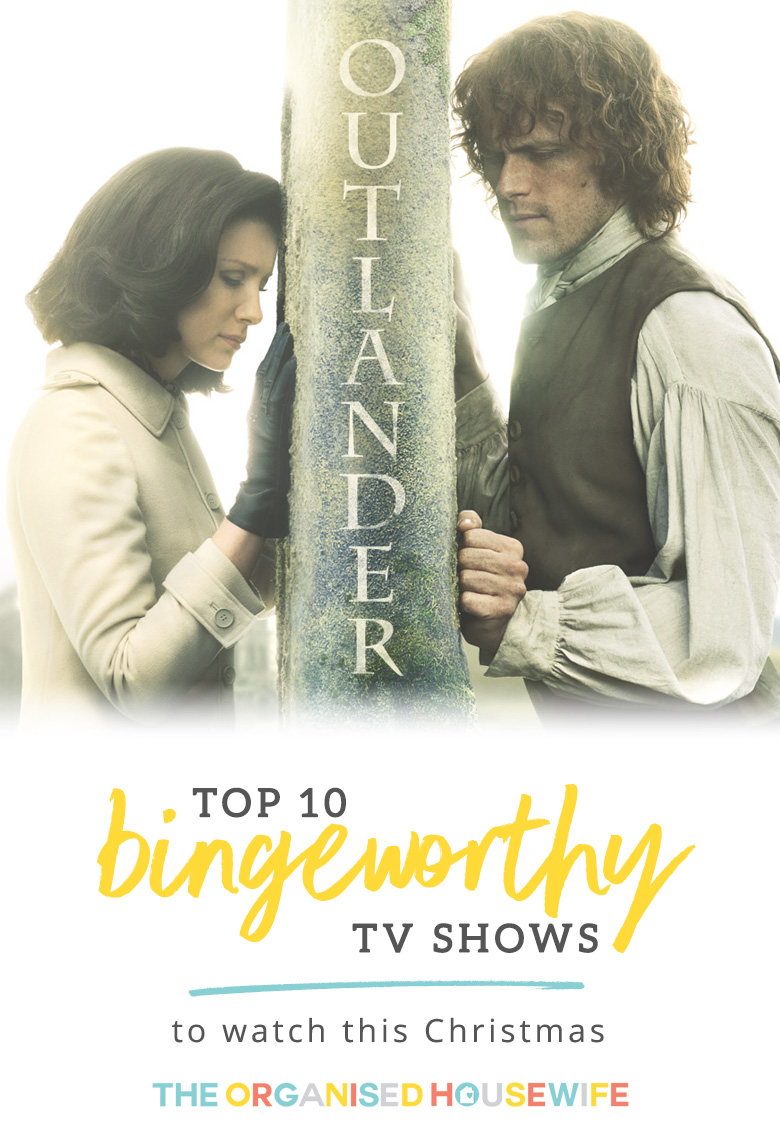 Outlander
  latest season 3 available on Fetch. 

A married combat nurse from 1945 is mysteriously swept back to 1743 and thrown into the middle of the Scottish rebellion against the British army. Forced by circumstance to marry an outlawed Highlander, she finds herself falling in love and torn between her loyalties to two men in different centuries.
The Sinner
  season 1 available on Netflix
When a young mother inexplicably stabs a stranger to death, a sympathetic detective struggles to unlock the mystery buried in her missing memories.
Stranger Things
  2 seasons available on Netflix
When a young boy vanishes, a small town uncovers a mystery involving secret experiments, terrifying supernatural forces and one strange little girl.
Liar
  season 1 available on Fetch.
"Liar," a six-episode taut psychological thriller, introduces Laura Nielson a bright and dedicated teacher, and Andrew Earlham, a renowned surgeon whose son is a student at Laura's school. After a seemingly innocent date, a series of volatile accusations capsize their lives. Secrets and lies slowly unravel in a tense and gripping series where everyone is lying in some way until the truth ultimately reveals itself.
The Good Place
  2 seasons available on Netflix
Due to an error, self-absorbed Eleanor Shellstrop arrives at the Good Place after her death. Determined to stay, she tries to become a better person.
The Crown
  season 1 available on Netflix
This drama follows the political rivalries and romance of Queen Elizabeth II's reign and the events that shaped the second half of the 20th century.
The Good Doctor
  ongoing season 1 available on Fetch.
Shaun Murphy, a young surgeon with autism and savant syndrome, relocates from a quiet country life to join a prestigious hospital's surgical unit. Alone in the world and unable to personally connect with those around him, Shaun uses his extraordinary medical gifts to save lives and challenge the skepticism of his colleagues.
Riverdale
  ongoing season 2 available on Netflix.
While navigating the troubled waters of sex, romance, school and family, teen Archie and his gang become entangled in a dark Riverdale mystery.
Handmaids Tale
  season 1 available on Fetch.
The drama series, based on the award-winning, best-selling novel by Margaret Atwood, is the story of life in the dystopia of Gilead, a totalitarian society in what was formerly part of the United States. Facing environmental disasters and a plunging birthrate, Gilead is ruled by a twisted fundamentalism regime that treats women as property of the state. As one of the few remaining fertile women, Offred is a Handmaid in the Commander's household, one of the caste of women forced into sexual servitude as a last desperate attempt to repopulate a devastated world. In this terrifying society where one wrong word could end her life, Offred navigates between Commanders, their cruel Wives, domestic Marthas, and her fellow Handmaids — where anyone could be a spy for Gilead — all with one goal: to survive and find the daughter that was taken from her.
Scandal
  ongoing season 7 available on Fetch.
Everyone has secrets and Olivia Pope has dedicated her life to protecting and defending the public images of the nation's elite by keeping those secrets under wraps. Pope's team are at the top of their game when it comes to getting the job done for their clients, but it becomes apparent that these "gladiators in suits" who specialize in fixing the lives of other people, have trouble fixing those closest at hand, their own.
What's your top pick TV shows to binge watch?