Looking for some new Netflix shows to stream over the upcoming long weekend? Some suggestions of what you can watch on Netflix over the Easter break.
The long weekend is just around the corner, and you might be looking for something on the TV to sit down and watch, or even binge!  Have a look at the suggestions below for some ideas on a new show to stream. There's a mix of all types of tv shows, from the latest releases to some older shows. I hope you find something to keep you entertained!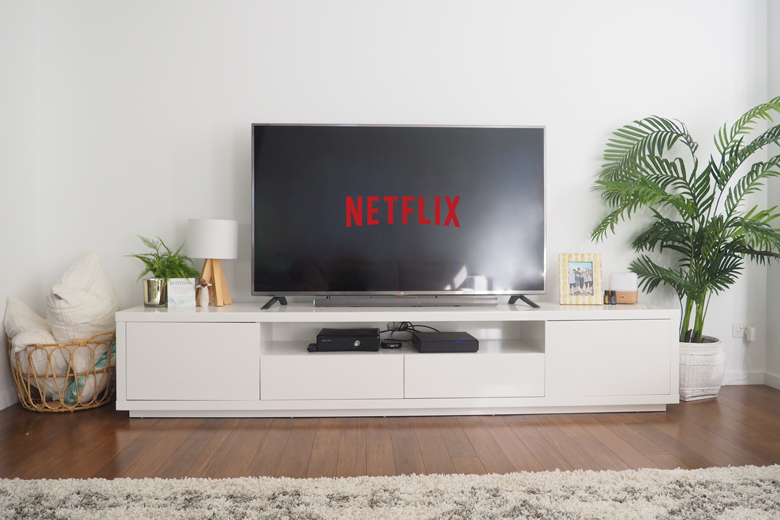 Behind Her Eyes – A single mother enters a world of twisted mind games when she begins an affair with her psychiatrist boss while secretly befriending his mysterious wife.
  Watch Behind Her Eyes now on Netflix.
The Irregulars – A crew of misfits investigates a series of supernatural crimes in Victorian London for Dr. Watson and his shadowy associate, Sherlock Holmes.
  Watch The Irregulars now on Netflix.
Ginny and Georgia – Free-spirited Georgia and her two kids, Ginny and Austin, move north in search of a fresh start but find that the road to new beginnings can be bumpy. Think Gilmore Girls but dark and grittier.
  Watch Ginny and Georgia now on Netflix.
The One – Love — and lies — spiral when a DNA researcher helps discover a way to find the perfect partner, and creates a bold new matchmaking service.
  Watch The One now on Netflix.
Firefly Lane – Best friends Tully and Kate support each other through good times and bad with an unbreakable bond that carries them from their teens to their 40s.
  Watch Firefly Lane now on Netflix.
The Spy – THE SPY, starring Sacha Baron Cohen, is inspired by the real-life story of former notorious Mossad agent, Eli Cohen, who successfully goes undercover in Syria and ultimately changed the course of Israel's history.
  Watch The Spy now on Netflix.
Country Comfort – After hitting the skids in her career, an aspiring country singer finds new life as a nanny for a handsome widower and his five charming children.
  Watch Country Comfort now on Netflix.
Dirty John –When love becomes twisted, and trust turns into manipulation, anything can happen — including murder — in this true-crime anthology series.
  Watch Dirty John (Seasons 1-2) now on Netflix.
Tiny Pretty Things – When an attack brings down the star student at an elite ballet school, her replacement enters a world of lies, betrayal — and cutthroat competition.
  Watch Tiny Pretty Things now on Netflix.
Bridgerton –Set in Regency London, the eight close-knit siblings of the Bridgerton family look for love and happiness in London high society. Inspired by Julia Quinn's bestselling novels. If you haven't watched this one yet, I highly recommend it!
  Watch Bridgerton now on Netflix.
Cursed – A reimagining of the Arthurian legend told from the perspective of Nimue. The young rebel is armed with mysterious powers and a legendary sword, and must joins forces with charming mercenary Arthur on a mission to save her people.
  Watch Cursed now on Netflix.
Operation Varsity Blues: The College Admissions Scandal – A documentary investigating the mastermind behind a scam to get the kids of rich and famous families into top US universities. Reenactments of key events really bring it to life.
  Watch Operation Varsity Blues now on Netflix.

The Queen's Gambit –In a 1950s orphanage, a young girl reveals an astonishing talent for chess and begins an unlikely journey to stardom while grappling with addiction.
  Watch The Queen's Gambit now on Netflix.

Marriage or Mortgage – A wedding planner and a real estate agent compete to win the hearts and budgets of spouses-to-be. Will they pick fairy-tale nuptials or a dream home? Married or single, we've all heard it. "You could buy a house for the price of that wedding!" Real life couples try to make that choice.
  Watch Marriage or Mortgage now on Netflix.
Cobra Kai –Decades after the tournament that changed their lives, the rivalry between Johnny and Daniel reignites in this sequel to the "Karate Kid" films. This is must watch for fans of the movies as the original actors reprise their roles.
  Watch Cobra Kai (Seasons 1-3) now on Netflix.
Superstore – A laugh out loud comedy seriesAt a big-box megastore in St. Louis, a group of employees with larger-than-life personalities put up with customers, day-to-day duties and each other. Starring America Ferrera.
  Watch Superstore (Seasons 1-5) now on Netflix.
Emily in Paris – After landing her dream job in Paris, Chicago marketing exec Emily Cooper embraces her adventurous new life while juggling work, friends and romance.
  Watch Emily in Paris now on Netflix.
Lupin –As a teenager, Assane Diop's life was turned upside down when his father died after being accused of a crime he didn't commit. 25 years later, Assane will use "Arsène Lupin, Gentleman Burglar" as his inspiration to avenge his father.
  Watch Lupin now on Netflix.
Ozark – A financial adviser drags his family from Chicago to the Missouri Ozarks, where he must launder $500 million in five years to appease a drug boss.
  Watch Ozark (Seasons 1-3) now on Netflix.
Peaky Blinders – A notorious gang in 1919 Birmingham, England, is led by the fierce Tommy Shelby, a crime boss set on moving up in the world no matter the cost.
  Watch Peaky Blinders (Seasons 1-5) now on Netflix.
Living with Yourself – Miles Elliott, a man struggling in life, undergoes a novel spa treatment that promises to make him a better person, only to learn he's been replaced – literally – by a better version of himself.
  Watch Living with Yourself now on Netflix.
Queen of the South – Teresa flees Mexico after her drug-runner boyfriend is murdered. Settling in Dallas she looks to become the country's reigning drug smuggler and to avenge her lover's murder.
  Watch Queen of the South (Seasons 1-3) now on Netflix.
Virgin River – Searching for a fresh start, a nurse practitioner moves from LA to a remote northern California town and is surprised by what — and who — she finds.
  Watch Virgin River (Seasons 1-2) now on Netflix.
Dead to Me –A hotheaded widow searching for the hit-and-run driver who mowed down her husband befriends an eccentric optimist who isn't quite what she seems.
  Watch Dead to Me (Seasons 1-2) now on Netflix.
Witcher – Geralt of Rivia, a mutated monster-hunter for hire, journeys toward his destiny in a turbulent world where people often prove more wicked than beasts.
  Watch Witcher now on Netflix.
Russian Doll –Nadia keeps dying and reliving her 36th birthday party. She's trapped in a surreal time loop — and staring down the barrel of her own mortality.
  Watch Russian Doll now on Netflix.
Fate the Winx Saga – Determined to master their enchanting powers, a group of teens navigate rivalry, romance and supernatural studies at Alfea, a magical boarding school.
  Watch Fate the Winx Saga now on Netflix.
The Crown – This drama follows the political rivalries and romance of Queen Elizabeth II's reign and the events that shaped the second half of the 20th century.
  Watch Crown (Seasons 1-4) now on Netflix.

Lucifer – Bored with being the Lord of Hell, the devil relocates to Los Angeles, where he opens a nightclub and forms a connection with a homicide detective.
  Watch Lucifer (Seasons 1-5) now on Netflix.

Outlander – Outlander follows the story of Claire Randall, a married combat nurse, who, in 1946, is mysteriously swept back in time to 1743, and immediately thrown into an unknown world where her life is threatened. When she is forced to marry Jamie, a chivalrous and romantic young Scottish warrior, a passionate affair is ignited that splits Claire's heart between two vastly different men in two irreconcilable lives.
  Watch Outlander (Seasons 1-5) now on Netflix.

Brooklyn Nine-Nine –Brilliant but immature Brooklyn detective Jake Peralta must learn to follow the rules and be a team player when his squad gets an exacting new captain.
  Watch Brooklyn Nine-Nine (Seasons 1-7) now on Netflix.

IF YOU WANT MORE SUGGESTIONS:
Must Watch Netflix TV Shows – more binge-worthy TV series to keep you entertained. Check them out here.
60 Best Chick Flicks To Watch – Feel good movies to sit down and watch. Check out all these chick flicks here.
WANT EVEN MORE? If that's still not enough, check out these Netflix shows to watch here.
What is the best show you have watched lately?
---
Pin this image below to Pinterest!