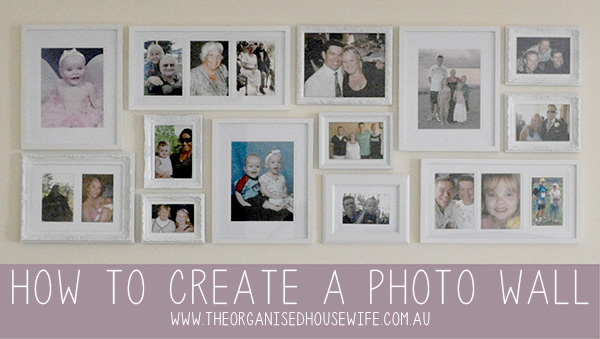 I have always wanted to create a photo wall in our home.  I much prefer to have photo's on the wall rather than framed on a hutch or side table, purely for the fact that it make it so much easier to dust. It's taken me a while to put up the photo wall because I procrastinated too much about it with the following options:
matching frames, all same colour and style

mismatched frames
different coloured frames
the sizes of the photo's
the shape of the frames together
I was considering having all matching frames but I wondered how I would go in a few years time when I wanted to change it and if those frames were no longer available. So in the end I decided to create a photo wall using white mismatched frames.  I loved this idea because I was able to spray paint a frame that was given to my by my grandmother to include on the wall. There are some beautiful walls I have seen with frames randomly placed on the wall, but I wanted it to look neat and tidy and the end result all the frames to be within a rectangle.
Steps to creating a photo wall:
I keep all my photo's on my computer, have not had any printed for years.  I went through and found the pictures that I wanted and copied them into a folder named 'photo wall'. Write a short description of each photo on a post it note per photo
Determine which photo's to be more prominent in the display.  This is a good starting point, first get the large prominent frames then purchase all other smaller frames to fit around
Lay out the frames on the floor and play around until you are happy with the placement
Place post it notes onto frames to determine which photo you want to display in which frame
You will then know from which photo you have in which frame the size you need printed
I sent all my images through to a local online photo printing shop, which then allow me to pick them up a few hours later.
Place photos in frames
Put 3M picture hanging strips on the back of each frame and leave overnight to ensure that they have secured well, remembering to put frame back in the correct position on the floor.  I prefer to use the strips instead of nails because I change my mind a lot so it's easier to take the strips off the wall and move to a different place without damaging the walls
Measure the length of the frames that are laid out to determine where to start hanging them on the wall
Use a leveller to ensure that your frames are displayed straight
You may need to remove the stand from the back of some picture frames so it sits flush against the wall.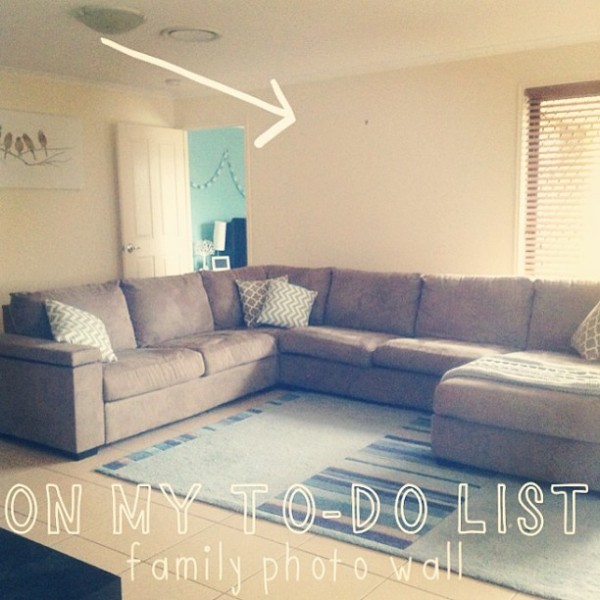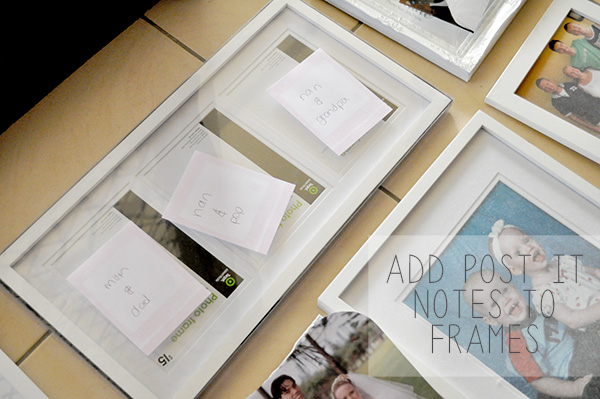 lay out on floor to determine frame placement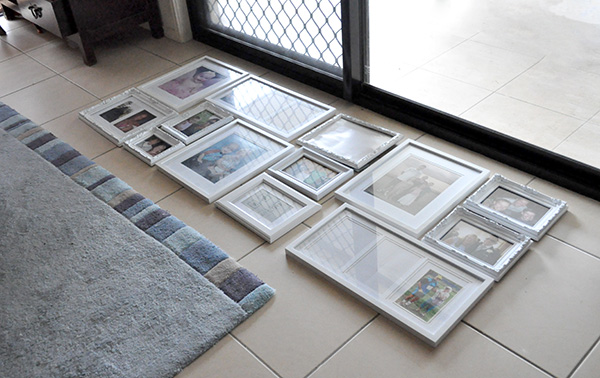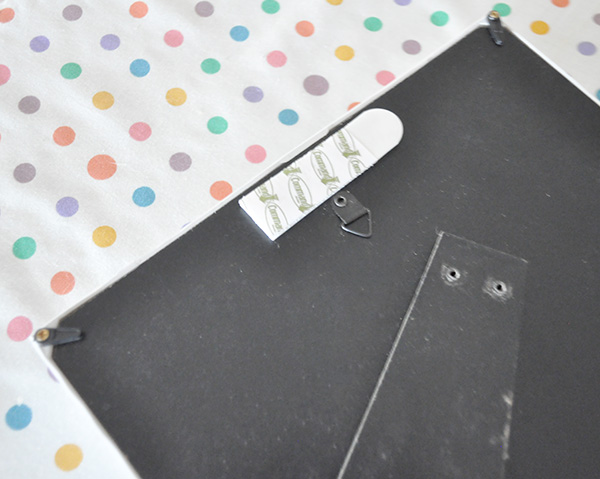 It's a good idea to have helpers, I was master delegator!!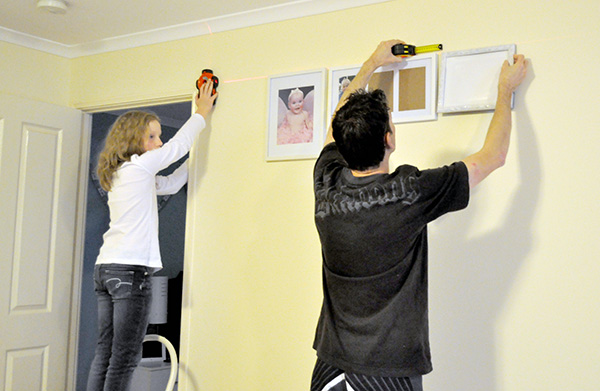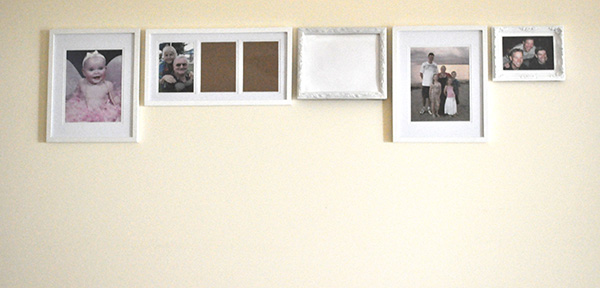 We worked our way around the outside and then finished with adding frames into the middle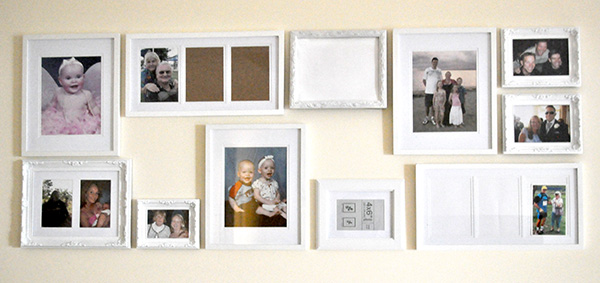 It ended up a little higher on the wall than I would of liked…. but in the end this was a good thing as the kids play behind the couch so the frames are high enough that they won't brush against them.  It also allows room in the future for me to add another 2 or so rows to the bottom.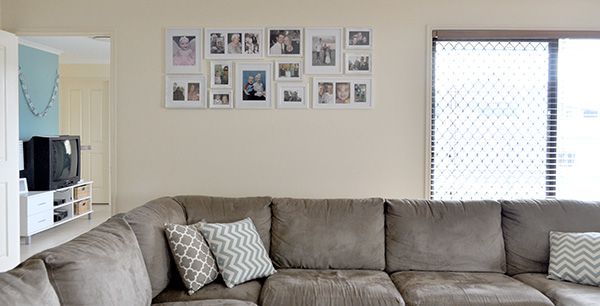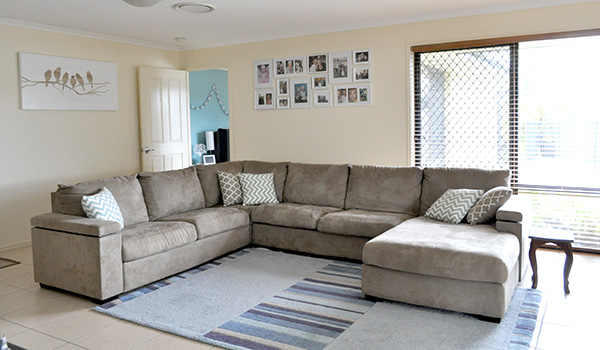 I love that I can see the picture wall when standing in the kitchen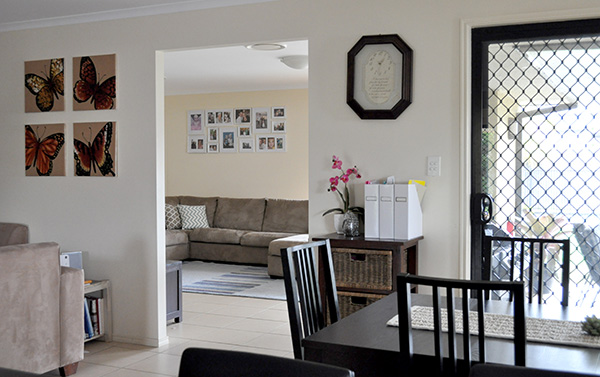 Do you have a family photo wall?