Next week is a long weekend here in QLD, I'm going to be super busy, but I know so many who like to relax at home and catch up on some of their favourite Netflix or TV shows.  There are quite a few new shows out at the moment that you may enjoy, from comedy and romance to destruction and doom, here are a few tv shows to binge watch as recommended by the community!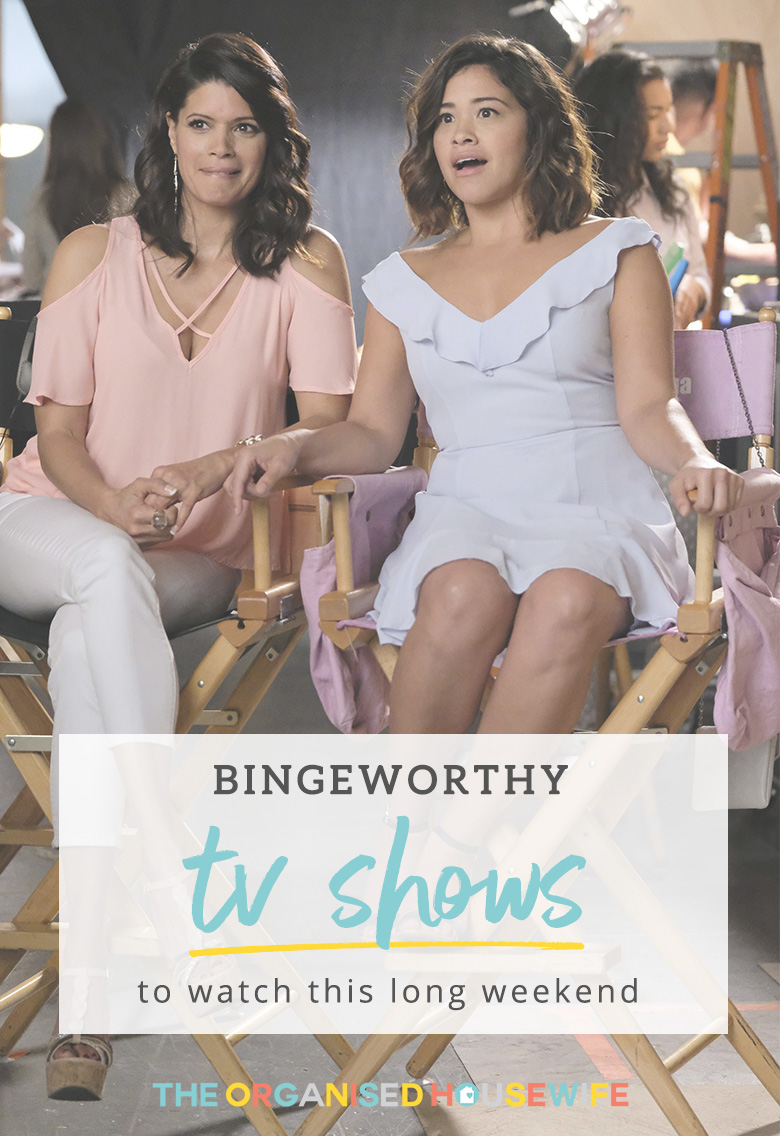 Find my previous suggestions binge-worthy TV show suggestions here.
OUTLANDER
 seasons 1-3 now available on Netflix.
Season 3 of Outlander picks up right after Claire travels through the stones to return to her life in 1948. Now pregnant, she struggles with the fallout of her sudden reappearance and its effect on her marriage to her first husband, Frank. Meanwhile, in the 18th century, Jamie suffers from the aftermath of his doomed last stand at the historic battle of Culloden, as well as the loss of Claire.
THE SINNER
 season 2, ongoing, available on Fetch.
"The Sinner" returns for Season 2 with Detective Harry Ambrose (Bill Pullman) called back to his hometown in rural New York to investigate a disturbing double homicide: parents murdered by their 11-year-old son (Elisha Henig) with no apparent motive.
JANE THE VIRGIN
 seasons 1-5 now available on Netflix.
Jane Villanueva is studying to be a teacher, and she is engaged to a handsome detective who supports her decision to remain a virgin until marriage, but a routine visit to the clinic turns her life upside down. Inseminated by a specimen meant for a patient in the next room, Jane is in a situation made only more insane when she learns that the sperm donor is her boss, Rafael. As her meticulously planned life gets more like the telenovelas she loves, she faces a lot of complicated decisions about the future. With 5 seasons, Jane the Virgin is the perfect tv show to binge watch!
ANIMAL KINGDOM
 seasons 1-3 available on Netflix.
I've just started watching this series because the community recommended it, I'm really enjoying it!!  The series centres on 17-year-old Joshua "J" Cody, who moves in with his freewheeling relatives in their Southern California beach town after his mother dies of a heroin overdose. Headed by boot-tough matriarch Janine and her right-hand Baz, who runs the business and calls the shots, the clan also consists of Pope, the oldest and most dangerous of the Cody boys; Craig, the tough and fearless middle son; and Deran, the troubled, suspicious "baby" of the family.
 season 2, ongoing, available on Fetch.
In 1667, 28-year-old all-powerful king of France, Louis XIV, decides to build the greatest palace in the world – Versailles. But the drained budget, affairs and political intrigues complicate things.
BROOKLYN NINE-NINE
 seasons 1-5 available on Netflix.
Detective Jake Peralta is a good enough cop that he's never had to work that hard or follow the rules too closely. Perhaps because he has the best arrest record among his colleagues, he's been enabled – if not indulged – throughout his entire career. That is until the precinct gets a new commanding officer, Captain Ray Holt, who reminds this hotshot cop to respect the badge.
JAMESTOWN
 season 1, ongoing, available on Fetch.
This is the epic story of the first British settlers laying down the foundations for a New World and the start of the American dream. Jamestown is the tale of these pioneers as they establish a community whilst battling against the magnificent but inhospitable wilderness.
MILLION POUND MENU
 season 1 available on Netflix.
Next-gen restaurateurs get the chance to open their own pop-up eateries to impress the paying public – and a panel of discerning U.K. investors.
THE GOOD WIFE
 seasons 1-6 available on Netflix.
Alicia has been a good wife to her husband, a former state's attorney. After a very humiliating sex and corruption scandal, he is behind bars. She must now provide for her family and returns to work as a litigator in a law firm. What more can you ask for than 6 seasons to binge watch??
GREAT NEWS
 season 1 available on Netflix.
Every workplace is a family. But for Katie, a producer at cable news network MMN, it goes one step further when her mom, Carol, is hired as an intern. That's just scratching the surface of this slightly offbeat team. They may be a little dysfunctional, but that won't stop them from doing what they do best: breaking the news.
What is your favourite bingeworthy tv show?