It's May already, how did that happen? I'm sorry this let's get organised post is a little late, I have been really busy with the 20 Day's to Organise and Clean your Home Challenge.  With so many signed up for the next round and making a start on the pre-challenge tasks, it's so much fun I enjoy this time helping others.  One member has said that just the pre-challenge tasks have made such a big difference and given her more clarity about systems in her home. Registration for the challenge closes this Sunday, it's not too late to join the challenge.
Take all those good intentions and funnel them into actions.  Carve out whatever free time you can, even if it's just minutes every other day and commit to making one of the biggest changes to your family's home life that you can!

---
Let's get organised in April
When I first started the blog I used to share a monthly planning post, which used to coincide with a daily task at the beginning of each month.  At the beginning of each month I give you in my daily newsletter and on my facebook page  the task to "Prepare for the month ahead". Sounds easy, but what shall we plan?
Personally, by sharing this post each month it will be a great time for me to let you know how I am going, I love the accountability I have with you all!!
Accountability – April to-do list
I must admit I didn't achieve very much at all in April.  I was off my leg for 10 days (a lot longer than I expected) after getting my Melanoma removed, that drove me batty, I don't do sitting and doing nothing very well at all, you can only watch so much TV.  Then when I was finally able to walk I hobbled and it was awkward.  But thankfully I am all back to normal and they got it all out, nasty little thing! My tasks for last month were:
organise a dinner date with my hubby – yes I did this and had a really lovely night out just the 2 of us!  It's so important to do this as much as you can, to reconnect, talk without little ears listening and gives you an opportunity to relax.
continuing to look after my health – I am putting me first, I have been saying no to a lot of things, work and personal, that are adding extra pressure and anxiety.  I am also continuing to eat healthy too.
write more of my moving posts for you – I did achieve this but loads more are coming soon!
plan the next round of the 20 Days to organise and clean your home challenge – check!!!
my laundry and pantry are driving me crazy, look into better storage solutions – this was my goal in April sadly as I was off my feet for so long I didn't get the time, it's currently a work in progress.
May to-do list
This is my list of goals I want to achieve this month:
organise my pantry
organise my sons bedroom
find window coverings for my lounge room before it starts getting too cold
plan a holiday, even if it is just a few days away
organise a coffee or dinner with some friends
We were hoping to go to America in the June school holidays but I got so busy with the challenge I didn't have the time to properly confirm our itinerary and now it's just getting too late and I don't want to rush it.
May 2016 Monthly planner page
I've created a printable, as I do, the May 2016 Monthly planner page to help you organise your goals for the month. It has a little quote for some inspiration for you:
the best and most beautiful thngs in the world cannot be see or even touched, they must be felt with the heart ~ Helen Keller
Click here to download – sorry this content is no longer available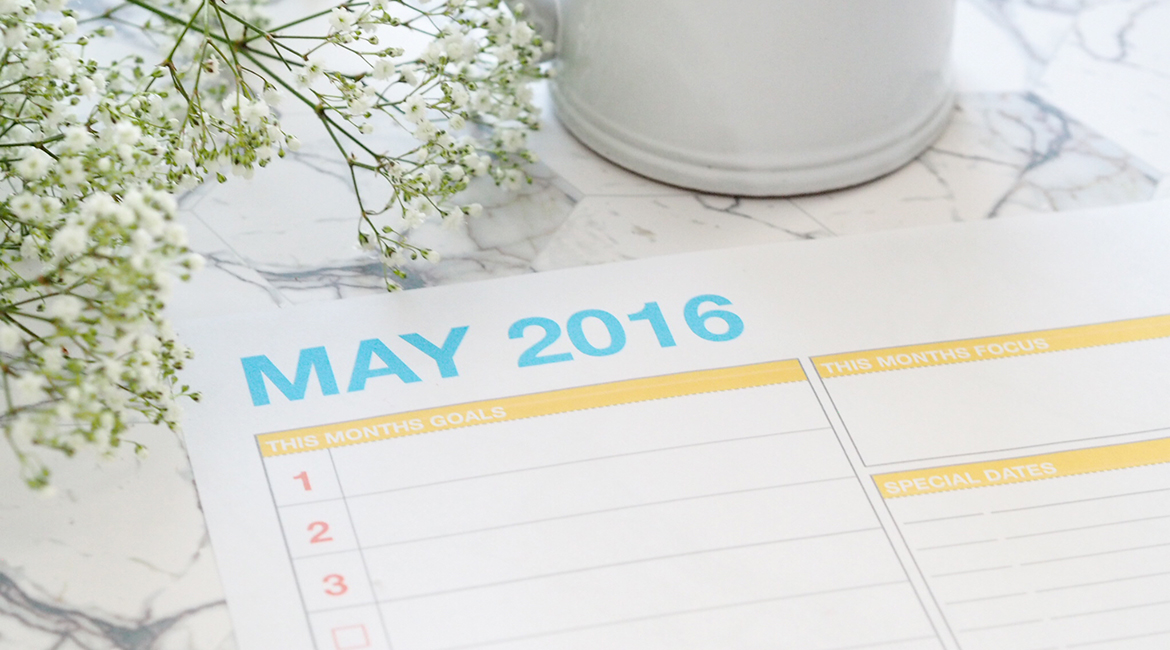 Free Monthly Calendar
Use the 2016 free monthly calendar, Weekly Planner or Daily Planner to help you plan your days through the month.
Plan your month
Ideas to add the following to your calendar:
Birthdays & Anniversaries
Holidays
Public Holidays, find dates here
School term start and end dates here
Pupil free school days
School events, discos, fun days
If family/friends are coming to stay
Business trips
Hairdresser/beauty appointments

 

Dentist checkups
Health checkups
Time to sit down and meal plan
Plan an upcoming holiday
Immunisation for kids and pets
Time out for YOU!
Date night
Girls night out
Family fun day
May Birthstone is: Emerald
---
What goals do you have this month, personally or around the home? Share them with me in the comments.
How did you go with your goals last month?
---