Cleaning dirty clothes doesn't have to be one of those jobs you dread doing.  It can be a very quick task if you create and streamline a laundry routine, soon it becomes a habit and only takes a matter of minutes each day to keep on top of. I have a laundry routine where I wash certain items each day, and it's a good reminder to make sure we always have fresh linens and the kids have clean uniforms.  Quite a few of my lovely readers shared with me their tips and laundry routines, which is fabulous, you can read through them and create something that suits your household.
You may like to read:
One great tip to save time is to hang clothes on the line on the coat hangers to avoid ironing!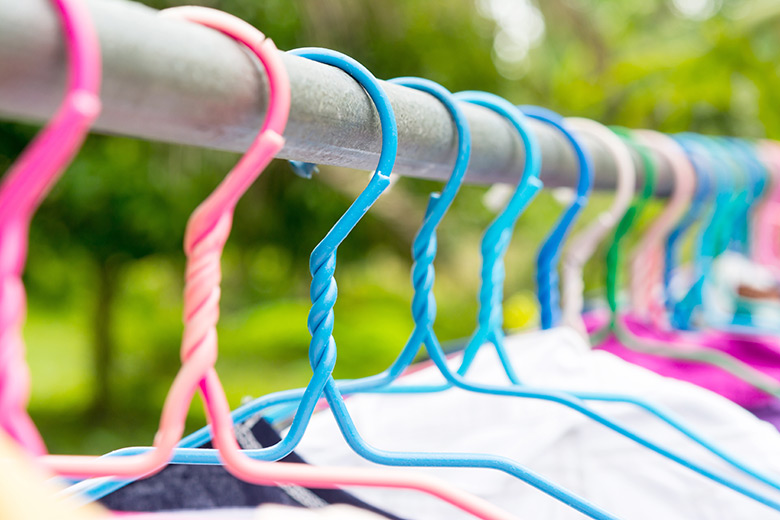 Our kids are tweens, and I figured if they can use a computer, they can use a washing machine. Our week has days delegated to people. Youngest child's wash days are Monday and Thursday, eldest child are Tuesday and Friday. Wednesday and weekends are parent use. One their wash days the kids take their load (which is pretty small being twice a week, unless dressing gowns etc are in it) put it on as soon as they get up in the morning so there's time for them to hang it up. I use a washing line, but the kids have a clothes horse for theirs which gets put outside in the sun.?Home from school and fold in-situ – put away. EASY! They must clear their washing away as the next person is waiting for the clotheshorse the next day.
Letting them do this has made a significant dent in my workload, and is teaching them valuable skills. They actually do a very good job overall, just need a bit of help with some of the folding for some items.
Nathalie
I have built two cabinets that each hold 4 laundry baskets each child has one each, one each for me and hubby and one for towels, one for bedding. It's all next to the washing machine/dryer and near the line too. Everything comes in and gets sorted straight away into baskets. The kids unload their baskets once a week and know that if they are looking for something specific it will be in there or their wardrobe. I'm also teaching them to fold neatly into their drawers so the don't just screw everything up – I NEVER iron btw – hubby do s his shirts and eldest does her uniform blouses.
Samantha
On my laundry bench, I use 5 old stacking baskets, plus a large basket for household items (e.g. tea towels, bath towels etc) works well. Although my kids still whinge and moan and it takes me tonnes of nagging for them to take their basket, fold and put clothes away.
Kate
I take the clothes of the line with the baskets for each child then I put the basket in their room for them to do.
Lanette Crewes
Love the tip on sorting dirty washing. Currently, I have one big basket and always hide my handwashing so hubby doesn't throw into the wash! I too always use the delay setting, so it either comes on early morning or late afternoon as I'm not a fan of wet washing sitting in the machine for hours
Mali
---
HOW TO CREATE A LAUNDRY SCHEDULE
Unfortunately, washing is one of those tedious jobs that is never-ending, you think you have found the bottom of the pile, but the next day it's back! Having a laundry schedule will help you stay in control of your dirty laundry piles. This helps me to make sure the kids always have clean school uniforms. Read more about my laundry schedule here.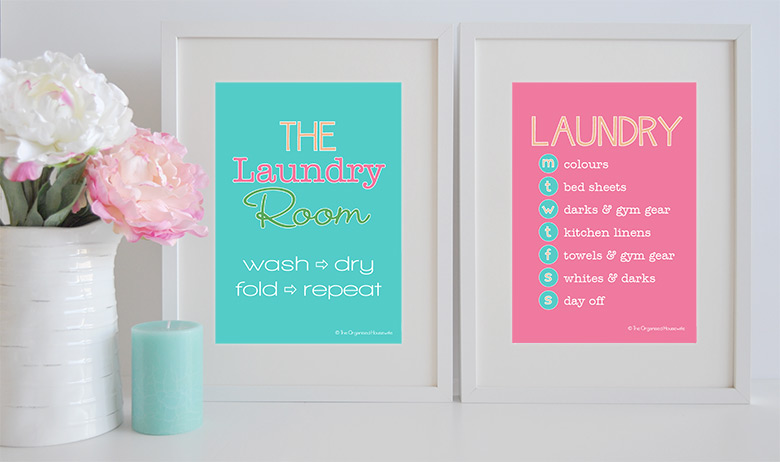 SHOP: Laundry Schedule Printables
---
Ive been doing this for years. Ive got 3 baskets (one for each kid and one for me and hubby to share) and lay them out under my line and as i take the washing off the line i put it in the right persons basket then take it straight to the right bedroom and put it away. My kids are 2 and 5 so not fully ready to put it all away on their own. 5 year old tries. It saves me so much time in double handling, and baskets are only a few dollars each so it isnt breaking the bank.
Samantha
My washing goes from line to lounge room. Must be folded when watching tv at night if i didnt do it on my bed during the day. No piles or backlogs in this house. Other stuff might get behind but not the washing.
Carla
I only have 3 kids at home now (used to be 8) and I don't have a laundry schedule as such. I do 2-3 loads every day because I like to keep on top of it. I have a shelving unit in my laundry with a basket for each person and I also have a hanging rail 3 metres long in my laundry to hang wet clothes when it's raining.
Lauren
My kids are littler, but we do something similar. My husband and I do our best to get all the loads of laundry done throughout the week with no particular schedule. On Sunday's, we move the mountain of laundry in the spare room to the floor of the lounge room. My kids (3 & 5) then help to sort the laundry into 5 baskets. One for each member of the family and one towels and sheets. It is a bit of a game. They then help me to fold, usually doing their undies. And finally help me to put them away. So great to have them involved and it makes a tedious chore more fun.
Melinda
I do my washing through the week as I hate spending my weekends in the laundry. Mr 8 HATES putting his clothes away so to avoid arguments and frustration I fold and store them on top of the front loader until Sunday, when he puts them all away. I have to admit I've started doing the same with my own clothes!
Lani
Hang shirts and T-shirts on hangers on line. Try to hang likes together, e.g. Undies, socks, shorts, etc. Fold everything straight into basket. It might be a bit slower taking them off the line but saves time when sorting. Also clothes on hangers rarely need ironing, and folded clothes smooth out nicely too. The more you do it, the quicker you get, hahaha.
Angela
I have 5 tall but narrow baskets in my laundry,1-black,1-White,1-reds and pink, 1-blue and green and 1 for others each day I can quickly see what is looking like a full load so I can pop it in without sorting.
Kandi
I sort the washing into the basket, and hang it grouped by each person (I even colour-coordinate pegs, but let's not go there!). Then I fold it straight off the line into piles in the basket. If I have time I will put my boys' washing away for them, but if not I give them their pile and they do it. I should add, the piles are organised with top drawer items on the top down to bottom drawer items at the bottom!! I wash and hang out the washing on the undercover line at night, as I don't have time in the morning.
Karen
I take each persons washing off and take it to their space. Like the box idea cos hubby sux at putting his clothes away and dumps them on the floor if i dont get around to it.?I dont fold the kids clothes. Some is hung on hangers on the line while damp and then hung. The play clothes are sorted into wire draws.
Amber
What's your best trick to make this tedious task easier?