Easy tips to organise and declutter your crowded kitchen drawers, helping to make your kitchen as user-friendly as possible!
Disorganised kitchen drawers are a breeding ground for clutter! Like any space that lacks order, kitchen drawers become a dumping ground for stray and often unnecessary items. Now you can fix all that, with this easy step-by-step guide I have created to help you organise your kitchen drawers, and make your kitchen as efficient as possible.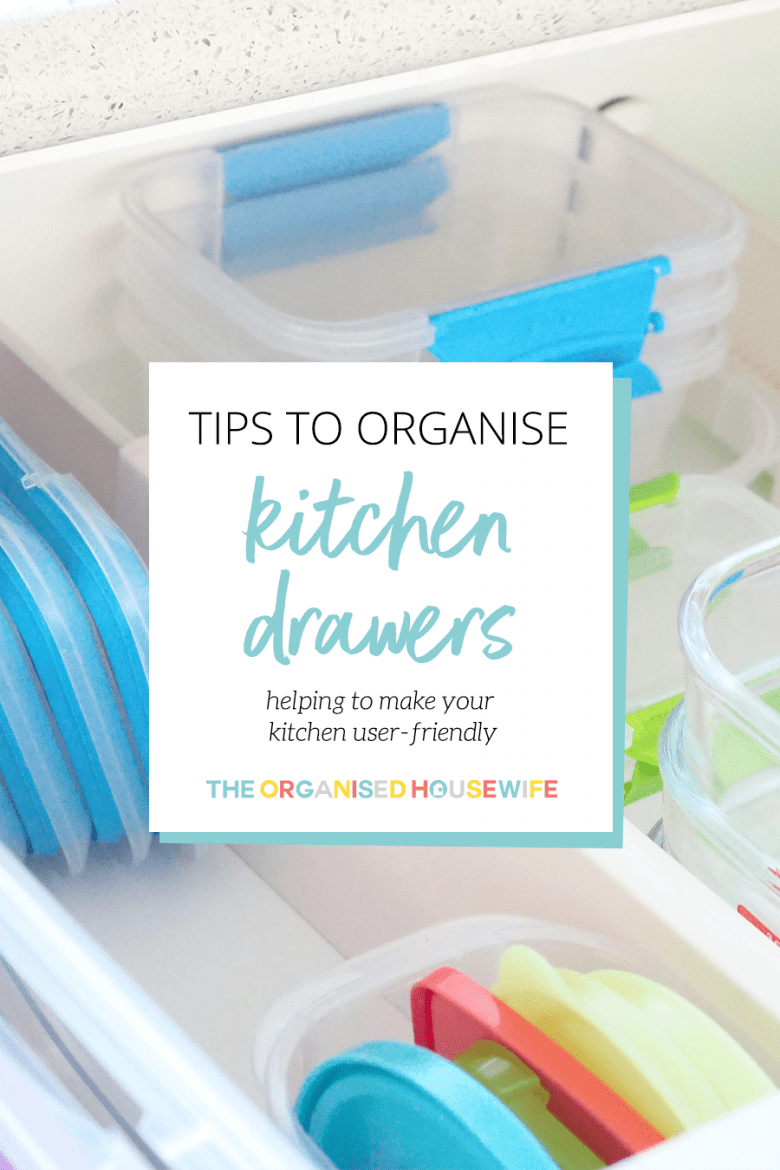 If you follow me on my socials you'll remember the very trendy glasses that I found in my utensil drawer when I was decluttering it last month. In my defence they were given to me years ago to help with chopping onions – but I never used them, and I never purged them either! Instead they stayed hidden in the back of my drawer serving no purpose other than to create more clutter. This brings me to my 4 steps to get you started.
STEP 1: REMOVE ALL ITEMS from your kitchen drawers and wipe each drawer clean.
STEP 2: GROUP LIKE ITEMS together – cutlery, gadgets, tea towels etc.
STEP 3: PURGE broken items or any that you've not used in the last 12 months.
STEP 4: CREATE ORDER by assessing your current drawer storage solutions, implementing new systems where needed, and by avoiding overcrowding your drawers. Keep reading for more tips on how to do just this.
Tips For Creating Order
When I purged the Elton John inspired onion cutting goggles that were kicking around in the back of my utensil drawer, I also implemented some pretty cool storage solutions that helped whip my kitchen drawers into order. Consider using some of these tips to keep your kitchen drawers neat and tidy.
EXPANDABLE DRAWER DIVIDERS
I am in love with these convenient and easy-to-use Expandable Drawer Dividers! They can be adjusted to fit almost any drawer, and unlike other dividers on the market they don't fall over as soon as one section is empty. I am now using them for most of my kitchen drawers – utensils, saucepans, tupperware – and even my underwear drawer in the bedroom! I am blown away with how much extra space these dividers have afforded me.
  SHOP THESE: Expandable Drawer Dividers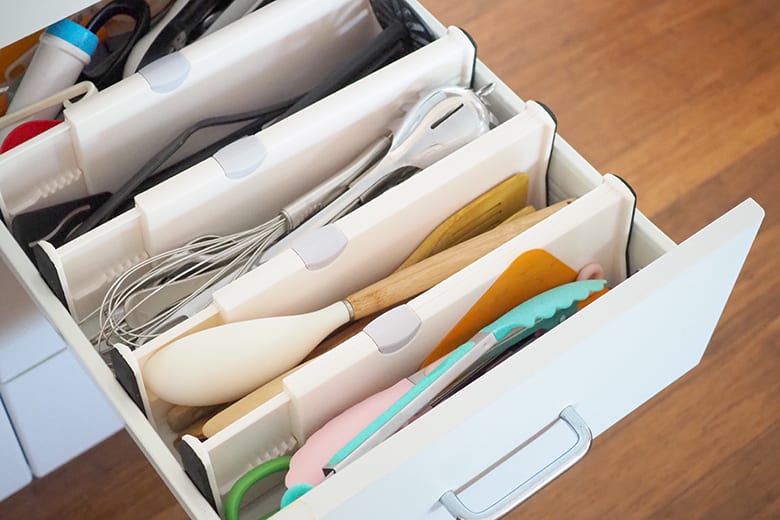 These dividers also allow me to easily seperate my tupperware bases from their lids – which makes my drawers heaps tidier! I like to buy plastic containers that are the same, so that all the lids are then interchangeable.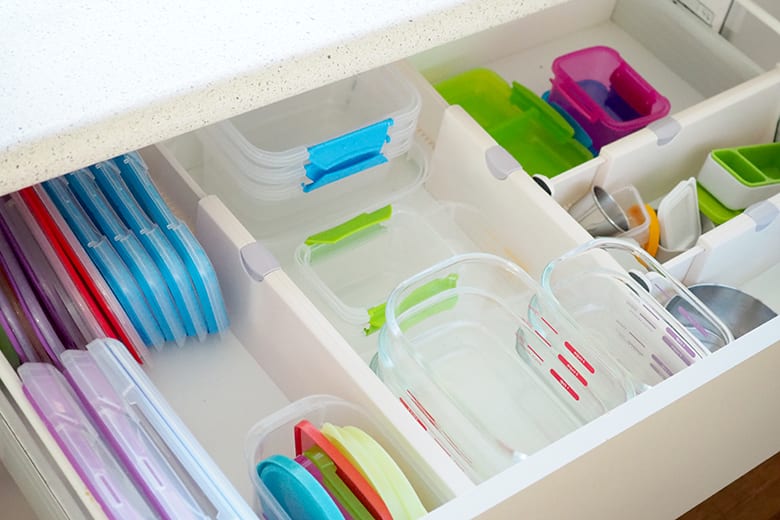 SHARP OBJECTS
If you have young children around it can be very unsafe to store sharp objects such as knives in drawers, especially if your children can access the drawers. Instead, store your knives in their own storage blocks. This also help to free up more space in your kitchen drawers.
UTENSIL HOLDER
We all have a few utensils that are on rapid rotation in our homes. Store these frequently used utensils, as well as your larger utensils, in a utensil holder on your kitchen bench instead of in your drawers. This will allow easy access while cooking whilst also helping to free up space in your kitchen drawers.
  SHOP THESE: handmade Concrete Utensil Holders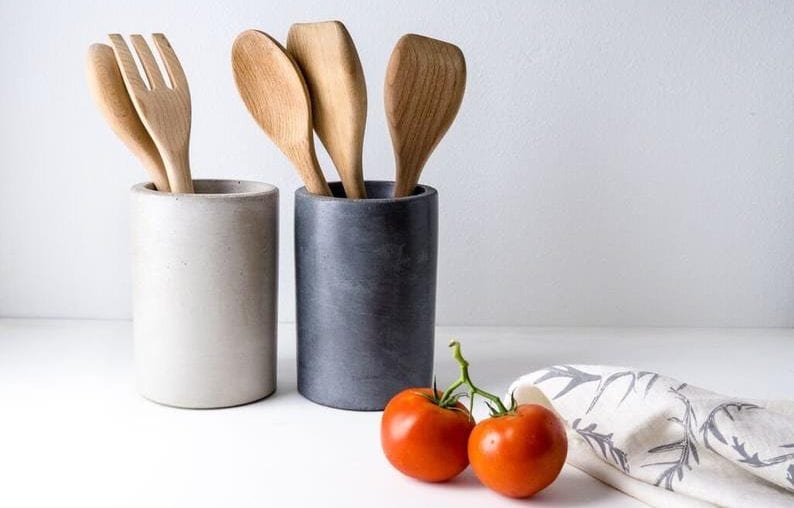 JUNK DRAWER
Try to avoid having a junk drawer. Whilst you may think it is convenient to add your 'miscellaneous stuff' to a drawer, it can quickly become a disaster zone. Remove all non-kitchen items from the kitchen and create a home for it elsewhere.
CHRISTMAS GADGETS
Store your Christmas baking items such as cookie cutters, cookbooks or baking tins with your Christmas decorations so they don't take up valuable space in your drawer. Let's be honest, it's unlikely they're going to do much more than gather dust and use up precious kitchen space for the other 11 months of the year.
  READ MORE: How To Organise Kitchen Cabinets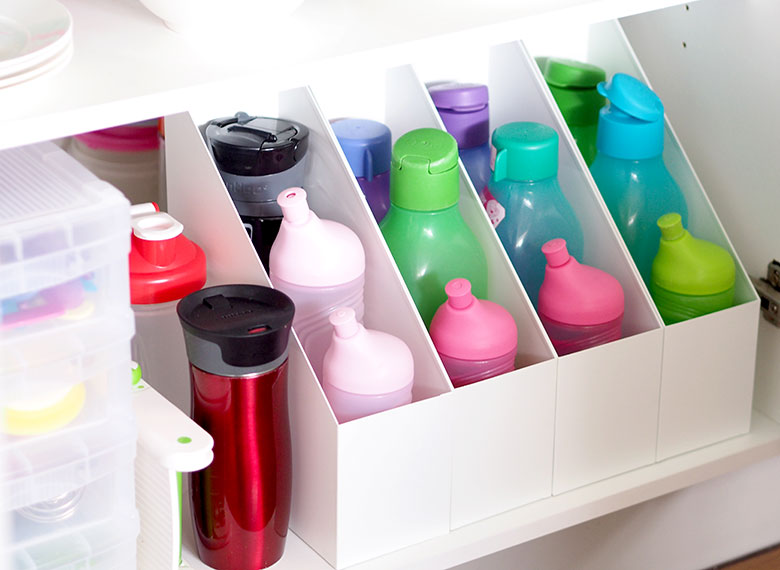 GET ORGANISED: with these Expandable Drawer Dividers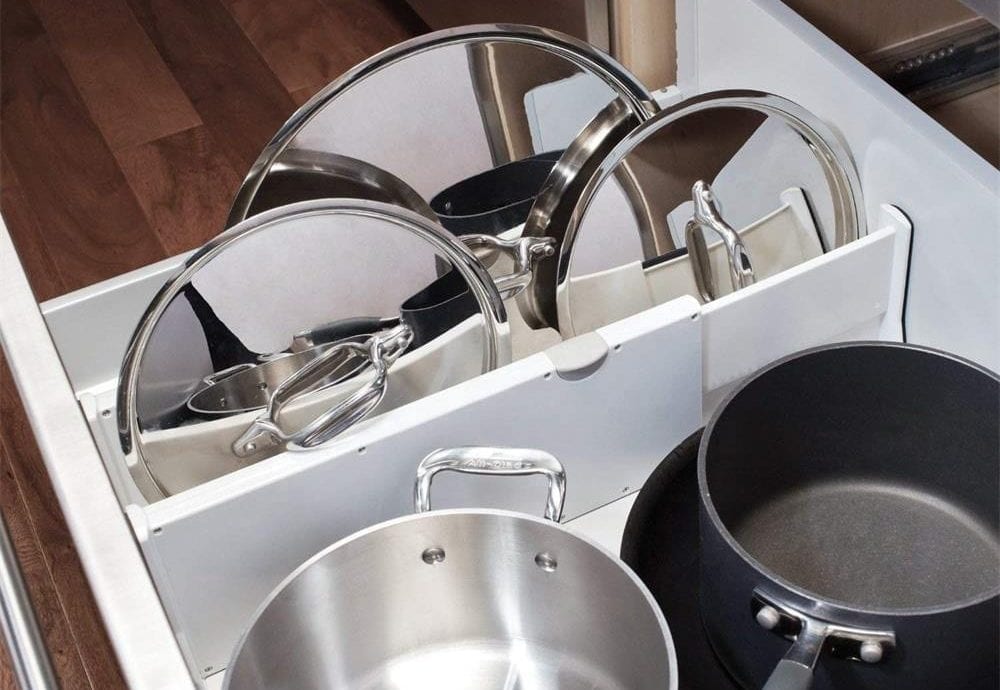 TIDY THE KITCHEN SINK: with this Sink Tidy
I like to keep mine under the kitchen sink when I'm not using it, but this sink tidy is great to keep all your cleaning items in regular use tidy and hygienic.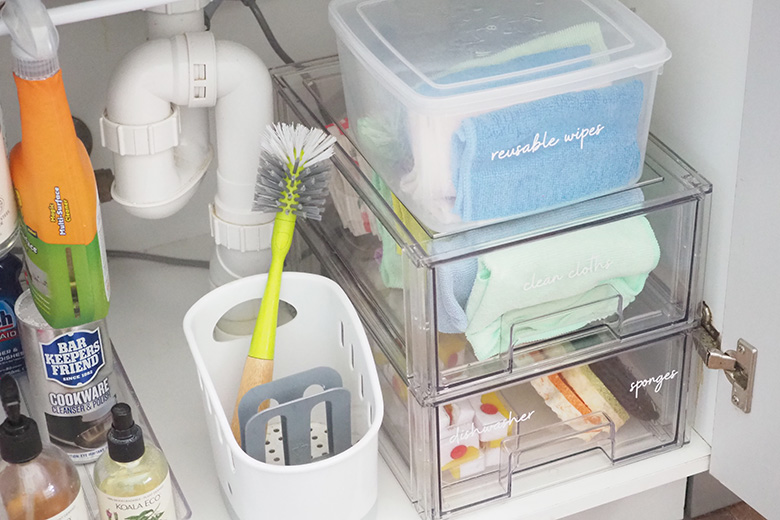 WHICH KITCHEN DRAWER GETS CLUTTERED IN YOUR HOME?