Organising small pantries can be hard, but all the space is very valuable. Get some ideas to keep your pantry organised and maximise the space of your deep shelves. 
This Pantry Makeover was one of the most exciting competitons I had ever run! My team and I had so much fun giving this pantry a makeover. I truly get in the zone and in a really happy place when I can organise spaces!
The kitchen is the heart of the home and the pantry is home to all your delicious food and ingredients. Without a storage system in place, the pantry can often become home to uneccesay clutter whether you have a small pantry or a walk in pantry.  The feeling of trying to find something in the chaos can be overwhelming, so you end up buying more of what you already have but can't find leaving double ups and out of date food. 
When I saw Peta's pantry, the problems I noticed were:
The deep pantry shelves are not efficient
It was hard to reach the back of the pantry
Food was getting lost and expiring
Food was out of reach

Foods weren't grouped together, they were placed wherever there was a space

The tone in Peta's voice of how she felt about it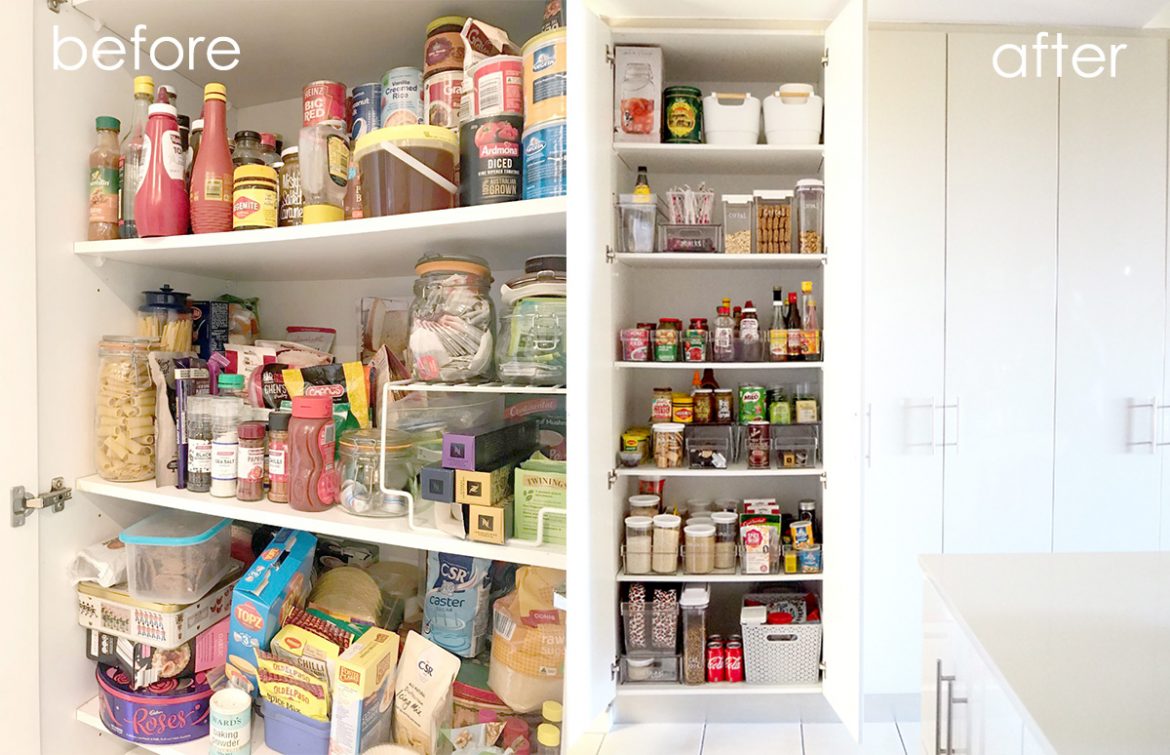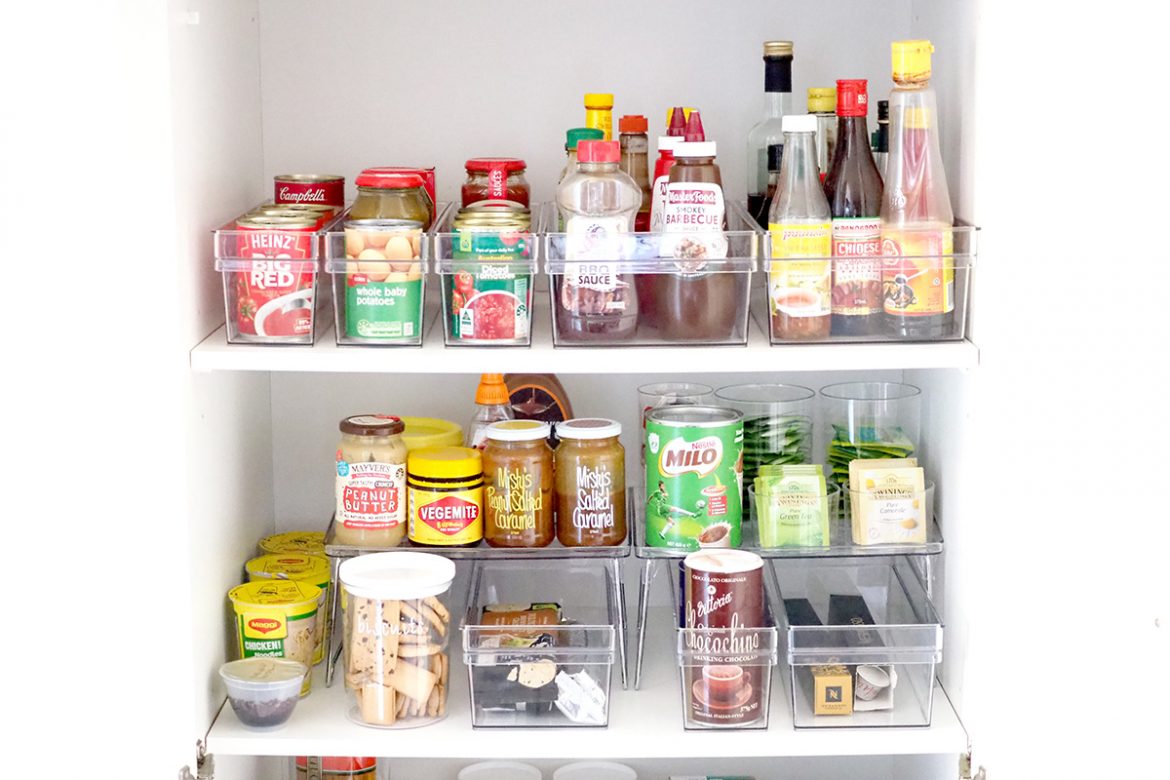 To organise Peta's pantry and optimise her space so she can find items that she needs and prevent food wastage, I went through step by step process and helped her develop a system which would work for her.
Steps to give pantry a clean out:
Cleared out all the food from the shelf
As items were removed from shelf checked use by dates.
As we threw out of date food we added it a shopping list so these items could be replenished, if desired.
Cleaned the shelves.
Placed packets of items into canisters.
Added storage boxes, tubs, drawers and additional shelves into the empty pantry.
Added food back into pantry.
Peta hadn't removed all the items from her shelf since the day she moved in in 2007, she didn't think I'd get any of the stains off the shelf. But I did!! The Pink Stuff is amazing.
Notes from pantry makeover:
I created a pull out storage system to make it easier to access the back.
The storage boxes didn't reach all the way to the back so I can use the back of the pantry to store canisters

and food she doesn't use regularly.

The tubs also make it easy to clean the shelves, easier to clean a tub than remove all items from a shelf.
The items that were not used as much were put on the top shelf of the pantry.
Creating

zones will help to keep it organised. Zones I created were: cereals, snacks, cans, sauces/oils, spreads, tea/coffee, pasta, meals packets, pets and backstock. Putting the

most used items at eye level.

It's important to decant packets into containers to help keep freshness and give you the ability to stack canisters and make better use of space, if needed.

If you refer to instructions on the back of packets often, then write instructions on the back of containers (or cut out and tape to the container) so you can throw out the box.

The use of the plastic drawers allowed us to stack containers on top, keeps everything tidy and contained.

Label everything so things are easy to find, we used a chalk pen.
Tea bags are now stored in little containers (to easily see what flavours are available). This will not only make the teabags easier to find, but will be visible for when they need to be replenished.
The use of split shelves allowed me to utilise and create more space.
Sneaky tips: I hid the chocolates in the back divider of the drawers behind the muesli bars so no one would find them and eat them!
Peta had some crockery in the pantry, I organised her crockery cupboard a little more efficiently (using some of our elevated storage racks) which freed up space in the pantry. Peta was so pleased I did that.
A couple of ideas I had for the pantry but didn't end up implementing:
Using a turntable for oils and sauces, but it was not efficient in this space.
Add a tier to the back of the pantry to elevate the canisters so they are easily seen. Could have been simply turning one of our trays (which we ran out of) upside down.
The total cost of this pantry makeover was $546.30. This was really good considering there was no storage solutions and very few food storage containers used in the pantry before.
Our winner Peta loves her new pantry space and told us that it has inspired her to start baking again!
What makeover can we do next??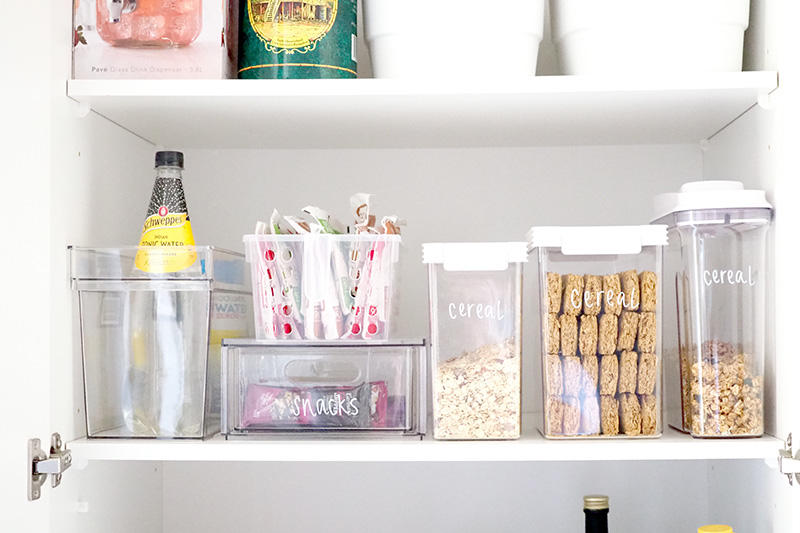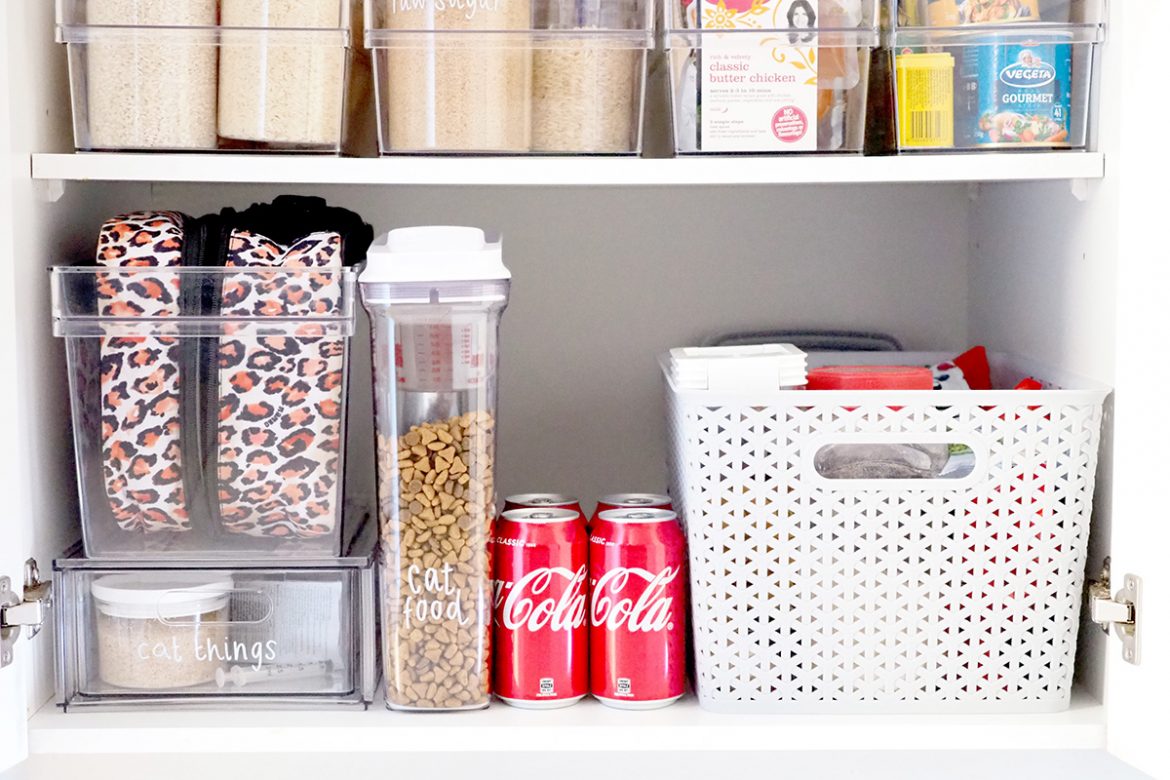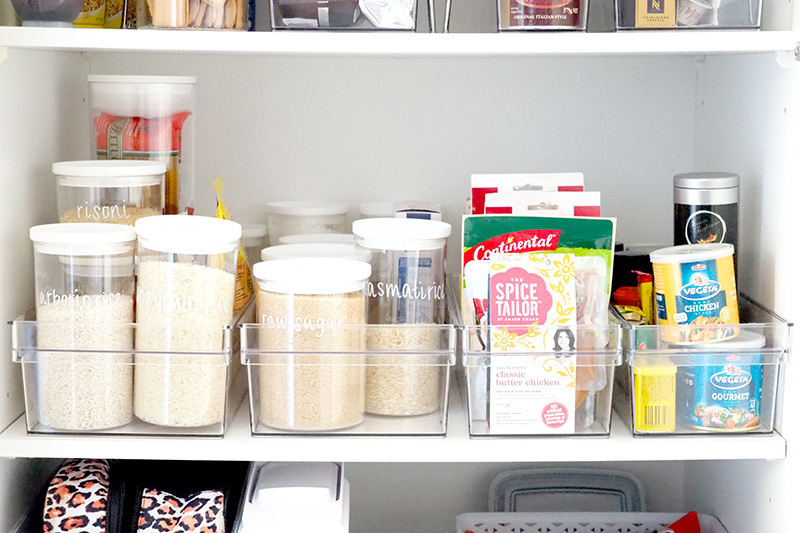 What type of pantry organisation products do you need?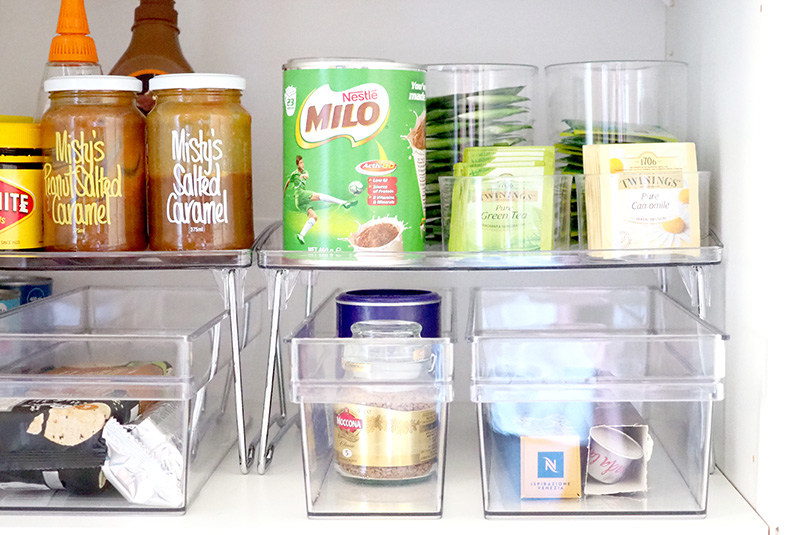 HOW TO ORGANISE YOUR PANTRY
A step by step guide on how to organise your pantry so that you can optimise your space, find items that you need and prevent food wastage. Continue Reading
KAT'S lunchbox recipe cookbook
50 freezer friendly recipes that make for perfect no-fridge, no-heat lunches ideal for school, work, or even picnics!
The easy to follow recipes with full colour photos, and my how-to guide at the beginning of the book, means both experienced bakers and those a little newer to the kitchen, will have all the help they need.