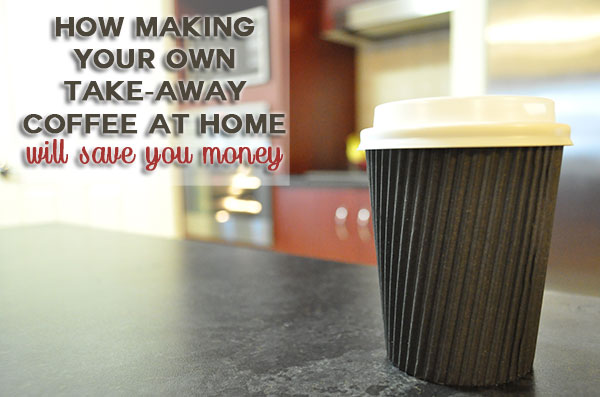 This post is sponsored by Harris Coffee
I can't believe that I went through all my 20's without drinking coffee, I really cherish my morning coffee time.  I have 2 cups of coffee each day, one in the morning after the kids go to school or after my gym session, then another at 2pm before I pick the kids up from school.  I like to have it in peace before the afternoon rush and noise begins.
As I'm only new to the coffee world I find I am very picky with my coffee and really don't enjoy most of the coffee's from the coffee shops, I really do prefer the flavours I have at home.  Even so on a recent girls day out I bought my own coffee from home and drove my friends through a coffee shop drive through.  Why??  The benefit is I am having the coffee flavour I enjoy plus it's cheaper, I'm a bit of a scrooge and am very reluctant to spend money on takeaway coffee.
Take an extra 3-5 minutes in your morning routine to make your own take-away coffee
save money & save time rather than waiting in line for take-away coffee
How much you can save
According to the Harris Rise and Grind Survey, the average at home coffee drinker spends a mere $66 per year on coffee, with each cup costing only $0.30-$0.50, depending on how much sugar and milk you use.
Buying coffee from a coffee shop on average can cost $3.50 x 20 purchases per month = $70 a month.  But imagine this x 12 months = $840.  Can you imagine another way to spend this money, in our family there is always something beneficial, family weekend away, kids sports, family nights out etc.
How to take away coffee
We are all busy and sometimes we need to have our coffee on the run, and that's when you may think that takeaway coffee is convenient.  Instead, boil the kettle and prepare your coffee as you are doing your last minute rounds before leaving the house, I do this while I am brushing my teeth and locking up the house.  Making your own coffee doesn't take long. I have two different types of travel cups/mugs I use:
Reusable Travel Mug
I use the Contigo Stainless Steel Autoseal Travel Mug.  This mug is unbelievable with how long it keeps the coffee inside hot.  The vacuum insulated technology keeps beverages hot for 4 hours.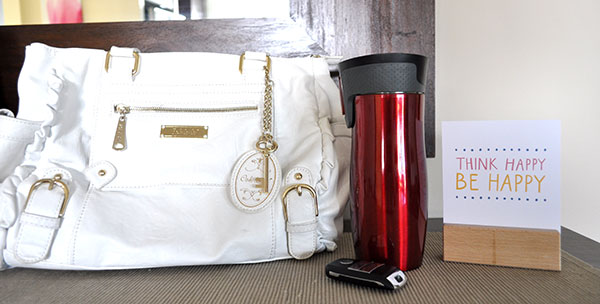 Disposable Coffee Cups
I use disposable coffee cups for when I am heading to the airport and going away for a few days, this way I can throw away the cup unlike a reusable mug which will start to smell if left in the car.  Pack of 25 cups are available from Officeworks for as little as $5.34.
Making coffee from home tips
If you like to grind your own beans invest in good tasting beans, these are available at the supermarket. Harris beans are roasted and blended in Australia, not overseas, which drastically enhances everything about the bean including the taste, quality, freshness, shelf-life and flavour dynamic
Only put the amount of beans you plan to use into the top of the grinder and don't grind them until just before you're about to extract the coffee. It's best to use your new coffee grinds within 10 mins of grinding them
There are many different grinders available Kmart Stainless Steel Coffee Grinder $20.00 and Breville have a range of them from $3.95 – $299.95
If you like the coffee blends, plungers are very inexpensive – available at Kmart for only $10
Try all the different flavours till you find the perfect one for you, Harris is passionate about sourcing the world's finest beans and creating unique blends to suit all Australian tastes.  Harris Coffee range consists of six roasts and ground coffee blends – Espresso, Premium, Black Label, Reserve Colombian, Signature Blend and Decaffeinated – available at all major supermarkets.
Always use fresh coffee. It's better to buy coffee as you need it rather than buy a lot in bulk as the fresher the coffee is, the better it will taste
Plunger coffee should brew for 3 – 4 minutes – leaving it longer will only make it bitter. If you prefer it strong, try adding an extra tablespoon of coffee instead
The best way to keep coffee is in an opaque, airtight container in a dark, cool and dry place – like a pantry. Try and keep it away from moisture – especially wet spoons!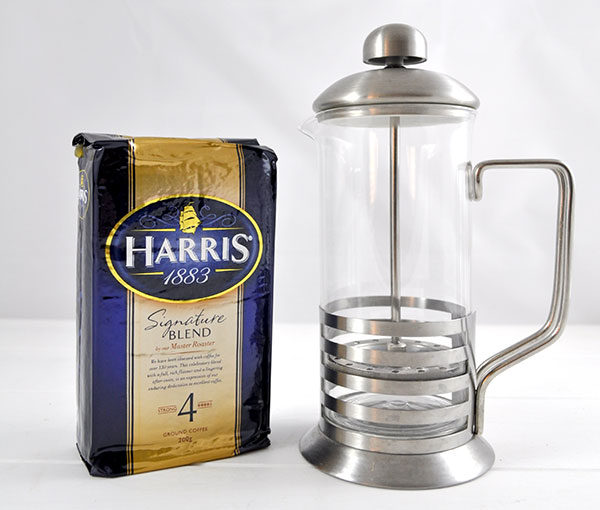 Don't get me wrong though, it's Ok to splurge at the coffee shop occasionally, especially when meeting up girlfriends!

Coffee and Walnut Muffins
My coffee hit doesn't need to just be in the form of a hot cuppa, I don't mind getting it via a delicious muffin, cake or dessert too, love the smell through the house when it's baking in the oven.  This muffin is light and has a lovely crunchy topping.  I use 3/4 cup of brewed Harris Coffee to give it a lovely flavour, perfect for morning or afternoon tea!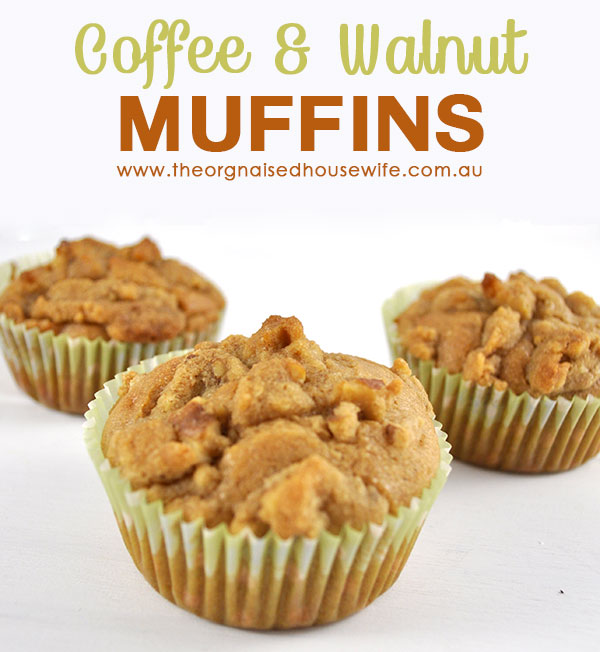 Print
Coffee and Walnut Muffins
Author:
Category:

[url href="https://theorganisedhousewife.com.au/category/recipes/muffins/"]Muffins[/url]
Muffins
1 1/2 cups

Self Raising Flour

1/2 cup

brown sugar

1 teaspoon

cinnamon

3/4 cup

brewed Harris Coffee, cooled

1/3 cup

canola oil

1

egg
Topping
1/2 cup

Plain Flour

1/4 cup

brown sugar

1/4 teaspoon

connamon

56g

cold butter, grated

1/4 cup

walnuts, finely chopped
Instructions
Preheat oven to 180C
Line muffin tin with 10 muffin paper cases
In a large bowl combine flour, sugar and cinnamon, stir
Add coffee, oil and egg, mix together but do not over mix
Divide mixture evenly into muffin cases
In a small bowl add flour, sugar and cinnamon, stir
Add in butter, use your fingertips to combine
Stir through walnuts
Sprinkle over the top of muffin mixture
Bake in oven for 15-18 minutes or until browned and cooked through
Leave in pan for 5 minutes, then place on rack to completely cool.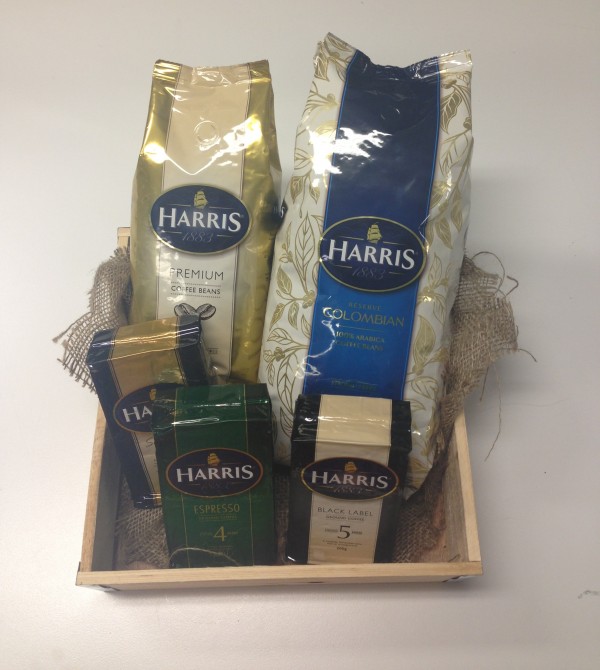 1 Lucky winner will receive a Harris Coffee Prize pack valued at $55
Simply answer this question below
Do you make your own coffee at home, what is your best coffee making tip or recipe??
This giveaway will close 5pm Monday 2nd June 2014.  Please view full Terms and Conditions here {need to create terms and conditions}

This post was coordinated by The Remarkables Group and run in accordance with my disclosure policy