This post is sponsored by Finish Power and Pure
Last month I trialled the Finish Power & Pure dishwasher tablets and gave 100 of my readers the opportunity to trail them, with the chance to win some really awesome prizes.  Now one month on I have to say that I am a lot more confident putting just about everything (casserole dishes, thermomix bowl, baking bowls, saucepans etc) into the dishwasher and that it will come out clean with no extra scrubbing necessary, I also noticed less residue which then means less chemicals left on the dishes, which is much more pleasant to eat off. Usually if I cooked through the day I would leave these dishes in the sink ready for the evening hand wash (as I only wash once a day).  It would clutter the kitchen and make it look untidy.  Now after baking a cake or making a hot lunch I put all the dishes into the dishwasher and keep my kitchen tidy.
Reading through the reviews left from the readers who received samples, many were really pleased with the results:
Dishes are sparkling
No chemical smell or taste left on the items
Removed tea stains from the cups
Removed poached egg from the silverware and crockery
No pre-rinse needed for pots and pans
LOVED how you didn't have to unwrap the tablet
Plastics came out clean and dry
Wishes they were suitable for clothes!!
Dishes smell amazing
Dishwasher appears cleaner too
No water marks on glasses
I have found that I am filling my dishwasher up a little faster therefore our regular routine of the kids emptying the dishwasher in the mornings is now quite staggered.  Sometimes I put it on through the day if I have done a big cook up and they can empty it after school.  So I made up this little label which I have laminated and put a magent stripe on the back (found from Riot Art & Craft stores).  Whenever I put the dishwasher on I turn it to say dishes are clean so it's s 'subtle' reminder for them to unpack it when they get home from school.  Also makes no excuses for them to put their dirty dishes in the dishwasher too!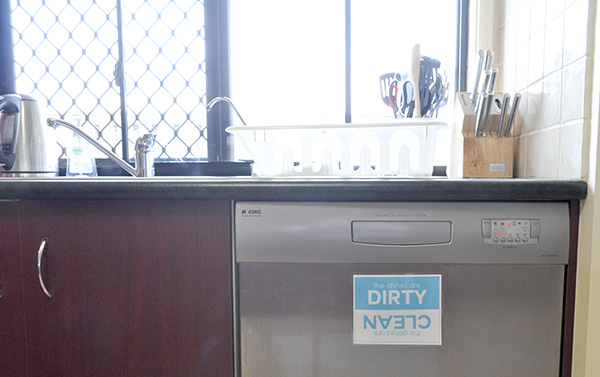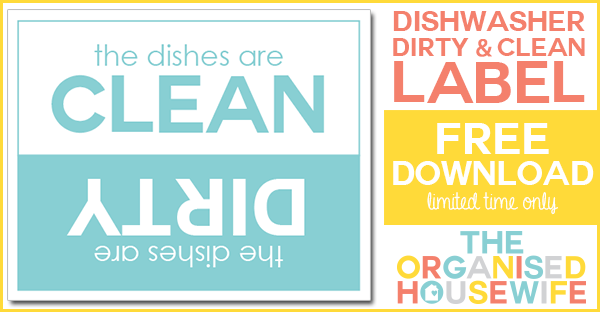 Download the Dirty & Clean Dishwasher Label HERE
7 Day Detox
A few weeks ago I participated in the 7 Day Detox and from this I must add that I really do prefer to use the vinegar as a natural cleaning solution when cleaning the floors.  It cleans the floors beautifully but what I truly like is that it doesn't leave a slippery residue on the floor.  You can read more about how I naturally clean elements of my kitchen.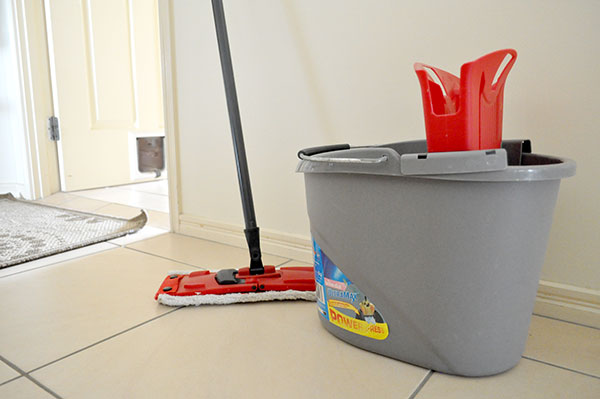 And the winners are!!!!
Congratulations to the winners:
PRIZE 1 – Jenni Cooke
1 years supply of Finish Power & Pure and $1,500 worth of Breville products
PRIZE 2 – Katrina
1 years supply of Finish Power and Pure and $500 worth of Breville Products
PRIZE 3 – Belinda
1 years supply of Finish Power and Pure
Jenni's review:
As a mum with two very busy little boys, anything that makes life easier and allows more time with the family is a winner in my book. If I can reduce our chemical waste too – even better! Enter Finish Power & Pure.  Its fair to say I threw everything I had a Finish Power & Pure. From casserole dishes to pot pie ramekins, in it went. I was unsure what to expect as post dishwasher re-washing is a common requirement for me, however I was most pleasantly surprised. Not only was I hit with a nice fresh smell when I opened the dishwasher but everything was clean and sparkling. EVERYTHING!
Casserole Dish – Sparkling!
Pie Ramekins – Clean as a whistle!
Dried on Weet-Bix – Gone!
Well done Finish Power & Pure, you've won over this (slightly less) Organised Housewife for sure.