This post is sponsored by Burnaid® Gel
Often afternoons are chaotic, with driving kids around to sports, getting them to do their homework or babies and toddlers at witching hour. In the chaos our focus isn't 100%, which can then lead to rushing in the kitchen topped with kids young kids crying around our legs, which is when accidents can happen.
Ways to prevent kitchen burns:
Turn saucepan handle inward – to prevent the handle being knocked or pulled off the stove.
Never mix hot liquids in a blender – even with the lid on the blender it may explode.
Do not use a damp towel to hold a hot pot – as the heat of the pot will quickly come through.
Always use oven mitts when using the oven – to protect your hands from hot dishes.
Stand back when opening the oven door or removing lids from hot saucepans – as the steam can be very hot.
Slowly drain saucepans – if poured out too quickly the hot water can splash you
Stay in the kitchen while food is cooking – to ensure children are kept at a safe distance away from hot pots and pans.
Keep tea towels, plastic containers and bags away from the stove – to prevent them catching on fire.
Don't cook while holding a child – as you can't predict if they will reach forward and touch a hot pot.
Take care when microwaving – as this food can be steaming and very hot.
Keep water away from fry pans – the oil or water may spit and burn.
Take items to the boiling water – not the other way around.
Stir hot food with a wooden spoon – to prevent burns from a spoon.

How to treat a burn
In the blink of an eye accidents and burns can happen. To treat a minor burn place the area under cold running water for 20 minutes then apply Burnaid® to keep the burn cool so you can get back to what you were doing. Yes you just read 20 minutes, not 2 minutes, not 5 minutes, the full 20 minutes, it does feels like a long time but will make a difference to the recovery and treatment of your burn. Always remember if your burn is more serious, call 000 or seek medical attention.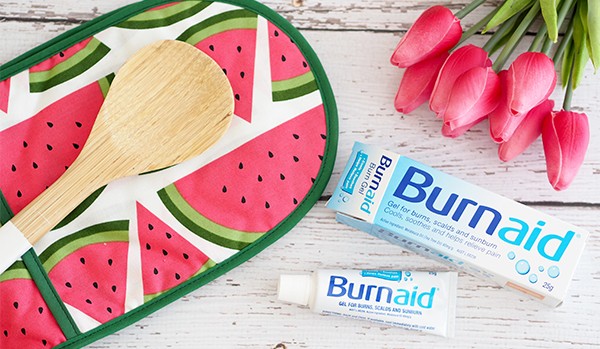 Keeping kids busy while you cook
Sometimes when the kids are fussing around our feet in the kitchen it may seem easier to pick them up and hold them while stirring the contents of a saucepan but for the safety of you both you should keep them out of the kitchen. Try these ideas:
Place in high chair with an activity
Set up with books or games in another room
If you usually limit TV time, utilise this time for them to watch TV
Play with playdough
Set them up with toys to play with
Sit them at the kitchen bench with homework, colouring etc.
Easy dinner idea for witching hour
I used to prepare part of the dinner while the kids were sleeping, then it was a quick dinner prep during the 'witching hour'. Take this meatball + sauce + pasta recipe below for example. I would make the meatballs (you could use store bought meatballs if you didn't want to make your own) while kids were busy or napping during the day, then cover and put in the fridge until the evening. I would then cook some spaghetti, cooked the meatballs in a saucepan of homemade or store purchased (easier) sauce and by the time the spaghetti was ready the meatballs and sauce would be cooked through and ready to eat.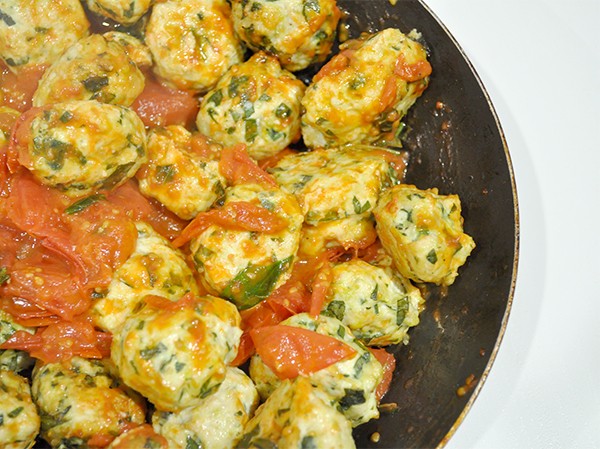 Print
Chicken Meatballs in tomato basil sauce
Author:
Prep Time:

15 mins

Cook Time:

15 mins

Total Time:

30 mins

Yield:

5
100g

breadcrumbs

30g

parmesan cheese, grated

2

spring onions, finely chopped

1

garlic clove, crushed

3 tablespoons

basil, chopped

600g

chicken breast mince

4

bacon rashers, finely diced

400g

spaghetti

690g

Italian Passata Pasta Sauce

3/4 cup

basil, chopped, extra
Instructions
Place breadcrumbs, cheese, onion, garlic, basil, mince and bacon into a bowl.
Mix with hands until well combined.
Roll slightly smaller than a tablespoon of mixture into balls.
Cover and place in fridge for 1 hour or until ready to cook.
Cook spaghetti following packet directions.
Pour jar of pasta sauce and extra basil into a medium sized saucepan.
Place meatballs into saucepan, cover and cook for 15 minutes or until meatballs are cooked through.
Serve meatballs with spaghetti, enjoy!
For more details about Burnaid® visit their websitewww.burnaid.com.au.Mundipharma Pty Limited, Sydney.
Burnaid® gel is for the first aid treatment of minor burns. Always read the label. Use only as directed. If symptoms persist, see your healthcare professional. ®Burnaidis a registered trademark. CH-0015 10/15
How do you keep the kids busy while you cook dinner?
This post was coordinated by The Remarkables Group and run in accordance with my disclosure policy