This post is sponsored by Sunbeam Planetary Mixmaster™
I remember as a child I loved visiting my Nan and cooking with her.  It was such a lovely way to spend time together and I believe it's what helped to create our bond that I will forever cherish.  Since my kids were tiny tots they always helped me in the kitchen with simple tasks as spooning the flour into the bowl, mixing and helping to prepare fruit platters.  Now the twins are older (they are 11 and a half) and becoming independent they are making dinner, muffins, cookies and cakes all by themselves each of them have their own signature dish. Miss 11 has a chocolate cake, which I will share with you below.
I'm a creature of habit and once I find something I like, I stick to it, so you can imagine my surprise when I was sent the Sunbeam Planetary Mixmaster™… and I actually really liked it!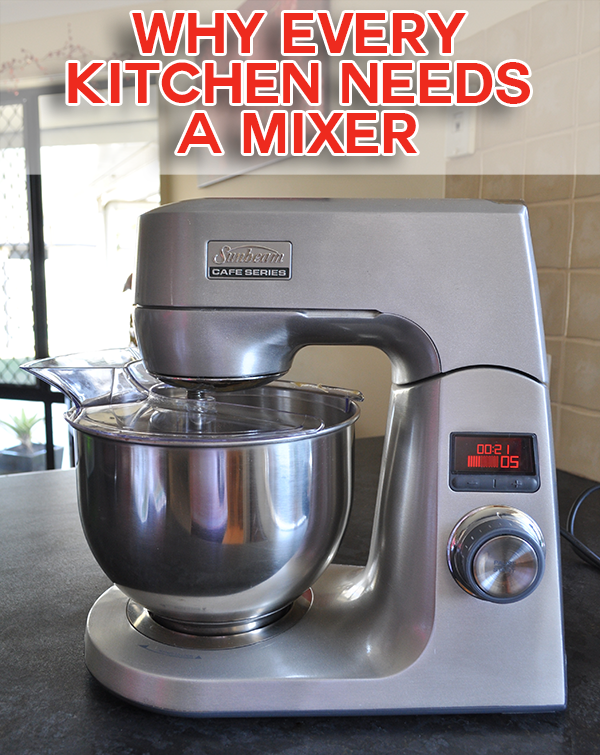 About the Sunbeam Planetary MixMaster™
When trying to find the right mixer for your home Sunbeam mention there are 7 measures of mixing – 7 tests every good mixer should be able to achieve.  Below Miss 11 puts the mixer to the test!
The Mixing Test
The Whisking Test
The Creaming Test
The Kneading Test
The Cookie Dough Test
Stability and Heavy Loads Test
The Ease of Use Test
Firstly we found the mixer to be light enough to be lifted easily but heavy enough that when in use the mixer itself is stable and doesn't move.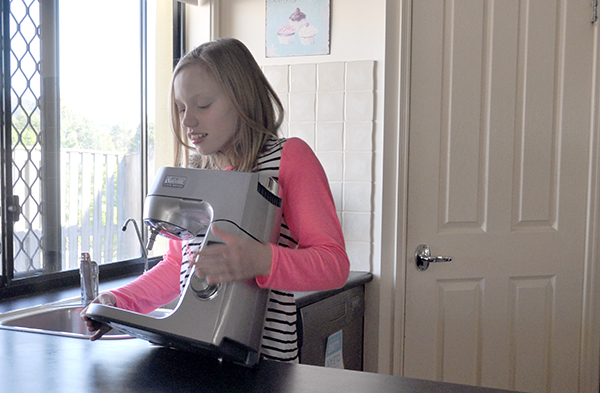 One of the reasons why I love the kids in the kitchen as it's not only improving their cooking skills it's helping them with math.  Reading the recipe and getting the correct weight measurements on the scales and learning their fractions with the cup measurements.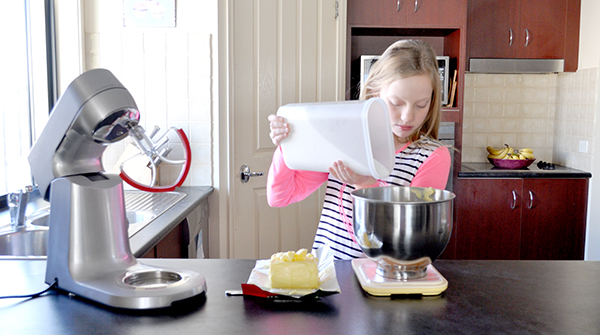 It comes with many different attachments – alloy beater, Scrapemaster™ spatula beater, whisk and dough hook.  The Scrapemaster™ spatula beater helps to cream butter and sugar, typically the base of most baking. No need to poke in your spatula to scrape the sides of the bowl as the beater does it for you, making a beautifully even creamy butter mixture. I've always been concerned the kids will get the spatula caught in the beater (when the machine is on) and can just imagine the trouble that would cause.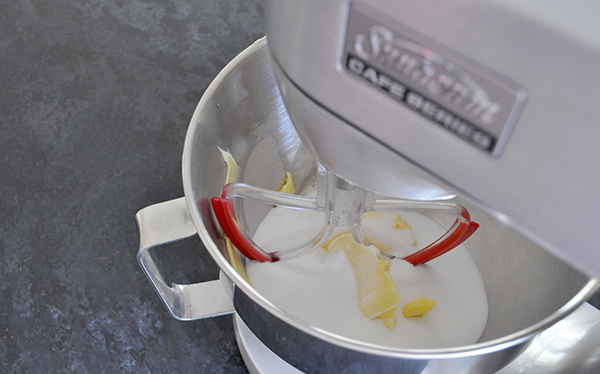 There are 12 speed settings all controlled using the dial, the speed is also displayed in the LCD screen along with the timer.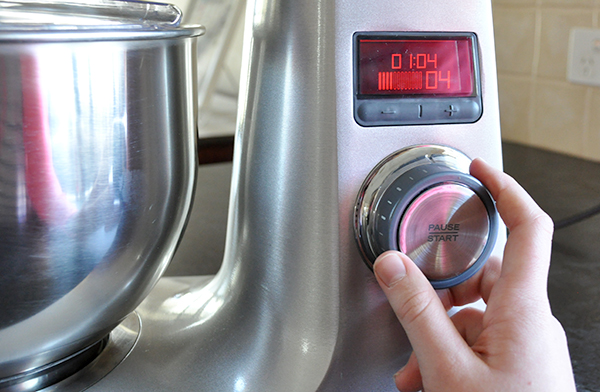 Miss 11 is watching as her cake batter is mixing together, the splashguard will prevent any mess onto your bench top (we've had a flour splatter many a times). The batter turned out beautifully smooth.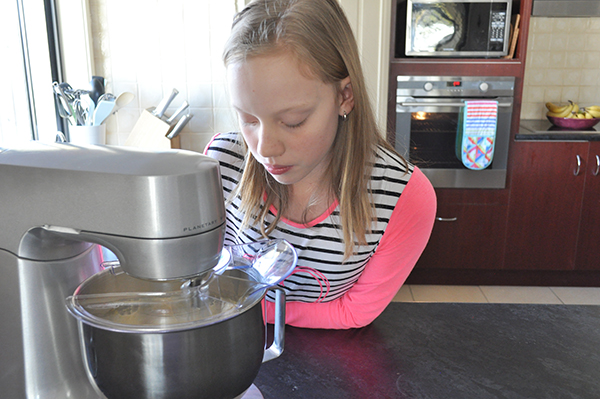 The bowl is super light, I've got arthritis in my thumbs so holding a bowl up while spooning the batter out is tolerable.  The bowl is stainless steel so if it accidentally falls on the ground it won't break… childproof!!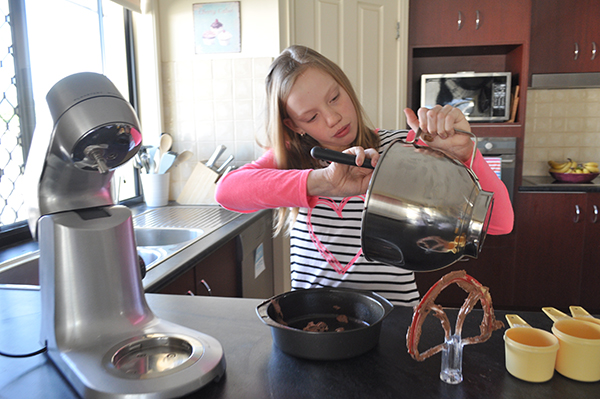 I'm teaching the kids to always use mitts no matter if the dish is cold as the oven is always hot.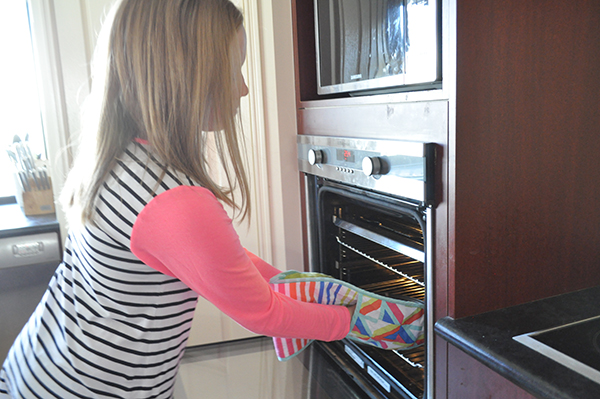 Licking the batter is the best bit!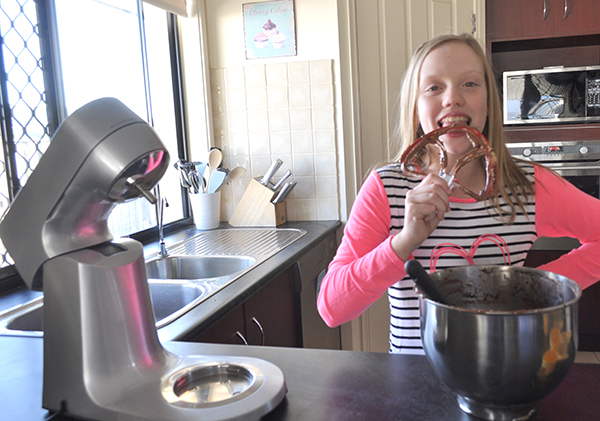 Miss 11's chocolate cake is rich and always served nicely with a dollop of freshly whipped cream.  Cream is so easy to curdle, what I like is that the timer can be used during the whipping process to help prevent over mixing.  The pause button can be pressed while the time is on so we can lift up the whisk attachment from the bowl to see if peaks are starting to form.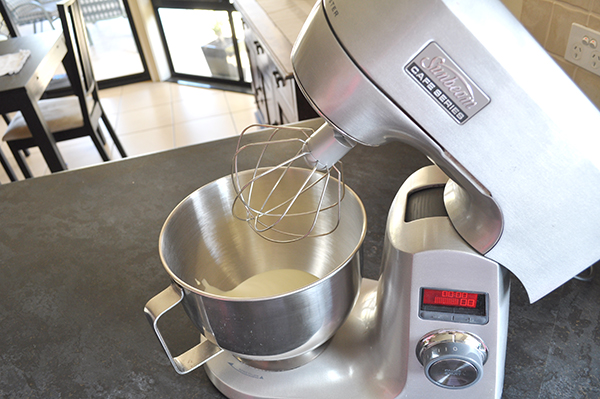 Today Miss 11 made a chocolate cake, but there are endless possibilities of what can be mixed in the MixMaster™… not just for cakes and biscuits but using the dough hook you can make pizza bases, breads and scrolls and using the whisk attachment you can prepare a delicious chocolate mouse or pavlova.
My Miss Tween's Chocolate Cake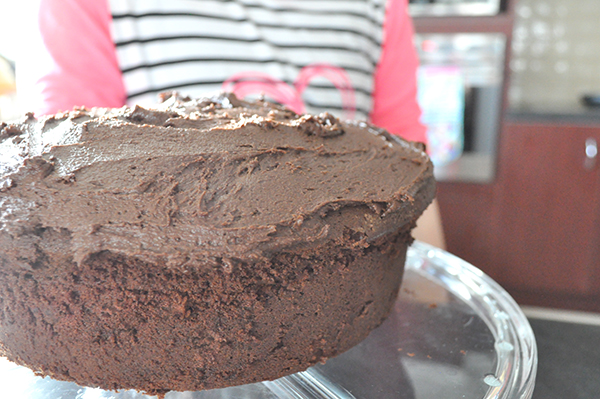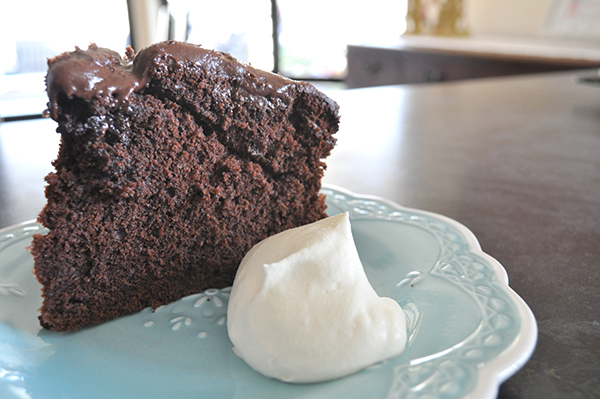 Chocolate Cake
185g butter
1/2 cups caster sugar
3 eggs
1/2 cups SR flour
3/4 cup plain flour
1/2 cup cocoa
1 cup water
Method
Preheat oven to 180C fan forced
Grease a round cake pan
Place butter and sugar in electric mixer.  Mix on medium speed until smooth and creamy
Add eggs and mix on medium speed until combined
Sift in flours and cocoa along with water.  Mix on low speed for 10 seconds, then increase speed to medium high and beat for 2 minutes.
Bake in oven for 55-60 minutes or until golden and  and cooked through.
Sit in pan for 10 minutes, then turn onto wire rack to cool completely before icing.
Conclusion
I'm actually converted.  My Kitchenaid is pretty on the the bench, but there are so many benefits of the MixMaster™ for our family right now.  With the kids learning to cook I like that the speed dials are easy to use, splatter guard will prevent mess and the bowl will not break.  My arthritis in my thumbs has become very painful, so much so that picking up the kettle to pour my coffee has become difficult at times, I really like how lightweight the bowl is for when I need to lift it to scrape out the batter and when I will clean it. I will often use the timer setting on the mixer because I am really impatient and this means I can walk away while something is beating.  And… as the machine is light I can keep it in the cupboard if I want to keep the bench clutter free. Not sure if I will yet, as the stainless steel matches well with the other appliances in my kitchen so from a decorative standpoint it won't be out of place.
I also have a Thermomix, however a Thermomix and Mixer are two machines with very different features. I use the Thermomix to chop, puree, steam, cook etc.  However, I will always have a mixer in my kitchen as I prefer to use it for all my baking, I find it so much faster to whip a batch of muffins, cakes, biscuits etc, plus the bonus is it's a lot easier to clean.  So I will always have a mixer in my kitchen!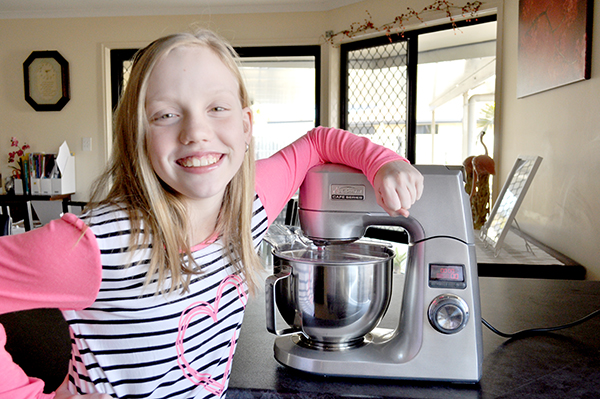 Read more details about the Sunbeam Planetary MixMaster™ on their website and follow along on Sunbeam's facebook.
YOUR CHANCE TO WIN
Sunbeam are giving you a chance to win a Planetary MixMaster™.  This is a really fun idea, follow the steps below or see full details here.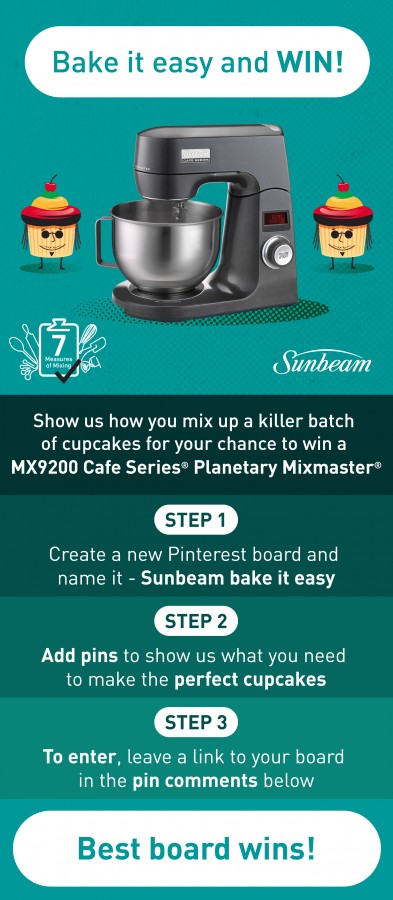 This post was coordinated by The Remarkables Group and run in accordance with my disclosure policy