This post is sponsored by Finish Power and Pure
When I hear the word detox I automatically think it means making better choices of the food I'm putting inside my body.  However, I've been challenged to do a slightly different style of detox…. a 7-Day Detox by reducing the amount of chemicals we use in the home, love this idea!
I try where I can to use natural products, but there are times where convenience has become all too comfortable and I lose sight of what chemicals I maybe using. This detox challenge is perfect timing especially as it's the change of season, two of my kids have very sensitive skin and they always tend to have their allergies flare up when the weather changes which is about now.  By taking the time to acknowledge what I am using around the home and the chemical content, I am hopeful this may help reduce these occurences.
So over the next week I am really going to take note of everything I use to clean around the house and also what chemicals maybe within our kitchen.   I'll let you know how I go next week.  
The cooler season also means different type of cooking in my kitchen, more casserole dishes, soups etc. Cottage Pie is usually a favourite comfort food on the really cool nights in our household.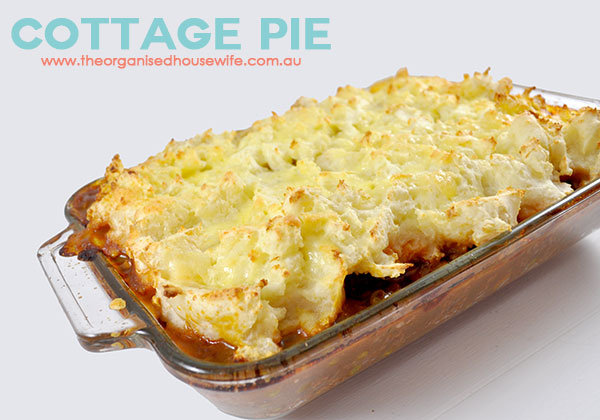 Print
Cottage Pie
Author:
Prep Time:

20 mins

Cook Time:

40 mins

Total Time:

1 hour

Yield:

5

Category:

[url href="https://theorganisedhousewife.com.au/category/recipes/pasta-bakes/"]Oven Bakes[/url], [url href="https://theorganisedhousewife.com.au/category/recipes/mince/"]Mince[/url]
1 tablespoon

olive oil

800g

beef mince

1

onion, finely chopped

2

carrots, finely chopped

3 tablespoons

tomato paste

2

cloves garlic, crushed

2 cups

beef stock

2 tablespoons

worcestershire sauce

1 teaspoons

dried oregano

2 teaspoons

cornflour

1/2 cup

frozen corn

1/2 cup

frozen peas

800g

potatoes , peeled and diced

3 tablespoons

milk

100g

tasty cheese
Instructions
Preheat the oven to 180C
Heat oil in a large frying pan over medium-high heat
Add the mince, onion and carrot, cook stirring for 5-10 minutes or until the meat has browned, use wooden spoon to break up the mince
Add the tomato paste and garlic to mince, stir for 1 minute
Pour in stock, worcestershire sauce and sprinkle over the oregano, mix well
Bring to the boil then reduce heat and simmer for 15-20 minutes or until the liquid has reduced
Cook the potatoes in a large saucepan of boiling water for 12-15 minutes or until tender
In a small jug mix the corn flour with 1 tablespoon water
Add the paste to mince mixture with peas and corn, stir until it has thickened slightly
Spoon mince mixture into a rectangular casserole dish
Mash potatoes and add in milk and salt and pepper to season
Spoon large dollops of potato onto of mince mixture then spread evenly
Sprinkle with cheese
Bake in oven for 30-40 minutes or until golden
 View more great freezer friendly winter warmer recipes here.
However, casserole dishes always tend to need a little extra scrubbing.  Not one of my favourite chores each evening.  I've been given some Finish Power and Pure diswashing tablets to trial, I'm going to see if they will clean my casserole dishes for me… wouldn't that be nice, one less thing to clean!!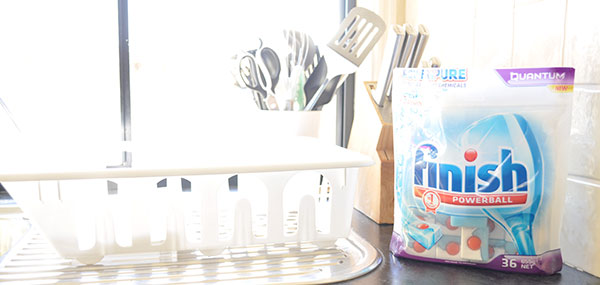 Finish Power & Pure uses Active Oxygen to clean away stubborn food stains, leaving the dishes clean after each wash.  It also leaves less chemical residue, helping you lead a healthier lifestyle in your busy life.


Three great prizes which I am sure will be helpful in every household
PRIZE 1
1 years supply of Finish Power & Pure and $1,500 worth of Breville products
PRIZE 2
1 years supply of Finish Power and Pure and $500 worth of Breville Products
PRIZE 3
1 years supply of Finish Power and Pure
HOW TO ENTER
PLEASE NOTE – WE HAVE REACHED THE LIMIT OF 100 SAMPLES BEING SENT, I LOOK FORWARD TO READING ALL ABOUT YOUR DETOX!!
Send your name, postal address, email and phone number to 

[email protected]

100 readers will then be sent a pack of Finish Power & Pure to do their own 7-Day Detox challenge
Once you have completed your 7-Day Detox leave your review of the Finish Power and Pure in the comments section below
From the reviews received back I will then choose three winners to each win a prize
First place will also have their review published on my blog
Please view full terms and conditions here.

This post was coordinated by The Remarkables Group and run in accordance with my disclosure policy