Easy, affordable and healthy lunch and snack ideas that will fuel busy parents and working professionals to help get them through their days.
Are you so busy sending your kids to school with healthy snacks that you often forget about your own? Are you tired of having the same old lunches? Are your meals quick but lacking in nutrition? Or maybe you just head to a drive-thru way too many times a week for a fast snack? If you answered yes to any of these questions, I have a few choices that will help you! You don't need to make a fancy lunch or stick to a ridiculously strict diet. This post is simply about providing you with quick and healthy lunch options that will help fuel you for the rest of the day. These quick lunch ideas aren't limited to mums either, but are in fact perfect for anyone in need of a few lunch alternatives to fit into their busy lives! Continue reading for my 7 Quick and Healthy Lunch Ideas For Busy People.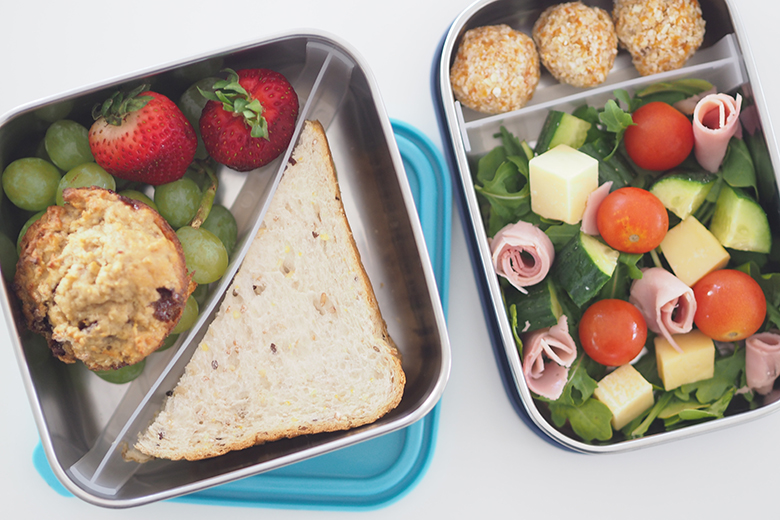 Aside from being healthier for you, planning lunches will also help the budget (takeaway food is expensive!). If you're struggling to find the time to make lunches, here are a few tips:
Plan what you want to have for lunch whilst doing your weekly meal plan. That way you will have all ingredients in the fridge or pantry ready to go. You can use this Weekly Lunch and Dinner Planner to make meal planning even easier.
Pack your lunch the night before or prepare food on the weekend.
When cooking dinner, make extra to have for lunch the next day.
Save time by cutting up your salad when preparing the meal the night before. i.e. capsicum and onion for your pasta dish – cut up extra and pop into a bowl ready for your fresh salad for lunch the next day.
Use the microwave as it's much easier to use to reheat rather than the oven or stove top.
Keep a stock of long life ingredients in your pantry. i.e rice, tuna, crackers, etc. as these can be made into a number of different lunch ideas.
Make friends with your freezer. Particular foods can be frozen such as bread, rice, scrolls, quiche, etc. You can always have something on hand. My Lunch Box Recipe Cookbook is packed with freezer friendly recipes that are perfect for lunchtime snacks (for you and the kids!).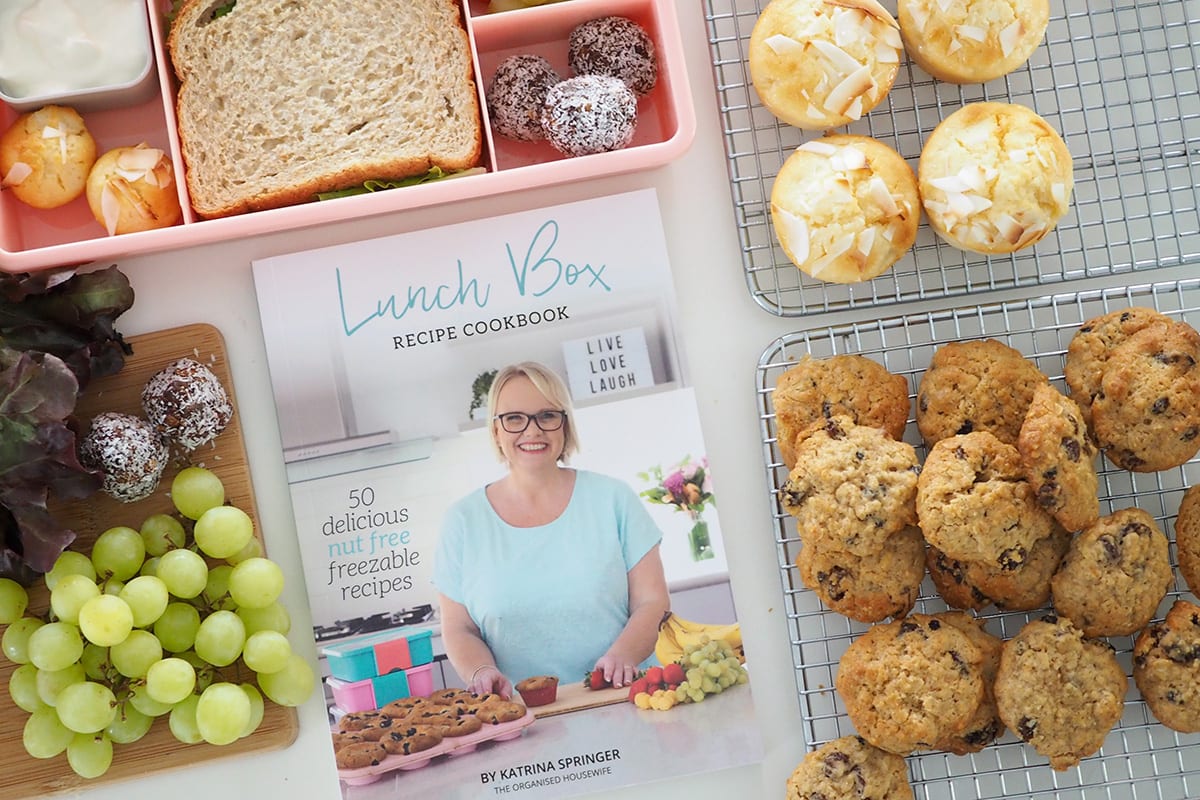 To get you started I have shared some quick and healthy lunch ideas that you can easily make at home – think readymade salads that can be tossed together, crackers with tasty toppings, fancy fruit snacks and some convenient ready-to-heat frozen meals.
1. SALAD
Rice and Tuna– Cook up extra brown rice the night before and add any protein or vegetable you have in the fridge. A tasty combination is feta, spring onions, celery, capsicum, cherry tomato and any other vegetables with smoked salmon, tuna or grilled chicken.
Yoghurt and Fruit Salad– Again, just using whatever you can find in the fridge.
Mason Jar Salad – This idea is convenient, as it can be made a few days ahead and the different salad ideas are endless. It's as simple as creating layers of fresh salad ingredients into a mason jar and sealing it tight.
  Find my Greek Mason Jar Salad recipe here.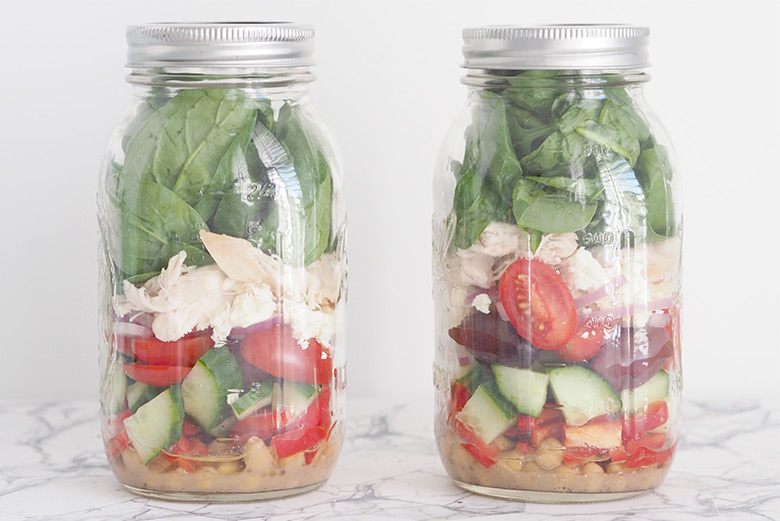 2. LEFT OVERS
Left overs make for great lunch time snacks. When it comes to using your left over dinner for lunch the next day there are two rules I like to stick to:
MAKE EXTRA – Double the meal you are making so you can split what the family doesn't eat into individual serves and have it on hand for lunches throughout the week or freeze it for later.
DON"T THROW ANYTHING OUT – Everything can be made into something. Extra rice can be used for a salad, extra bolognese can make a tasty toastie, and veggies can be made into frittata bites.
  Find my Frittata Bites recipe here.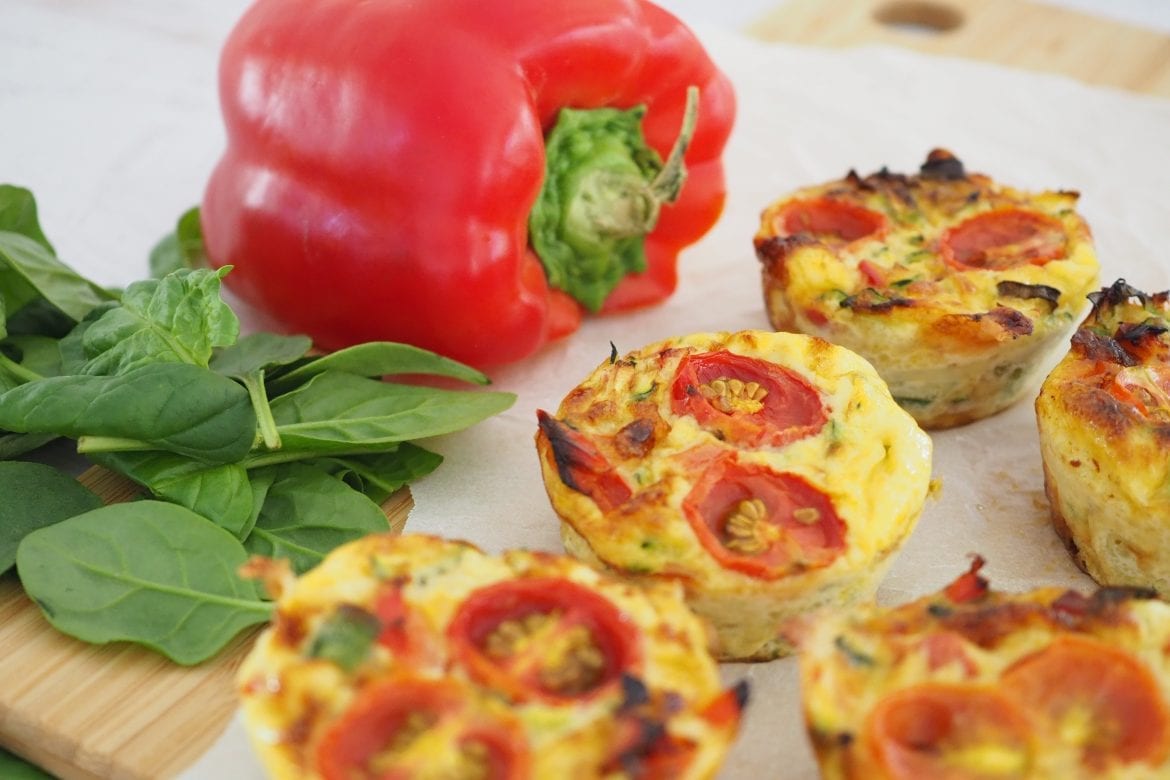 3. TOASTIES/MELTS
Toast isn't just for breakfast, in fact I have it often for lunch and dinner. I'm a big fan of a cheesy toasty on those cold winter days. I also like to put a few fillings on top of a piece of bread and put it under the grill for a couple of minutes. Filling ideas:
Poached eggs on toast, with spinach and avocado
Capsicum, salami, cheese, garlic flakes and oregano
Avocado, tomato, mozzarella, basil and balsamic glaze
Ham, cheese and tomato
Tuna, mayonnaise, cheese and onion
BBQ chicken, pesto, spinach and Swiss cheese
  Find this Caprese Avocado Toast recipe here.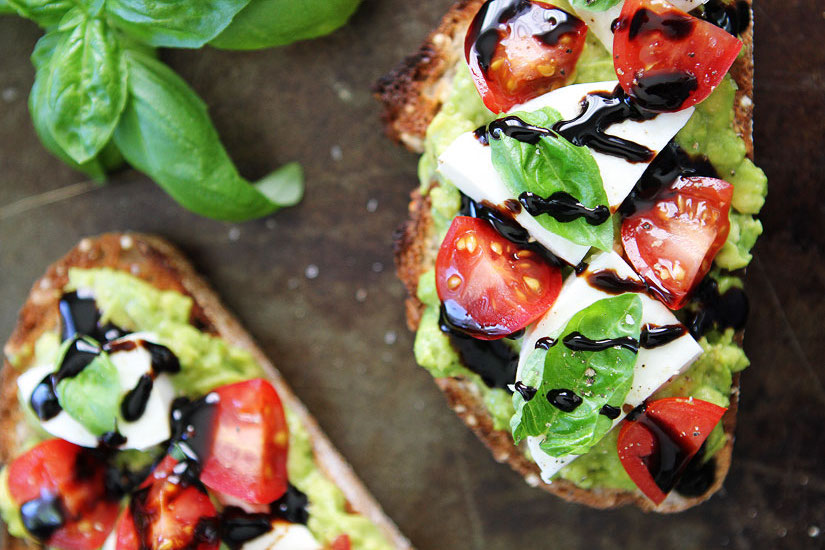 4. CRACKERS
Crackers are a great alternative to using bread. I like to use crisp breads and rice cakes. It's just like an open sandwich only crunchy! Here are some of my favourite topping ideas:
Cheese and tomato
Avocado, tomato and turkey
Peanut butter and banana
Cream cheese, smoked salmon and red onion
Nut butter and apple
Cottage cheese, radish and cucumber
Boiled egg and mayo
Tuna and avocado
Goat's cheese, walnuts, beetroot and rocket
  Check out these Top Ideas For A Lighter Lunch With Cruskits here.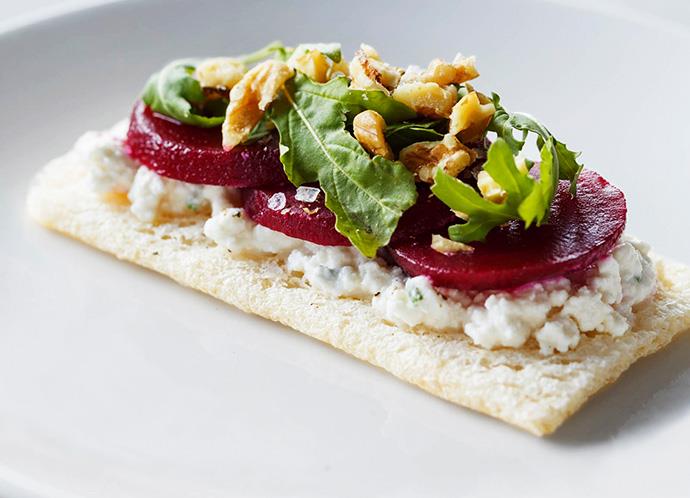 5. SMOOTHIE
A healthy smoothie is a great option for when you're in a hurry. The best part about having a smoothie is that you can have it on-the-go. Add some protein powder, banana, berries, cacao, spinach, etc. You can also choose to mix it with coconut water, milk, soy milk, almond milk or plain water. There are so many different variations you can create. If you're feeling more on the hungry side, make your smoothie a tad thicker and put it in a bowl with granola and muesli on top.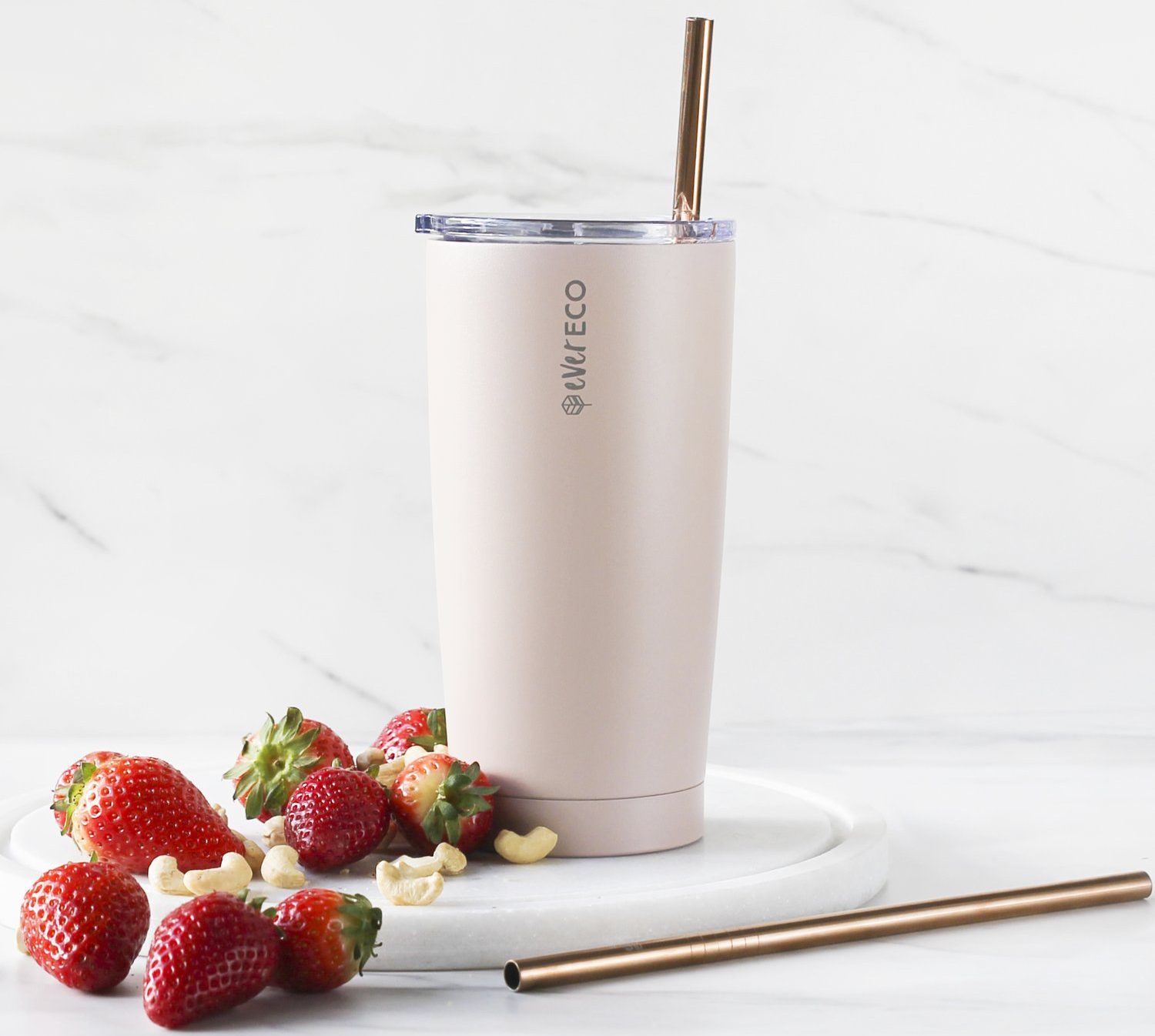 6. FROZEN MEALS
Until recently I had never really considered frozen meals for lunch, I had always thought of them as dinners. I have started trying some of the healthy frozen meals from the frozen section at the supermarket and have been pretty impressed. I can see how they are convenient and a great way for busy people to have something quick and tasty during the middle of the day to help them continue through a hectic afternoon.
  This frozen cannelloni meal is no longer at Woolworths, but they have this one which is very similar.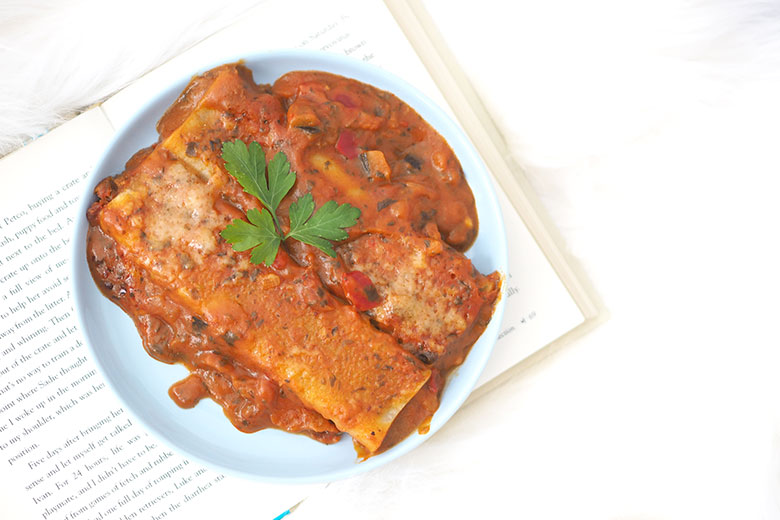 7. BREAKFAST… FOR LUNCH!
Try making scrambled eggs or an omelette for lunch. They are both pretty fuss-free and you don't need to make them look perfect or add any other ingredients. Simply pour whisked egg over any left over vegetables or meat you have in the fridge. Cook in pan for a couple of minutes and you have a meal. You can put it on top of a piece of toast or serve with a little salad.
Here are some extra ingredient ideas you can add to spruce up your eggs:
Mashed chickpeas, onion, garlic, capsicum
Bacon, red onion, capsicum, cheese, zucchini
Tomato, shallots, onion with avocado, to serve
Corn, shallots, capsicum, shredded chicken, mushrooms and feta to serve
Black beans, chilli, coriander and tomatoes
Zucchini, tomato, red onion, spinach, feta
  Find this Ham and Egg White Omelette recipe here.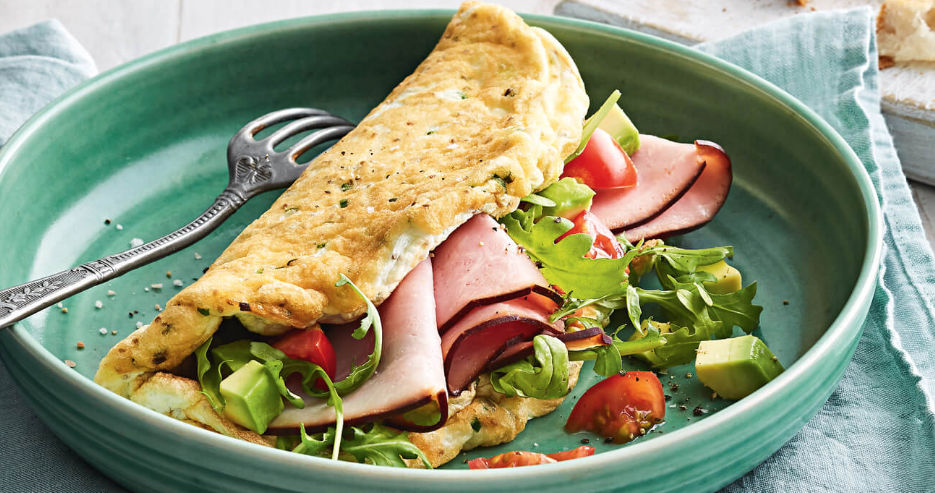 A BONUS LUNCH SNACK!
I love bliss balls. They can be thrown together in a matter of minutes, can be packed full of healthy goodies that keep the brain firing, plus they keep really well in the fridge or freezer (so can be made ahead of time). I especially love these Salted Caramel Bliss Balls – yum yum!!
  Find my Salted Caramel Bliss Ball recipe here.